Michael Jackson aimait le continent africain. Dès le milieu des années 90, il s'est rendu régulièrement en Afrique du Sud, que ce soit pour des tournées, ses affaires, des moments de détente ou pour rencontrer le président du pays, devenu un ami, Nelson Mandela.
Il est un endroit que Michael aimait plus que d'autres en Afrique du Sud, c'est Sun City. Situé à environ 150 kilomètres à l'ouest de Pretoria, près de la ville de Rustenburg et jouxtant le parc national Pilanesberg, Sun City est un gigantesque complexe de loisirs de 25 hectares comprenant des hôtels, des casinos, une base nautique, des plans d'eaux, des toboggans aquatiques, un centre d'animation, un théâtre, une salle de spectacle, des cinémas, des restaurants, deux parcours de golf, un centre de remise en forme, une ferme de crocodile, ... le tout disséminé dans un jardin tropical comprenant plus d'un million d'espèces végétales.
Créé par le milliardaire sud-africain et directeur de Sun International, Sol Kerzner (également propriétaire de l'Atlantis Resort aux Bahamas où Michael avait fait une apparition lors de son inauguration en 1999), Sun City a été inauguré en décembre 1979 avec trois premières installations: Le Sun City Hôtel, Le Waterworld et le Golf Gary Player.
Le succès est immédiat. Tandis que le pays subit l'apartheid, à Sun City, tout est permis : des revues sein nues, des spectacles de strip-teaseuses, des jeux d'argents dans une ambiance multiraciale, écouter la musique interdite de Ray Charles, …. Sun City c'est la ville du péché, Sin City, le Las Vegas sud-africain.
Agrandi au fur et à mesur des années, le complexe s'est désormais tourné vers le tourisme familial. Quatre grands hôtels de grand standing, voire luxueux, structurent désormais Sun City en quatre zones : Sun City Hotel, Sun City Cabanas, The Cascades et The Palace of the Lost City.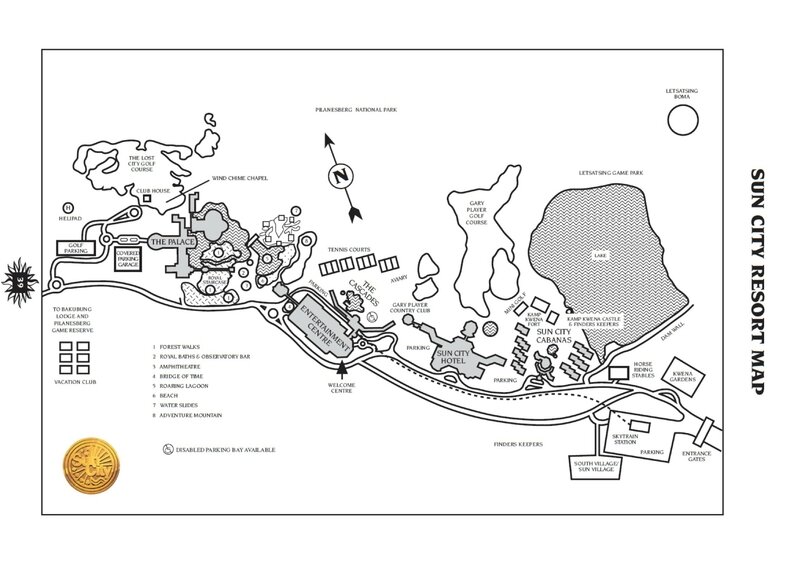 C'est dans ce dernier palace cinq étoiles que Michael Jackson séjournait la plupart du temps. Censé symboliser la résidence royale d'une civilisation détruite par un tremblement de terre (Sun City est construit sur le territoire vierge de l'ancienne "Lost City". C'est, dit-on, à cet endroit, qu'il y avait un royaume, balayé par un tremblement de terre, aussi ancien que merveilleux où les gens comme leur roi vivaient dans l'abondance, la paix et le bonheur), The Palace of the Lost City puise surtout son inspiration entre Le Livre de la jungle et Les Mines du Roi Salomon.
Le palace a été construit douze après l'ouverture de Sun City. Il est séparé du reste de la station par The Bridge of Time, un grand pont de pierres, qui frissonne et gronde parfois, simulant le tremblement de terre mythique, où est alignée une garde d'honneur, des éléphants sculptés, qui mène jusqu'aux massives Kong Gates, l'entrée de la zone.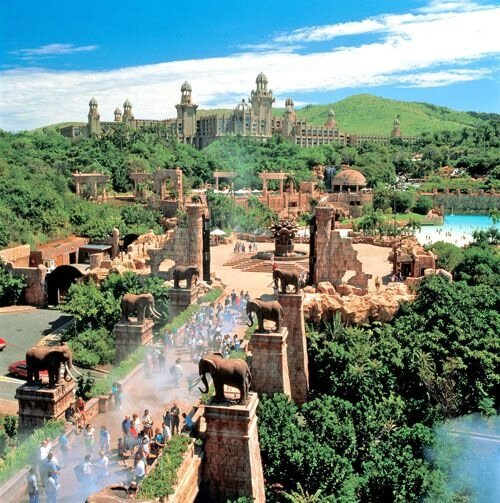 Lorsqu'il y séjournait, Michael occupait le plus souvent la King Suite, sa suite préférée (n°138), une des suites les plus luxueuses de l'hôtel.
Selon l'un des employés, "Michael aimait tellement l'hôtel qu'il arrivait chaque fois avec de nouvelles idées pour l'embellir" .(1)
Des rumeurs ont circulé, peu après sa disparition, indiquant que Michael était un des actionnaires de l'hôtel, voire même son propriétaire. Il est en tout cas venu à Sun City en mars 1999 pour traiter avec Sun International, la société propriétaire du complexe. (Voir ici ou ici )
Ci- après des photos de Michael et Lisa Marie à l'entrée du palace, devant la fontaine entourée de sculptures de têtes d'oryx gazelles….
… et dans le hall de l'hôtel, en 1997.
1996
La première venue du chanteur à Sun City date du 19 juillet 1996. Elle n'a rien d'un séjour de loisirs puisque Michael vient y donner une conférence de presse et annoncer son futur HIStory World Tour ainsi que le passage de la tournée en Afrique du Sud.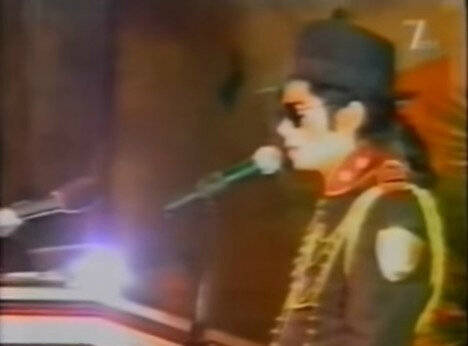 La conférence de presse a lieu dans la Royal Ballroom de l'Entertainment Center, au centre de Sun City.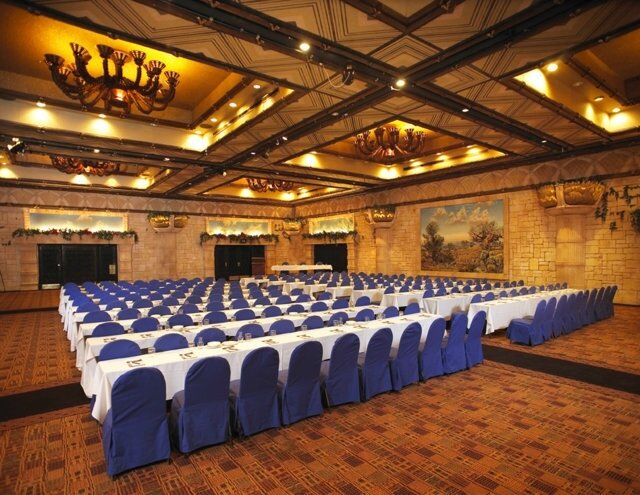 Lors de son arrivée, au milieu de la cohue (à partir de 1:55), on reconnait le président directeur général de Sun City, ami proche de Michael, Gerry Inzerillo. Michael sera le témoin de son épouse, Prudence Solomon, lors de leur mariage en octobre 1997.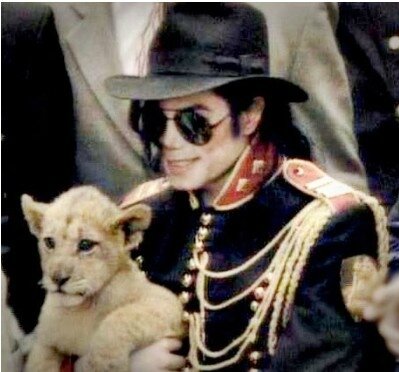 1997
Le HIStory Tour s'achève sur cinq concerts en Afrique du Sud en octobre 1997. Michael passe près de quinze jours dans le pays et en profite pour se reposer quelques jours à Sun City, en compagnie de ses parents, de son ex-femme Lisa Marie Presley et de ses deux enfants ainsi que du jeune Omer Bhatti.
On le retrouve ainsi dans différentes parties du complexe, que ce soit pour des shootings photos ou surpris par les paparazzi dans ses moments de détente.
Sur le Bridge of Time, Michael pose avec Omer Bhatti et de jeunes enfants, au pied des immenses sculptures d'éléphants.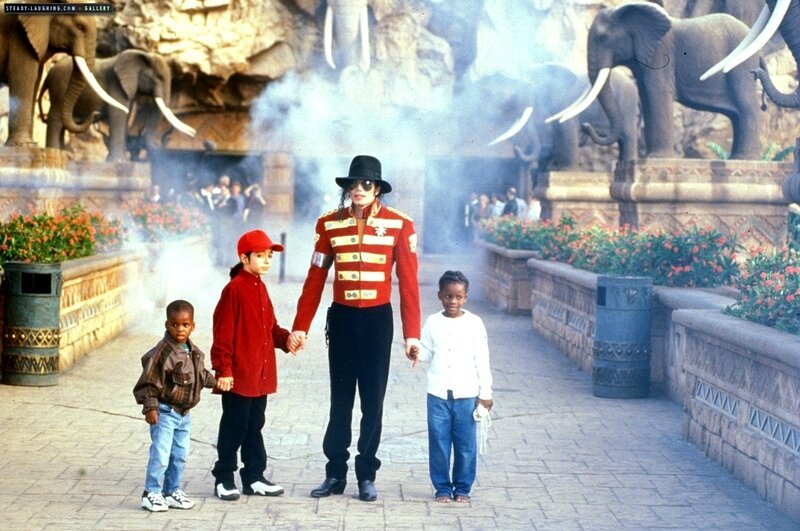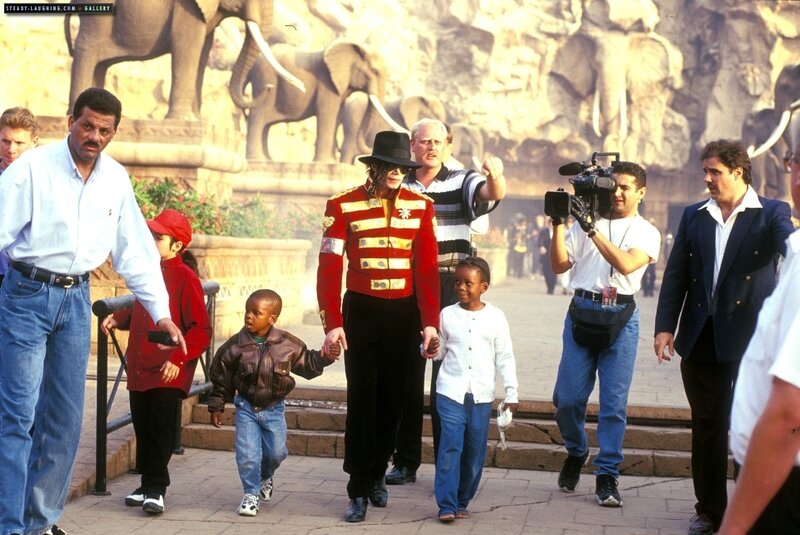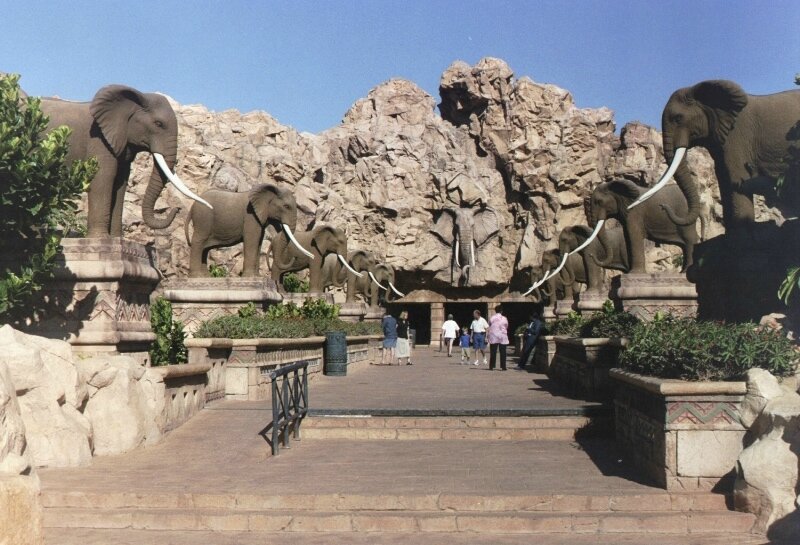 Ce pont de pierres donne accès à l'entrée du parc aquatique The Valley of Waves, la Vallée des vagues. C'est sur cette plage artificielle de sable blanc, qui borde une immense piscine à vagues, que Michael marche entouré d'enfants, des danseurs traditionnels de l'école primaire d'Entebbe pour des photos bien connues mais souvent attribuées à son passage dans le village de Phokeng.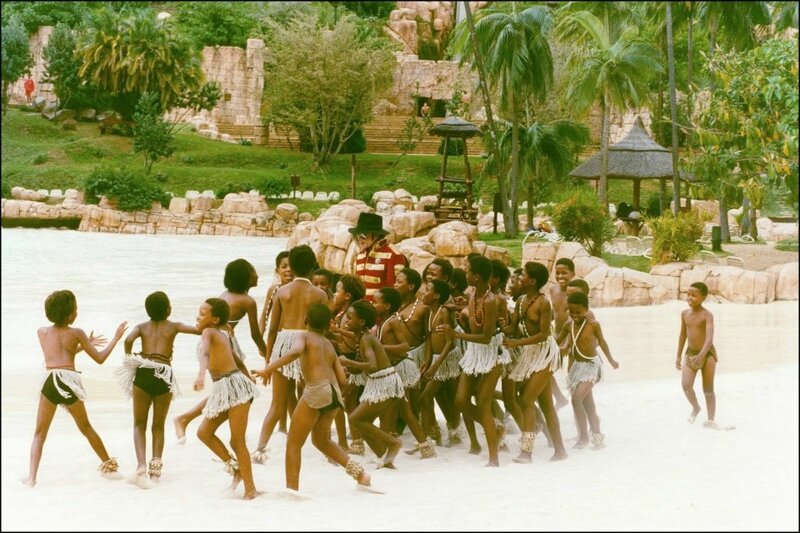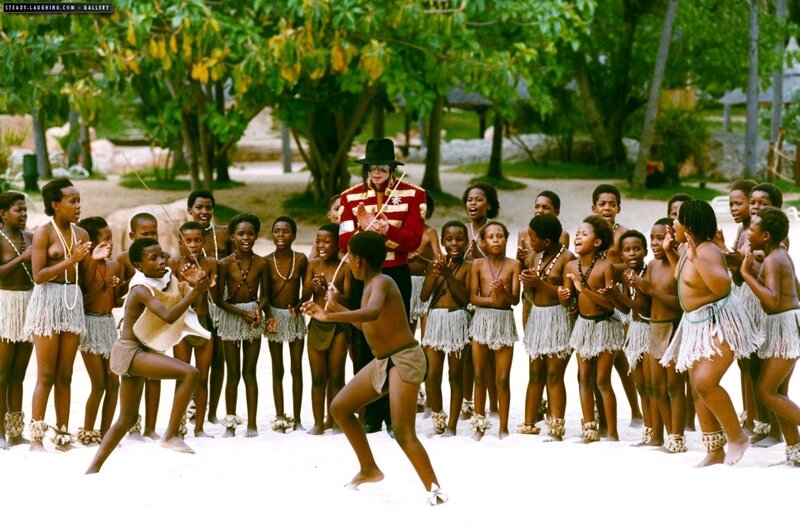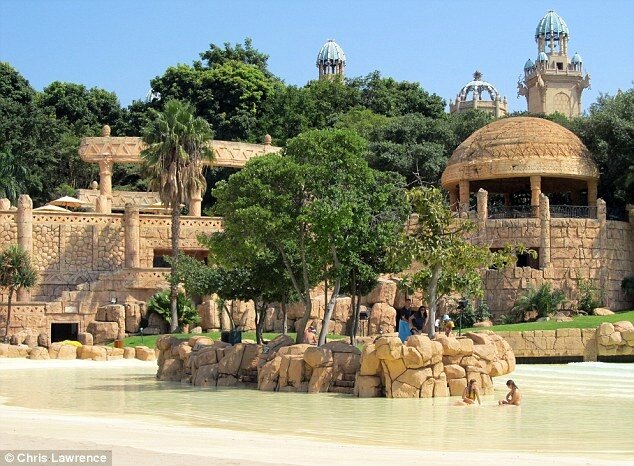 A Waterworld, Michael découvre les joies des sports nautiques sur le lac de Sun City. Face à l'hôtel Cabanas, ce grand lac artificiel est le lieu d'activités telles que le parachute ascensionnel, le ski nautique, la planche à voile, le catamaran, le jet-ski, la barque, le serpent gonflable.
Michael s'essaie au parachute ascensionnel et au jet-ski avec Omer Bhatti, sous les yeux de Lisa Marie.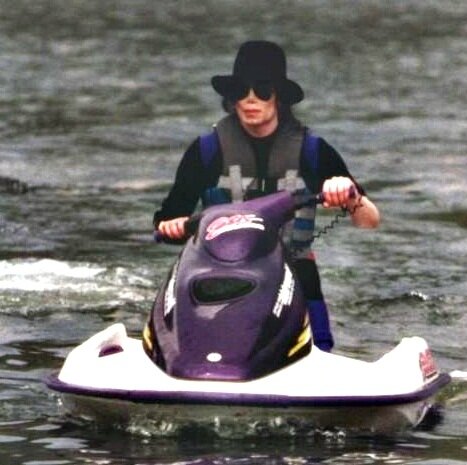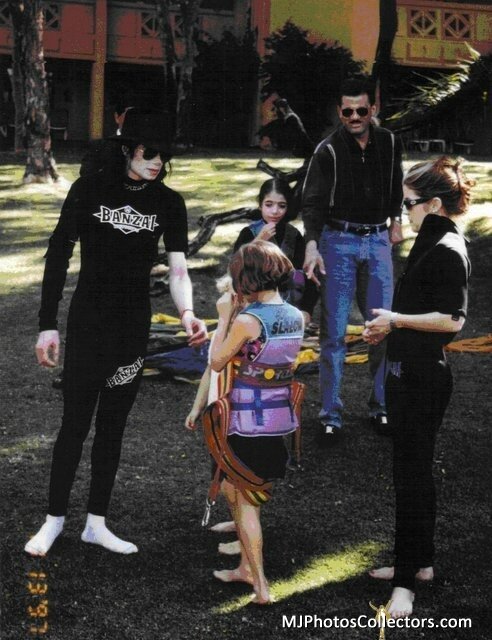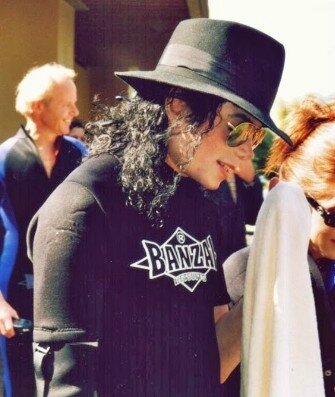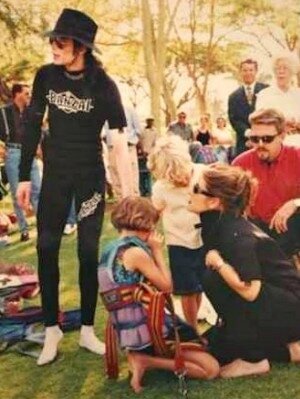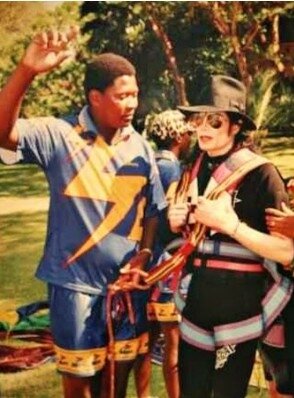 A l'entrée de Sun City, se trouve The Kwena Gardens Crocodile Sanctuary, une réserve de crocodiles que Michael visite. Il approche même de très près les reptiles.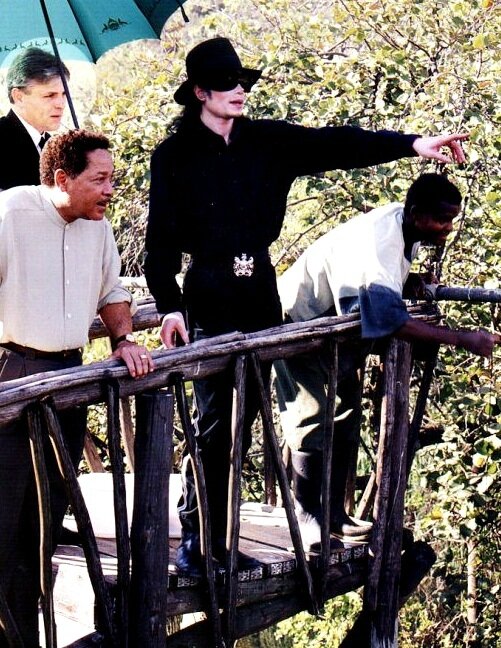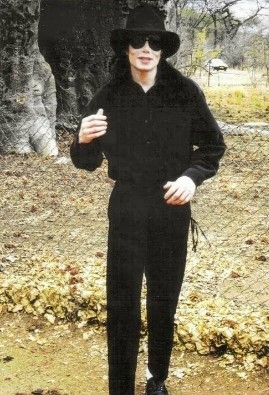 A cette époque, une boutique de CD se trouvait à l'intérieur de l'Entertainement Center. Michael s'y rend pour faire du shopping et laisse sa signature sur un dessin de lui qui orne le magasin.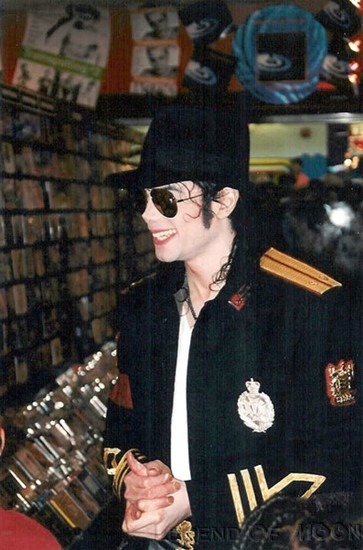 Au cours de ce séjour, Michael et Lisa Marie assistent à une fête avec des danseurs traditionnels dans la Baobab Conference Room de l'hôtel Sun City.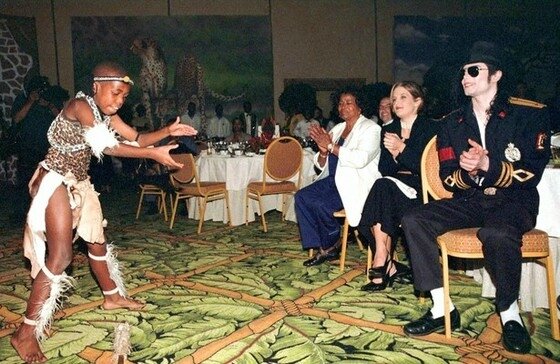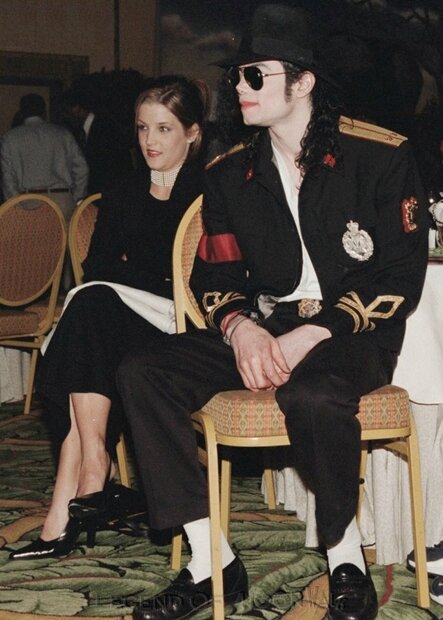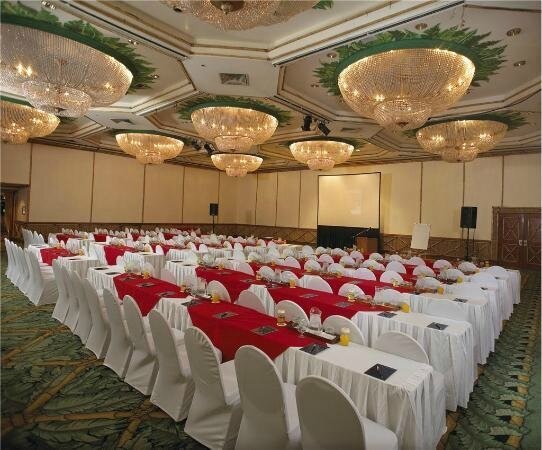 1998
Invité aux 80 ans de Nelson Mandela en juillet 1998, Michael passe quelques jours à Sun City et en profite pour faire à nouveau du parachute ascensionnel à Waterworld.
1999
Au cours de l'année 1999, Michael semble se rendre à plusieurs reprises à Sun City, à la fois pour les affaires (il veut notamment investir dans le complexe) et pour des vacances.
Ainsi dès janvier, invité à Johannesburg par des amis, Philip et Roslyn Cohen, il en profite pour passer quelques temps à Sun City, cette fois avec ses enfants Prince et Paris, et refaire du parachute ascensionnel à Waterworld, un de ses loisirs préférés désormais !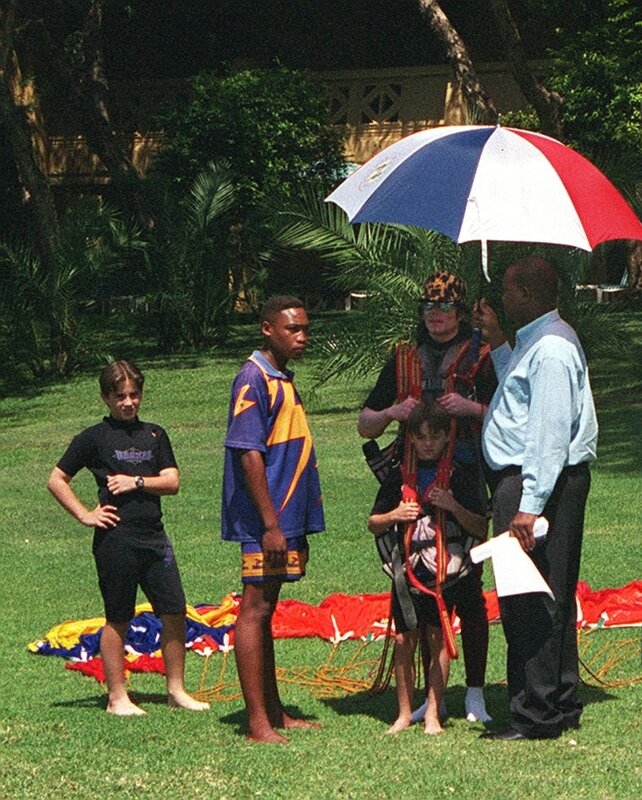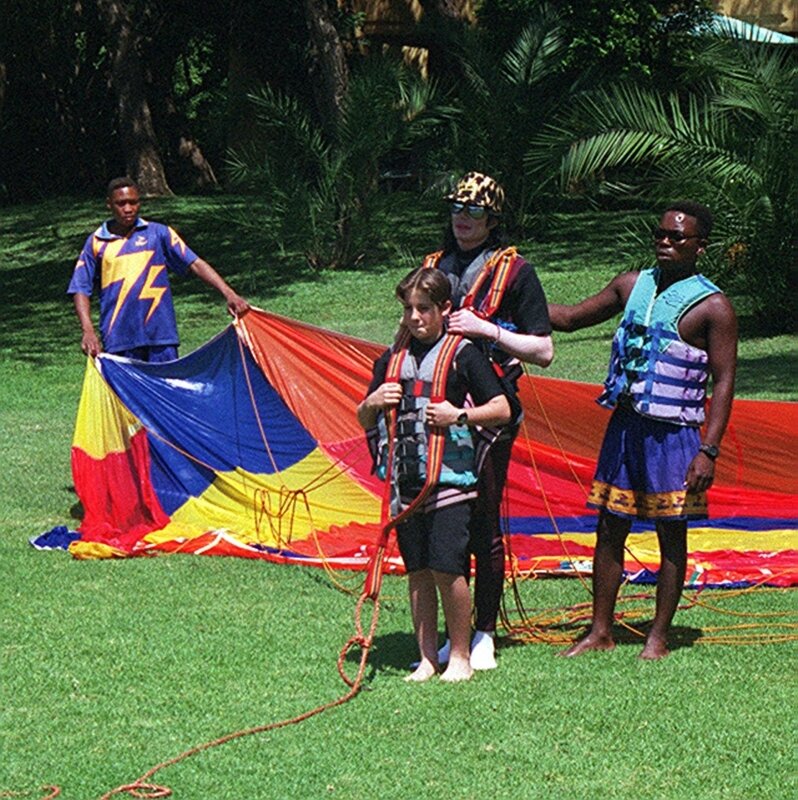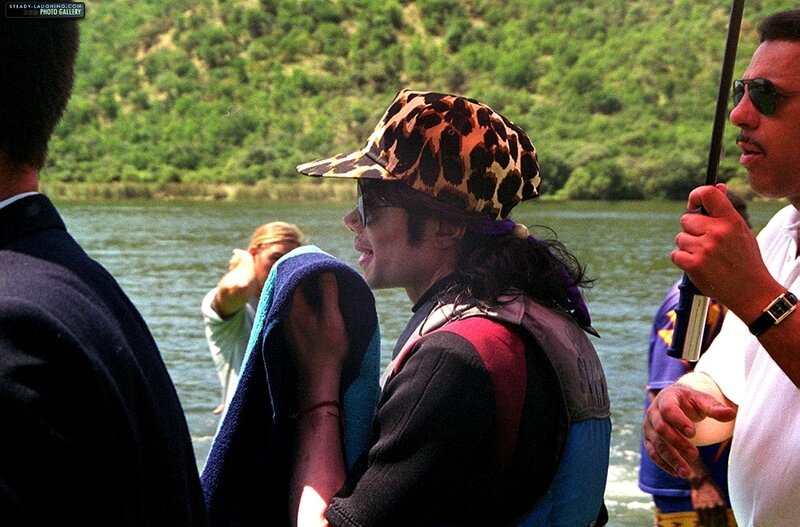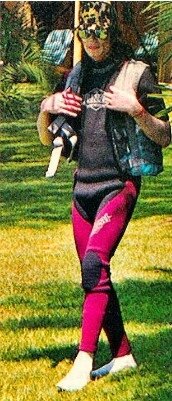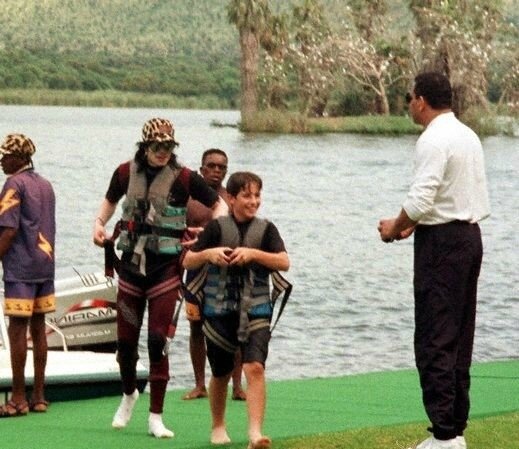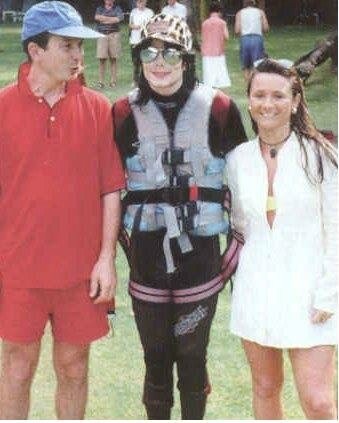 Michael avec ses amis Philip et Roslyn Cohen
Il revient pour affaire en mars et, le 14 juillet, Michael s'installe à nouveau à Sun City pour quelques jours de vacances, accompagné de Frank Cascio.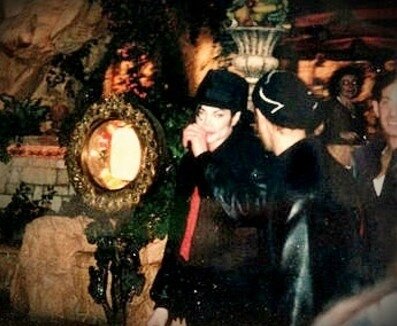 Il y est de retour le 4 septembre, pour les Kora All Africa Music Awards, une cérémonie qui récompense les artistes africains ou d'origine africaine (à l'image des Victoires de la musique en France, ou des Grammy Awards aux États-Unis). Il reçoit un trophée pour l'ensemble de son œuvre et remet à Nelson Mandela un chèque d'un million de rands (166,400 dollars) destiné à la fondation pour l'enfance du président africain. La somme représente une partie des bénéfices générés par les concerts MJ & Friends.
La cérémonie se déroule dans la salle Superbowl de l'Entertainment Center.
Il s'agit là probablement du dernier séjour du King of Pop à Sun City.
Loin de la misère et des difficultés du pays, Sun City est un endroit idyllique pour se détendre et profiter du climat de l'Afrique du Sud. Quiconque a conservé son âme d'enfant ne pourra qu'apprécier son séjour dans ce superbe complexe de loisirs …. et Michael Jackson l'avait bien compris !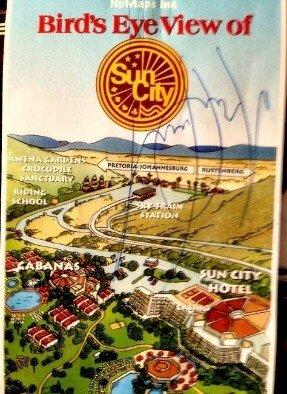 Sources : (1) luxurydreamhotels.com/ lefigaro.fr/ legend-of-mwfc.la.coocan.jp/Sun City Fact Finder/Wikipedia/cartasparamichael.blogspot.fr