L'arrivée à Rome de Michael Jackson, le 19 mai 1988, marque le début de la tournée européenne du Bad Tour. A cette occasion, le chanteur donne deux concerts au stade Flaminio de la capitale italienne, les 23 et 24 mai 1988. Au cours de ce séjour de quelques jours à Rome, Michael en profite pour faire du tourisme et visiter les lieux les plus emblématiques de la ville.
Si certaines de ces visites ont été suivies par les fans et les photographes, comme celle du Vittoriano, d'autres sont restées d'ordre privé et peu de photos ont filtré de ces moments.
C'est notamment le cas de ce 21 mai 1988, lorsque le Vatican accepte d'ouvrir la Chapelle Sixtine spécialement pour Michael.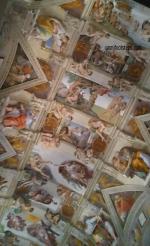 Le plafond de la chapelle Sixtine
Accompagné de l'ambassadeur américain, Maxwell Rabb, il peut ainsi admirer tranquillement les fresques de Michel-Ange, un artiste qu'il apprécie tout particulièrement. (voir ici)
Michael demandera à être reçu par le Pape au Vatican mais ayant des engagements, Jean Paul II ne pourra accéder à la demande de la star …. Il s'agit d'ailleurs probablement d'une des rares personnalités que le King of Pop n'aura pas rencontrée au cours de sa carrière.
Le 22 mai, c'est également en toute discrétion qu'il se rend à l'hôpital pour enfants Bambino Gesu où il rencontre les jeunes patients atteints d'un cancer.
L'hôpital pédiatrique du Vatican fondé en 1869 est l'un des plus renommé d'Italie et d'Europe, pour l'accueil des enfants et adolescents mais aussi en tant que centre de recherches.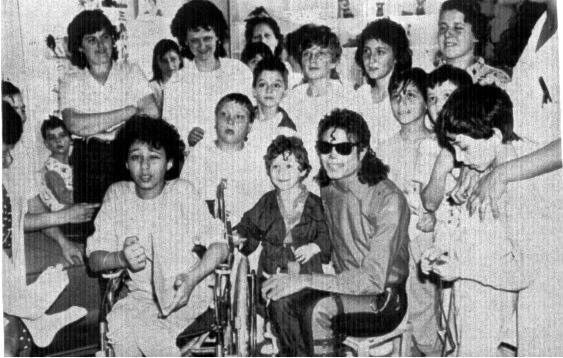 Devant les enfants qui n'en reviennent pas de voir le chanteur, il leur signe des autographes, leur offre des cadeaux, leur distribue bonbons et sourires et leur apporte un soutien moral. Parmi eux se trouvait Nunzia Giacco, une jeune fille de 13 ans qui venait de subir une transplantation cardiaque.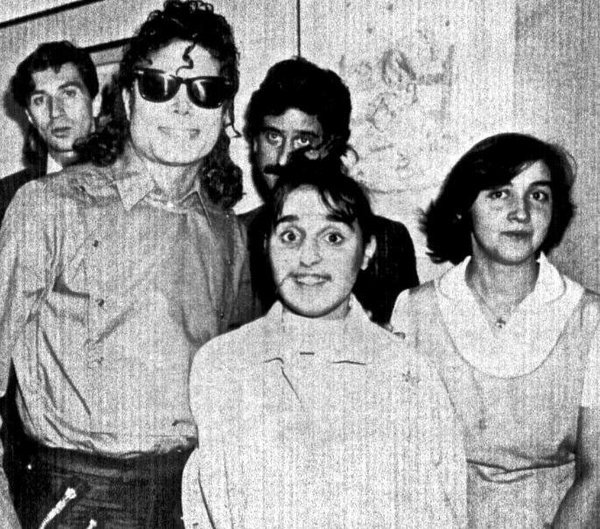 Michael fait un don de 100 000 livres sterling à l'hôpital pour la recherche contre la leucémie.
Le 23 mai, jour de son premier concert, c'est déguisé que Michael visite la basilique Saint Pierre.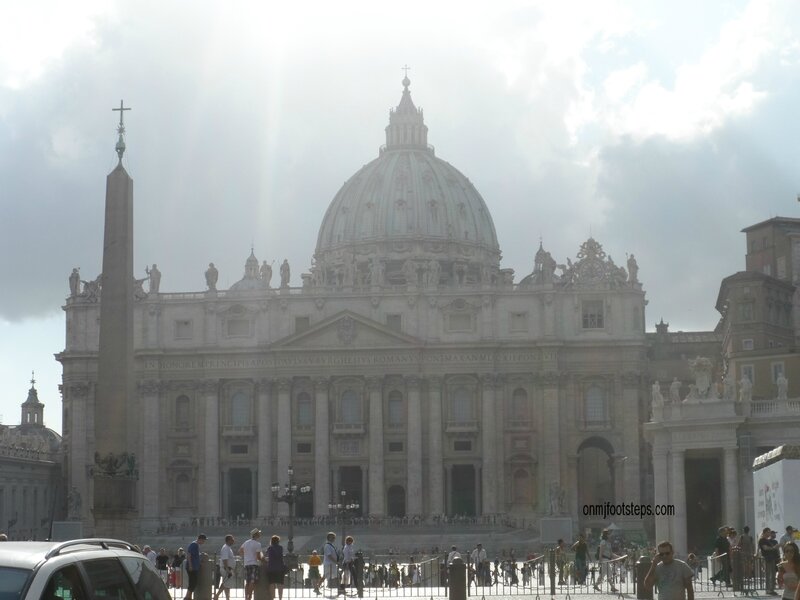 Un des journalistes du Point (couvrant peut être à l'époque les concerts italiens) a évoqué en 2009 la rencontre furtive avec le King of Pop incognito dans la célèbre basilique: "Nous regardions la Pieta de Michel-Ange. Nous étions quelques personnes en arrêt devant sa niche. Un mouvement furtif à ma gauche, une ombre qui glisse, je sursaute. C'est Belphégor. Silhouette recouverte des pieds à la tête d'une chasuble façon burqa, mais la sienne est grise et curieusement surmontée d'un chapeau mou à la Sinatra. Accompagnant cette étrange créature, un homme seul, assez gros, imposant, physique de maffioso, il tient à la main un cigare éteint. Il se retourne vers moi, me sourit en me faisant un clin d'oeil. C'est Frank Dileo, manager de Michael Jackson, que j'avais rencontré quelques jours plus tôt à Los Angeles. [Michael] doit chanter le soir même dans le plus grand stade de Rome. L'apparition voilée pivote à son tour vers moi - je crois deviner un sourire derrière ses yeux qui se plissent légèrement - et s'éloigne doucement, comme mue sur un coussin d'air, et toujours escortée de Tony Soprano, scannant du regard tous les visiteurs croisés. 'Qui est-ce ?', me demande une touriste américaine. 'I don't know, Mam, I don't know..' " (1)
L'intérieur de la basilique et La Pieta. Michael possédait une copie de cette sculpture
Michael fait tout de même une brève apparition publique, lors de la fête qui est donnée le jour de son arrivée, à la Villa Taverna, la résidence de l'ambassadeur américain à Rome. Il y retrouve des stars italiennes parmi lesquelles les deux grands noms du cinéma italien des années 50, deux actrices rivales qui ne s'étaient pas adressé la parole depuis des années et que Michael réunira le temps d'une photo, Sophia Loren et Gina Lollobrigida.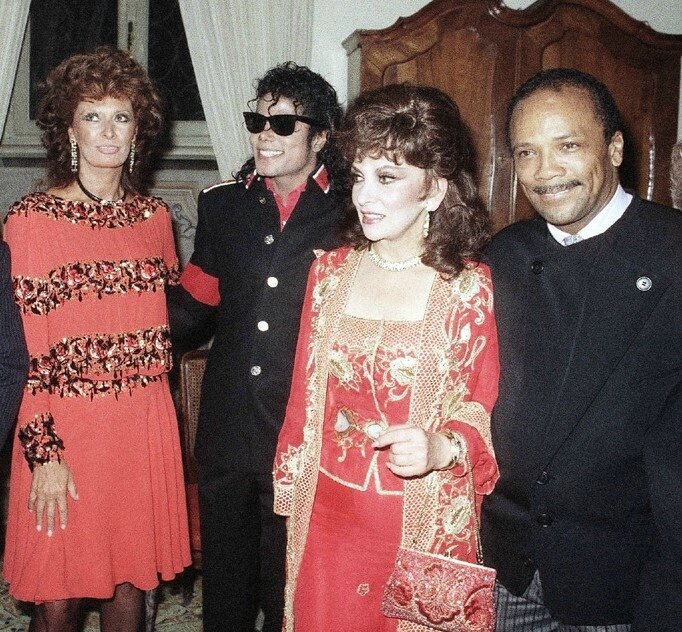 Enfin, le 25 mai, Michael se rend au monument Victor-Emmanuel II, appelé aussi l'Autel de la Patrie ou Il Vittoriano, un des monuments les plus imposants de Rome. Sa venue déclenche une hystérie sans nom et on comprend pourquoi il souhaitait tant rester discret dans ses déplacements. Les photos de ce moment sont les plus connues de son passage à Rome. Le récit de cette visite ici.
Sources : (1) http://www.lepoint.fr/culture/2009-06-26/mes-souvenirs-avec-michael-jackson/249/0/356162
Voir également MJ PLaces à Rome, Rome 2014 et un article d'époque