Il est l'une des dernières légendes de la musique noire américaine. Sa discographie comptait en 2013 pas moins de 23 albums studio, trois albums de musique de film, quatre albums live et 98 singles. Il a vendu plus de 100 millions d'albums, a reçu 22 Grammy Awards et remporté un Oscar de la meilleure chanson originale au cours d'une carrière qui s'étend sur plus d'un demi-siècle (1).
Né Steveland Hardaway Judkins le 13 mai 1950, Stevie Wonder a commencé sa carrière à l'âge de 8 ans. En 1961, à 11 ans, découvert par Ronnie White, alors compositeur au sein du groupe The Miracles aux côtés de Smokey Robinson, Stevie signe pour le label Tamla Motown. Son premier album sort en 1962 sous le nom de Little Stevie Wonder, un surnom donné par le producteur et mentor du chanteur, Clarence Paul. Le succès arrive très vite. Enfant star mais artiste complet, auteur-compositeur-interprète, le jeune homme aveugle compose pour lui et pour les autres artistes de la Motown. Au début des années 70, et après de longues tractations avec Berry Gordy, le fondateur de Motown, il finit par obtenir sa liberté artistique en réalisant et produisant entièrement ses albums.
Le début des années 80 marque une période plus commerciale, avec des succès tels que Part Time Lover, I Just Call To Say I Love You, Free, des duos et des collaborations avec des grands noms de la chanson (Michael Jackson, Paul McCartney (Ebony and Ivory) et Jermaine Jackson avec son album Let's Get Serious) mais aussi plus engagée, avec notamment sa chanson Happy Birthday qui milite pour l'institution d'un jour férié national en mémoire du révérend Martin Luther King ou sa participation au collectif USA for Africa en 1985 avec le titre We Are The World.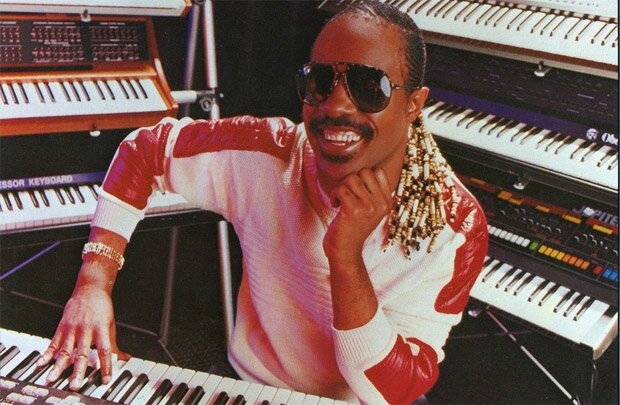 Intronisé au Rock'n'Roll Hall of Fame en 1989, Stevie Wonder poursuit sa carrière et ses collaborations au cours des années 90 puis 2000 en prenant son temps. Il s'investit dans la campagne électorale de Barack Obama en 2008 et apparait pour des concerts lors de festivals, son nom étant le garant d'un auditoire comble. En 2009, il reçoit le prix de Messager de la Paix des Nations Unies en reconnaissance de ses actions humanitaires en faveur de l'Afrique.
De mentor à collaborateur
Lorsque les Jackson 5 arrivent chez Motown, en 1968, Stevie Wonder a déjà quelques années de carrière dans le label. Les albums du groupe et les premiers albums solo de Michael chez Motown contiendront des reprises de titres de Stevie Wonder, déjà devenus une référence malgré son jeune âge. On peut ainsi répertorier :
My Cherie Amor - (Album Diana Ross Presents The Jackson 5 - 1969)
Don't Know Why I Love You - (Album ABC - 1970)
Never Had a Dream Come True - (Album ABC - 1970)
Shoo-Be-Doo-Be-Doo-Da-Day - (Album Ben - 1972)
Superstition - (Album Live In Japan, The Jackson 5 - 1973)
I Was Made To Love Her - (Album Joyful Jukebox Music - 1976)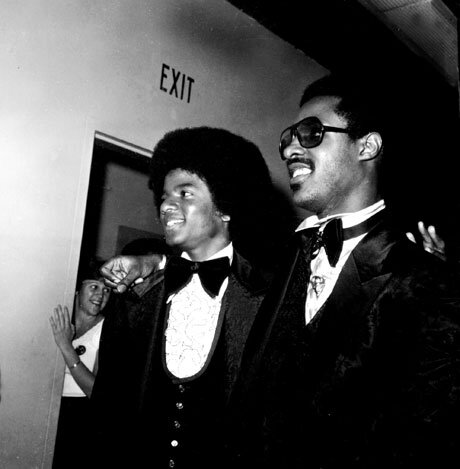 Michael et Stevie lors de la cérémonie des Grammy Awards en mars 1974
La relation artistique entre les deux hommes va donner lieu a diverses collaboration jusqu'au début des années 90. Tous deux enfants star chez Motown, Michael s'est souvent inspiré de Stevie qu'il observait à l'œuvre. "Michael venait toujours au studio curieux de savoir comment je travaillais et ce que j'y faisais. 'Comment fais-tu cela? Pourquoi fais-tu cela?' Il s'inspirait du meilleur de ce que les gens de la scène musicale faisaient, il était très clairvoyant. Il devait avoir environ 9 ou 10 ans, et j'ai vraiment senti qu'il deviendrait quelqu'un. On entendait sa voix et tout ce qu'il lui restait à faire était de grandir. Et c'est ce qu'il a fait", dit Stevie de lui. (2)
En 1974, Michael est au Record Plant studio de Los Angeles, auprès de Stevie, à l'observer, probablement durant l'enregistrement du double album de ce dernier, Songs in the Key of Life, qui sortira en 1976. Stevie Wonder n'a que 26 ans et il signe alors l'un des albums les plus marquants de sa carrière, qui lui vaudra quatre Grammy Awards.
Dans l'interview qu'il donne au magazine Ebony en décembre 2007, Michael se souvient de ces moments et ne tarit pas d'éloges pour son ami : "Stevie Wonder, c'est un prophète musical. Un autre gars à qui je dois beaucoup. Je voulais tout expérimenter. Donc, Stevie Wonder me laissait m'assoir près de lui telle une mouche sur un mur. J'ai pu observer la création de l'album Songs In The Key of Life, des moments précieux." (2)
1974 marque aussi la première collaboration entre ces deux géants de la musique. Les Jackson 5 participent aux chœurs sur un titre très politique qui s'adresse alors au Président Nixon, You Haven't Done Nothin paru sur l'album Fulfillingness' First Finale de Stevie Wonder. On y entend même Stevie prononcer le nom du groupe.
Cette même année, les Jackson 5 enregistrent Buttercup, une composition de Stevie Wonder pour le groupe qui restera cependant inédite jusqu'en novembre 2009. Le titre est désormais disponible sur l'album I Want You Back! Unreleased Masters.
En 1979, lorsque paraît l'album Off The Wall de Michael, on y découvre une autre composition de Stevie (associée à l'ex-membre des Supremes, Susaye Greene), I Can't Help It, un titre très jazzy sur ce premier album solo de Michael depuis son départ de chez Motown. "J'étais à la maison et Stevie m'a invité à venir le voir en studio. Il m'a joué cette chanson. Je lui ai dit 'J'adore, c'est quoi ? Quand vas-tu la sortir ?' Il m'a répondu 'Je ne vais pas la sortir, elle est pour toi.' 'Waouh', j'ai dit, 'j'étais tellement excité car il est tellement bon et la mélodie était géniale. Je l'aime tellement, je ne plaisante pas, c'est un maître. Je le mettrai au même rang que Beethoven ou d'autres très grands. Il est toujours en avance musicalement", explique Michael en mai 1983, lors d'une interview radio à l'occasion de l'anniversaire de Stevie.
Susaye Greene se souvient de l'écriture du morceau : "Stevie est venu me voir et m'a dit qu'il voulait écrire quelque chose pour Michael, j'étais en plein enregistrement des chœurs pour son album Songs in The Key of Life. Il avait une partie du refrain 'Can't help it, if I wanted to' mais il n'avait pas vraiment les mots pour la suite et disait 'Llllll-ah-da, lll-yet-dee-dee-da'. Alors on s'est assis et la chanson nous est venue très rapidement" (3)
Stevie avait enregistré une version (démo) du titre. Une petite merveille avec sa voix également.
En septembre 1980 paraît l'album de Stevie Wonder, Hotter Than July. Sur l'un des titres, All I Do, composé en 1966, on retrouve un certain Michael Jackson dans les chœurs.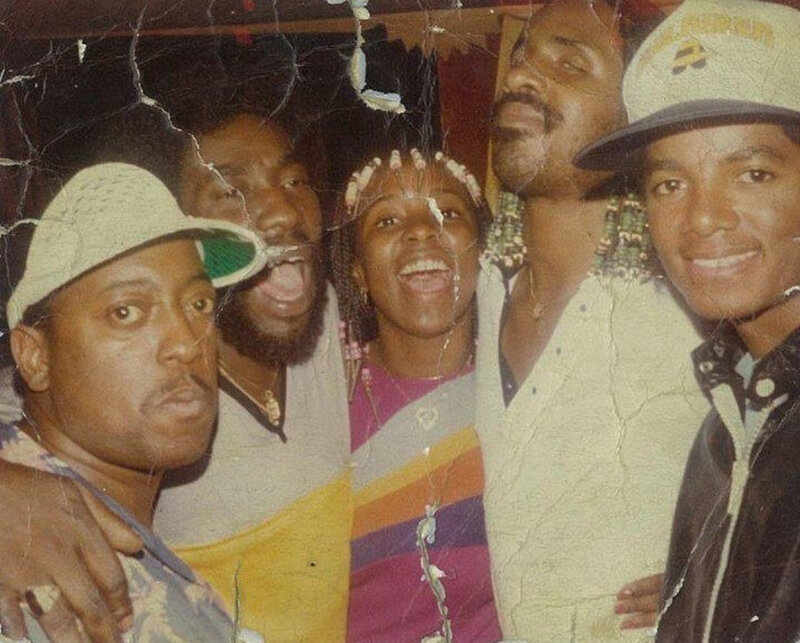 En studio pour All I Do. De gauche à droite: Jamil Raheem, Eddie Levert, Betty Wright, Stevie Wonder, Michael Jackson
Les deux hommes se retrouvent deux ans plus tard en studio pour enregistrer les choeurs (avec, entre autres, de Christopher Cross, James Ingram, Kenny Loggins, Michael McDonald, Lionel Richie, Brenda Russell, Dionne Warwick) sur une chanson de Donna Summer, State of Independance (voir ici)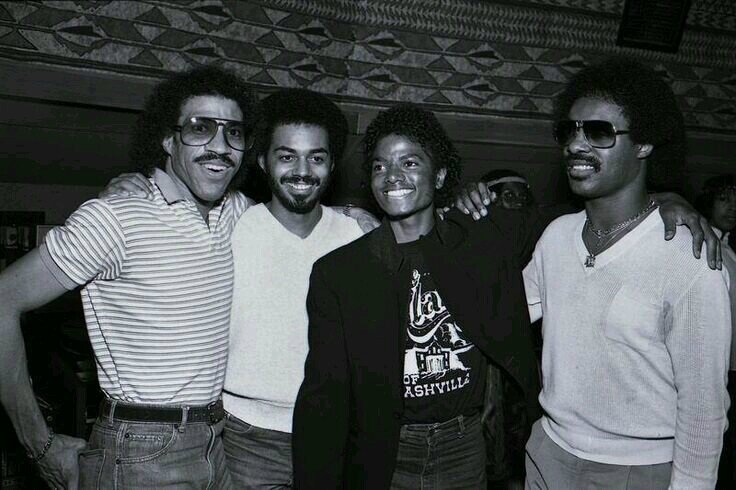 1982 est aussi l'année de la sortie de Thriller. Bien qu'ayant connu le succès avec Off The Wall, Michael Jackson découvre la renommée internationale. A 24 ans, il atteint les sommets des charts avec cet album, sans oublier que Stevie a été l'un de ses mentors. En 1984, au cours d'une interview, Michael dit de lui : "C'est difficile d'expliquer comment il est. Il crée des mélodies sans effort. Il entend votre voix et même si vous essayer de la déguiser, il vous reconnait. Je rentre dans la pièce et il commence à chanter mon nom et crée une chanson à l'instant même. C'est incroyable !"
Lorsque Michael Jackson, Lionel Richie et Quincy Jones se lancent dans le projet USA For Africa en janvier 1985, le nom de Stevie Wonder s'ajoute tout naturellement à la liste des participants. Depuis toujours, Stevie est un militant et la cause humanitaire associée au titre We Are The World et à l'album qui suivra ne pouvait le rendre insensible.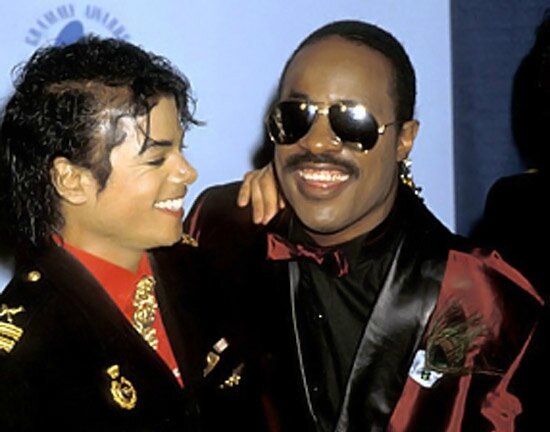 Michael et Stevie backstage lors des Grammy Awards en février 1986. We Are The World remporte le Grammy de la chanson de l'année
1992 marque leur dernière collaboration, avec le titre Yeah d'Eddie Murphy, paru sur l'album Love's Alright. Les deux hommes posent leur voix, avec de nombreux autres artistes, sur ce titre qui ne restera cependant pas dans les annales.
Enfin les duos !
Après tant d'années de collaborations plus ou moins discrètes, les deux hommes réalisent en 1987 deux duos qui sortiront sur chacun de leur album.
Bad de Michael Jackson sort le 31 août 1987. Sur les onze titres qu'il contient, neuf sortiront en single. Ce ne sera cependant pas le cas de Just Good Friends, le duo avec Stevie Wonder, écrit par Terry Britten et Graham Lyle. "Nous avions besoin d'un duo, Stevie Wonder et moi, et ils avaient cette chanson. Je ne suis même pas sûr qu'ils avaient prévu d'en faire un duo", explique Michael (4). Les paroles rappellent le duo/duel entre Michael Jackson et Paul McCartney dans The Girl is Mine, pour l'album Thriller, sorti cinq ans plus tôt. Les voix de Michael et Stevie se marient à la perfection sur ce titre dynamique, à coup de synthés, qui ne bénéficiera donc pas de clip vidéo non plus.
Il faudra attendre la sortie du documentaire de Spike Lee, Bad 25, en 2012, pour avoir des images inédites de l'enregistrement de ce titre. Une pépite, vingt-cinq ans plus tard.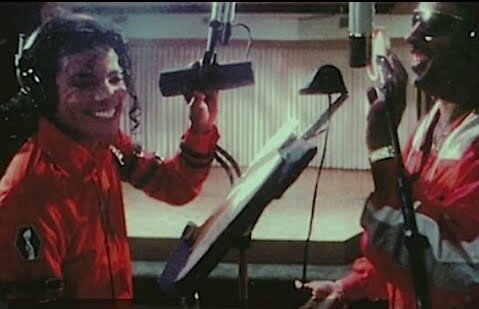 On a longtemps spéculé sur l'interprétation de ce titre en duo sur scène lors d'un des concerts du Bad Tour en Australie, en novembre 1987. Le site anglais steviewonder.org.uk indique que Stevie a rejoint, au cours d'une apparition surprise, Michael sur scène lors du titre Bad (et non Just Good Friends). Un moment d'anthologie cependant mais dont nous n'avons que les photos.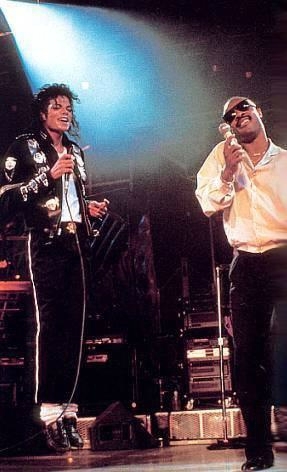 Ce n'était toutefois pas la première fois que les deux hommes se retrouvaient sur scène. En novembre 1980, lorsque le Hotter Than July Tour de Stevie passe par le Madison Square Garden de New York, Michael fait une apparition surprise à la fin du concert, sur le titre hommage à Bob Marley, Master Blaster. Gil Scott Heron, également présent, évoque ce duo improvisé dans son livre The Last Holiday (voir ici) mais là encore, il n'y a pas de vidéo de ce moment.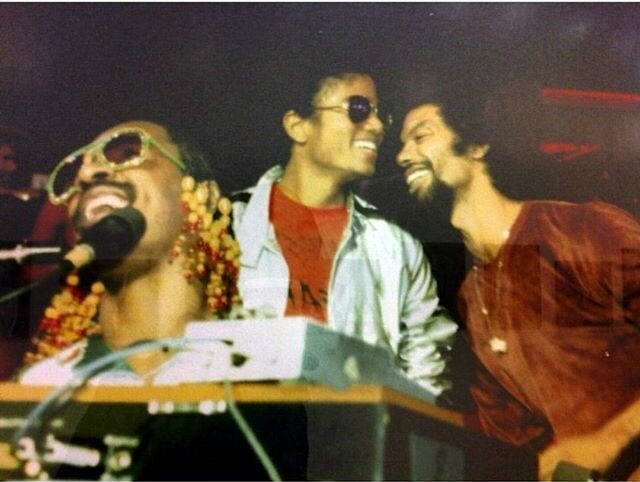 Stevie, Michael et Gil Scott Heron (je n'arrive pas à savoir si cette photo est un montage. Si quelqu'un en sait plus???)
L'autre duo, Get It, parait sur l'album Character de Stevie Wonder, sorti en novembre 1987. Le titre surfe même sur le succès de l'album Bad et bénéficie d'une sortie en single en mai 1988, sans toutefois la photo de Michael sur la pochette du 45 tours mais avec la version instrumentale en face B. Sans clip vidéo non plus, le duo se hissera difficilement à la 80ème place du US Billboard Hot 100.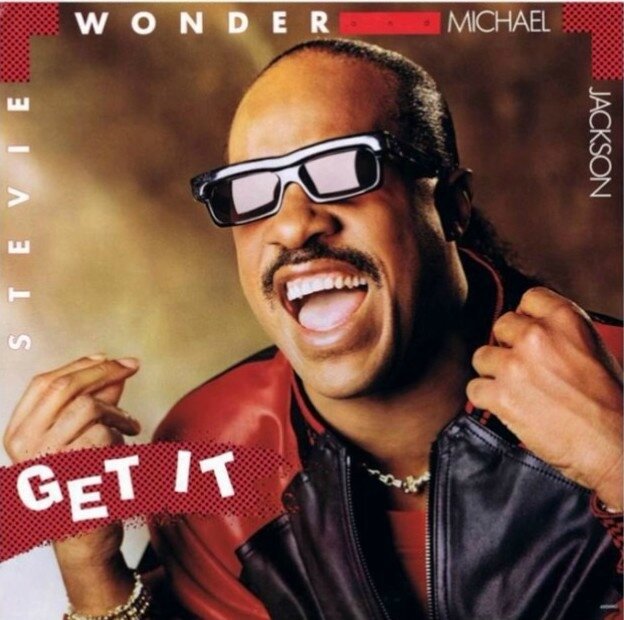 Un album ensemble dans les coffres de la Motown ?
C'est ce qu'affirme cet article paru dans les années 80 : Stevie Wonder et Michael Jackson auraient enregistré un album ensemble. Sans qu'il ne voit jamais le jour.
"Il y a des morceaux incroyables sur cet album", explique Michael. "Je ne sais vraiment pas pourquoi Motown le garde. Je pense qu'ils attendent un peu pour le sortir et être sûr de faire des hits avec". Une collaboration qui influencera Michael Jackson : "La façon dont il aborde une chanson est juste incroyable", s'émerveille Michael. "Une chanson peut venir de millions de manières différentes – ça peut prendre une demie heure ou six mois – mais lui ses chansons lui viennent juste comme ça. (Michael claque des doigts). Il fait l'imbécile, il taquine, puis il écrit une chanson comme ça. Je l'ai vu faire de nombreuses fois, et c'est juste fascinant. Je dirais que j'ai appris plus de lui que de quiconque.''
L'un des points communs entre les deux stars est un grand sens du perfectionnisme. ''Stevie n'est jamais satisfait'', précise Michael. ''Il va travailler un morceau à l'infini, c'est pour cela qu'il lui faut quatre ou cinq ans pour sortir un album. Je ne le battrai jamais sur ce point'' ( !!!).
''J'aurais aimé que ces chansons sortent à l'époque'', soupire-t-il. ''Mais elles pourraient très bien encore sortir maintenant et rester numéro 1 pendant... mon Dieu... longtemps...''
Buttercup semble faire partie de la tracklist de cet album. D'autres morceaux ont été évoqués sur différents forums spécialisés tels que You're Supposed To Keep Your Love For Me (proposé par Stevie à Jermaine Jackson et enregistré pour son album Let's Get Serious en 1980), A Pretty Face Is, No News Is Good News, If I Can't Nobody Can, The Future, sans que l'on n'ait jamais eu plus de renseignements.
Aurons-nous un jour la chance d'entendre ce bijou ? Stevie, si tu me lis ….. 😊
Une amitié sans faille
Dès leur rencontre dans les locaux de la Motown, Michael et Stevie ont partagé une amitié qui ne faillira jamais au cours des années.
Si au cours de leur brillante carrière, les deux stars se sont souvent retrouvées ensemble pour des cérémonies officielles, des shows (Motwn 25) ou en backstage de concerts, ils partagent aussi des moments plus intimes où Stevie découvre le vrai Michael. "J'ai rencontré Michael quand j'étais à Detroit et qu'il est arrivé à la Motown. Tout le monde parlait de ce garçon de Gary, Indiana, et des Jackson 5, et ils étaient tous excités. C'était un petit garçon à l'époque. (…) Je me souviens d'une fois où l'on jouait au air hockey, en faisant des va et vient. Je joue au air hockey sur le côté opposé au bout de la table, parce que c'est plus facile pour moi de vraiment comprendre ce qui se passe. Et Michael m'a dit: 'Oh, tu triches'. Et j'ai lui dit: 'Mais non je ne triche pas, allez.' Et nous avons passés des heures à jouer simplement au air hockey et à faire les fous. Il avait un cœur d'enfant. Et c'était très, très impressionnant pour moi. Finalement, nous sommes tous des êtres humains, et pour ceux qui ne savent pas qu'il est possible pour un homme adulte d'avoir un esprit enfantin, cela ne veut pas dire qu'il est étrange, que c'est une bête de foire ou autre truc ridicule que les gens disent. Il y a toutes sortes de personnes dans le monde. Le plus important, c'est que votre cœur se trouve au bon endroit." (5)
Le 4 août 1998, les deux hommes se rendent ensemble sur les traces de leur passé, là où tout a commencé pour eux, au musée Motown de Detroit, où se tenaient les studios de la Motown dans les années 60. Estelle Gordy, la soeur de Berry Gordy, les reçoit pour une visite inopinée.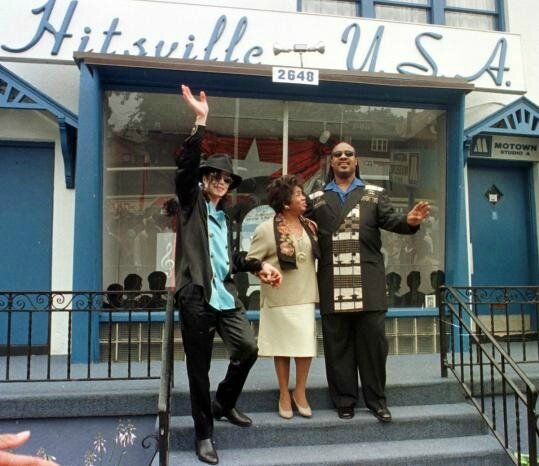 Discrets sur leurs relations privées tout au long de ces années, on comprendra la teneur de leur amitié lors de la disparition de Michael. Le 7 juillet 2009, au Staples Center de Los Angeles, Stevie Wonder, ému, rend hommage à son ami en interprétant une ballade composée en 1971 et parue sur son album Where I'm Coming From, Never Dreamed You'd Leave In Summer. Le morceau évoque la fin d'une relation entre deux personnes en utilisant la métaphore du changement des saisons. "Michael why didn't you stay" ("Michael, pourquoi n'es-tu pas resté ?"), lance Stevie avant d'entamer They Won't Go When I Go, paru en 1974 sur son album Fulfillingness' First Finale. Un titre qui déjà à l'époque sonnait comme une oraison funèbre.
"C'est un moment que j'avais espéré ne pas avoir à vivre", déclare Stevie avant de commencer à chanter. Mais c'est surtout en décembre 2009, au cours du Rock and Roll 25th Hall of Fame Anniversary Concert, alors qu'il interprète The Way You Make Me Feel, avec John Legend, que Stevie Wonder s'écroule sous l'émotion.
Cette chanson est l'un des titres favoris de Stevie Wonder. Un jour, alors que Michael et lui étaient dans un ascenseur et que Stevie fredonnait le morceau, "je lui ai dit que j'adorais la partie où il dit 'Go On Girls' et Michael m'a dit qu'il l'avait prise de mon titre Go Home, j'étais très fier." (6)
Michael Jackson et Stevie Wonder: deux grands noms de la musique, deux prodiges de la Motown, deux carrières qui resteront des références, deux hommes au grand cœur … mais uniquement deux duos ! Dommage d'ailleurs que ces derniers n'aient pas eu autant de succès qu'on aurait pu l'espérer pour une collaboration comme celle-ci. Mais ce ne sont pas les chiffres de vente qui donnent la valeur d'une relation…. Et celle de Michael et Stevie semblait unique et solide.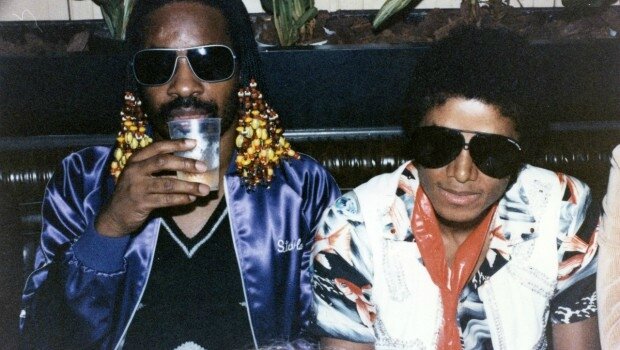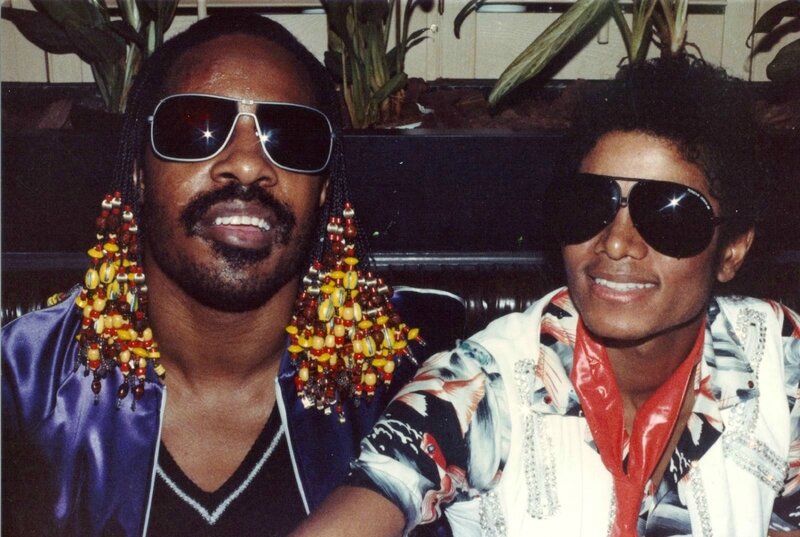 Sources : (1) Wikipedia/ (2) steviewonder.org.uk/ (3) blog.blogtalkradio.com/(4) Moonwalk, Michael Jackson/ (5) content.time.com/ (6) rollingstone.com/ mjackson.fr/prince.org