Skywriter (initialement prévu pour s'appeler Hallelujah Day) est le septième album studio des Jackson 5, paru le 29 mars 1973. Et l'album du groupe ayant remporté le moins de succès. Il faut dire qu'à l'époque, les Jackson Five étaient en tournée aux Etats Unis, au Japon et en Australie et peu disponibles pour assurer la promotion. C'est aussi à cette époque que Berry Gordy, plus occupé par la carrière cinématographique de Diana Ross et de l'avenir de Motown dans l'industrie du cinéma, a lâché ses poulains et les a confié Ewart Abner, un professionnel du disque.
L'album contient, comme toujours dans les albums des cinq frères, des reprises : Touch, des Supremes, I Can't Quit Your Love, des Four Tops, et Corner Of The Sky, de la comédie musicale de Broadway Pippin.
Touch est un titre très sensuel voire controversé à l'époque pour le jeune Michael, qui, avec Jermaine, évoquent la satisfaction d'une femme au lit. Katherine Jackson aurait été très contrariée d'entendre son fils chanter de telles paroles. Une sortie en single aurait été prévue mais finalement annulée.
Deux morceaux sortiront en single : Corner of The Sky, en octobre 1972 et Hallelujah Day, en février 1973, qui se classeront timidement dans les charts.
Deux autres titres bénéficieront d'une sortie en single mais uniquement en Grande Bretagne : Skywriter en août 1973 et The Boogie Man en avril 1974.
Track list de l'album
Face 1
Skywriter (Mel Larson, Jerry Marcellino) – 3:08
Hallelujah Day (Freddie Perren, Christine Yarian) – 2:46
The Boogie Man (Deke Richards) – 2:56
Touch (reprise des Supremes) (Pam Sawyer, Frank Wilson) – 3:00
Corner of the Sky (de la comédie musicale Pippin) (Stephen Schwartz) – 3:33
Face 2
I Can't Quit Your Love (reprise des Four Tops) (Leonard Caston, Kathy Wakefield) – 3:12
Uppermost (Clifton Davis) – 2:26
World of Sunshine (Mel Larson, Jerry Marcellino) – 2:45
Ooh, I'd Love to Be with You (Fonce Mizell, Larry Mizell) – 2:49
You Made Me What I Am (the Corporation) – 2:50
Loin des débuts glorieux des Jackson 5, Skywriter marque pourtant le début du changement pour le groupe qui commence à signifier son envie d'écrire ses propres textes. Michael a la voix qui change, le groupe devient plus adulte et les chansons ont des textes plus élaborés.
La pochette du disque marque elle aussi le côté plus adulte, avec une certaine mise en scène. Les cinq frères posent devant un avion des années 1900 et regarde de manière posée et sérieuse l'objectif de Leandro Correa, qui a réalisé la session photos.
Rod Dyer a été le concepteur de la pochette de l'album : "En prévision du photoshoot, nous avons emmené les Jackson 5 dans un magasin de déguisements de Los Angeles appelé Western Costumes, car nous voulions les photographier près d'un vieil avion. Nous leur avons trouvé de vieux vêtements de pilotes puis toute l'équipe est allée à l'ancien aéroport privé d'Orange County [il s'agit probablement aujourd'hui de l'aéroport John Wayne à Santa Ana, qui possède un hangar abritant le Musée de l'Air Lyon, qui regroupe une collection de vieux avions]. Une fois là-bas, j'ai fait le tour du lieu et découvert un vieil avion que l'on allait utiliser pour la pochette de l'album. On s'est éclaté durant cette session de photos.
J'ai créé la pochette de l'album Skywriter et le logo, qui a été utilisé sur certains de leurs produits souvenirs à cette époque. J'ai eu l'idée de cette pochette d'album vintage, Motown l'a aimée et a décidé de l'adopter. Nous avons fait les photos en quelques heures, c'était une session très simple. C'était génial parce que je voulais que ça ait l'air très vintage et je me souviens que Michael et ses frères ont adoré revêtir les costume de pilote qu'on leur avait choisis." (1)
Les Jackson 5 sont donc vêtus de costumes d'aviateur d'époque, en référence au titre Skywriter (littéralement, un pilote qui écrit avec son avion dans le ciel). Le photoshoot inclut également des clichés avec Randy, le plus jeune des Jackson, qui ne faisait alors pas partie officiellement du groupe, mais apparaissait de plus en plus souvent dans la formation.
Si Randy avait déjà participé à des sessions de photos avec ses frères, il s'agit là d'un moment particulier, préparé, car même un costume avait été prévu pour lui.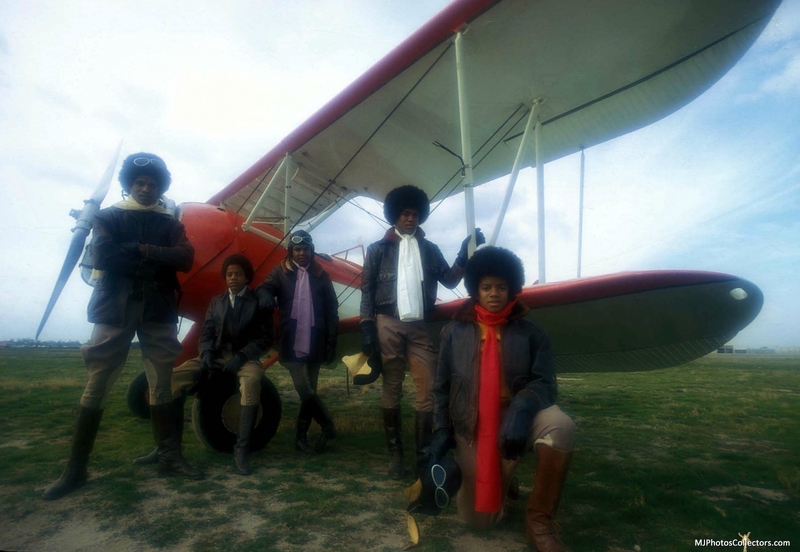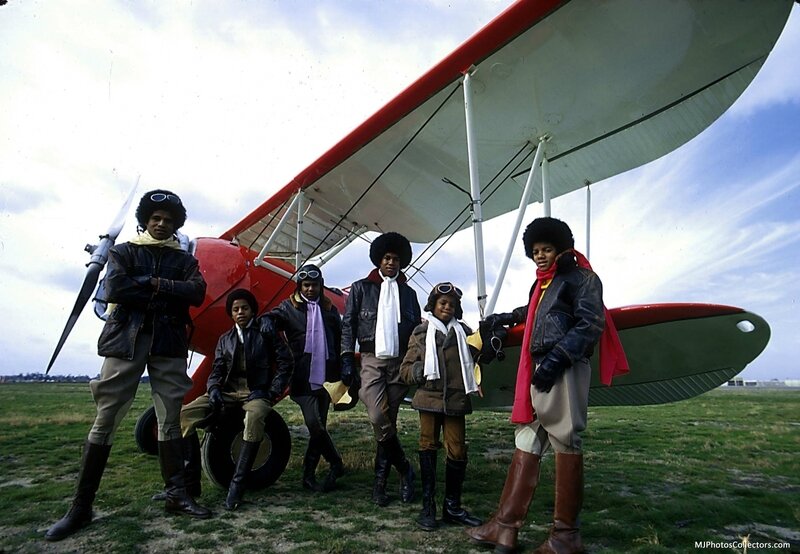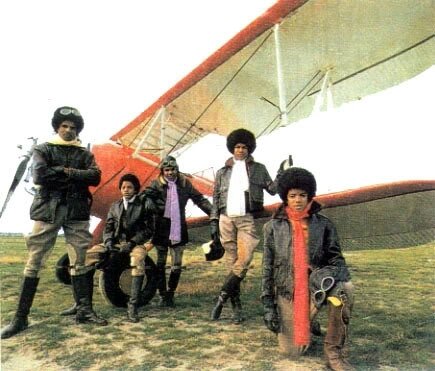 Selon l'excellent site j5collector.blogspotfr, une brève vidéo promo de l'album a également été tournée montrant les Jackson 5 sautant en parachute de leur Skywriter, chacun des frères donnant son nom au moment de sauter. Randy arrive à la fin, en disant "Me too, I'm Randy" ("moi aussi, je suis Randy").
Ce même site suppose qu'il pouvait s'agir ainsi d'une tentative de la part de Motown de donner un rôle plus important à Randy au sein du groupe. Michael venait de commencer sa carrière solo et le label Motown voyait-il plus grand pour sa jeune star ? On ne le saura jamais mais si les photos de l'album sont en noir et blanc (là aussi, cela marque une particularité dans les pochettes d'albums du groupe), d'autres photos issues de la session sont en couleur, et à mon avis, tranchent agréablement avec ce que le groupe avait l'habitude de faire.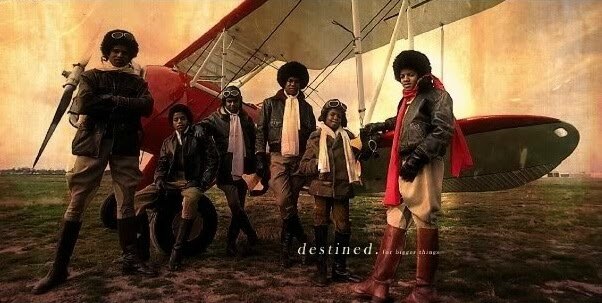 Source : (1) michaeljacksonreel.weebly.com/jackson5abc.com/j5collector.blogspot.fr/soulfuldetroit.com/Wikipedia/ Livre The Maestro, Chris Cadman