A l'occasion de l'anniversaire de Michael Jackson, qui aurait eu 59 ans ce 29 août 2017, nombreux sont ceux qui lui adressé des messages sur les réseaux sociaux, prouvant que le King of Pop sera toujours dans le cœur de ses fans et de ceux qui l'ont connu.
Petit tour d'horizon des messages les plus touchants: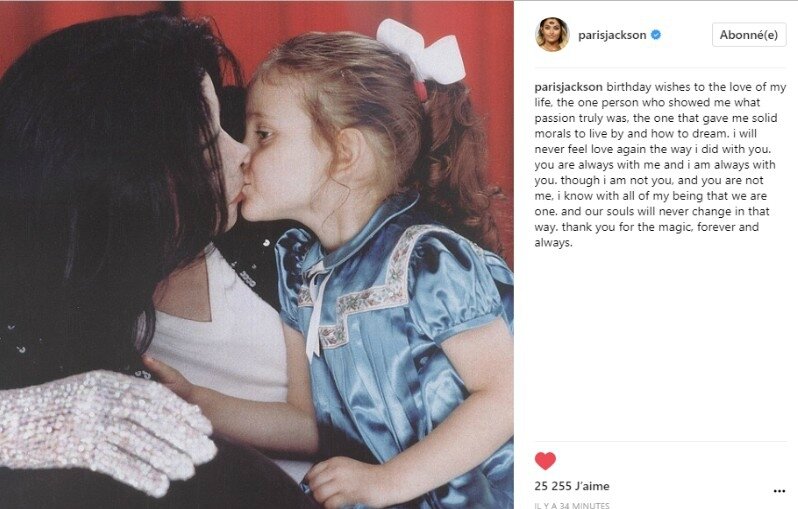 Tous mes vœux d'anniversaire à l'amour de ma vie, la seule personne qui m'ait montrée ce qu'est la véritable passion, le seul qui m'ait donné des valeurs solides pour vivre et savoir rêver. Je ne ressentirai plus jamais l'amour comme je l'ai ressenti avec toi. Tu es toujours avec moi et je suis toujours avec toi. Bien que je ne sois pas toi et que tu ne sois pas moi, je sais de tout mon être que nous ne faisons qu'un et que nos âmes seront toujours ainsi. Merci pour la magie, à jamais et pour toujours.
Paris Jackson, sa fille
Certaines personnes trouvent la perfection dans des super héros mais moi je trouve la perfection en toi. Ton esprit, ton cœur, ton âme n'ont pas d'égal. Je t'ai copié et j'ai toujours voulu te ressembler aussi loin que je me souvienne. Tu as toujours été plus qu'un oncle pour mes frères et moi. Tu étais notre grand frère. Tu étais là pour moi quand j'en ai eu le plus besoin et je n'oublierai jamais tout ce que tu as fait. Tu m'as appris l'importance de vivre sainement, d'être généreux et d'être simplement la meilleure personne possible. Je t'honorerai toujours et t'aimerai plus que les mots peuvent l'exprimer. Je t'aime ! – Meho
TJ Jackson, son neveu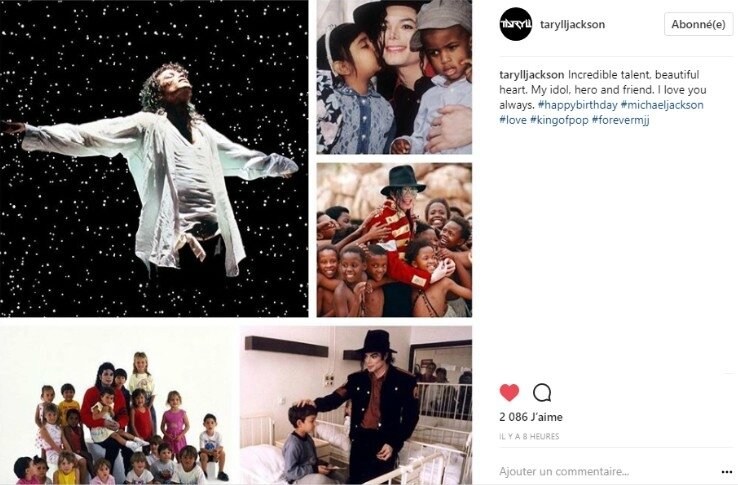 Un talent incroyable, un cœur magnifique. Mon idole, mon héros, mon ami. Je t'aime pour toujours.
Taryll Jackson, son neveu

Oncle Michael. Tu es la lumière la plus forte que je connaisse. Ton amour et ta lumière continuent d'illuminer mon chemin et celui de beaucoup d'autres aujourd'hui. Je t'aime plus encore.
Taj Jackson, son neveu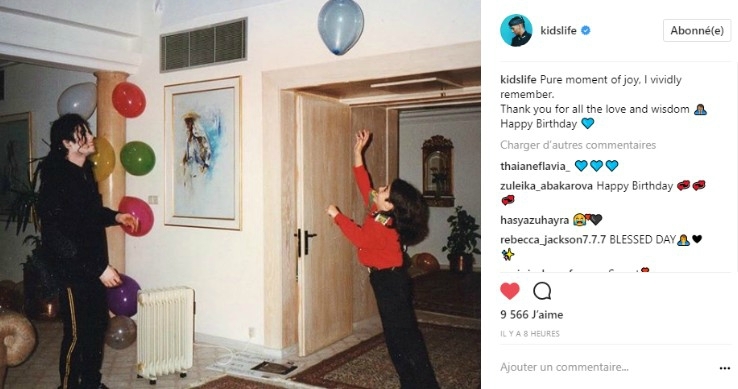 Un pur moment de joie dont je garde clairement le souvenir. Merci pour tout l'amour et la sagesse. Joyeux anniversaire.
Omer Bhatti, un de ses amis proches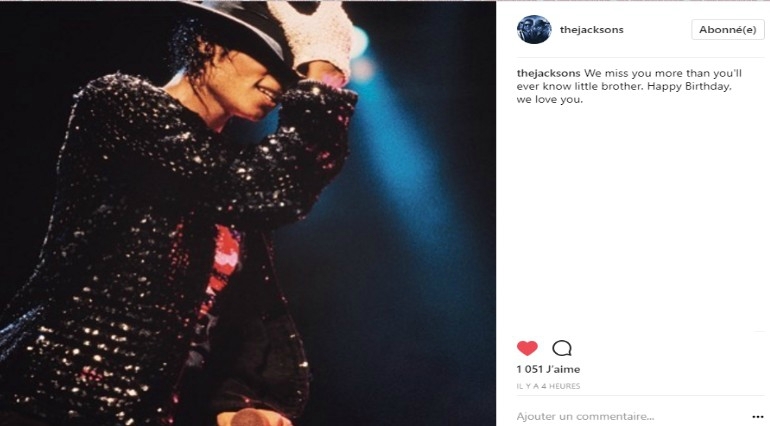 Tu nous manques plus que tu ne le sauras jamais petit frère. Bon anniversaire. Nous t'aimons.
The Jacksons, ses frères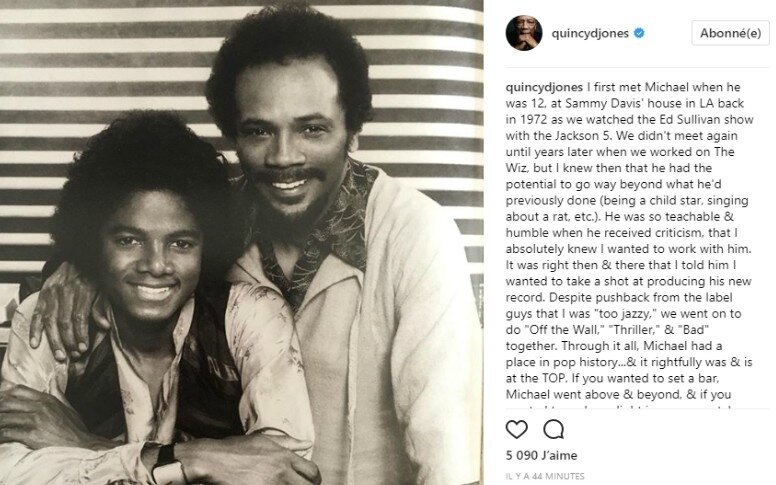 J'ai découvert Michael quand il avait 12 ans, chez Sammy Davis, à Los Angeles en 1972 alors que nous regardions le Ed Sullivan show avec le Jackson 5. Nous ne nous sommes revus que quelques années plus tard lorsque nous avons travaillé sur The Wiz, mais je savais alors qu'il avait le potentiel pour aller bien au-delà de ce qu'il avait déjà fait (être un enfant star, chanter à propos d'un rat, etc.). Il était si ouvert et humble quand il recevait des critiques, que je savais que je voulais absolument travailler avec lui. Je lui ai dit immédiatement que je voulais tenter le coup et produire son nouvel album. Bien que les gars du label m'avaient décrit comme "trop jazzy", nous avons fait "Off the Wall", "Thriller" et "Bad" ensemble. Grâce à cela, Michael a eu une place dans l'histoire de la pop ... et c'est à juste titre qu'il est devenu et est resté au TOP. Si vous vous fixiez une limite, Michael allait encore au-delà et si vous vouliez faire une légère amélioration, il ne s'arrêtait pas tant que ce n'était pas parfait. Il était comme ça, tout simplement ... Joyeux anniversaire Michael ... tu étais et seras toujours comme un fils pour moi.
Quincy Jones, producteur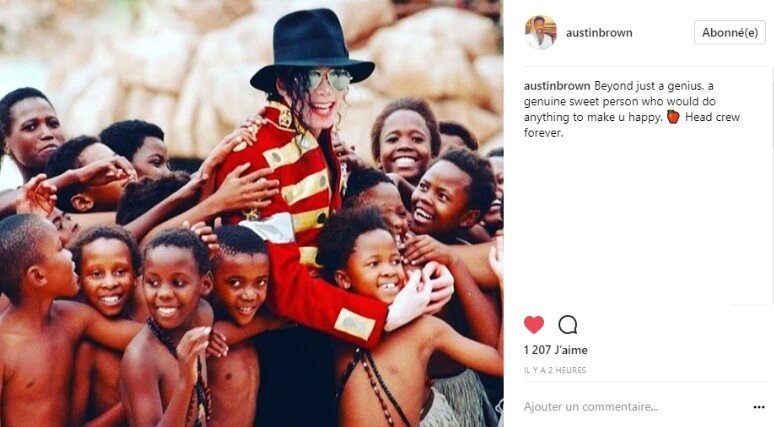 Au-delà du génie, une personne adorable et authentique qui aurait fait n'importe quoi pour vous rendre heureux. Tête de pomme pour toujours.
Austin Brown, son neveu
Joyeux anniversaire oncle Michael. Tu nous manques tellement. Je pense souvent à toi quand je vois ce qui se passe dans le monde. Ta vision de Guérir le monde est incomparable. Même si tu n'es plus là physiquement, nous te ressentons toujours spirituellement. Continue de prendre soin de nous.
Genevieve Jackson, sa nièce
En ce jour, il y a quelques années, nous fêtions tes anniversaires avec toi. Je ne peux oublier la surprise que nous t'avions préparé à Luggala en Irlande et les fêtes que nous faisions à Vegas. Nous n'oublierons jamais ta gentillesse et ta générosité. Joyeux anniversaire au paradis, Patron
Aileen Bradley, préceptrice de Prince, Paris et Blanket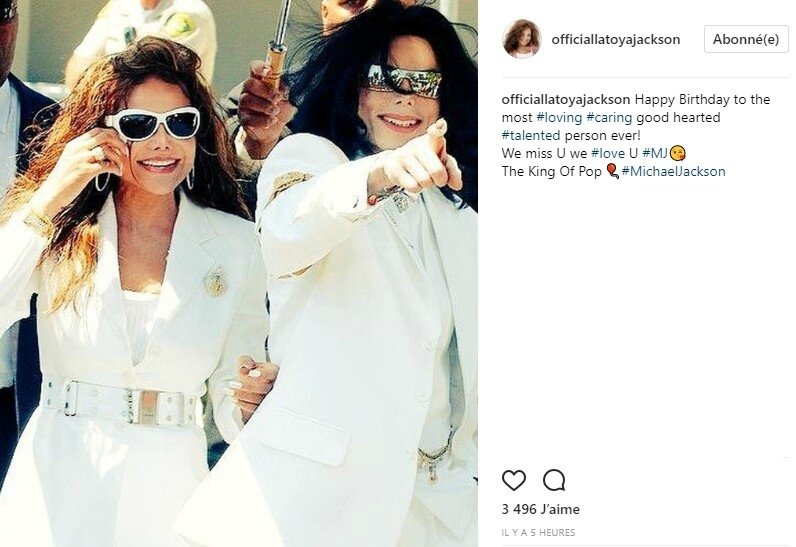 Joyeux anniversaire à la personne la plus aimante, talentueuse, attentionnée et au grand cœur. Tu nous manques, nous t'aimons MJ, The King of Pop.
La Toya Jackson, sa soeur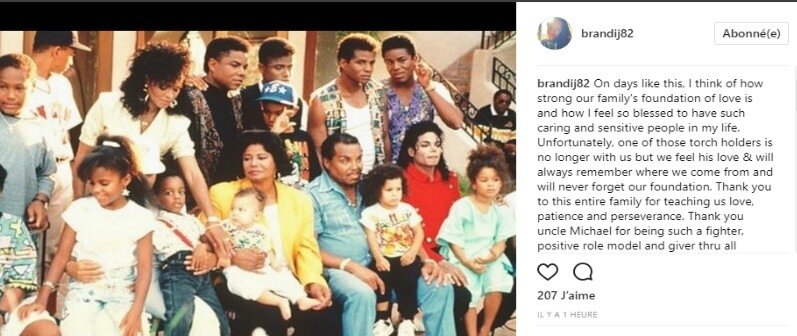 En ce jour, je pense combien l'amour de notre famille est fort et combien je suis bénie d'avoir tant de personnes attentionnées et sensibles dans ma vie. Malheureusement, l'un des flambeaux de cette famille n'est plus parmi nous mais nous sentons son amour et nous nous souviendrons toujours d'où nous venons et nous n'oublierons jamais nos racines. Merci à toute la famille de nous enseigner l'amour, la patience et la persévérance. Merci oncle Michael d'avoir été un tel combattant, un modèle positif et si généreux malgré tout ce que tu as enduré. Tu n'es plus là physiquement mais ton esprit est avec nous, nous ne t'oublierons jamais.
Brandi Jackson, sa nièce
Bon anniversaire mimi
Riley Keough, ex belle-fille (fille de Lisa Marie Presley)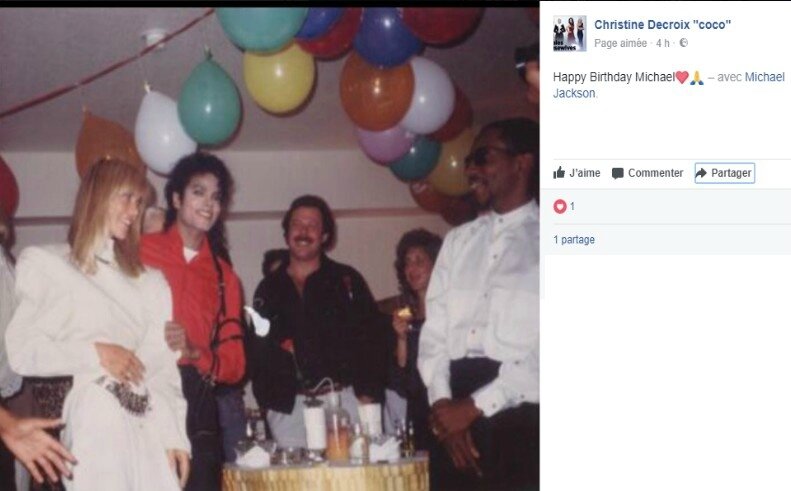 Joyeux anniversaire Michael
Christine "Coco" Decroix, auteure de la version française de I Jus Can't Stop Loving You, Je ne veux pas la fin de nous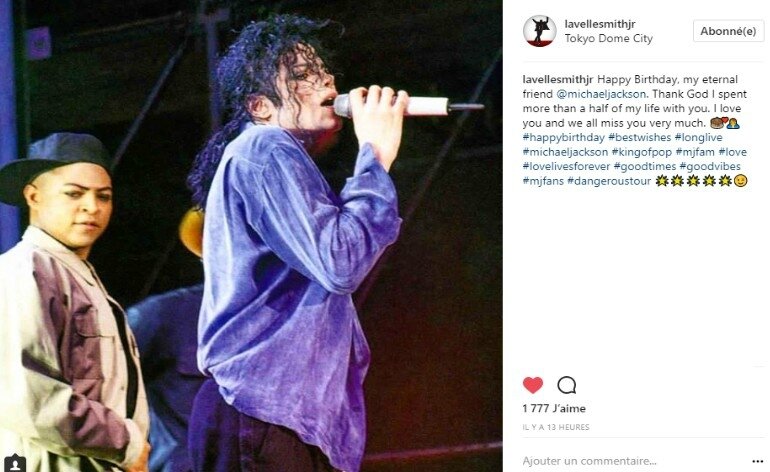 Joyeux anniversaire, mon ami éternel, Michael Jackson. Je remercie Dieu d'avoir passé plus de la moitié de ma vie avec toi. Je t'aime et tu nous manques à tous.
Lavelle Smith, danseur

Il n'y aura jamais d'autre Roi de la Pop, prince de la pop ou aucun autre titre avec le mot "pop". Michael Jackson les possédait tous. Il sera pour toujours l'homme qui a transformé la musique en magie. De la vidéo, à la mode, en passant par ses performances étonnantes, tout le monde devrait apprendre de Michael quand on dédie sa vie à quelque chose et que l'on aspire constamment à être meilleur. Merci Michael d'avoir montré au monde à quoi ressemble la grandeur. Bon anniversaire.
Bruno Mars, artiste
Papa et Michael Jackson
Bruno Mars, artiste
Joyeux anniversaire à mon ami Michael Jackson. J'adorais plus que tout le voir rire. Ce sourire me manque aujourd'hui et chaque jour.
Brooke Shields, actrice

Bon anniversaire !!! Je pense à toi tout le temps. J'aimerais que tu sois là !
Evan Ross, le fils de Diana Ross.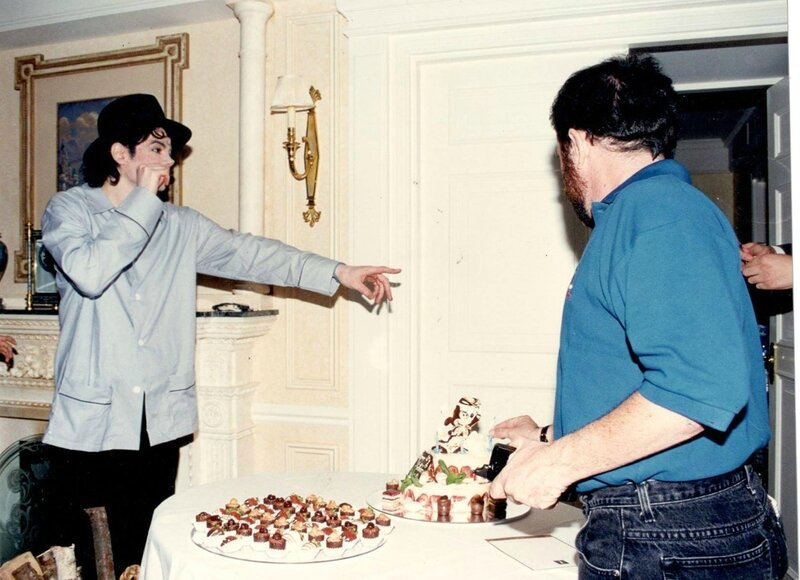 Une photo rare d'une fête d'anniversaire [à Euro Disney, en 1995]
Scott Shaffer, assistant personnel de Michael
Bon anniversaire à celui qui sera à jamais le plus grand, je t'aime pour toujours
Bryton James, acteur et ami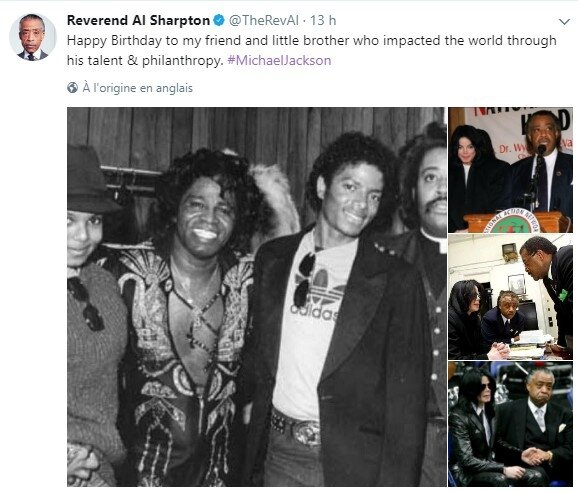 Bon anniversaire à mon ami et petit frère qui a marqué le monde avec son talent et sa philanthropie, Michael Jackson
Révérend Al Sharpton, un ami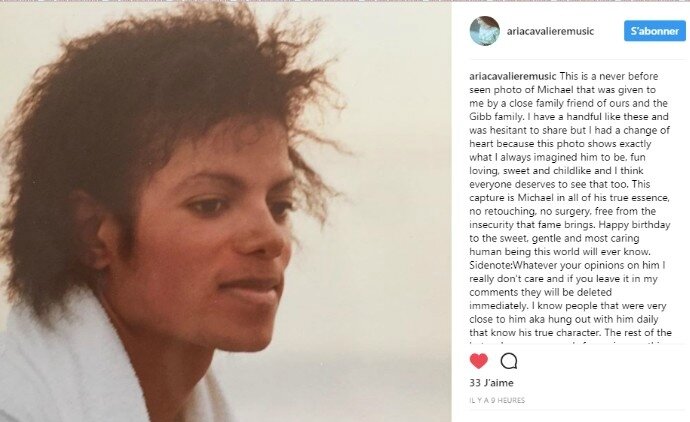 Voici une photo jamais vue de Michael qui m'a été donnée par un ami proche de notre famille et de la famille Gibb. J'en ai quelques unes comme celle-ci et j'hésitais à les partager mais j'ai changé d'avis parce que cette photo montre exactement comment je l'ai toujours imaginé : amusant, adorable, doux et enfantin. Et je pense que tout le monde devrait la voir aussi. Elle capture Michael dans sa vraie essence, pas retouché, sans chirurgie, libre de l'insécurité que la notoriété apporte. Bon anniversaire à l'être humain le plus doux, gentil et attentionné que le monde ne connaîtra jamais.
Photo de Renee Schreiber Dinicola
Aria Cavaliere, chanteuse
Sources: Instagram/facebook/twitter (merci à Lid Lily pour son aide)