En mai 1981, Michael Jackson se rend chez l'ex-Beatles, Paul McCartney, dans son ranch du Sussex en Angleterre pour travailler sur ce qui deviendra l'un des plus célèbres duos de Michael, Say Say Say.
Au cours de ce séjour, Michael est invité par Liberace, artiste américain de music hall et ami du chanteur, à visiter le Musée national automobile (National Motor Museum) situé à Beaulieu dans le comté de Hampshire (sud de l'Angleterre), créé en 1952 par Edward John Barrington Douglas-Scott-Montagu (appelé plus simplement Lord Montagu de Beaulieu).
Situé à environ une heure trente en voiture du ranch de McCartney, Michael s'y rend, avec la promesse de Liberace qu'il s'agit d'une visite privée, sans journaliste. Ce sera tout le contraire, et Michael en sera assez contrarié.
Si la visite du musée semble calme…..
Le parcours du domaine dans la voiture préférée de Lord Montagu (au volant), une Rolls-Royce Silver Ghost de 1909, voit Michael, Liberace et son ami Scott Thorson (à l'arrière, aux côtés de MJ) se retrouver parmi les visiteurs présents.
On aperçoit Michael un peu gêné, auprès de Liberace, dans la vidéo à regarder ici (de 0 :27 à 0 :37)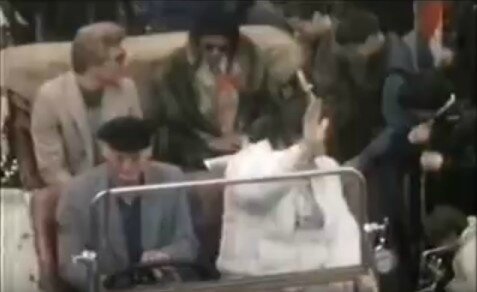 Source: flashbak.com
---
"To take a picture
Is to capture a moment
To stop time
To preserve the way you were"
Michael Jackson