L'anecdote a été partagée sur reddit.com. L'un des utilisateurs, bobbylightyear, a posté la photo de son père avec Michael Jackson. Nous sommes en novembre 1984 et le Victory Tour des Jacksons passe par Miami en Floride.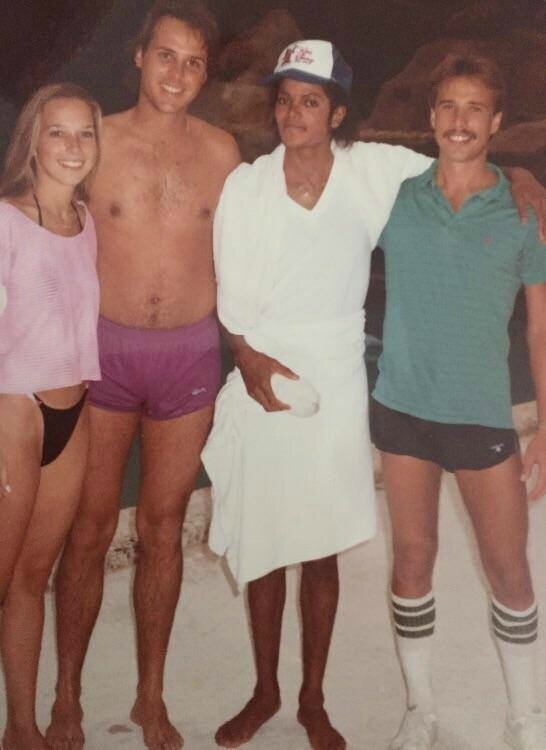 "Mon père (avec le short noir et le T-shirt vert) a grandi à Allison Island, à Miami Beach et Barry Gibb, des Bee Gees, vivait en bas de la route sur North Bay. L'homme en short rose était le petit ami de ma tante (à gauche sur la photo), il s'appelait Charlie et était le voisin de Barry Gibb.
Charlie et Barry Gibb étaient amis et allaient souvent faire du ski nautique avec le speed boat de mon père. Pendant ou juste avant le Victory Tour, Michael a séjourné quelques jours chez Barry Gibb. Charlie a demandé un jour à mon père s'il pouvait ramener quelqu'un en plus sur le bateau. C'était Michael Jackson.
Mon père disait que MJ était un homme extrêmement charismatique et très amusant. Il n'y avait rien de bizarre chez lui et il voulait simplement vivre une vie normale. Michael a dit à mon père que s'il pouvait faire un vœu, ce serait de simplement pouvoir entrer dans un magasin 7/11 et acheter un Pepsi.
Michael était venu sur le quai avec deux grands gardes du corps qui ont dit à mon père "Faites ce que vous voulez, mais on ne doit pas vous perdre de vue."
Source: redit.com (merci à Matilde sur facebook)
---
"To take a picture
Is to capture a moment
To stop time
To preserve the way you were"
Michael Jackson