En février 1979, The Jacksons sont en tournée en Europe avec leur Destiny Tour et passent par Londres pour quelques dates.
Au cours de ce séjour dans la capitale anglaise, Michael joue les touristes et se rend au musée de Madame Tussauds, le fameux musée de cire. Son passage est alors discret, loin de la folie que déclenchera sa venue, quelques années plus tard, en 1985, pour inaugurer sa statue.
Dans le musée, il pose auprès de la statue de son idole, Charlie Chaplin sous l'objectif du photographe Tony Prime.
Dans la Chambre des Horreurs, il pose également pour une photo étrange, dans un cercueil en bois, entourée de statues de femmes toutes condamnées à mort pour meurtres.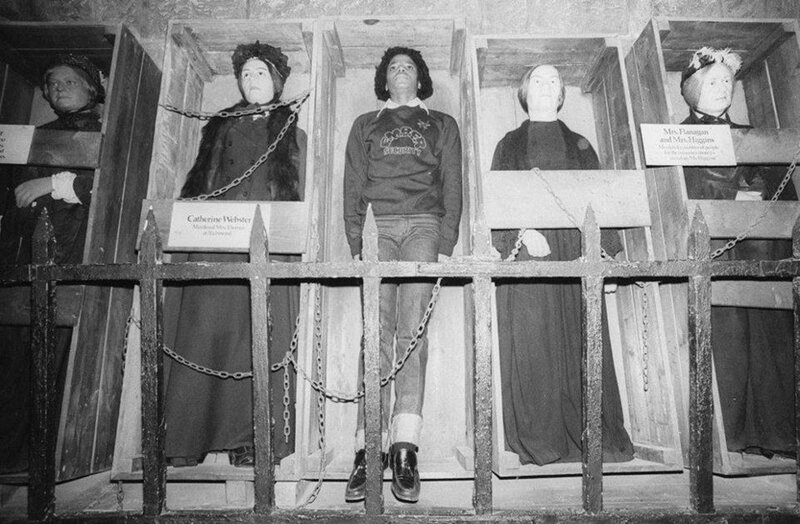 Sur la gauche de Michael se trouvent Margaret Higgins et Catherine Flanagan, des sœurs irlandaises, surnommées, à la fin des années 1800, les Veuves Noires de Liverpool. Elles étaient responsables en effet de plusieurs meurtres afin de récupérer l'assurance vie de leurs victimes. Sur sa droite, Catherine Webster était une femme de chambre irlandaise, accusée du meurtre de sa patronne, à Londres. Un des crimes les plus célèbres de la Grande Bretagne du 19ème siècle. Elle sera retrouvée pendue dans sa prison
Un ami de Tony Prime, présent ce jour-là, a expliqué que "Michael était intéressé par les choses étranges, il était même fasciné. Quand il a vu les cercueils, il a immédiatement sauté la barrière et pris place dans celui qui était vide." Et Tony Prime a immortalisé le moment.
---
"To take a picture
Is to capture a moment
To stop time
To preserve the way you were"
Michael Jackson