Ils étaient tous les deux des Kings, des icônes culturelles et musicales et ont marqué chacun leur époque. L'un était surnommé le King, l'autre le King of Pop. Le dernier avoue n'avoir pas été influencé par le premier : "Il a beau avoir été une figure de la musique blanche aussi bien que de la musique noire, il ne m'a pas influencé. (…) Pour moi, il n'y a aucun comparaison possible entre nous, et je refuse de rentrer dans cette polémique" (1), écrit Michael Jackson en 1988.
Une personne les unissait : Lisa Marie Presley. La fille d'Elvis Presley épouse Michael Jackson le 26 mai 1994 et surprend tout le monde. Une façon peut être de sceller le destin de ces deux stars.
La rencontre entre les deux Kings
Michael Jackson avait 19 ans lorsque celui qui deviendrait son beau-père décède en 1977. On peut donc penser qu'il ne l'a jamais rencontré. Ce qui n'est pas le cas, même s'il n'existe aucune photo de ce moment.
En avril 1974, les Jackson 5 se produisent pour une série de shows familiaux au MGM Grand de Las Vegas. Si la légende veut que Lisa Marie soit venue les voir lors d'un des ces shows, rien n'indique qu'ils aient rencontré Elvis Presley à ce moment là. Jackie explique que quand Elvis venait à un de leur show, Lisa était assise devant et lui restait debout dans le fond de la salle. (2)
La rencontre, furtive, aura lieu le mois suivant, le 26 mai 1974 au casino Sahara Tahoe, à Lake Tahoe où les frères se produiront avec ce même show.
Désormais appelé Le Hard Rock Hotel and Casino et situé à la frontière entre le Nevada et la Californie, le Sahara Tahoe Hotel est un complexe où Elvis Presley était un habitué. Il y a donné une centaine de concerts entre 1971 et 1976.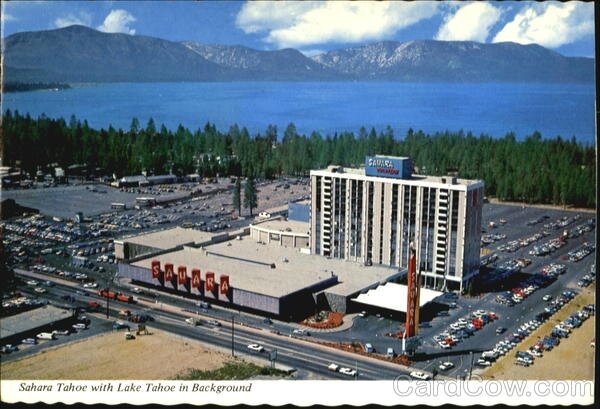 Le 27 mai 1974, à trois heures du matin, Elvis donne son dernier concert dans le High Sierra Theater du Sahara Tahoe Hotel. Les Jackson 5 sont alors dans le public et dans l'enregistrement ci-dessous on entend Elvis qui introduit le groupe ainsi que la petite Lisa Marie, sa fille, également dans le public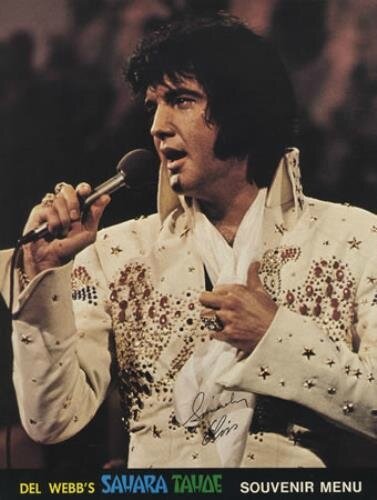 Le soir du 27 mai, les Jackson 5 seront à l'affiche à sa place sur cette même scène pour une série de sept concerts (du 27 mai au 2 juin 1974). Dans un des ascenseurs de l'hôtel, Michael et son frère Jackie tombent nez à nez avec Elvis Presley. Jermaine Jackson raconte cet épisode dans son livre : "En 1974 (…) nous nous sommes produits au casino Sahara Tahoe, à Tahoe ; il y avait environ mille personnes assises et une foule d'invités prestigieux comme Frank Sinatra et Charlie Rich. Pendant une pause, Jackie et Michael sont allés se balader et ils se sont retrouvés dans un ascenseur géant. L'ascenseur s'est arrêté, les portes se sont ouvertes et Elvis est entré, le cheveu gominé, portant son costume de scène blanc éblouissant avec le col montant, et une épaisse serviette éponge autour du cou. Il a regardé Jackie et Michael.
'C'est vous les Jackson ?' leur a-t-il demandé.
Ils ont hoché la tête, sidérés. Vous auriez pu penser qu'après avoir rencontré des stars comme Smokey Robinson, Sammy Davis Jr et Jackie Wilson, ils étaient blasés, mais le fait de partager cet ascenseur avec le grand Elvis fut le gros évènement de cette épopée. Pourtant ça n'a duré que quelques secondes : le temps que les portes s'ouvrent à nouveau, Elvis était déjà parti.
'Bonne chance les gars ! leur a-t-il lancé.
C'est ainsi que Michael a rencontré pour la seul et unique fois celui qui deviendrait un jour son beau-père posthume." (3)
Si on relève quelques incohérences dans le récit de Jermaine (pourquoi Elvis se promènerait-il dans l'hôtel en tenue de scène si ce sont les Jackson 5 qui font le show ? Vu la remarque d'Elvis, la rencontre a probablement eu lieu après son concert et avant celui des Jackson 5) il ne fait aucun doute que le chemin d'Elvis et de Michael se soit croisé ce soir-là. D'autant plus que Jerry Schilling, l'un des amis d'Elvis, évoque les concerts successifs d'Elvis et des Jackson dans son livre. Il déclare également qu'il est celui qui a présenté Lisa Marie à Michael Jackson, le 27 mai 1974. "Il était rare qu'Elvis autorise Lisa à sortir sans lui mais il nous a permis avec Myrna de la prendre lors d'une autre de nos sorties. Nous avons assisté à un concert des Jackson 5 au Sahara de Lake Tahoe, le lendemain de la fin de l'engagement d'Elvis là bas, et après le spectacle, j'ai présenté Lisa Marie, qui avait cinq ans, au jeune Michael Jackson." (4)
Vingt ans plus tard, quasiment jour pour jour, Michael et Lisa Marie se mariaient. Une coïncidence ?
Les Jackson seront à nouveau à l'affiche du Sahara Tahoe Hotel en octobre 1974, et cette fois, c'est Elvis qui leur succèdera sur scène.
Michael Jackson et Priscilla Presley
Priscilla Beaulieu (née Wagner) épouse Elvis Presley le 1er mai 1967, huit ans après leur rencontre. Dès 1963, elle s'installe à Graceland, auprès de lui, dans ce qui deviendra pour elle, et elle en était bien consciente, une prison dorée. De leur union naîtra, le 1er février 1968, Lisa Marie, avant leur divorce en 1973.
Fille unique du couple, Lisa Marie n'a que 9 ans lorsque son père disparait le 16 août 1977 dans sa propriété de Graceland, à Memphis. C'est donc auprès de sa mère qu'elle passera sa jeunesse, tourmentée à jamais par la perte de son père.
Le mariage de Michael et Lisa Marie a lieu en toute intimité en République Dominicaine et Priscilla n'est pas présente. Etait-elle d'ailleurs au courant ? Les relations entre Michael et sa belle-mère n'étaient pas, selon la rumeur, au beau fixe, même si Priscilla a déclaré, après avoir appris le mariage, qu'elle soutenait sa fille.
Pourtant, voir sa fille se marier à la plus grande star de sa génération a du sembler comme un remake de sa propre vie à Priscilla bien qu'elle ait confié au Guardian en 2015 qu'elle ne le voyait pas de cette façon. "Je ne pensais pas ainsi. Je ne l'ai jamais comparé à Elvis. Ils étaient musiciens tous les deux, au sommet de leur art, mais j'avais le regard d'une mère. J'étais préoccupée par leur relation, je ne savais pas si elle était authentique et je m'inquiétais de savoir si elle avait fait le bon choix." (5) A la question de savoir si elle avait souvent rencontré Michael Jackson, elle répond : "Parfois. Il était gentil mais un peu nerveux. J'étais sa belle mère après tout !" (5)
Priscilla ne tient pas exactement le même discours en 2012 et explique que "Lisa savait que je n'étais pas ravie de son mariage avec Michael Jackson. Nous avons eu des disputes à ce sujet car j'avais eu cette expérience d'épouser quelqu'un avec le même statut d'icône. Etrangement l'histoire se répétait. Elle a grandi à Graceland puis a vécu à Neverland avec Michael Jackson et Michael était comme un enfant, il ne pensait qu'à s'amuser. Comment ne pas être attiré par cela. Mais ce n'est pas la vraie vie. Peut être a-t-elle trouvé un peu d'Elvis en Michael. Mais en tant que mère, j'étais préoccupée car je voyais que cela allait être un désastre. J'aurais du me mordre la langue mais je n'ai pas pu." (6)
Michael Jackson à Memphis
Memphis (Tennessee), c'est la ville du King. Elvis Presley s'y installe avec ses parents à l'âge de 13 ans, en 1948. Il y enregistre son premier disque, dans les studios de Sun Records, en 1954. En 1957, grâce aux revenus générés par son premier disque d'or, il achète la propriété de Graceland où il vivra jusqu'à sa disparition. Depuis 1982, Graceland est devenu un musée à la gloire d'Elvis, lieu de pèlerinage pour les nombreux fans, qui accueille environ 700 000 visiteurs chaque année. C'est la deuxième résidence privée la plus visitée aux Etats Unis après la Maison Blanche. Depuis 2006, la maison est classée comme lieu historique au National Historic Landmark.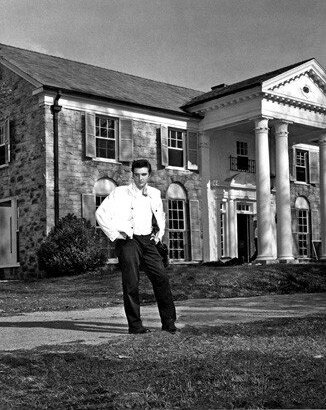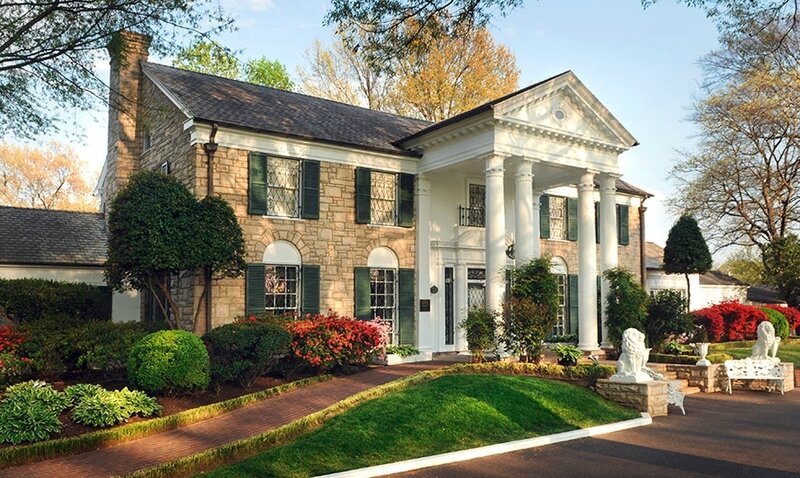 En octobre 1994, cinq mois après leur mariage, le couple apparaît, auprès de Priscilla Presley, à un concert hommage à Elvis Presley qui a lieu au Pyramid Arena de Memphis. Janet Jackson, la sœur de Michael, est également présente.
Ce concert est la première soirée officielle en hommage au King. Priscilla, Lisa Marie, Michael et Janet y assistent d'une loge, en hauteur, au fond de la salle. Lorsque John Stamos, le présentateur (l'acteur de la série La fête à la maison), annonce leur présence dans la salle, le public exulte.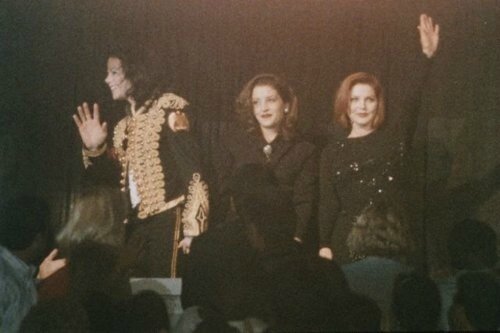 Cette scène offre, dans l'histoire de la musique du XXème siècle, toute une symbolique. Il s'agit en effet du seul moment officiel où les deux familles, Presley et Jackson, se trouvent réunies devant les caméras. Et comme si Priscilla comprenait l'importance du moment, elle n'hésite pas à prendre la main d'un Michael Jackson gêné pour l'inciter à se lever une deuxième fois, avec elle.
Michael s'est rendu à Graceland lorsqu'il était marié à Lisa Marie. Patsy Andersen, manager d'Elvis Presley Enterprises, Inc., l'entreprise qui gère le trust d'Elvis, a eu l'occasion de rencontrer le couple à Graceland, elle en garde un souvenir assez tendre : "Je pense que Lisa aimait vraiment Michael. Il est venu à Graceland et il était très agréable. Je les ai vus une fois devant la tombe d'Elvis, juste tous les deux. Il serrait Lisa dans ses bras. Ils sont restés au moins 45 minutes comme ça, sans rien dire." (7)
Le Star Magazine du 10 octobre 1995 évoque aussi le passage du chanteur dans la célèbre maison d'Elvis, en septembre 1995 (est-ce la même visite que celle évoquée par Patsy Andersen ?). Si les raisons de sa venue sont un peu douteuses (une dispute entre Michael et Lisa, à propos de Janet), la revue explique que Michael est arrivé directement de Washington après les BET Awards du 22 septembre et a retrouvé Lisa Marie à Graceland où elle était avec ses deux enfants, Riley et Benjamin. "Elle lui a fait faire un tour privé de sa maison d'enfance. Le couple a passé des heures marchant main dans la main à travers la maison, parlant de l'enfance de Lisa et de son célèbre père pendant que ses enfants jouaient sur la pelouse, là même où leur mère avait joué si souvent étant petite. 'Ils avaient l'air heureux', raconte un témoin." (8)
Michael Jackson et les petits-enfants d'Elvis
De son premier mariage avec Danny Keough, Lisa Marie a eu deux enfants : Danielle Riley et Benjamin Storm, les premiers petits-enfants d'Elvis, qui ont donc côtoyé Michael Jackson dans les années 90.
Danielle Riley, qui n'a jamais connu son illustre grand-père, garde cependant de tendres souvenirs de son non moins célèbre beau-père qu'elle a récemment partagés. "Je l'adorais", dit-elle. Riley, qui n'avait que cinq lorsque sa mère a épousé le chanteur, se souvient cependant de ses séjours à Neverland : "Il y avait des animaux partout, des enfants partout, des jouets… On avait l'impression d'être à Disney­land tous les jours."
Bien qu'ayant grandi entre Graceland et Neverland la jeune femme garde les pieds sur terre. Aujourd'hui âgé de 28 ans, et assez discrète sur sa vie, elle sait que son nom de famille n'a pu que lui servir dans le milieu artistique où elle évolue désormais en tant que mannequin et actrice. Peut être sera-t-elle amenée un jour à travailler avec la fille de Michael Jackson, Paris, qui a pris la même voie ?
La vie, la carrière et la disparition de Michael Jackson ont souvent été comparées à celles d'Elvis. Michael lui-même avait un jour dit à Lisa qu'il pensait qu'il mourrait jeune, comme son père. "J'ai bien peur de finir comme lui", lui avait-il dit au cours d'une conversation à propos d'Elvis. Il écrivait pourtant le contraire quelques années plus tôt, en 1988, dans son autobiographie : "Je m'intéresse à la façon dont Elvis s'est détruit, parce que je n'ai pas l'intention d'en faire autant." (1)
Difficile de ne pas les comparer quand on connait leur parcours. Fascinants, révolutionnaires, ils ont brisé des barrières. Talentueux, adulés, ils déchaînaient les foules mais se sentaient si souvent seuls.
Mais ce qu'on retiendra surtout c'est que ces Kings de la musique ont eu tous les deux une place particulière dans le cœur d'une même femme.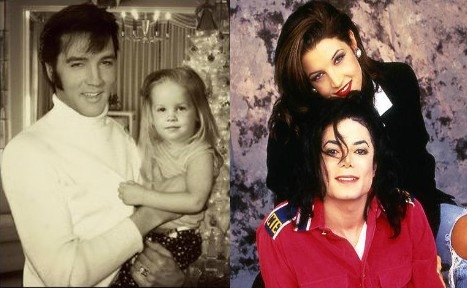 Sources : (1) Moonwalk, Michael Jackson / (2) usatoday.com/ (3) You Are Not Alone, le vrai Michael dans les yeux de son frère, Jermaine Jackson/ (4) Me and a Guy Named Elvis: My Lifelong Friendship with Elvis Presley, Jerry Schilling/ (5) theguardian.com/ (6) theguardian.com / (7) franceinter.fr/ (8) tapatalk.com /elvis-collectors.com - Merci à Matilde sur facebook pour le lien soundcloud