Au début de l'année 1979, The Jacksons sont en tournée en Europe avec leur Destiny Tour. Au cours de la tournée britannique, le groupe s'arrête pour un concert , le 13 février, au Fiesta Club de Sheffield, une ville du nord de l'Angleterre.
Le Fiesta Club, ouvert en 1970, a été au cours des années 70, LE nightclub de la ville, réputé également dans toute l'Europe, connu pour être la plus grande boîte de nuit européenne. De nombreuses stars s'y sont produites (Stevie, Wonder, The Beach Boys, Ella Fitzgerald, …) avant son déclin à la fin des années 70 puis sa fermeture définitive en 1980.
Peter Brightman, ancien batteur dans l'industrie de l'entertainment depuis 1974, et aujourd'hui directeur de The Creative Entertainment Group PLC à Londres, réussi à y faire venir les Jackson pour un concert.
"J'ai travaillé deux fois avec Michael Jackson, à l'époque où il était avec ses frères, les Jackson. L'un des concerts était au Brighton Center de Brighton (Sud de l'Angleterre) et le second au célèbre Fiesta Club de Sheffield. (…)
Michael était jeune et il était évident qu'il allait être une superstar. Il avait fait partie des Jackson 5 mais il était maintenant présenté comme le chanteur principal, sous son propre nom, plus ses frères, Michael Jackson & The Jacksons. L'album Destiny était sorti deux mois plus tôt et ils tournaient avec leur Destiny Tour.
Les clubs étaient une partie importante de la scène du divertissement au Royaume-Uni à cette époque (de la fin des années 1960 à la fin des années 70). Le Sheffield Fiesta (…) était la propriété, depuis 1970, des frères Lipthorpe (Keith et Jim), mais il avait été mis en vente et appartenait alors à la Rank Organization. J'avais obtenu les droits exclusifs de réservation de spectacles, ce qui était un grand coup pour moi. Je ne me souviens pas de la capacité exacte du club, mais il devait y avoir environ 2 000 places assises. Le Fiesta était connu comme la première boîte de nuit en Europe et c'était un lieu très excitant et j'ai adoré chaque minute que j'y ai passée.
Le Fiesta Club au cours des années 70
C'était mon travail de faire venir les artistes et leur équipe, des danseuses, les animateurs et bien sûr les stars. J'avais 29 ans et vous imaginez non seulement le plaisir que c'était de réserver cet endroit, mais aussi la très grande responsabilité. Rank Leisure, l'entreprise qui possédait ce club, voulait que ce soit un succès et je devais signer les meilleurs artistes, ceux qui feraient vendre les billets.
Il y avait une grande rivalité entre les clubs - le Batley Variety Club, le Wakefield Theatre Club, le Golden Garter à Wythenshawe, le Night Out Birmingham, le Caesar's Palace et bien d'autres - tous luttaient pour faire venir les stars. Ca a été un vrai combat pour avoir les Jackson.
J'ai réservé le Fiesta Club à Sheffield à partir de 1976, 77 ou 78, je ne me souviens pas bien des dates exactes (…), mais ça a été un moment incroyable et un beau moyen d'apprendre de l'industrie du divertissement. Cela m'a bien servi plus tard quand nous avons fait la promotion de grands concerts à Londres et à travers le Royaume-Uni et que nous avons finalement ouvert des bureaux à New York et dans d'autres pays (…) J'ai parcouru un long et excitant chemin mais rien n'a été plus excitant que le Fiesta!
J'ai fait venir tellement d'artistes au Fiesta Club, Diana Ross, Dionne Warwick, The Temptations, Shirley Bassey, Joe Cocker (…) mais le plus gros coup a été la venue de Michael Jackson.
Je me souviens de l'excitation suscitée par cette annonce, de la queue dans le quartier jusqu'au bureau de réservation, de l'intérêt énorme de la part des médias, des journaux locaux et nationaux, des informations à la télévision. La nouvelle avait fait le tour : Michael Jackson et les Jackson allaient venir à Sheffield.
Et Michael, ses frères, les musiciens, l'équipe technique et Joe Jackson, le père sont arrivés. Michael était quelqu'un d'adorable avec qui discuter, il avait un fond gentil et je l'ai tout de suite apprécié. Il était très accessible bien qu'à mon sens son père gardait un contrôle très étroit sur lui, presque obsessionnel, mais ce n'est que mon opinion personnelle.
Les billets se sont tous vendus des semaines avant le concert et la tension montait. Le club était plein à craquer et quand Michael et ses frères sont montés sur scène, l'atmosphère était électrique. Je me souviendrai toujours de ce concert, l'excitation, la danse, l'énergie générée, l'atmosphère incroyable dans cette pièce, les battements de la musique pendant que Michael et ses frères faisaient le show. Ils ont enchaîné les succès et le public était hystérique.
Ce sont des souvenirs heureux - des jours qui sont révolus depuis longtemps mais pour toujours dans nos mémoires.
Cela a été une joie de travailler avec Michael Jackson, ainsi qu'avec ses frères. Le concert de Brighton au Brighton Center était également complet. Michael était et est une superstar qui manque cruellement. C'est triste de finir ainsi une carrière aussi étonnante." (1)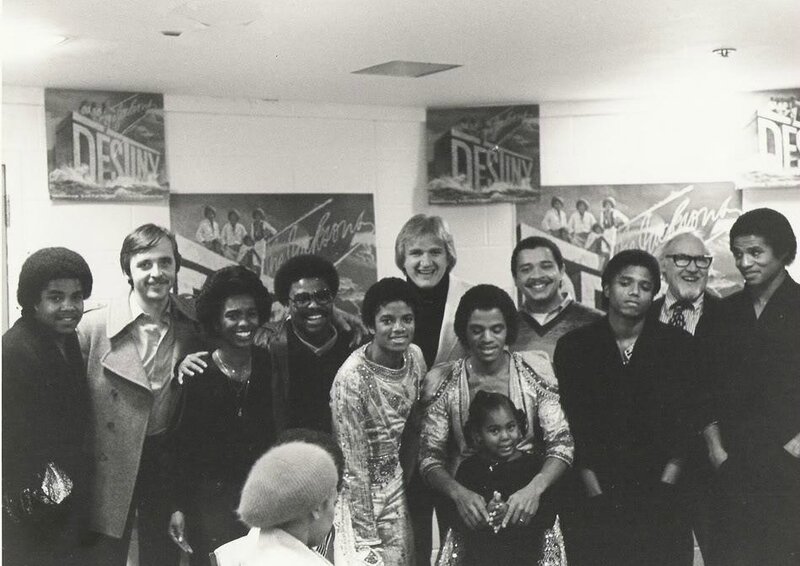 Peter Brightman (probablement derrière Michael), backstage avec les Jackson. Il s'agit de la photo que Peter Brightman a posté sur son blog. Un doute est permis quant à la date de cette photo qui ne correspond pas au look de Michael en février 1979 (voir ici, la coiffure de Michael à la date du 14 février 1979)
D'autres anonymes, présents ce soir-là, ont également apporté leur témoignage sur ce concert (2) :
"J'ai rencontré Michael Jackson au Sheffield Fiesta - c'était les Jackson Five - l'endroit était plein à craquer, ils étaient absolument géniaux, ils tournaient pour Destiny. Il était le danseur le plus incroyable, il avait cette présence en lui. Il avait 17 ou 18 ans [Michael avait en réalité 20 ans], mon âge, il me souriait, j'étais au premier rang et il est venu s'asseoir avec moi, il m'a embrassé et m'a tenu la main, c'était un gars très gentil. Il m'a donné une fleur, j'en suis restée muette! " (Chrissy Clarke)
"Je m'en souviens bien, il y avait un épais manteau de neige et j'ai pris mes vêtements au travail juste au cas où je ne pourrais pas rentrer à la maison pour me changer. J'étais sur le point de voir le meilleur groupe du monde, les Jackson 5 et même la météo n'aurait pas pu m'arrêter. C'était l'une des meilleures nuits de ma vie et je me sens honorée et privilégiée d'avoir vu voir Michael Jackson sur scène." (Lesley)
"J'ai vu Michael Jackson là-bas dans les années 70 après avoir fait la queue dans la neige pour entrer. Il était hallucinant et je me suis toujours souvenu de cette nuit avec beaucoup d'affection. Nous allions presque chaque semaine au Fiesta pendant quelques années et nous avons passé de très bons moments, j'y ai fait mes première armes en boîte de nuit. J'ai aussi vu les Four Tops en 1975 quand j'étais enceinte jusqu'au cou et alors qu'il y avait une vague de chaleur. (..)" (Ros Winsor)
Les Jackson au cours du Destiny Tour, début 1979
A l'endroit où se tenait le Fiesta Club de Sheffield se trouve désormais l'Odeon Sheffield, un cinéma multiplexe, ouvert depuis 1992.
Sources : (1) pjbdrummer.blogspot.fr (traduction onmjfootsteps.com)/ (2) news.bbc.co.uk