Michael Jackson a neuf ans lorsqu'est assassiné, le 4 avril 1968, le Révérend Martin Luther King Jr à Memphis, dans le Tennessee.
Célèbre activiste pour les droits civiques, prônant la non-violence, Dr Martin Luther King Jr, né le 15 janvier 1929, a laissé une empreinte indélébile dans l'histoire des noirs américains et de l'Histoire des Etats-Unis. Preuve en est, son discours pour la liberté du 28 août 1963, I Have A Dream, qui plus de 55 ans après reste une référence, est toujours étudié dans les écoles et surtout, malheureusement, sonne toujours aussi actuel.
L'assassinat de Martin Luther King à l'âge de 39 ans secoue toute l'Amérique, plus de quatre ans après celui du Président John F. Kennedy, qui le soutenait dans sa lutte contre la ségrégation raciale.
Dans Moonwalk, Michael se souvient de ce jour: "Je me rappelle le jour où [Martin Luther King] est mort. Tout le monde était bouleversé. Nous n'avions pas répété cette nuit-là. Je suis allé à l'église avec maman et les autres. Les gens pleuraient comme s'ils avaient perdu un membre de leur famille. Même les hommes, qui d'habitude sont moins démonstratifs, n'arrivaient pas à contôler leur émotion. J'étais trop jeune pour comprendre l'aspect tragique de la situation mais quand j'y pense aujourd'hui, j'ai envie de pleurer,pour le docteur King, sa famille et pour nous tous."
Michael aimant s'inspirer de grandes âmes et de la vie de personnes illustres, il a souvent cité ou utilisé l'image de Martin Luther King au cours de sa carrière, notamment dans deux de ses titres phares :
They Don't Care About Us : "Some things in life they just don't wanna see, But if Martin Luther was livin', He wouldn't let this be" ("Il y a des choses dans la vie qu'ils refusent de voir, Mais si Martin Luther était en vie, Il n'autoriserait pas cela."). Paru sur l'album HIStory en 1995, le titre dénonce les préjugés, la haine et les problèmes sociaux et politiques.
Man In The Mirror : dans le short film de la chanson, extraite de l'album Bad en 1987, Michael a choisi de ne pas apparaître et ce sont de nombreuses images d'archives avec une signification très puissante concernant la famine dans le monde ou les évènements qui ont marqué le 20ème siècle qui défilent, délivrant un message fort sur la nécessité de changer le monde . Martin Luther King, dans ses actions (marche de Selma) et ses grands discours y est montré à plusieurs reprises.
Dans la chanson qui a donné son titre au double album HIStory, Michael utilise une petite partie du célèbre discours de King, I Have A Dream (à 3 :40 puis un peu plus longuement entre 3 :55 et 4 :10)
Si Michael n'a jamais pu croiser le chemin du Prix Nobel de la Paix (obtenu en 1964 pour sa lutte non-violente contre la ségrégation raciale et pour la paix), il rencontre à quelques occasions sa femme, Coretta Scott King, au cours des années 70.
De manière très officielle d'abord, le 12 janvier 1972, lorsque les Jackson 5 (et d'autres artistes comme Gladys Knight & The Pips) donnent deux concerts pour commémorer l'anniversaire du révérend, dans sa ville natale d'Atlanta (Géorgie). A cette occasion, la veuve de Martin Luther King remet aux frères Jackson un award de remerciement pour leur participation à cette manifestation.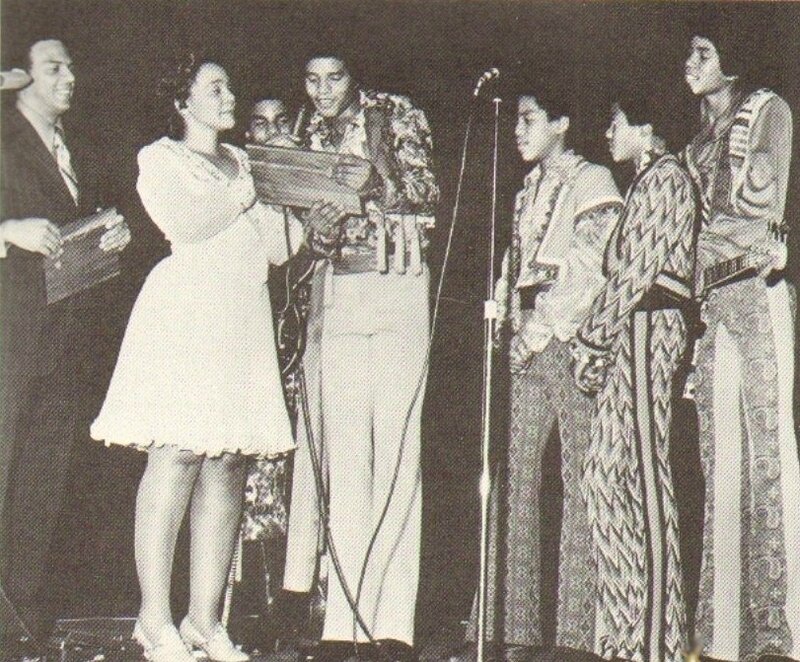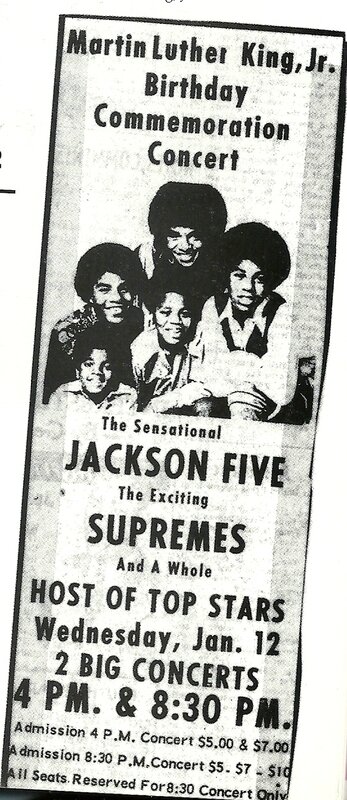 Michael est également photographié avec Coretta Scoot King ce même mois, lors de la cérémonie des NAACP Image Awards qui consacre les Jackson 5 comme groupe de l'année.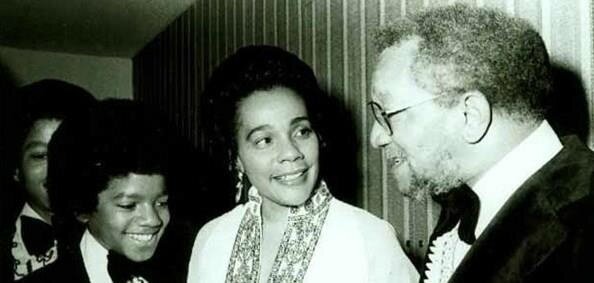 Mais l'année précédente, en mars 1971, la cérémonie des Grammy Awards récompense de manière posthume, le discours de 1967 du Reverend King, Why I Oppose the War in Vietnam, comme le meilleur discours enregistré (il avait été commercialisé au cours de l'année 70). Les Jackson 5 se rendent alors à Atlanta pour remettre la récompense à la veuve du pasteur.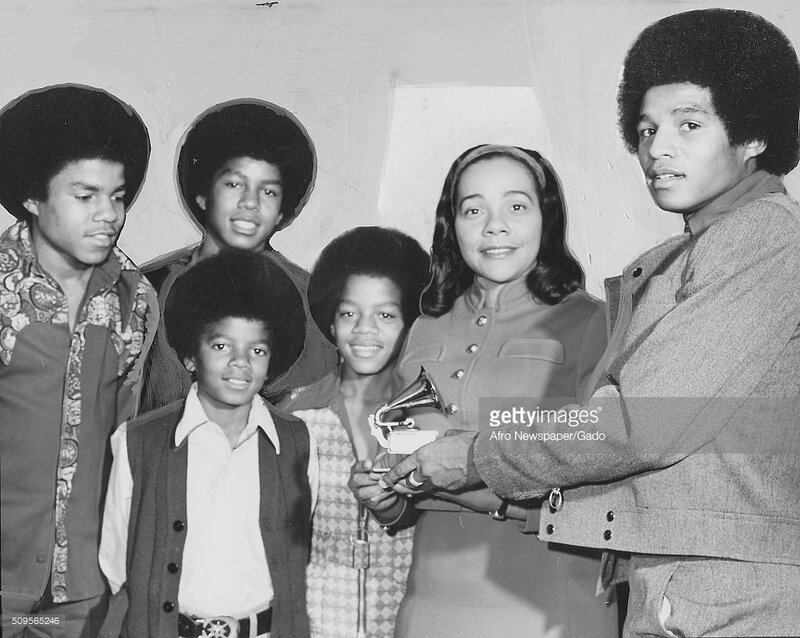 Et, au cours de ce déplacement, le groupe va se recueillir sur la tombe de Martin Luther King.
Martin Luther King est inhumé provisoirement le 9 avril 1968 dans le cimetière South View d'Atlanta. Peu de temps après sa disparition, au début de l'été 1968, sa femme lance le Martin Luther King, Jr., Memorial Center qui au fur et à mesure des mois s'agrandira pour devenir ce qui est aujourd'hui connu comme The Martin Luther King, Jr. Center for Nonviolent Social Change. Appelé aussi The King Center, et devenu site historique, il regroupe un ensemble de bâtiments liés à la vie de Martin Luther King : sa maison de naissance, l'église historique Ebenezer Baptist Church, où le révérend y a fait ses débuts en tant que prêcheur, comme son père et son grand père avant lui, et un musée avec des expositions comprenant des documents d'archives sur la vie de Martin Luther King et sa femme mais aussi sur Rosa Parks et Ghandi.
En 1970, la tombe de Martin Luther King est transférée au King Center, au milieu du Memorial Park, à côté de l'église Ebenezer Baptist Church. Elle consistait en une crypte en marbre blanc avec une épitaphe, extraite du discours de King de 1963, I Have A Dream, "Free At Last, Free At Las, Thank God, Almightly, I'm Free At Last" ("Enfin libre, enfin libre, Dieu merci, enfin, je suis enfin libre."). Le site n'était protégé que d'une barrière blanche, avec la flamme éternelle brûlant devant la tombe.
C'est devant cette tombe que les Jackson 5 seront photographiés, en compagnie de Rose Fine, l'institutrice personnelle du groupe, qui les suivait dans tous leurs déplacements, en 1971 (probablement au cours de leur tournée d'été).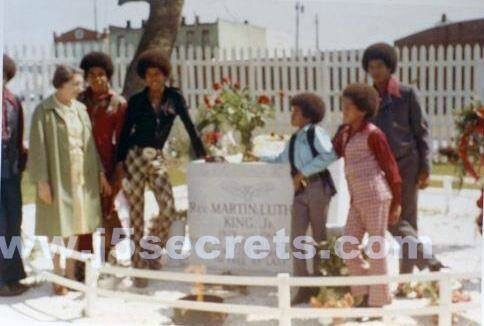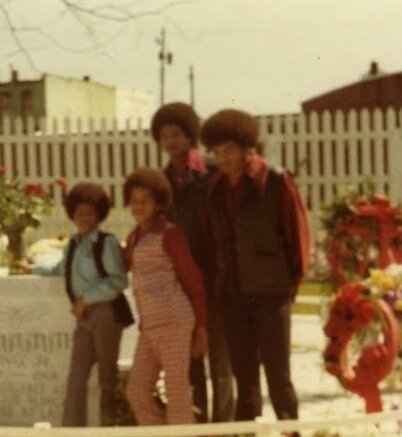 En 1976, le Memorial Park évolue. Autour de la crypte de marbre, le gravier est ratissé et remplacé par une place en briques, laquelle est cernée par une "Reflecting Pool", un bassin réfléchissant. Le public ne peut donc plus accéder directement à la tombe.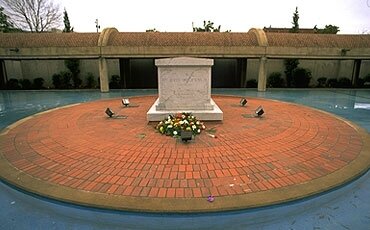 Du 15 au 20 avril 1988, le Bad Tour passe par Atlanta pour une série de trois concerts. Vingt ans, quasiment jour pour jour, après l'assassinat du Révérend King, une cérémonie de recueillement discrète est organisée avec Michael Jackson près de la tombe de Martin Luther King.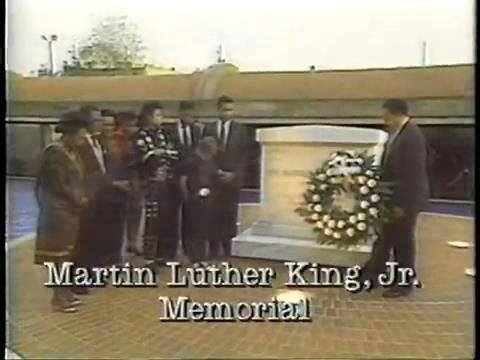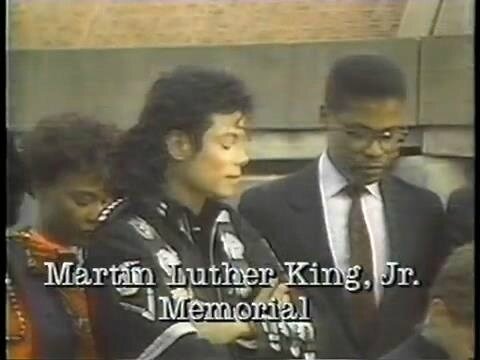 Quelques jours plus tôt, l'épouse et les enfants de King étaient venus déposer une gerbe de fleurs au Memorial Park (à partir de 1:00 dans la vidéo ci-dessous)
En 2006, suite à la disparition de Coretta Scott King, Michael fait publier un communiqué où il exprime sa tristesse en apprenant la disparition de celle qui avait suivi les pas de son mari dans la lutte pour les droits civiques : "I am deeply saddened to learn of the death of Mrs. Coretta Scott King. I send my love, and heartfelt sympathy, to Martin III, Yolanda, Dexter, Bernice, and the entire King family. Mrs. King is an irreplaceable jewel, who will be greatly missed." (Je suis profondément attristé d'apprendre la disparition de Mme Coretta Scott King. J'envoie mon amour et ma profonde sympathie à Martin III, Yolanda, Dexter et Bernice et à toute la famille King. Mme King est un bijou irremplaçable qui nous manquera énormément")
Selon Berenice King, la fille du couple King, qui avec son frère Martin Luther King III, a rendu hommage à Michael Jackson lors de la cérémonie au Staples Center le 7 juillet 2009, Michael aurait téléphoné à Coretta Scott King pour la soutenir après l' accident vasculaire cérébral qui l'a paralysée et laissée incapable de parler quelques mois avant sa mort.
"Michael se souciait constamment des autres et de l'humanité. Et j'aimerais que le monde sache que malgré son implication dans des accusations et des persécutions, en tant qu'humaniste, il a continué à s'intéresser à autrui, à une autre grande humaniste de ce monde, notre mère, durant sa maladie, juste trois mois avant sa mort. En octobre 2005, j'étais avec maman quand Michael a téléphoné....et bien qu'elle n'ait pu beaucoup parlé à cause de son attaque, elle écoutait lorsqu'il disait qu'il avait prié à genoux chaque jour pour elle. Pour lui, elle était une figure royale des USA et il voulait savoir si elle avait envie d'écouter de la musique du fait de ses effets thérapeutiques. J'aurais tant aimé qu'il puisse voir la lueur sur son visage. Ce jour-là Michael Jackson a fait sourire notre mère en dépit de sa condition. Quel moment inoubliable. Il était un homme d'une telle gentillesse, si proche de l'amour inconditionnel de Dieu."
Coretta Scott King décède le 30 janvier 2006 et repose désormais auprès de son mari, dans le Memorial Park du Martin Luther King, Jr. Center for Nonviolent Social Change à Atlanta.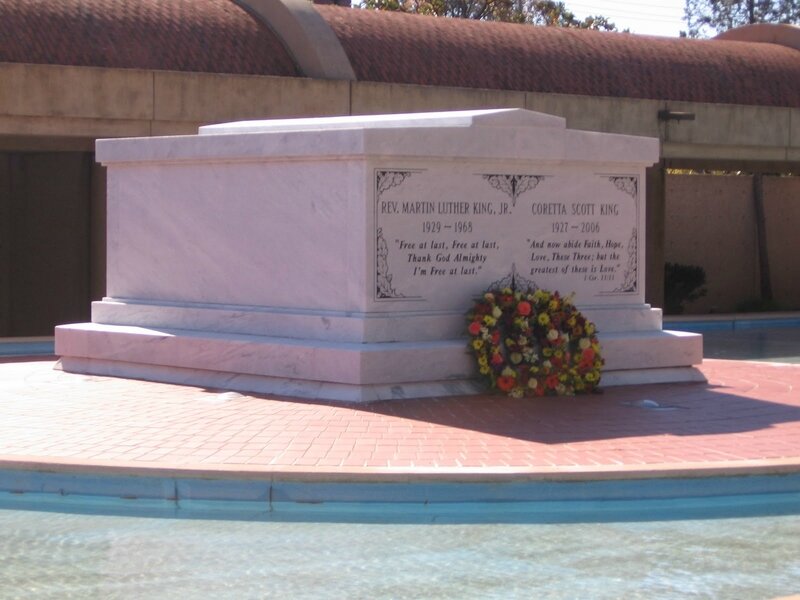 Martin Luther King ne pouvait qu'inspirer Michael Jackson. Les deux hommes, à des périodes différentes et avec des moyens différents prônaient un monde meilleur et une paix entre les peuples. Cette inspiration s'est aussi traduite au travers un des autres talents de Michael Jackson, le dessin. Ci-après un dessin du célèbre pasteur réalisé par la star à la fin des années 80.
Un portrait d'un des plus grands orateurs et activistes américains repris fidèlement par le plus grand artiste du 20ème siècle. Quand l'Histoire se croise ………