Jonathan Morrish, ancien exécutif chez Sony Music, a longtemps été chargé des relations publiques de Michael Jackson en Europe et au Royaume Uni. Sa rencontre avec le King of Pop date de 1977, lorsque The Jacksons se sont produits au Jubilé de la Reine à Glasgow et il a travaillé aux côtés du chanteur jusqu'au début des années 2000. Il était devenu un ami et confident de Michael au fil du temps.
En 1983, Jonathan Morrish se retrouve à Encino, dans la maison familiale des Jackson, avec Michael et le serpent de ce dernier autour du cou …….. une expérience qu'il n'a pas oubliée !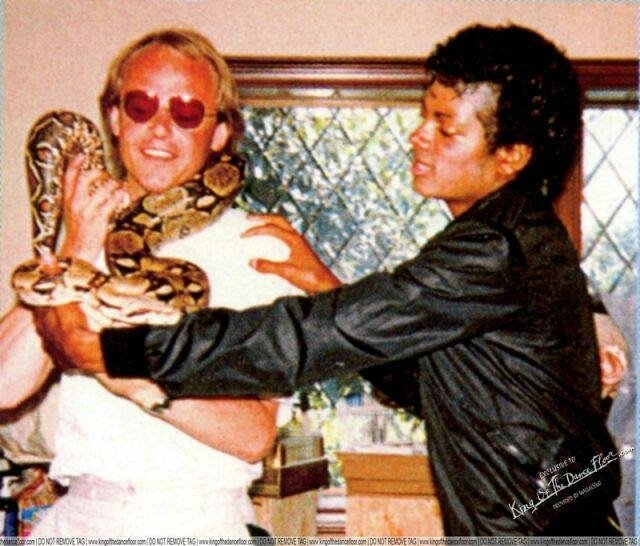 "Nous étions en août 1983. En janvier de cette année là, nous avions organisé un concours avec le Daily Mirror pour rencontrer Michael. Les gagnants avaient été désignés et j'étais en train d'organiser la rencontre lorsque j'ai reçu un appel de la maison de disques aux Etats-Unis me disant 'dépêchez-vous, vous devez être sur la côte ouest dans trois jours'. Une des gagnantes n'avait jamais voyagé à l'étranger et je ne sais pas comment ils se sont débrouillés pour le passeport mais deux jours plus tard, nous étions à l'aéroport de Gatwick (Londres) avec le journaliste musical du Mirror et les deux gagnants, en route pour Los Angeles.
Nous avons pris une voiture jusqu'à San Diego où Frank Dileo travaillait pour Epic avant de devenir le manager de Michael et il nous a emmené à l'hôtel où logeait Michael, celui où avait été tourné Certains l'aiment chaud [film de 1959 avec Marilyn Monroe. Il s'agit du célèbre Hotel Coronado sur la baie de San Diego]. (..) A minuit, nous avons reçu un appel nous demandant de faire monter les gagnants. Michael a été très amical. Nous sommes restés environ 20 minutes et au moment de partir, il nous a dit : 'Que faites vous durant les trois jours qui viennent ? Pourquoi ne viendriez-vous pas chez moi à Encino ? Nous étions tous stupéfaits et malheureusement les deux gagnants avaient déjà leur vol de retour. Mais j'ai loué une voiture avec le journaliste du Mirror et ma femme nous a rejoints à Encino. Il existe d'ailleurs une photooù on la voit avec Michael et son lama Louie.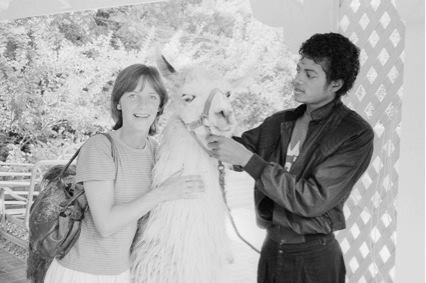 Je me suis donc retrouvé à Encino à manger une glace dans la cuisine avec Michael et sa mère et il y a eu la rencontre avec Muscles.
Michael était avec nous à Encino, mais il était très occupé et il nous a dit de faire ce que nous voulions. Nous avons fait le tour de la propriété et nous sommes tombés sur Muscles, le boa constrictor. Michael s'est beaucoup amusé de la tête que j'ai faite en le voyant, j'étais terrifié !"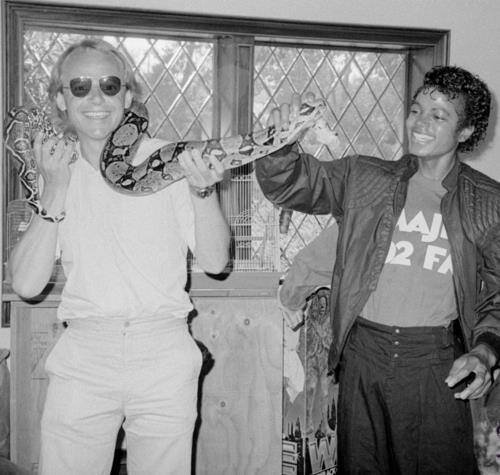 Sources: Page facebook Love Lives Forever/mjhideout.com/cartasparamichael.blogspot.fr
---
"To take a picture
Is to capture a moment
To stop time
To preserve the way you were"
Michael Jackson