L'annonce de la disparition de Johnny Hallyday a provoqué une onde de choc en France qui n'est pas sans rappeler, aux fans de Michael Jackson, celle de la disparition du King of Pop, huit ans et demi plus tôt.
Que l'on soit admirateur de Johnny Hallyday ou pas, on ne peut démentir l'impact et l'influence qu'il a eu dans la culture et la vie des français. C'est un géant de la musique qui nous a quittés ce 6 décembre 2017 et l'hommage populaire qui lui a été rendu le samedi 9 décembre est à l'image de la carrière que le "French Elvis", comme les américains l'appellent, a eu : grandiose mais proche de son public et avec toute la musique qu'il aimait !
Michael Jackson et Johnny Hallyday ont eu l'occasion de se rencontrer une fois, le 23 mai 2008. Le styliste français Christian Audigier, ami commun des deux stars, fête alors ses 50 ans au Petersen Automotive Museum de Los Angeles, au milieu de célébrités. La présence de Michael Jackson n'est connue de personne et Christian Audigier annonce à ses invités une surprise.
L'arrivée surprise de Michael Jackson. On aperçoit Johnny à gauche sur la photo
Johnny est également présent ce soir-là, aux côtés de son ami le styliste qu'il appelle "son jumeau". Gilles Lhote, ami de longue date du chanteur et auteur de sa biographie Johnny le guerrier (publiée aux Editions Laffon le 30 novembre 2017), raconte dans son livre la rencontre entre les deux icônes de la musique :
"Pour ses 50 ans, le styliste Christian Audigier organise une fête à Los Angeles où il a convié Michael Jackson (dont c'est le grand retour), ainsi que Snoop Dog, Fergie et Johnny. J'emmène le rockeur et Laeticia dans la loge du Roi de la Pop. Ce dernier se dirige vers Hallyday, la main tendue et lui dit : 'God Bless You Johnny. J'ai souvent entendu parler de toi par Quincy Jones. Il m'a affirmé que tu étais une bête de scène.'"
En 2009, après la disparition de Michael, Christian Audigier évoquait également ce moment "Ce soir-là, j'ai présenté Michael à Johnny Hallyday et Laeticia, sa femme qui lui a proposé de venir manger chez elle des quenelles de brochet. Il ne pigeait pas, j'ai abrégé… "
Une rencontre brève, le temps de quelques photos qui deviennent aujourd'hui précieuses quand on sait que ces hommes ne sont désormais plus parmi nous.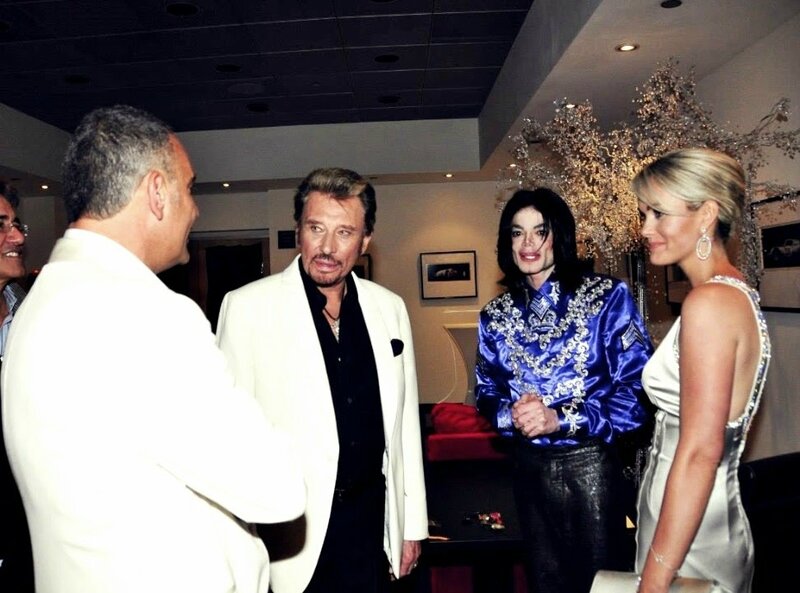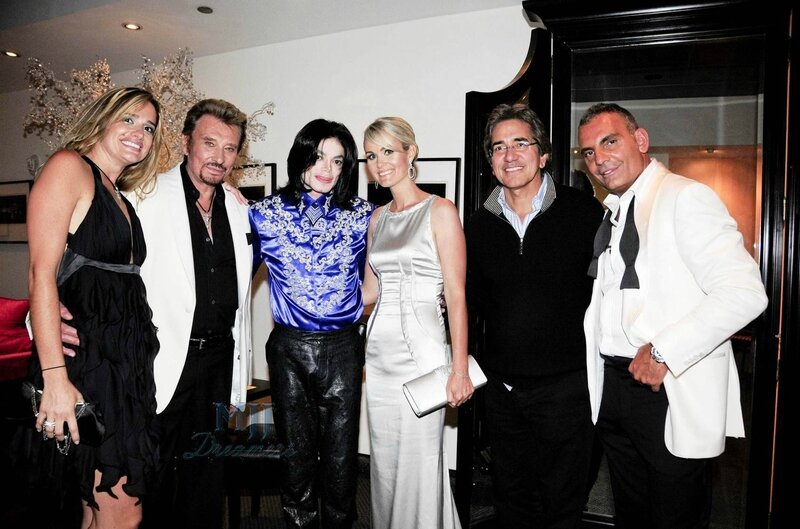 De gauche à droite: Ira, la femme de Christian Audigier, Johnny Hallyday, Michael Jackson, Laeticia Hallyday, Peter Lopez, alors avocat de Michael Jackosn, disparu en 2010, et Christian Audigier, décédé en 2015
---
"To take a picture
Is to capture a moment
To stop time
To preserve the way you were"
Michael Jackson