Sugar Babies est une revue musicale de Broadway du début des années 80. Pendant près de trois ans, du 8 octobre 1979 au 28 août 1982, le show s'est produit au Mark Hellinger Theatre de New York avec, en vedettes, Mickey Rooney et Ann Miller. Les deux stars ont abandonné leur rôle quelques années, lorsque le show est parti en tournée, pour le reprendre en 1984 et 1985.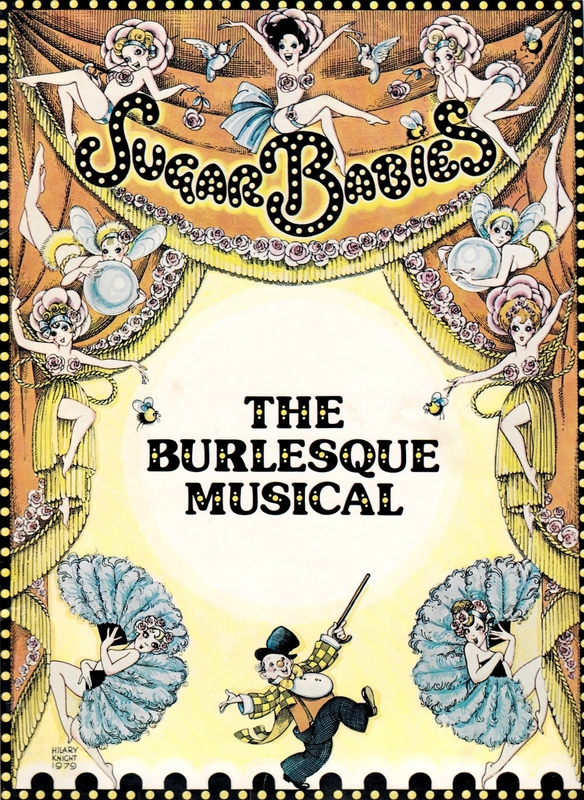 Le spectacle est un hommage au burlesque américain et au vaudeville des années 30, avec plusieurs numéros loufoques, amusants et énergiques, qui ravissaient les spectateurs, et des chansons, standards de l'époque.
Nominé dans huit catégories au Tony Awards de 1980, le show n'en a cependant remporté aucun.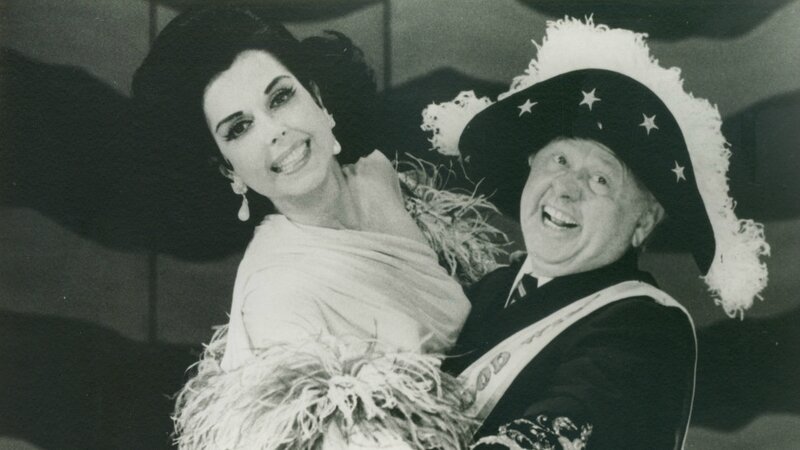 Ann Miller (1923 - 2004) est une actrice, chanteuse et danseuse américaine, connue pour sa participation à des comédies musicales hollywoodiennes des années 40 et 50. Elle se dirige ensuite vers le cinéma et tourne en 1948 dans Easter Parade avec Fred Astaire, et en 1949 dans On the Town aux côtés de Frank Sinatra et de Gene Kelly avant de revenir à partir des années 1960 sur les planches du théâtre et des comédies musicales. Ann Miller était également une grande danseuse de claquettes.
Mickey Rooney (1920 – 2014) est un acteur, réalisateur, producteur, scénariste et compositeur américain, l'un des derniers survivants du cinéma muet au moment de sa disparition. Sa carrière, entamée à l'âge de six ans, a duré près de 88 ans (il compte environ 300 films à son actifs) et il a travaillé avec les plus grands : Clark Gable, Douglas Fairbanks, Jr., John Wayne, Jean Harlow, Judy Garland, Elizabeth Taylor, Audrey Hepburn, Dean Martin ou Frank Sinatra pour n'en citer que quelques uns. Lawrence Olivier l'a même qualifié du "plus grand acteur entre tous". Sa première femme n'est autre qu'Ava Gardner, alors jeune débutante.
L'acteur a toujours déclaré que Walt Disney avait prénommé sa célèbre souris Mickey Mouse en son honneur, après que Disney l'ait rencontré à la fin des années 20.
Star de cinéma mais également du petit écran dans les années 60, il apparaît dans plusieurs séries télévisées.
En 1979, sa carrière prend un tournant lorsqu'il fait ses débuts sur les planches de Broadway avec la revue musicale Sugar Babies.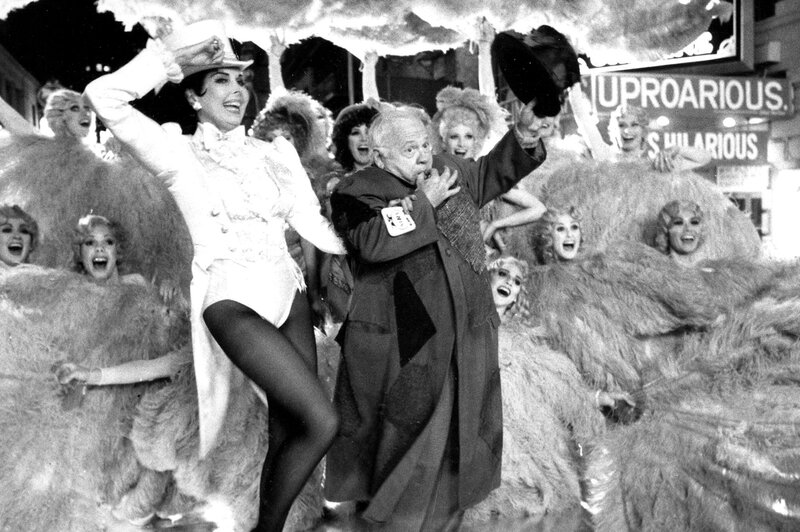 Jusqu'à sa disparition en 2014, il ne cessera de se consacrer à sa carrière, partageant son temps entre le cinéma, la télévision et les revues musicales.
Enfant star du cinéma hollywoodien, Mickey Rooney était proche de Michael Jackson. Si on ne sait pas grand-chose de leur relation, Rooney expliquait lors d'un hommage au chanteur en 2010 que Michael l'appelait de temps en temps au téléphone et qu'il lui chantait des chansons.
Une de leurs rencontres date de 1984. En janvier de cette année-là, la revue musicale Sugar Babies s'établit au Pantages Theater de Los Angeles pour quelques mois.
Michael s'y rend et rencontre en coulisses les membres de la troupe dont les deux stars, Ann Miller et Mickey Rooney.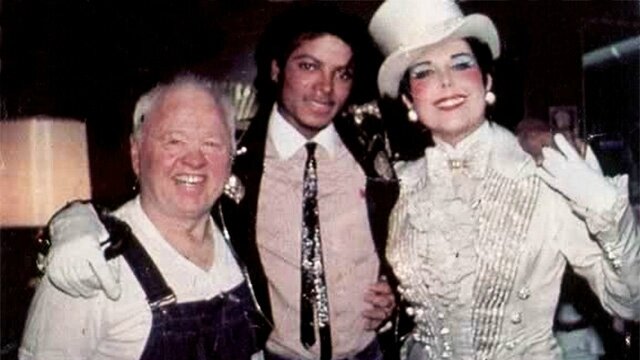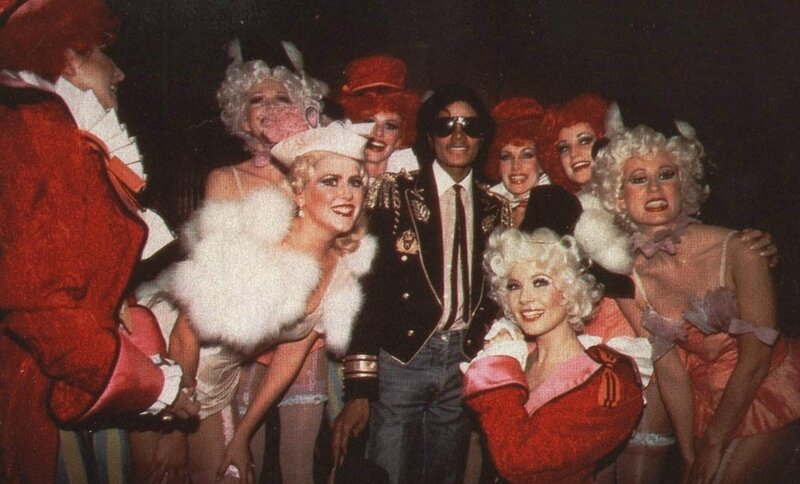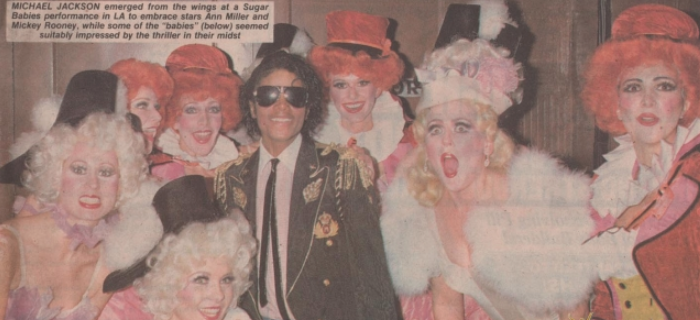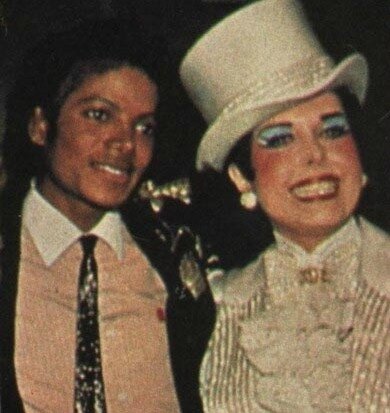 Le photographe Peter C. Borsari a mis en ligne quelques photos inédites de cette rencontre peu connue.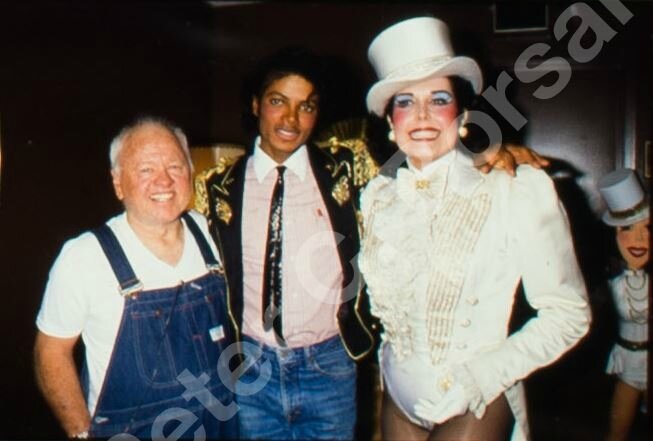 Rooney était présent au Staples Center, le 7 juillet 2009, pour la cérémonie en hommage au chanteur disparu. Avec sa dernière femme, il laisse un message qui témoigne de son affection pour le King of Pop.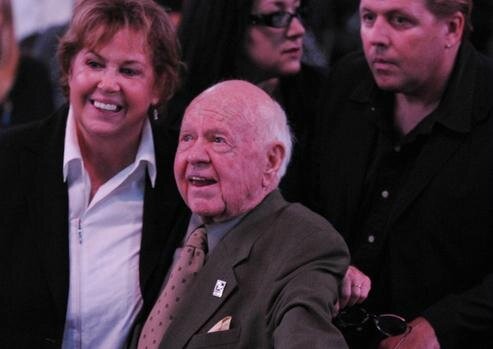 "Michael, il n'y a pas de mots pour décrire toute la grandeur que tu étais. Ta famille et tes amis t'aimaient tous ... pas seulement pour ton talent magnifique, mais aussi pour la personne bienveillante et humaine que tu étais. Ton travail d'une vie continuera de vivre dans le cœur des gens à travers le monde. Pour nous, Michael tu étais un saint musical, tu avais tout du jeune homme, … comme c'est triste, tu es parti trop jeune. C'est une perte accablante pour le monde. Tu manqueras profondément à ta famille à et tes amis. Tu nous manques. Jan et moi chérirons toujours le peu, mais les précieux et très spéciaux souvenirs que nous avons avec toi Michael ... tu étais un ami cher et loyal.
Que Dieu te garde dans ses bras aimants, et sache que ta voix apaisante et ta façon d'être si douce nous manquera. Ta danse, ta musique et tout le bien que tu as apporté à la vie vivra pour l'éternité. Tu n'es pas parti, Michael. Tu as laissé une marque forte et indélébile qui ne pourra jamais être effacée. Merci pour ta sincérité et ton esprit de générosité. Tu as passé un moment sur cette Terre mais tu nous as laissé des années de souvenirs spéciaux sur lesquels s'appuyer. Soyons bénis de t'avoir connu Michael Jackson. Nous continuerons de sentir ton amour. L'univers chantera toujours tes louanges Michael ... et partout autour du monde, partout nous continuerons de nous réjouir et de faire vivre la splendeur de tes glorieuses chansons. Nous ne t' oublierons jamais aussi longtemps que nous vivrons.
Avec tout notre amour
Jan et Mickey Rooney "
Sources: Wikipedia/borsariimages.com/liveinternet.ru
---
"To take a picture
Is to capture a moment
To stop time
To preserve the way you were"
Michael Jackson