Franz Harary est un illusionniste américain originaire du Michigan, né en 1962. Sa carrière a été lancée en 1984 grâce à Michael Jackson.
"En 1984, j'étais un magicien de 20 ans venant du Michigan, et j'avais inventé une façon de faire apparaitre les choses sans que l'illusion ne soit détectée (..). J'ai envoyé au manager de Michael Jackson une vidéo où je faisais apparaître une voiture sur un parking et en disant que je pouvais faire la même chose pour Michael. Quelques jours plus tard, j'étais dans un avion à destination de Los Angeles pour rencontrer mon idole. Nous avions à peu près le même âge et nous sommes immédiatement devenus des amis. Suite au Victory Tour, j'ai créé les tours de magie pour tous ses concerts, ainsi que pour son domicile et de nombreux autres projets personnels. Nous sommes restés amis pendant 26 ans." (1)
Des photos de Franz Harary faisant léviter Michael Jackson dans les coulisses du Victory Tour sont bien connues des fans.
Il y a quelques mois, l'illusionniste a partagé une photo des répétitions de ce tour.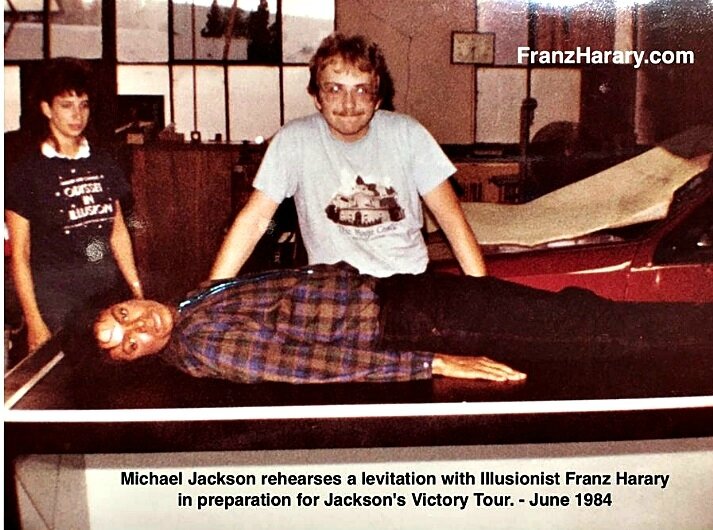 "Je viens de retrouver cette (très) vieille photo. C'est l'une des rares que j'ai prises avec Michael Jackson pendant nos 26 ans d'amitié. Elle a été prise dans le bureau de John Gaughan alors que nous testions un effet de lévitation pour le Victory Tour de 1984. Nous avons répété pendant des semaines sur une scène de Los Angeles. Mais quand le premier spectacle à Kansas City a eu lieu, des vents violents dans le stade ont fait voler Michael sauvagement, il était hors de contrôle. J'ai alors vu toute une armée d'exécutifs de son label avoir une crise cardiaque, et je me suis dit que c'était le début et la fin de ma carrière ! " (2)
Sources : (1) mjlegend.com/ (2) page facebook de Franz Harary/franzharary.com/cartasparamichael.blogspot.fr
---
"To take a picture
Is to capture a moment
To stop time
To preserve the way you were"
Michael Jackson