Vous l'avez peut être constaté, l'activité sur le blog était au point mort ces jours derniers. Et ce pour une bonne raison : je rentre d'une douzaine de jours à Los Angeles. Si vous m'avez suivie sur la page facebook du blog, vous avez vu quelques photos, mais voici le début d'une série d'articles #onmjfootstepsinLA
Los Angeles, la ville de Michael mais également une ville que j'adore. Tout semble tellement plus simple et plus beau là-bas. Les gens sont accueillants et souriants (qui d'autres que les Américains peuvent vous demander comment vous aller quand vous entrez dans une boutique ?), il fait beau (presque) tout le temps, les paysages sont magnifiques (j'adore les palmiers et pour le coup, je suis servie !), conduire est un régal. Alors bien sûr, il y a certains revers, le nombre important de "homeless" par exemple, qui semble avoir explosé depuis ma dernière visite il y a quatre ans (effet Trump ?).
Quatre ans que je n'étais donc pas revenue en Californie et cela me manquait. Et comme on dit, il faut vivre ses rêves et non rêver sa vie, alors me revoilà à nouveau partie sur les traces de Michael dans sa ville. Pas question cette fois-ci de refaire toutes les adresses que j'avais précieusement gardées. J'ai ciblé celles que je n'avais pas faites ou celles que j'ai découvertes depuis et j'avais aussi envie de découvrir Los Angeles plus comme une touriste qu'une fan.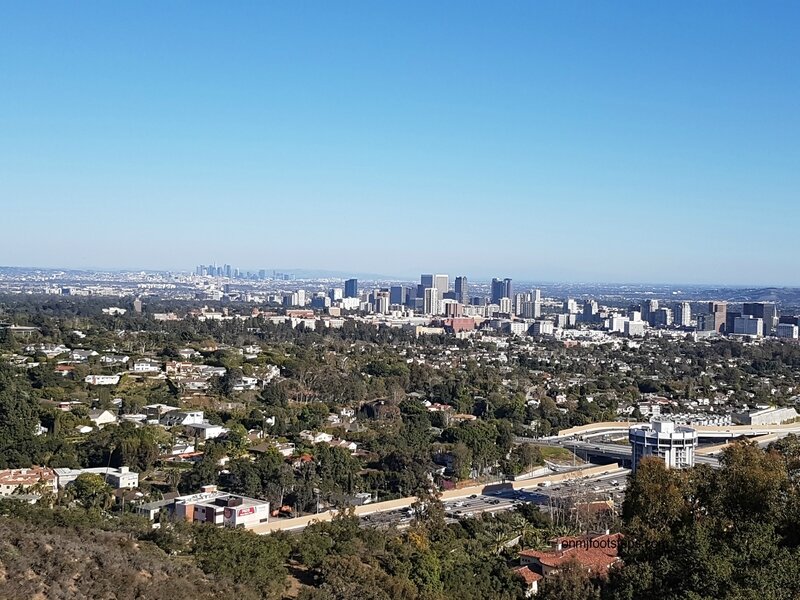 Mais quand on se rend à L.A #onmjfootsteps., il y a forcément des immanquables : Forest Lawn et Neverland, qui feront l'objet d'un article à part entière, les étoiles de Michael et des Jackson sur le Hollywood Walk of Fame, les empreintes du Grauman's Chinese Theater, la Thriller House ou encore la maison familiale des Jackson à Encino.
En février, les touristes sont moins nombreux à Los Angeles et heureusement car malgré tout le célèbre Hollywood Walk of Fame reste pris d'assaut et l'étoile de Michael, très prisée. Tout le monde veut sa photo près d'elle et il est parfois difficile d'avoir un cliché correct. Inaugurée en 1984 par Michael lui-même, cette étoile est depuis le 25 juin 2009 devenue un lieu de pèlerinage pour les fans.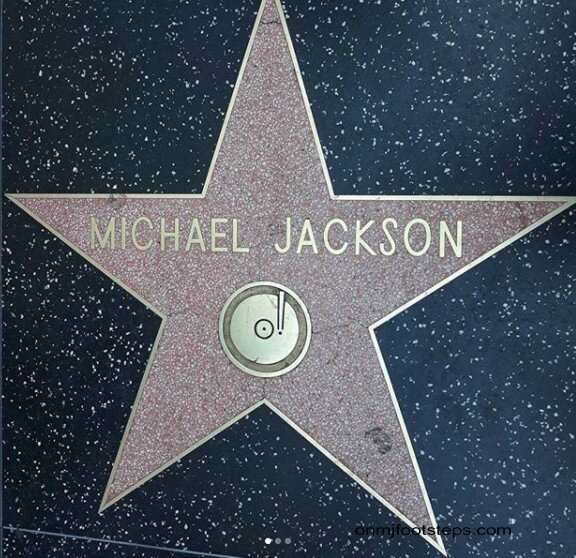 Les empreintes du chanteur devant le Grauman's Chinese Theater ont un peu moins de succès. Les fans et le public s'arrêtent devant les empreintes inaugurées par les enfants de Michael en 2012 mais oublient que les "vraies" empreintes sont juste à côté, réalisées par Michael en 1984 mais restées dans un coffre et finalement installées en 2012 sur le parvis du Grauman's Chinese Theater. A cause du passage, ces empreintes et la signature de Michael ont d'ailleurs malheureusement tendance à s'effacer!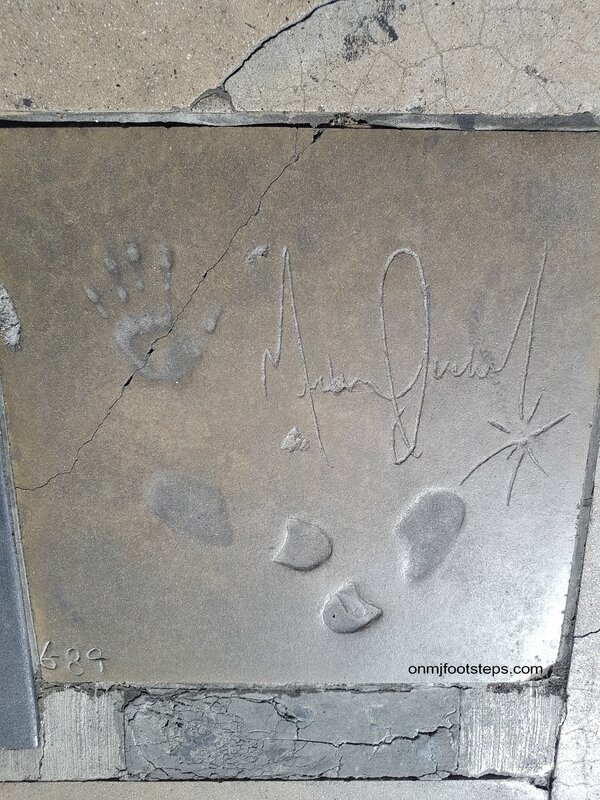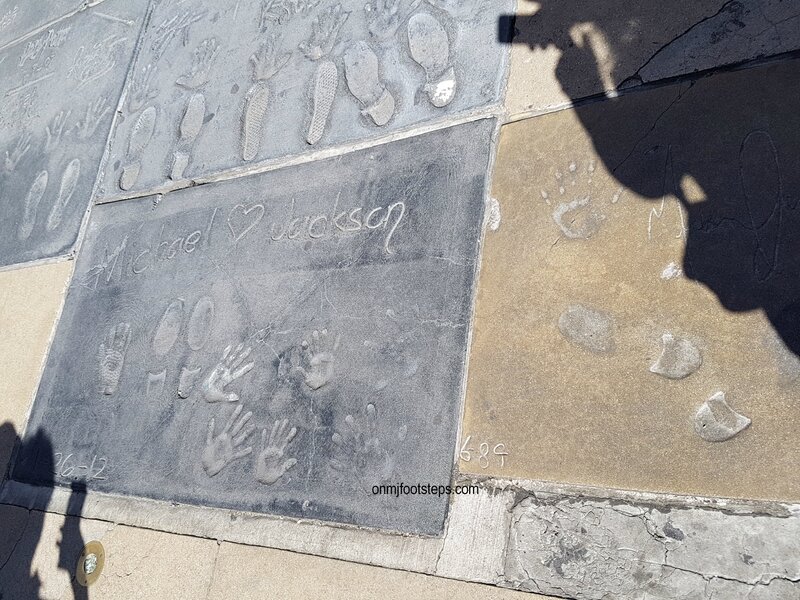 Plus loin, sur Vine Street, The Jacksons ont aussi leur étoile. Fait très étrange, quand je me suis rendue à Los Angeles en 2012 et 2014, il m'a été impossible de la trouver. C'est comme si elle avait été retirée. Et cette fois-ci, elle était là, parmi d'autres et pas loin de celles de Quincy Jones et de Janet Jackson. C'était à n'y rien comprendre. Mais c'est donc la première fois que je la voyais !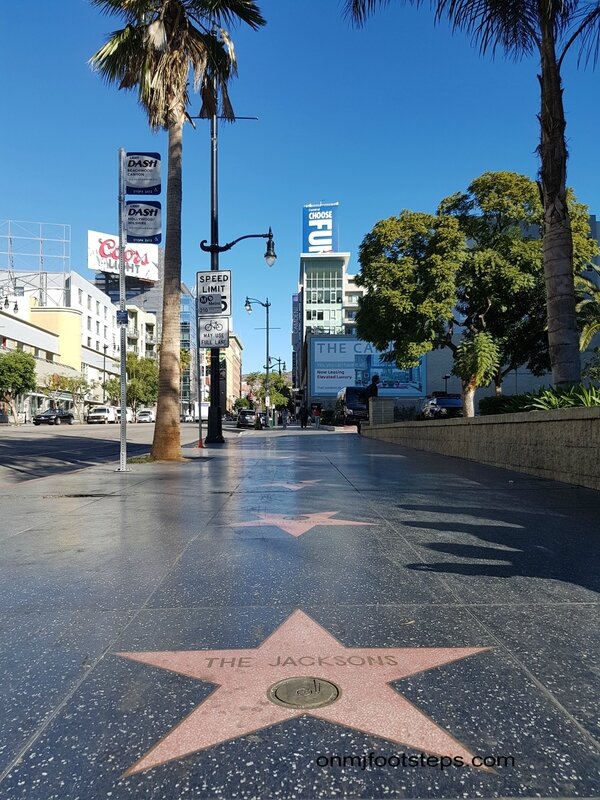 La Thriller House, surnommée ainsi pour avoir fait partie des lieux de tournage du short film Thriller, se situe dans une rue calme où les maisons ressemblent toutes à celle-ci….. mais en moins délabrées. Car malheureusement avec le temps, la Thriller House tombe en ruine et ressemble de plus en plus au clip pour lequel elle a servi. L'ambiance n'a cependant rien d'un film d'horreur puisque le quartier est surtout résidentiel. Poser devant la Thriller House reste un classique pour les fans !
Enfin, comment ne pas s'arrêter à Encino ? Bien sûr, à part un portail il n'y a rien à voir, sauf si vous avez la chance d'être présent au moment où il s'ouvre pour laisser passer une voiture, comme cela m'est arrivé une fois. Mais cette fois-ci, c'était le calme plat. Il faut dire que la maison d'Hayvenhurst n'est plus habitée et est réservée seulement aux évènements familiaux (le récent mariage du fils aîné de Jackie y a eu lieu).
Cette maison est cependant le berceau de l'histoire des Jackson à Los Angeles. Michael l'a rénovée et décorée à sa façon au début des années 80 et c'est dans les studios de la propriété que sont nés plusieurs de ses grands titres. Alors, pour moi et pour de nombreux fans, cette maison a son importance. Même s'il faut parcourir plusieurs kilomètres, le quartier d'Encino étant loin d'Hollywood, c'est un des lieux iconiques. Peut être qu'un jour d'ailleurs elle deviendra un musée, ainsi que l'avait évoqué un temps l'Estate … à défaut d'avoir Neverland.
Neverland …. Cet endroit que j'aime tant. Loin de L.A. mais passage obligé. A lire ici
Adresses utiles:
- Etoile de Michael Jackson: 6927 Hollywood Blvd
- Empreintes de Michael Jackson: 6928 Hollywood Blvd (devant le Grauman's Chinese Theater)
- Etoile des Jackson: 1500 N Vine Street
- Thriller House: 1345 Carroll Avenue
- Encino Home: 4641 Hayvenhurst Avenue