Au début des années 80, Michael Jackson réalise plusieurs publicités pour les scooters Suzuki. Des vidéos et photos que les fans apprécient particulièrement et il y a quelques mois, plusieurs photos inédites de ces publicités ont été publiées sur les réseaux sociaux (un grand merci à Justin pour cela !)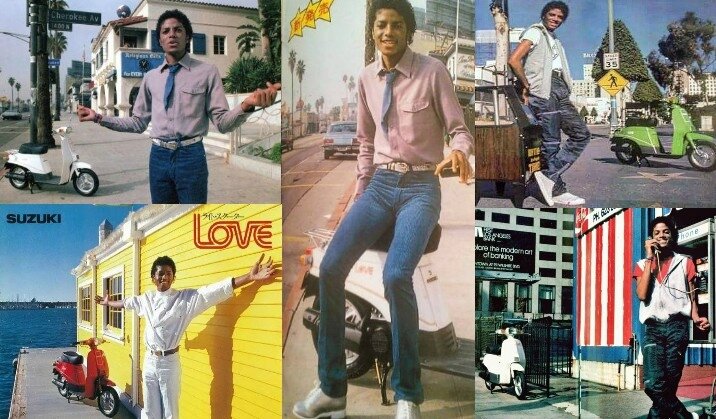 J'ai donc eu envie de partir #onmjfootsteps et retrouver les lieux où elles (ainsi que celles plus connues) avaient été prises dans Los Angeles. Pour cela, j'ai pris la direction de plusieurs quartiers :
- Hollywood et West Hollywood
C'est le long de Sunset Boulevard que je retrouve l'endroit de plusieurs photos. Mais le célèbre boulevard qui va du downtown de Los Angeles à la côte Pacifique en passant par Hollywood et Beverly Hills est long de 39 kilomètres, alors envisager une promenade à pied risque d'être difficile. De toute façon, Los Angeles est le royaume de la voiture et avec ses grandes avenues, il est facile de se garer.
C'est au croisement de Vine Street et de Sunset Boulevard que commence cette balade motorisée, devant l'étoile des Jackson. Michael pose, avec le scooter de la marque japonaise, en mode streetwear, sur le boulevard étoilé. Un style inhabituel que j'avais particulièrement aimé à la parution de la photo.
A environ un kilomètre de là, Michael pose tout près du Crossroads of The World, le premier centre commercial extérieur, construit en 1936, qui aujourd'hui abrite des bureaux de l'industrie de l'entertainment. Les lieux n'ayant quasiment pas changé, il est facile de refaire des photos à l'identique. L'endroit est encore peu fréquenté à l'heure matinale où je m'y retrouve et j'en profite !
Plus de trois kilomètres plus loin, c'est devant un restaurant mexicain que Michael avait été pris en photo. Si l'établissement paraît banal, The Cabo Cantina Restaurant est pourtant connu à Los Angeles pour avoir été, avant lui, l'emplacement de The Source Restaurant, le premier restaurant végétarien de la ville, tenu par des hippies. Ouvert à la fin des années 60, les stars hollywoodiennes comme Warren Beatty, Steve McQueen, Jane Fonda ou Marlon Brando l'adoptent rapidement. Une des scènes de Annie Hall de Woody Allen y sera même tournée. Vers la fin des années 70, The Source est revendu et devient The Cabo Cantina, toujours là aujourd'hui, avec son muret en pierres brunes, le long du Sunset Strip très passager.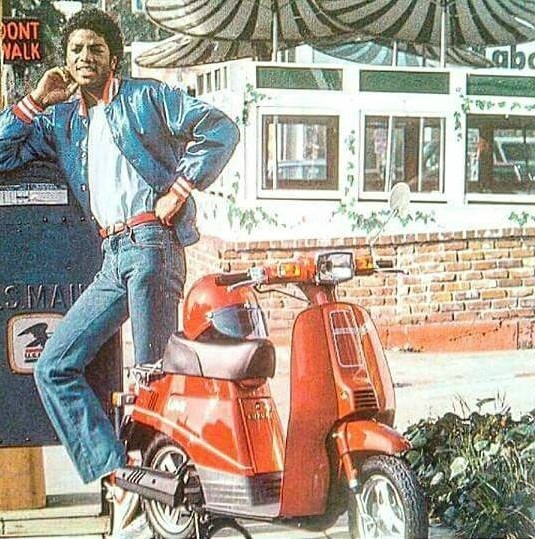 Un peu plus loin sur le boulevard, je m'arrête sur le parking de Tower Records, la légendaire chaîne de magasin de disques. C'est au pied d'un panneau publicitaire, sur le parking du magasin, que Michael s'était installé, avec son scooter. Un panneau publicitaire qui affichait alors la couverture de l'album Live des Jacksons. Une photo probablement prise à la fin de l'année 1981, puisque cet album est sorti en novembre de cette année-là.
Tower Records n'existe plus aujourd'hui même si l'enseigne est toujours là. Il faut dire que le magasin a été un des plus iconiques de la ville en matière de musique dès son apparition en 1971. Les stars y venaient pour signer des autographes, donner des concerts et les publicités pour les sorties d'albums étaient souvent impressionnantes à l'image de celles pour Bad et HIStory de Michael. Une des statues promotionnelles du chanteur, pour la sortie de l'album HIStory y avait d'ailleurs été installée en 1995.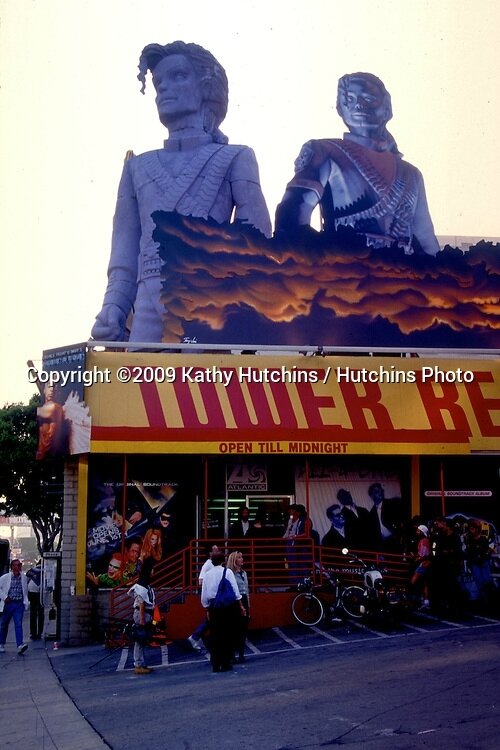 Photo: hutchinsphoto.photoshelter.com
Lorsque je descends de la voiture pour faire des photos, je m'aperçois que se trouve en face, sur la droite, l'une des librairies préférées de Michael, The Book Soup Bookstore, où il avait été aperçu en avril 2009.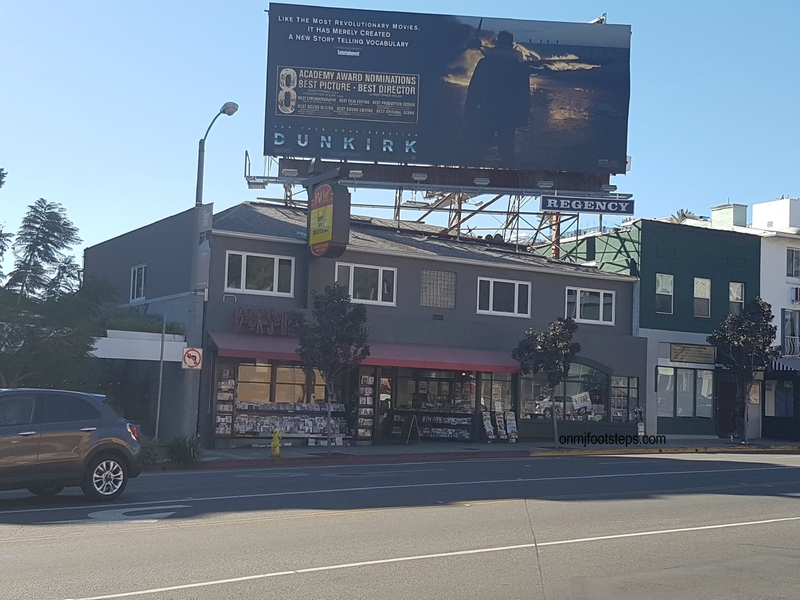 En face, sur la gauche, se situe aussi un des lieux où Michael avait été photographié en 1978, pour la promo de son film The Wiz (à lire dans un article à venir).
Ce sont donc des points stratégiques sur Sunset Boulevard, des lieux renommés qui ont été choisis pour les photoshoots des images publicitaires Suzuki. Comme à son habitude, Michael ne laissait rien au hasard, tout était soigneusement choisi.
- Marina Del Rey
C'est au sein de Fisherman's Village, à quelques kilomètres de Venice Beach, qu'ont été pris les clichés les plus célèbres pour la marque japonaise. Cette reconstitution d'un village de pêcheurs est un lieu calme, loin de l'agitation de Los Angeles, idéal pour un dépaysement complet. Les boutiques de souvenirs colorées, les restaurants et bars longent le port et avec un peu de chance, vous pourrez y apercevoir des lions de mer.
C'est devant quatre de ces bâtiments colorés que Michael pose en 1981 et il est assez facile de les retrouver car ils n'ont quasiment pas changé, à part un rafraîchissement de quelques peintures. #onLoveisMyMessagefootsteps …..
- Downtown L.A.
Le Downtown de Los Angeles se repère de loin par sa skyline et se définit comme le centre historique, financier, administratif et commerçant de la ville. Cœur de la métropole, on y trouve aussi les plus anciens bâtiments.
C'est dans le Financial District que je repère le lieu où l'une des photos de Michael a été prise. Parmi les buildings du quartier des affaires, Michael était à une cabine téléphonique. Cette dernière n'est plus là, bien sûr, l'endroit a bien changé mais les fenêtres du bâtiment en arrière plan sur la photo sont encore reconnaissables et permettent de situer le lieu de la photo.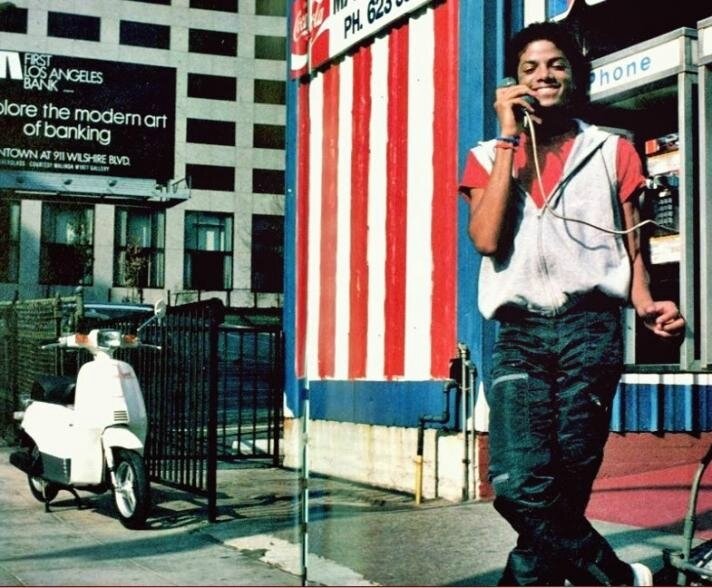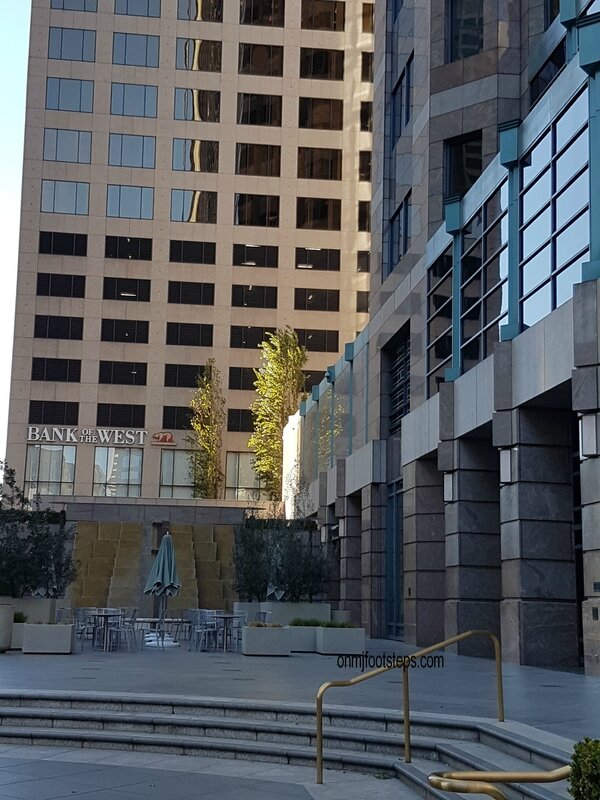 Par contre, pour la photo suivante, aucun moyen de déterminer l'endroit en dehors de l'adresse. Michael est assis sur le rebord d'un muret, sur le toit d'un bâtiment, en face du building du Department of Water and Power.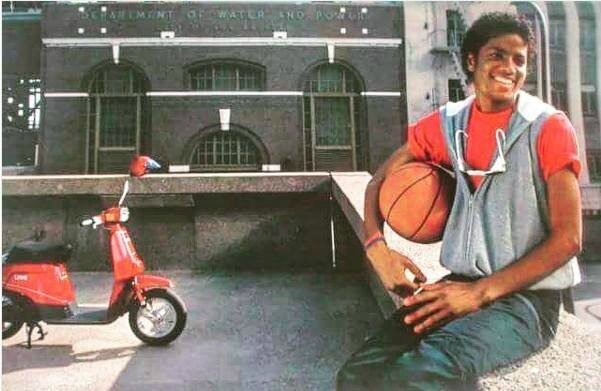 Celui-ci était situé dans Hope Street mais a été détruit depuis pour laisser place à des buildings plus modernes. Des photos des années 30 montrent le bâtiment dans la rue avec, au bout, la tour centrale de la Los Angeles Public Library (la bibliothèque publique de Los Angeles). Ce qui indiquerait que le toit où posait Michael se situait là où se trouve actuellement un building en verre, en face de l'entrée de la Oue Skyspace.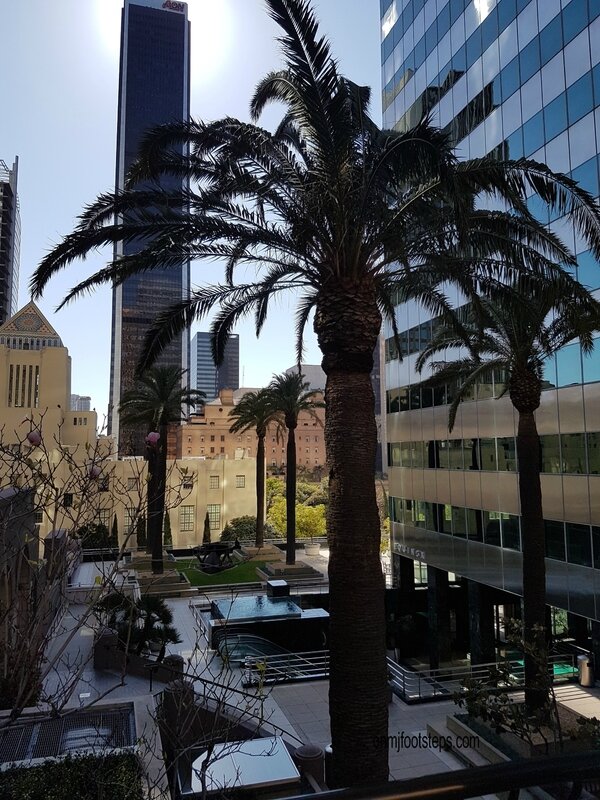 Le Financial District de Los Angeles est probablement l'un des quartiers qui a le plus changé, même si, nous le verrons dans un prochain article, de nombreux bâtiments du début du 20ème siècle restent le témoin de l'histoire du centre ville de Los Angeles et Michael en a tiré partie dans un de ses vidéos.
Découvrir la ville au rythme des lieux où Michael s'est arrêté en ce début des années 80 pour ces photoshoots Suzuki, seuls les fans peuvent le comprendre. Cela peut sembler fou aux yeux des autres mais on se rend compte que l'on va aussi à la rencontre d'endroits mythiques dans la ville. Et que l'on découvre son histoire d'une autre façon…

Adresses utiles
- Etoile des Jackson : 1500 Vine Street
- Crossroads of The World : 6670 Sunset Blvd
- Bâtiment juste avant : 6660 Sunset Blvd
- Cabo Cantina Restaurant : 8301 Sunset blvd
- Tower Records : 8801 Sunset Blvd
- Fisherman's village : 13755 Fiji Way, Marina del Rey
- MJ dans la cabine téléphonique : 624 S Figueroa Street
- MJ sur le toit : 428 S Hope Street
Merci à Justin pour son aide dans la recherche de ces adresses. Thank You Justin C., much L.OV.E. ;)