Un dernier article sur ce périple à Los Angeles pour vous donner encore quelques adresses, en vrac. Rien d'exhaustif bien entendu, mais ce sont des lieux que je n'avais personnellement jamais repérés, pour la plupart, et j'ai eu plaisir à m'y rendre pour réaliser ces photos avant/après comme j'aime le faire.
Dans le downtown, voici encore un des bâtiments historiques de la ville. L'hôtel Barclay (à l'origine appelé The Van Nuys Hotel) est un building de cinq étages qui date de 1897. Construit dans le style Beaux Arts, il était alors l'un des hôtels les plus classes de Los Angeles et le premier à proposer le téléphone et l'électricité dans chacune des chambres. C'est l'un des plus vieux hôtels de la ville qui offre désormais des loyers pour les bas revenus.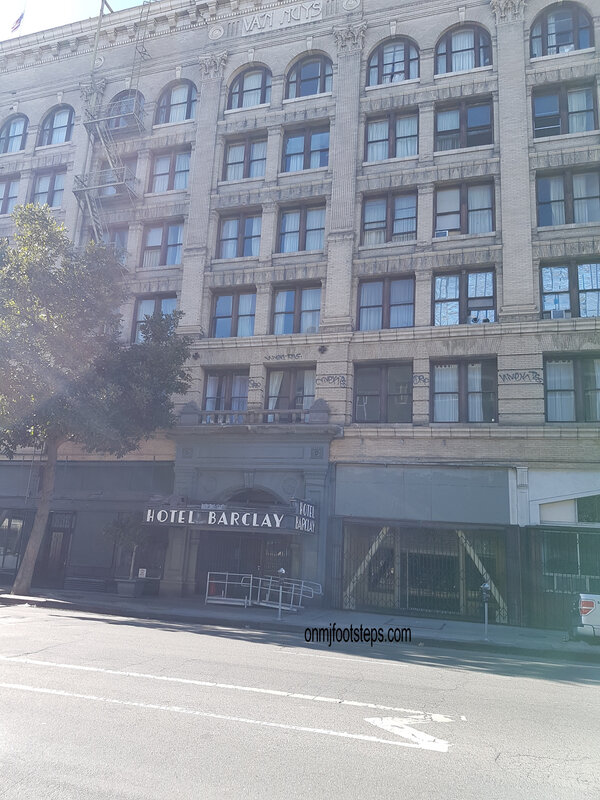 En 1987, Michael Jackson tourne une séquence de la publicité The Chase pour Pepsi sur Main Street, devant cet hôtel. On l'aperçoit en arrière plan sur les photos des coulisses du tournage.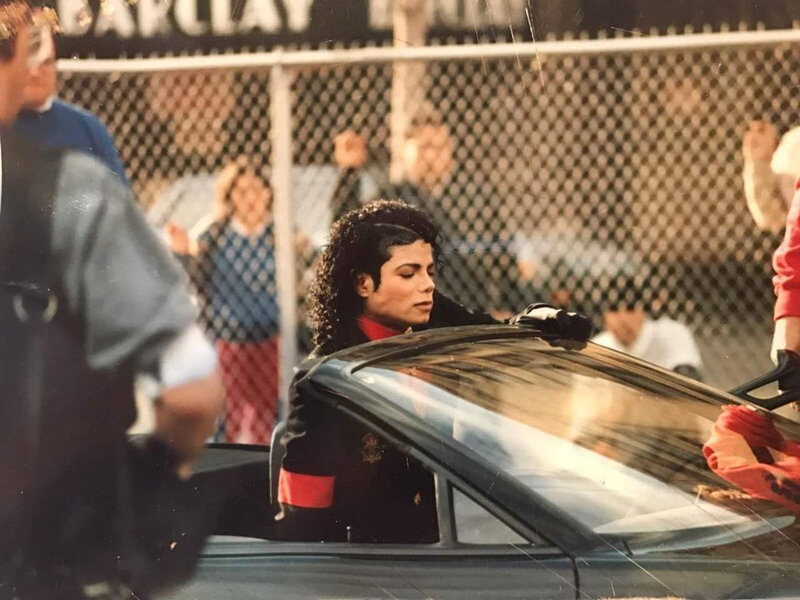 Retour ensuite dans la partie ouest de la ville, en remontant vers West Hollywood.
Wilshire Boulevard c'est un peu la 5ème avenue de l'Ouest. Long de 25 kilomètres, cette principale artère de la ville la parcourt d'Est en Ouest. C'est à peu près à mi chemin que s'y trouve le plus important musée de la cité des anges, le Los Angeles County Museum of Art (LACMA). Ouvert en 1910 et installé dans les actuels locaux depuis 1965, il est établi sur sept bâtiments et permet de faire un tour du monde de l'Art. Ses jardins, gratuits, sont tout aussi intéressants et les Urban Lights de Chris Burden attirent toujours de nombreux visiteurs.
Une sculpture moderne rouge de l'artiste russe Alexander Liberman est installée dans un recoin des jardins. C'est au pied de ce Phoenix que les Jackson ont posé en août 1978 pour le photographe Gregg Cobarr. La sculpture n'a pas bougé et il est facile de refaire une photo façon Jackson.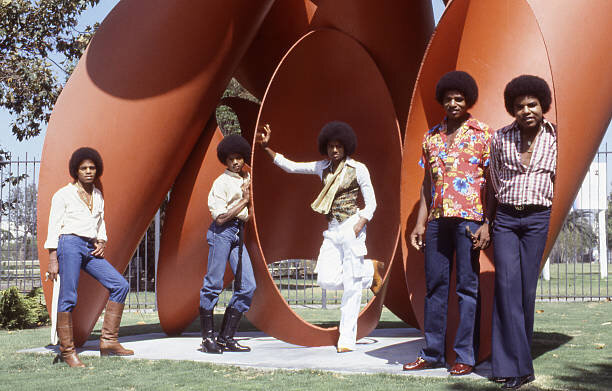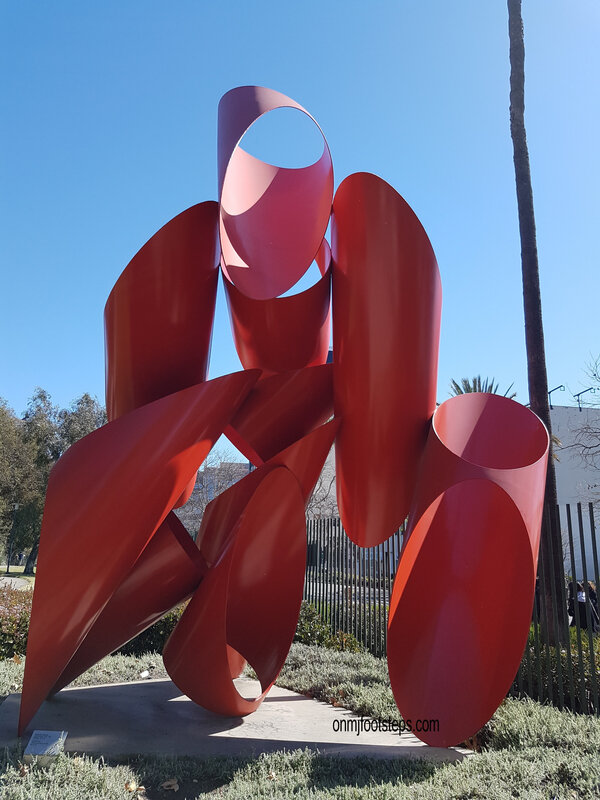 Quelques avenues plus au nord, sur Beverly Boulevard, autre grand axe est-ouest de la ville, de manière anonyme et discrète, se situe un célèbre mur dans la carrière de Michael Jackson. Celui qui a servi pour la pochette de l'album Off The Wall en 1979 ne ressemble plus à ce qu'il était, il est désormais recouvert d'une peinture blanche. Mais on ne résiste pas à prendre la pose devant. Un simple mur mais devenu légendaire !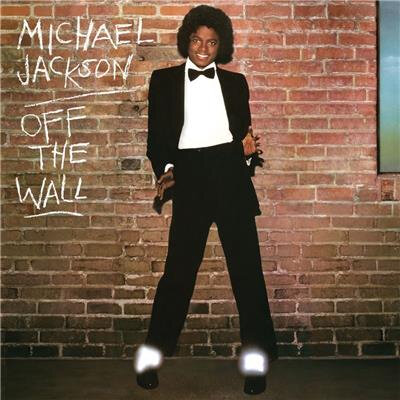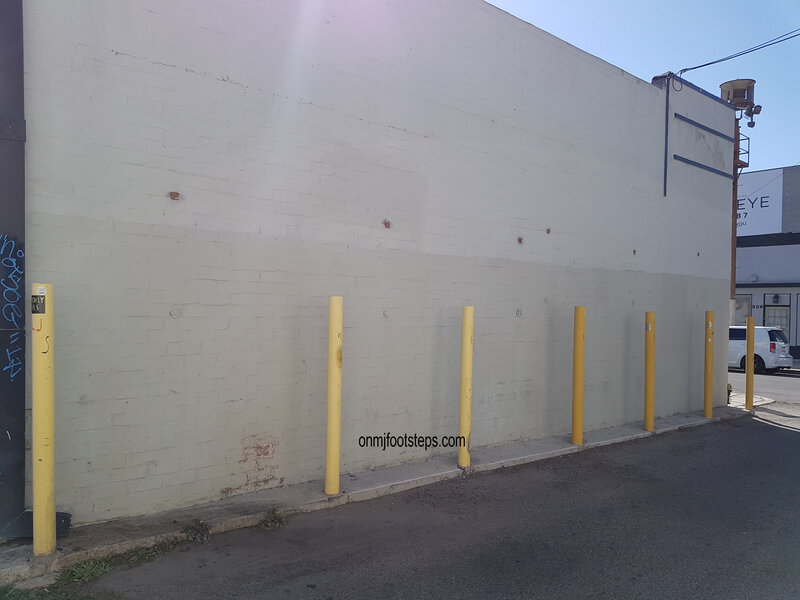 Un peu plus loin sur le boulevard, on arrive à une adresse tout aussi légendaire. C'est au 8447 Beverly Blvd qu'est né l'album Thriller en 1982. Rien ne laisse penser que derrière une façade légèrement austère se tiennent les studios Westalke qui ont accouché de l'album le plus vendu de tous les temps. A la fin de l'enregistrement de cet album Thriller, Michael et son équipe avaient été pris en photo sur le trottoir des ballons à la main. A l'arrière de la photo, on aperçoit un fast food mexicain, Taco Bell……. toujours là 35 ans plus tard.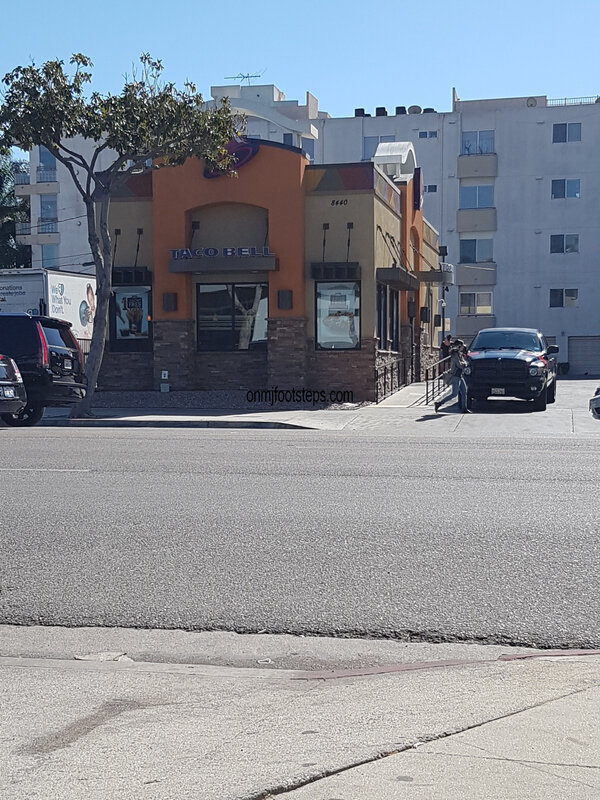 Et comme il est l'heure déjeuner, j'en profite pour prendre un lunch avec vue sur les studios Westalke !
Pour finir, retour sur Sunset Boulevard. Tout près de l'ancien magasin Tower Records, en 1978, Michael posait devant un des panneaux publicitaires géants que l'on trouve fréquemment à Los Angeles qui faisait alors la promo du film The Wiz dans lequel Michael tenait son premier rôle au cinéma. A l'époque, le billboard se tenait au-dessus du Old World Restaurant, un restaurant réputé de la ville. Celui-ci n'existe plus aujourd'hui, il a été remplacé par un State Social House Restaurant, qui reste fréquenté.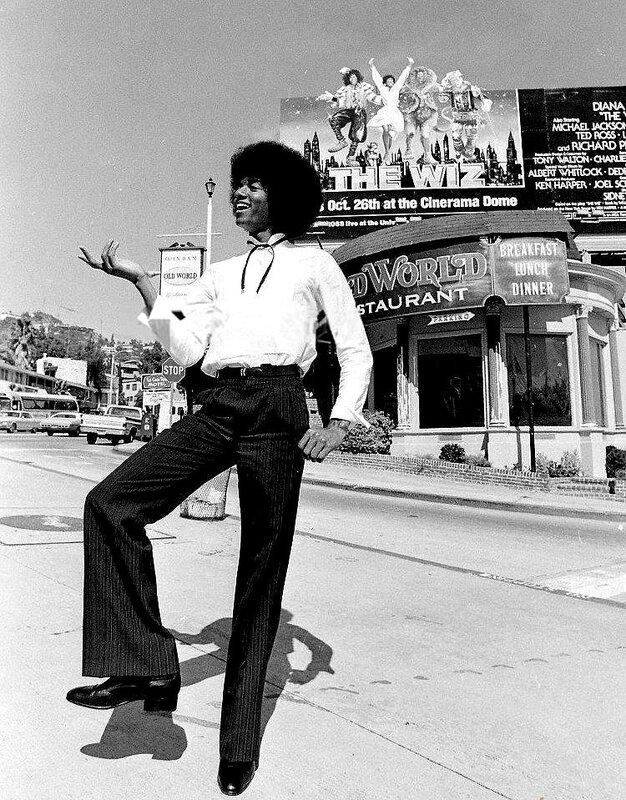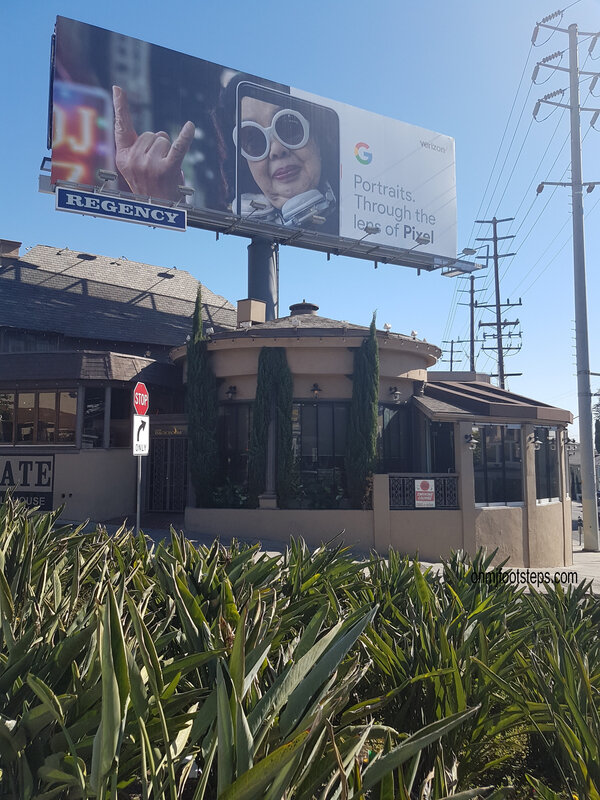 Los Angeles regorge encore de lieux à faire #onmjfootsteps. Ces adresses données au fil des articles ne sont qu'une petite partie de celles que vous pouvez trouver ici.
Comme je le dis souvent, la présence de Michael se ressent partout dans Los Angeles. C'est un véritable plaisir de la parcourir au fil des passages de son idole mais il ne faut pas en oublier que la deuxième ville des Etats-Unis a également beaucoup à offrir en tant que touriste. C'est mon troisième périple ici #onmjfootsteps mais cette fois j'ai aussi voulu découvrir des lieux "à ne pas manquer", comme on dit (je vous recommande par exemple le Getty Center ou la vue superbe sur la ville de la Oue Skyspace). Ce qui est sûr c'est qu'il y a encore tant à voir et que d'autres voyages suivront !
See you soon L.A.

Adresses utiles :
Barclay Hotel : 103 West 4th St (séquence au niveau du 365 South Main St)
LACMA : 5905 Wilshire Blvd
Mur Off The Wall : 7771 Beverly Blvd
Westlake Studios : 8447 Beverly Blvd
The Wiz Billboard : 8782 Sunset Blvd