Le 8 mai 1997, Michael Jackson est à Cannes, en France. Il doit participer au Festival pour présenter, hors compétition, son mini film Ghosts. (voir ici)
Mais avant de grimper les marches du Palais des Festivals, un peu plus tôt dans la journée, Michael s'était rendu, en toute discrétion dans un magasin de jouets de Juan-les-Pins, à une douzaine de kilomètres de Cannes.
Vers 10h, ce 8 mai 1997, Pascal Perrault, le propriétaire du magasin King Kong a la surprise de voir débarquer dans sa boutique deux gardes du corps, sortant d'une voiture, suivi d'un homme le visage enrubanné d'un voile orange, les yeux dissimulés derrière des lunettes noires. Une fois à l'intérieur, l'homme retire ses lunettes, il s'agit de Michael Jackson, venu acheter un jouet pour son jeune fils, Prince, resté à l'hôtel.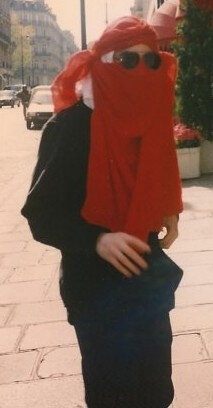 Michael à Paris en 1997 avec le même déguisement qu'à Cannes
Il y a quelques semaines Pascal Perrault a évoqué cette anecdote à Nice-matin, une histoire qu'il ne partageait jusque là qu'en famille. "A l'époque, on n'avait pas de portable capable de faire des photos. J'avais juste un petit appareil basique. Quand Michael Jackson est parti, je lui ai demandé si je pouvais faire une photo en lui tendant un morceau de carton blanc d'un jouet. Il l'a signé. Mais comme je ne parlais pas très bien l'anglais, il n'a pas compris ce que je lui disais. Il est resté au moins trois quarts d'heure dans la boutique. Personne ne l'a embêté. Je me suis toujours dit que si un jour j'avais la chance de croiser Michael Jackson, je lui demanderais un pas de Moonwalk. Mais je n'ai pas osé. J'ai juste pris en photo sa silhouette de dos et la voiture qui le ramenait à Cannes. C'est mon seul souvenir et la preuve de sa présence à Juan, dans ma boutique. Ma femme qui était là, peut aussi en témoigner."
Le propriétaire du magasin de jouets n'en revient même s'il est habitué à voir passer des stars dans son magasin, et la venue de Michael reste pour lui une expérience unique. "Il y avait une légende autour de lui et de sa personnalité extravagante. Moi j'ai rencontré quelqu'un de rêveur, comme un enfant face à tous ces jouets. Mais personne n'a fait fermer ma boutique comme ce fut le cas ailleurs à l'étranger. Michael Jackson a débarqué les mains dans les poches. Il y avait des clients dans la boutique. J'ai même entendu un des clients lui demander : 'Etes-vous le vrai Michael Jackson ?' (…) Pour ma part, j'étais très intimidé surtout lorsqu'il m'a parlé. Il voulait un cadeau insolite pour son fils Prince Michael qui l'attendait à l'hôtel à Cannes."
Le commerçant finit par reprendre ses esprits et vend au chanteur le jouet qu'il avait choisi : "Il m'a acheté Luxi la luciole, une peluche qui avait la particularité d'avoir un visage fluorescent. Idéal donc pour son bébé. Il a acheté en tout pour environ 100 euros de jouets, rien de plus. Il m'a montré un gadget qu'il voulait acheter pour lui. Une petite figurine je crois. Je lui ai offert. Puis il est parti tranquillement sous les applaudissements de quelques fans qui assistaient à la scène."
Quelques heures plus tard, le roi de la Pop faisait une arrivée très remarquée au Festival de Cannes.
Source : nicematin.com / pressreader.com
---
"To take a picture
Is to capture a moment
To stop time
To preserve the way you were"
Michael Jackson