Tous les fans de Michael Jackson connaissent bien les publicités que le chanteur a réalisées au cours de sa carrière, des vidéos pour les céréales Alpha Bits au début des années 70, aux spots Pepsi des années 80 et 90 en passant pour les célèbres photos pour le scooter de la marque japonaise Suzuki avant le succès de Thriller.
Mais connaissez-vous les lieux de tournage de ces "commercials" ? Je vous emmène y faire un tour !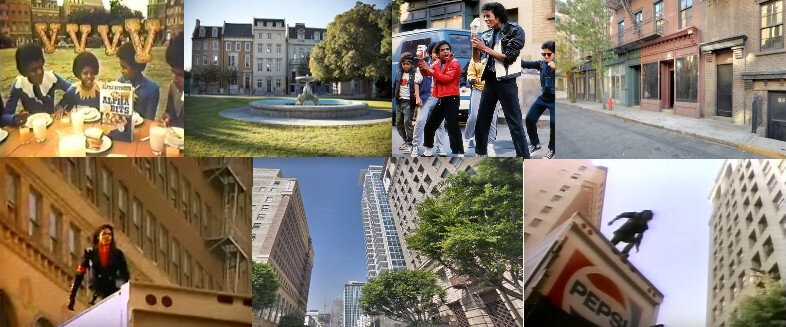 Les Warner Bros Studios : Warner Bros Ranch
Les céréales Alpha Bits
Les céréales Alpha Bits sont des céréales pour le petit-déjeuner en forme de lettres de l'alphabet inventées par un père de famille qui travaillait pour une marque de céréales, en 1958. Au début des années 70, les Jackson 5, lancés par la Motown, font la une des émissions de télévision, des magazines et se retrouvent en vedette d'un dessin animé à leur nom. Face à ce succès, la marque de céréales fait enregistrer plusieurs publicités aux cinq frères, probablement entre 1971 et 1974.
Enregistrées en studios, l'une de ces publicités est tournée au Warner Bros Ranch des Studios Warner Bros de Los Angeles.
Situé à quelques minutes au nord des principaux Warner Bros Studios de Burbank, l'ancien Ranch, d'abord la propriété de Columbia Pictures (d'où son nom d'origine The Columbia Ranch) date de 1934 et a été construit pour le tournage des scènes en extérieur. Des studios plus petits que les principaux Studios Warner et que le public ne peut malheureusement pas visiter.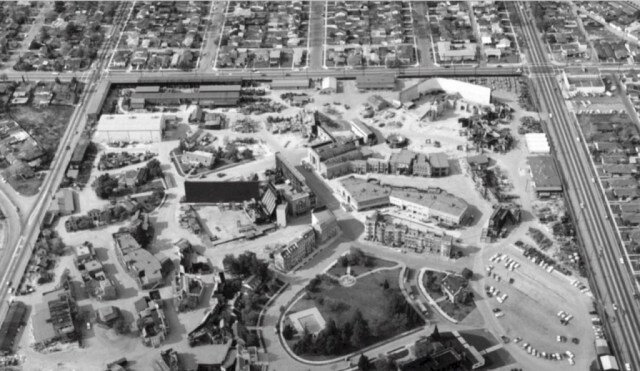 C'est au sein du parc, en plein milieu du Ranch, que les Jackson 5 tournent une des publicités pour la marque de céréales. (voir le plan du Ranch ici )
A 0 :25, dans la vidéo ci-dessus, on les voit sortir d'une maison qui se trouvait le long de ce parc, sur Park Boulevard. Un lot d'appartements, appelés Park Blvd Apts ou Bank Building, aujourd'hui détruits mais que l'on peut apercevoir dans certains films d'époque et sur la vue aérienne du ranch ci-dessus (au centre)
A 0 :31, les cinq frères descendent d'une voiture arrêtée devant une maison. La scène se déroule sur Blondie Street, une rue résidentielle, l'une des artères les plus connues et les plus anciennes du Ranch. Banale au premier abord, cette maison a pourtant été le lieu de tournage de plusieurs séries américaines (The Three Stooges dans les années 40, Gidget et Hazel dans les années 60 ou dans le film l'Arme Fatale en 1987).
Dans la scène suivante (de 0 :35 à 0 :55), on retrouve les Jackson 5 s'amusant dans le parc, bordé par Blondie Street et Park Blvd. Avec leur boîte de céréales à la main, les frères s'éclatent comme des petits fous sur les structures de jeu du parc. Comme Blondie Street, le parc apparaît dans bon nombre de productions de Columbia Pictures au cours des années 40 et 50 (Michael savait-il alors qu'il tournait au même endroit que sa série préférée, The Three Stooges, l'avait été quelques décennies plus tôt ?).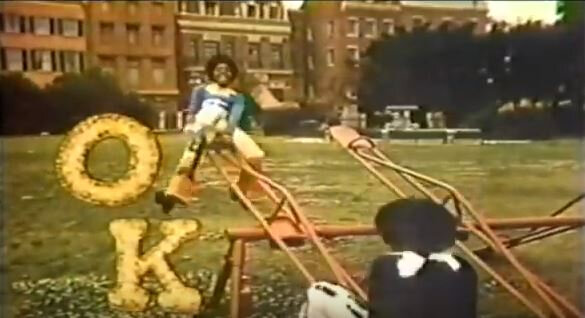 Après avoir joué, le groupe se pose autour d'une table, au milieu du parc, pour déguster les céréales. En arrière-plan, on repère à droite, le groupe de maisons d'où ils étaient sortis un peu plus tôt dans la vidéo et, à gauche, une fontaine. Cette dernière apparait également dans de nombreux films mais elle sera surtout rendue célèbre dans les années 90, avec le générique de la série Friends.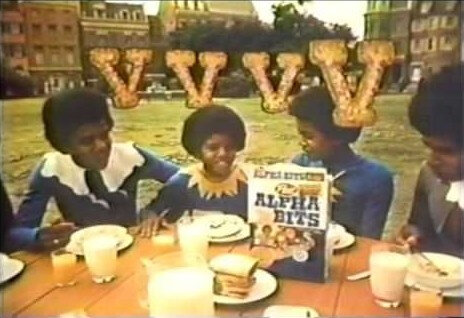 A 0 :57, les frères quittent le parc dans la voiture avec laquelle ils étaient arrivés, circulant sur Blondie Street. On aperçoit, en fond l'église que l'on voit, ci-dessous, sur la vue aérienne du ranch.
Les rues de Los Angeles : Sunset Boulevard, Marina del Rey et le Downtown
Suzuki : Love Is My Message
Quelques années avant la renommée mondiale avec Thriller, l'album Off The Wall assoie la crédibilité de Michael Jackson en tant qu'artiste solo. La marque de scooter Suzuki fait alors appel au chanteur pour une série de photos et vidéos publicitaires. Réalisées dans les rues de Los Angeles, il est facile de retrouver aujourd'hui les lieux de shooting (à lire en détail dans cet article #onmjfootsteps Suzuki Places, je vous remets simplement les photos ici).
Sunset Boulevard
Fisherman's Village, Marina Del Rey
Downtown L.A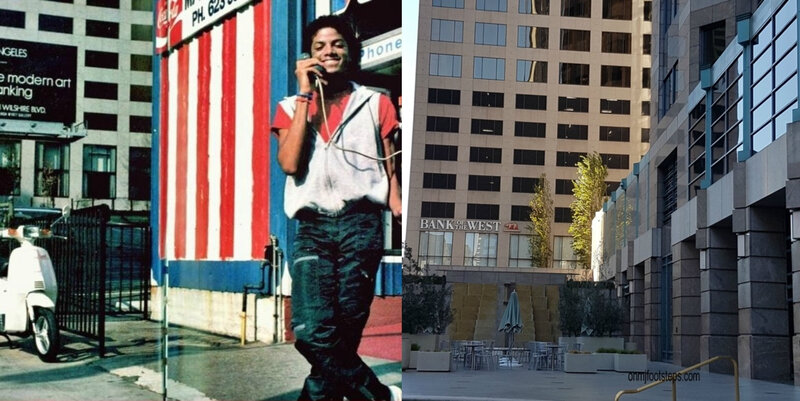 Les Warner Bros Studios : Hennesy Street
Pepsi, The Choice of A New Generation : The Street
Hiver 1983, le nom et les chansons de Michael Jackson sont sur toutes les lèvres. Suite au succès mondial de l'album Thriller, la marque de soda Pepsi s'associe au chanteur, en échange d'un chèque de cinq millions de dollars, un montant record pour l'époque, pour des spots publicitaires qui marqueront la carrière du King of Pop. Le premier de cette série, The Street est réalisé par Bob Giraldi (qui avait déjà réalisé Beat It) dans le cadre de la campagne "The Choice Of A New Generation". Il reprend la mélodie de Billie Jean, avec des paroles adaptées pour vanter la marque, et met en scène des jeunes ados dansant et imitant Michael Jackson, au milieu d'une rue, et qui se retrouvent nez à nez avec Michael et ses cinq frères.
Les Warner Bros Studios sont situés à Burbank (Los Angeles), au nord d'Hollywood, à l'endroit où ont été créés les studios de la First National Pictures en 1926. Quand la compagnie Warner Bros, créée en 1923 par les frères Warner, achète et prend le contrôle de la société First National Pictures, en 1929, elle décide alors de déménager dans les studios de Burbank.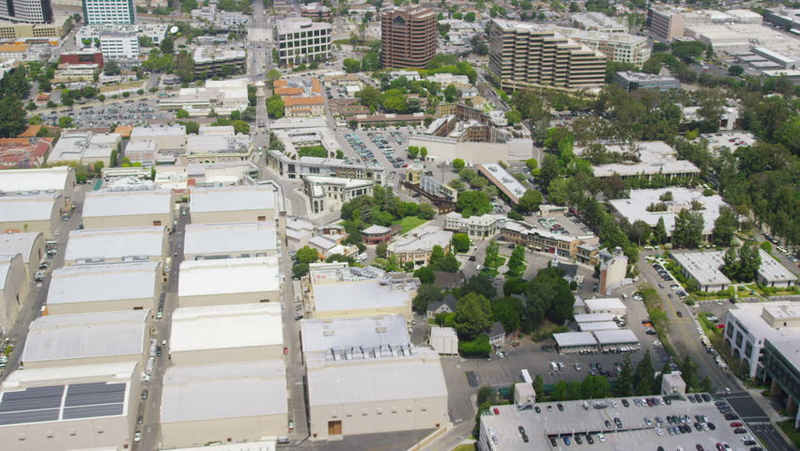 Tenement Street, rebaptisée Hennesy Street en 1982 lors du tournage du film Annie, est une rue des Studios Warner Bros recréant l'ambiance typique des vieilles rues New Yorkaises. C'est l'une des plus anciennes rues des studios qui a accueilli nombre de productions parmi lesquelles Les Gremlins en 1984, Batman Forever en 1995 et Batman et Robin en 1997. Une partie de la rue représente des buildings avec des appartements et leurs escaliers de secours, l'autre côté, des boutiques où peuvent être ajoutés des noms dessus. Contrairement à certains décors de studios, il est possible de filmer dans certaines boutiques qui ne sont pas que des décors de façade.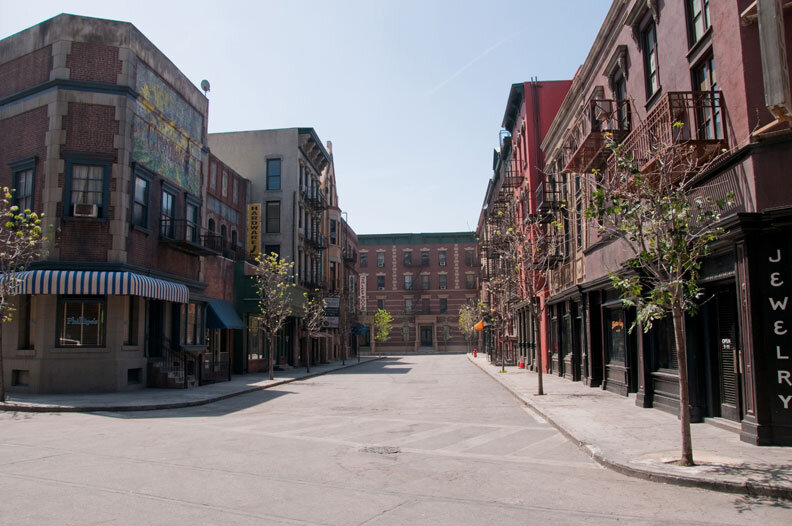 C'est donc au centre de cette rue que le jeune Alfonso Ribeiro, futur Carlton Banks du Prince de Bel Air, et ses amis vont se retrouver à boire un soda devant leur idole (on remarquera au passage qu'à aucun moment Michael Jackson ne tient ou ne boit une canette de Pespi, contrairement à ses frères !).
Une autre partie de cette Hennesy Street servira également pour le tournage de The Chase, le spot publicitaire que Michael tourne pour Pepsi en 1987 (voir plus bas).
Si vous avez l'occasion de visiter les studios (à réserver ici, les premiers prix sont à 65$), vous apercevrez sans doute les lieux de tournage de ces publicités.
The Shrine Auditorium
Pepsi, The Choice of A New Generation : The Concert (The Convention)
Le deuxième spot publicitaire pour Pepsi, The Concert, est tristement connu pour avoir failli coûter la vie à Michael Jackson qui, lors du tournage en1984, a été gravement brûlé au cuir chevelu.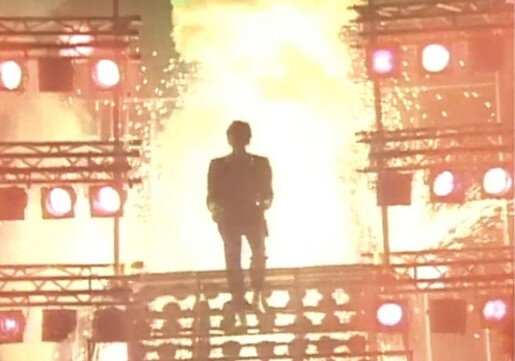 Cette publicité a été tournée au Shrine Auditorium de Los Angeles, un beau complexe de spectacles dont les extérieurs sont inspirés du style architectural marocain. Le building, enregistré au Registre National Américain des lieux historiques, a accueilli au cours des années de nombreuses remises de récompenses (Grammy Awards, Academy Awards, …), des tournages de films, des concerts (Elvis Presley a donné son premier concert à Los Angeles dans cette salle en 1956) ou plus récemment des avant-premières de films.
Le 27 janvier 1984, Michael Jackson descend les escaliers qui doivent le mener sur la scène, au son de Billie Jean, façon Pepsi New Generation, et devant un public en délire. On connait la suite……
Les Warner Bros Studios : Hennesy Street et Dowtown L.A.
Pepsi : The Chase, version Price of Fame
En 1987, après avoir renouvelé son contrat avec Pepsi, Michael tourne une nouvelle publicité pour la marque de cola, un spot en quatre parties (The Chase, The Chopper, The Museum, The Finale), de plus de quatre minutes, réalisé par Joe Pytka (à qui l'on doit aussi The Way You Make Me Feel et Dirty Diana). Le titre Bad est cette fois utilisé comme bande son de la fuite de Michael face aux paparazzi (voir ici). En 2015, une version de ce spot, avec des scènes coupées, apparaît sur le net avec, en prime, un titre inédit jusqu'en 2012, Price of Fame. Probablement la première version de la publicité.
De 0:39 à 0:53 dans la vidéo, Michael, qui échappe à ses poursuivants, atterrit dans une rue sombre.
Retour aux Warner Bros Studios et Hennesy Street. Cette partie de la rue qui représente une ruelle étroite avec les escaliers de secours des appartements est à quelques mètres de là où Michael et ses frères avaient tourné The Street (voir ci-dessus). C'est dans cette ruelle que sera aussi tournée la célèbre scène du baiser du blockbuster Spiderman, en 2002.
Changement de décor, changement de lieu dans la scène suivante (à partir de 1:28) : Michael est au volant d'une Testa rossa noire, dans les rues d'une ville, Los Angeles. Si des photos du tournage montrent Michael devant le Barclay Hotel (un building de 1897, construit dans le style Beaux Arts, l'un des hôtels les plus classes de son époque) dans la 4th Street du downtown…
…. la scène, à 1:40, où Michael saute du toit d'un camion, a en réalité été tournée quelques rues plus loin, dans la 9th Street, entre le building de la Chase Bank et un building des années 20, de style Art-Déco. La magie de la réalisation……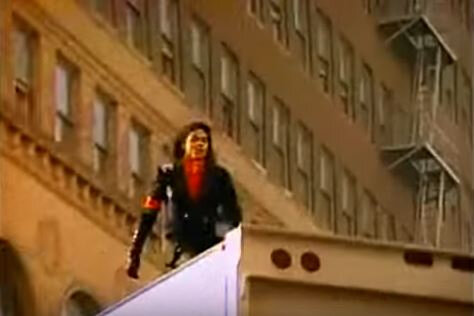 Difficile de dire où a été réalisée la scène suivante, celle du restaurant typique américain. Le Barclay Hotel avait un restaurant, aujourd'hui fermé, où plusieurs scènes de films ont été tournées (voir ici ). Ce pourrait-il que celle-ci l'ait été également ?
Avec le temps et les témoignages de ceux qui ont travaillé avec Michael, on arrive à retrouver les endroits qui ont vu le passage du King of Pop. Un travail de recherches qui demande du temps mais qui permet après d'aller #onmjfootsteps !
Adresses utiles:
- Warner Bros Ranch : 411 N Hollywood Way, Burbank, CA 91505
- Warner Bros Studios : 3400 W. Riverside Drive, Burbank, CA 91522
- Shrine Auditorium : 665 W Jefferson Blvd, Los Angeles, CA 90007
- Barclay Hotel : 103 W 4th St, Los Angeles, CA 90013
- Building face à la Chase Bank : 318 W 9th St, Los Angeles, CA 90015
Cet article sera mis à jour en fonction de mes découvertes. Merci à Lid et Justin pour leur aide !