Harrison Funk est un photographe New Yorkais qui a travaillé dans le milieu de la mode, de l'entertainment et de la publicité. Il a photographié des artistes comme The Rolling Stones, Janet Jackson, Johnny Depp, Amy Winehouse et des personnalités telles que Nelson Mandela ou Barack Obama.
Mais les fans de Michael Jackson le connaissent surtout pour avoir été l'un des photographes du King of Pop tout au long de sa carrière.
Au cours d'un entretien accordé au site guardian.com, le photographe revient sur près de trois décennies de photos avec le chanteur et révèle les anecdotes derrière ses clichés préférés de la star. Traduction de l'article :
"Michael et moi avions notre propre langue", explique Harrison Funk. "Notre expression préférée était toujours la même. Il demandait, 'Harrison, peux-tu faire de la magie?' Tout ce qui ne l'était pas n'était pas acceptable."
Funk était le photographe qui s'est rapproché de Michael Jackson plus qu'aucun autre. Il a travaillé avec le chanteur de la fin des années 1970 jusqu'à sa mort en juin 2009, et a capturé ses nombreux changements, alors que la star devenait la personne la plus célèbre de la planète.
Funk est né 12 jours avant Michael Jackson, le 17 août 1958, près de Brooklyn. C'est son oncle, Leo Friedman, un célèbre photographe de Broadway, qui l'a incité à prendre un appareil photo. Commançant par la photographie de rue et shootant des matchs de basket-ball locaux, Funk s'est frayé un chemin jusqu'à des magazines tels que Time, Life et Newsweek. C'est une rencontre fortuite avec Michael Jackson dans la célèbre boîte de nuit Studio 54 de New York (où Michael Jackson, un habitué, dansait dans la cabine du DJ pour éviter les chasseurs d'autographes) qui a donné à la carrière de Funk une trajectoire différente.
Impressionné par sa polyvalence, Michael Jackson embauche Funk en tant que photographe officiel pour le Victory Tour des Jackson en 1984. Funk a rapidement ressenti le cirque médiatique qui commençait à se former autour du chanteur: "Les gens de Rupert Murdoch m'ont appelé et m'ont prié de publier une photo de Michael pendant les répétitions. Je l'ai dit à Michael et nous avons ri à ce sujet, mais le fait que je lui en ai parlé a installé une confiance entre nous. "
Par la suite, pendant la tournée Victory, Funk a obtenu un accès illimité au chanteur. Une photo prise dans l'intimité par le photographe montre Michael Jackson appliquant lui-même son maquillage, quelque chose dont il était très fier. "Lui et Jermaine Jackson adorait se maquiller eux-mêmes", explique le photographe, ajoutant que Michael était devenu de plus en plus intéressé par son apparence, déterminé à être élégant, à l'instar de certains de ses mentors comme Gene Kelly, Fred Astaire et James Brown.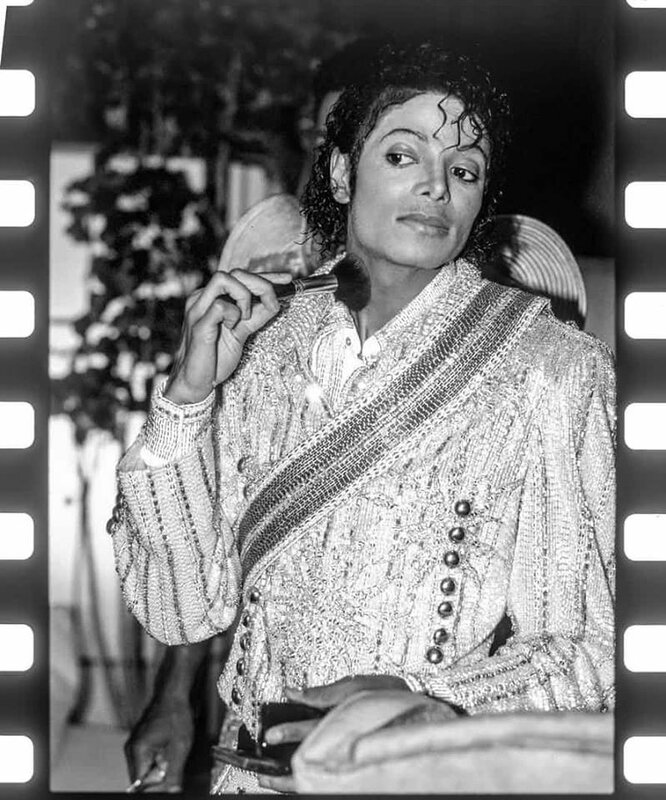 La routine de maquillage de Jackson, ajoute Funk, était aussi un signe de la fluidité du genre du chanteur "Il ne s'agissait pas tant de la féminité de Michael que de l'androgynie, il était fluide autour du genre. Michael n'était pas intéressé à attribuer un genre à quelqu'un." "À ce moment-là", se souvient-il, "il ne s'est pas ouvertement identifié à un genre particulier". Cependant, quand Jackson est devenu papa, son image est devenue celle d'un "père", dit Funk. "Il est devenu un homme fort dans ce sens."
Lors de la tournée Victory, Funk a parfois assisté à des explosions de voix. "Ne vous laissez pas berner", dit-il. "Michael était très exigeant. S'il n'aimait pas quelque chose, il vous le faisait savoir. Michael ne me ridiculisait jamais, mais si quelqu'un abîmait le décor de sa scène, il lui hurlait dessus. Il attendait de la perfection."
Jouée à guichets fermés, la tournée Victory a été un tournant pour Michael Jackson. Deux ans plus tôt, il avait sorti l'album Thriller qui lui a valu la reconnaissance mondiale, et le cirque médiatique commençait alors à échapper à tout contrôle. Pourtant, les photos les plus emblématiques de Michael Jackson ne proviennent pas de son règne incontesté dans les années 1980, mais des années 1990, lorsque les albums Dangerous et HIStory marquent alors l'évolution du chanteur en un artiste plus conscient de la société. [... ]
Sur l'un des clichés préférés de Funk de cette période, on voit Michael Jackson tenant ses bras dans une pose presque biblique. "Les gens disent que Michael avait un complexe de Jésus", dit-il, "mais cela m'énerve, car ce n'était pas vrai. Il y avait une raison pratique pour moi de prendre cette photo. Michael avait des grandes mains et je voulais en tirer le meilleur parti car elles étaient expressives - et c'était un bon moyen pour lui d'embrasser le monde. À cette époque, toute son existence était tournée vers la guérison du monde, alors avoir des grandes mains expressives était un moyen très important de parler aux gens. La façon dont il communiquait avec ses mains, on aurait pu penser qu'il était italien! ", ajoute le photographe.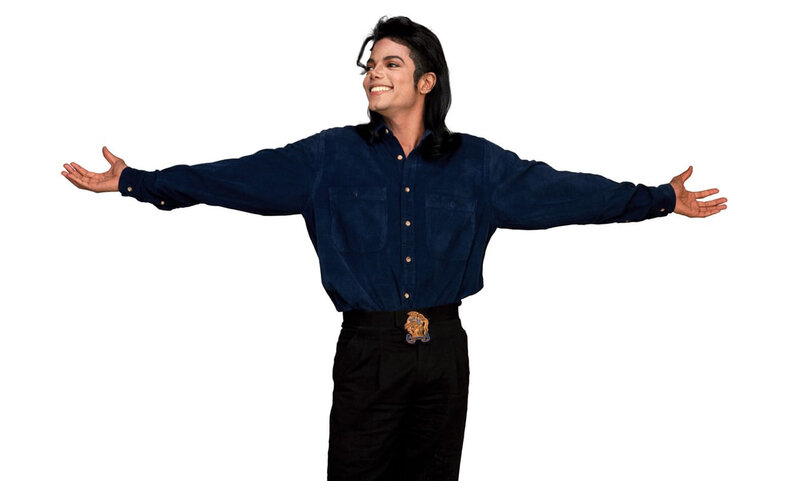 Une autre photo de Funk montre Michael Jackson tenant un livre devant son visage. C'est un cliché intensément personnel conçu comme une publicité pour la World Book Encyclopedia, qui serait par la suite distribuée dans les salles de classe américaines. "Le directeur artistique m'a donné carte blanche pour faire ce que je voulais, et j'ai vraiment voulu repousser les limites de ce qui était possible. Les yeux de Michael étaient sa caractéristique la plus déterminante, bien plus que ses pieds. Je savais que je pouvais capturer son âme en se concentrant sur ses yeux et c'est exactement ce qui s'est passé avec cette photo. "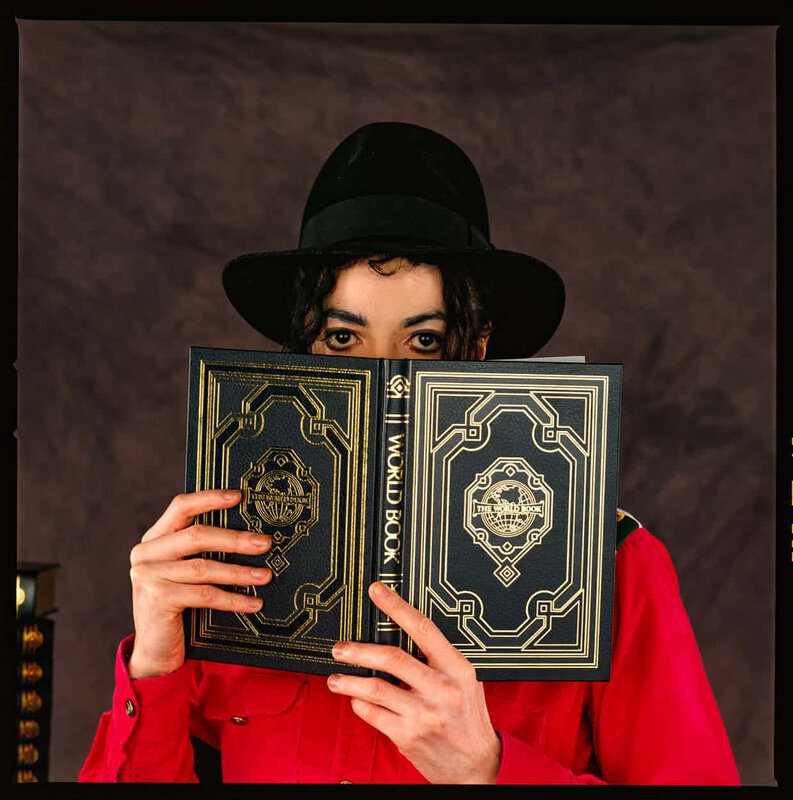 Mais Jackson couvrait-il réellement son visage à cause de sa timidité? "Peut être. Mais sa timidité et son introversion n'ont jamais entravé sa capacité à travailler avec moi en tant que photographe. Michael savait exactement ce qu'il voulait artistiquement parlant, jusqu'aux deux dernières années de sa vie, où il s'est laissé influencer par les mauvaises personnes et qui lui ont manipulé l'esprit. "
C'était l'époque de la tournée This Is It, que Funk devait couvrir. Michael Jackson devait assurer 50 dates à l'O2 Arena de Londres. Mais, 20 jours avant la premier concert, il est décédé d'un arrêt cardiaque, déclenché par une intoxication aiguë d'anesthésique . "Même si je n'aime pas parler de ses derniers jours", dit Funk, "je dirai qu'il a été détruit par des gens qui n'avaient à cœur que leurs propres intérêts financiers. Je peux vous dire qu'une grande partie de ses projets après la tournée This Is It était de se consacrer à du travail de charité et d'utiliser son influence pour améliorer l'humanité."
En 2003, Jackson a été accusé de pédophilie, pour être ensuite acquitté . Un souvenir qui continue d'énerver Funk. "Toutes les accusations et toutes les conneries qu'il a traversées", dit-il. "Laissez-moi vous dire ceci: n'y a-t-il pas de meilleure façon de ruiner quelqu'un qui veut faire des changements positifs massifs en faveur des enfants du monde que de les discréditer?"
La prise de conscience de Michael Jackson du pouvoir de la photographie a sans doute été la mieux illustrée au début des années 1990, quand il a demandé à Funk de le photographier avec Elizabeth Taylor et Nelson Mandela, qui venait d'être libéré de prison. La photo, que Funk décrit comme le point culminant de sa carrière, montre le trio avec un sourire contagieux.
"Mandela était tellement excité de rencontrer Michael", dit Funk. "Il a mit toute sa famille dans l'avion avec lui. Les publicitaires m'ont dit que je n'avais pas le temps de photographier, mais Michael les a tous mit dehors et m'a laissé prendre mon temps. Je ne voulais pas une photo ennuyeuse, alors je leur ai suggéré de se sauter sur le dos et de s'embrasser. Liz Taylor m'a dit: 'Harrison, tu sais que j'ai mal au dos!' Et Nelson m'a dit qu'il était trop vieux et a plaisanté qu'il voulait mettre ses pieds en l'air. J'ai essayé de capter la joie de ce moment incroyable."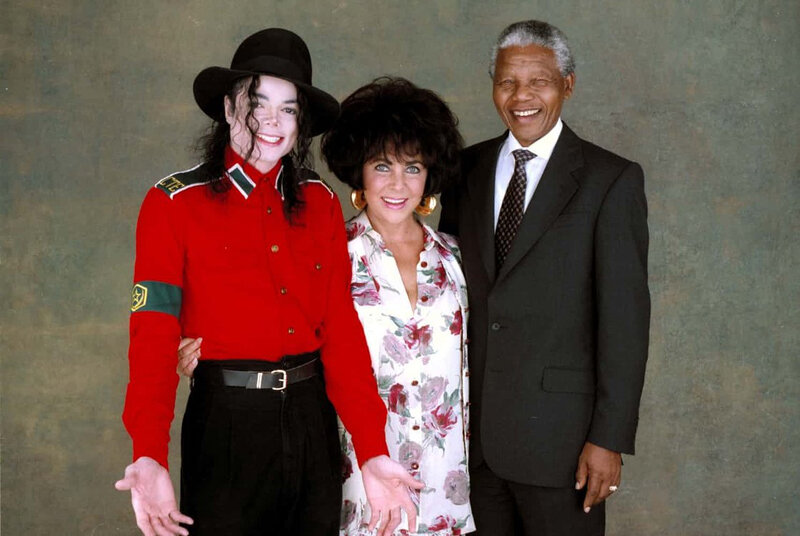 Funk a ensuite observé les trois icônes alors qu'elles entraient dans une salle de réunion pour discuter de projets visant à renverser l'apartheid, améliorer les droits des femmes, s'attaquer à la crise du sida et à lutter contre le crime en Afrique. Il affirme que Michael Jackson était parfaitement conscient de la façon dont la photo pourrait aider Mandela à sa candidature pour la présidence sud-africaine.
"Cette photo est parue dans quelques 400 journaux. C'était vraiment puissant. L'année suivante, Michael est allé en Afrique pour tourner la vidéo They Do not Care About Us [note: They Don't Care about Us a été tournée au Brésil!] . Il aurait fait n'importe quoi pour Nelson et Michael et Liz ont fait un don très généreux pour sa campagne présidentielle. Je crois que si lui et Nelson se sont si bien entendus c'est parce que Michael était un peu le Mandela de la musique, dans le sens où il a aussi fait tomber beaucoup de barrières. Rappelez-vous, Michael était l'une des premières superstars noires mondiales. "
Mais l'image de Jackson a commencé à changer radicalement. Certaines critiques ont accusé le chanteur d'avoir honte d'être noir et d'être dangereusement obsédé par la chirurgie plastique. [...]

Funk insiste cependant sur le fait que Jackson a été victime d'une campagne médiatique "cruelle" et qu'il souffrait du vitiligo, une maladie cutanée qui détruit les pigments (affirmation confirmée par le Dr Christopher Rogers, qui a réalisé l'autopsie de Jackson). "C'était des tas de conneries", dit Funk à propos de ces critiques. "Il ne voulait pas avoir l'air blanc ou ne cherchait une bonne raison pour se justifier. Il était immensément fier d'être un homme noir. Michael souffrait d'une maladie cruelle de la peau, qui a changé son apparence, et j'ai dû faire avec en tant que photographe et adapter l'éclairage. Je pense que le problème était que Michael voulait absolument pour que sa peau soit uniforme. Je n'avais pas Photoshop à l'époque, alors j'éclairais Michael moi-même et j'avais des techniques spécifiques pour le faire paraître au mieux. "
Funk, qui semble avoir un nombre infini d'histoires à raconter sur Michael Jackson, parle doucement dans un accent new-yorkais et se souvient de ses neuf tours consécutifs sur Space Mountain à Disneyland. Michael Jackson a tenté de le persuader de monter une dixième fois, mais le photographe s'est senti mal et ses jambes tremblaient. Ils montaient aussi régulièrement dans le bateau de Viking du ranch de Neverland de Michael. "J'étais assis en face de Michael avec mon appareil photo," dit Funk, "et je le photographiais, quand il s'est mis à dire au gars qui contrôlait l'attraction d'aller de plus en plus haut. J'ai crié à Michael qu'il allait me faire perdre mon appareil photo. Il m'a crié en retour: 'Et moi, je ne veux pas perdre mes cookies!' Ils étaient dans la poche de sa chemise."
Et pourtant, avec tous les moments heureux qu'ils ont eu ensemble, le souvenir que Funk chérit le plus à propos de Michael est un moment sombre. Il était assis avec le chanteur dans le cinéma de son ranch Neverland et regardaientt What's Love Got To Do It With, le biopic de 1993 sur la relation abusive entre Ike et Tina Turner, quand Michael a commencé à pleurer. "C'était au moment où Ike bat Tina et Michael s'est effondré. Je lui ai demandé s'il voulait que j'arrête le film mais il m'a dit de continuer. Il a serré ma main fermement. J'ai vraiment ressenti son humanité en ce moment."
"Après le film, nous sommes sortis du cinéma et Michael m'a demandé d'aller faire des autos tamponneuses avec lui", rigole Funk. "Nous avons joué férocement et nous nous avons vraiment foncé l'un dans l'autre. Il était comme un grand gamin. "
Michael Jackson n'était pas la seule star à se tourner vers Funk. Le photographe prépare actuellement une exposition à Londres de son travail, qui comprend également des clichés de David Bowie, Tina Turner et Amy Winehouse, mais le roi de la pop va bien sûr dominer. Une exposition intéressant qui fera suite à l'exposition Off The Wall, qui doit ouvrir à la National Portrait Gallery [ à Londres du 28 juin au 21 octobre 2018] qui explique comment Jackson a été représenté dans les peintures et la photographie.
Funk, qui réside à Los Angeles, est très heureux de laisser sa carrière se définir par ses photos de Michael Jackson. Il entend parfois la voix du chanteur, qui l'implore une fois de plus. "Faisons de la magie", dit-il.
Source: theguardian.com (traduction: onmjfootsteps.com)
D'autres célèbres clichés pris par Harrison Funk