Le livre était annoncé depuis quelques mois et il est désormais disponible, depuis le 10 octobre 2018. Petite review de Michael Jackson, La Totale, un livre que, personnellement, j'attendais avec impatience.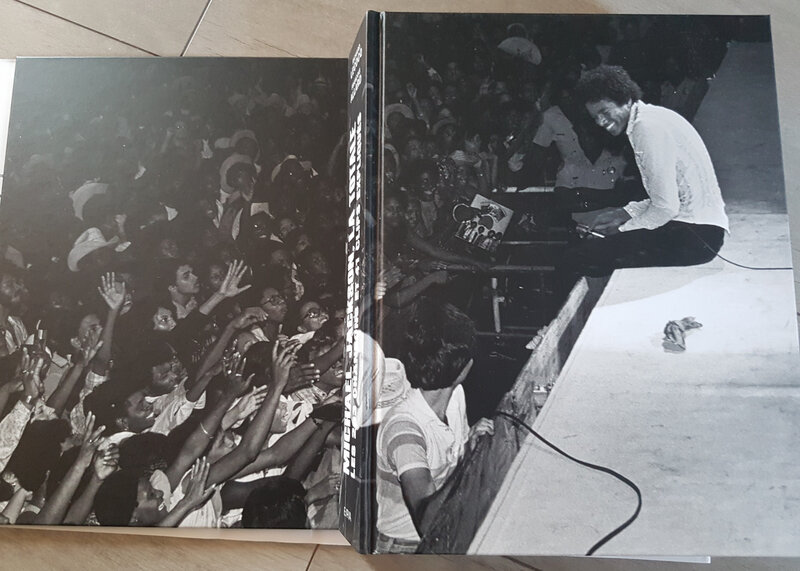 Je ne vais pas vous le cacher, quatre jours après sa sortie, je ne l'ai pas lu entièrement. Mais il n'est pas nécessaire de le faire pour se rendre compte de la qualité de ce livre, de la quantité de travail et de recherches que les auteurs ont fournis pour nous livrer un tel produit !
Je pense que l'on n'a pas fait plus complet depuis …… jamais !
Ce livre est une Bible, une future référence pour le monde Jacksonien. Il est disponible en français et en anglais (à partir du 23 octobre). 608 pages dédiées uniquement à la musique de Michael Jackson, décryptée par Richard Lecocq et François Allard (voir leur présentation plus bas), deux spécialistes et passionnés de la musique du Roi de la Pop, et, au passage, deux amis.
Cet énorme ouvrage se décompose en 15 chapitres, le premier étant un résumé des débuts des Jackson 5 avec les titres qui ont lancé leur carrière, et une mention spéciale pour Big Boy (que François adore !).
Puis chaque chapitre, présenté sur une double page marron clair (présentation avec une photo d'époque de Michael que je trouve très sobre, simple mais extrêmement classe !), correspond à un album de Michael, en solo ou avec ses frères.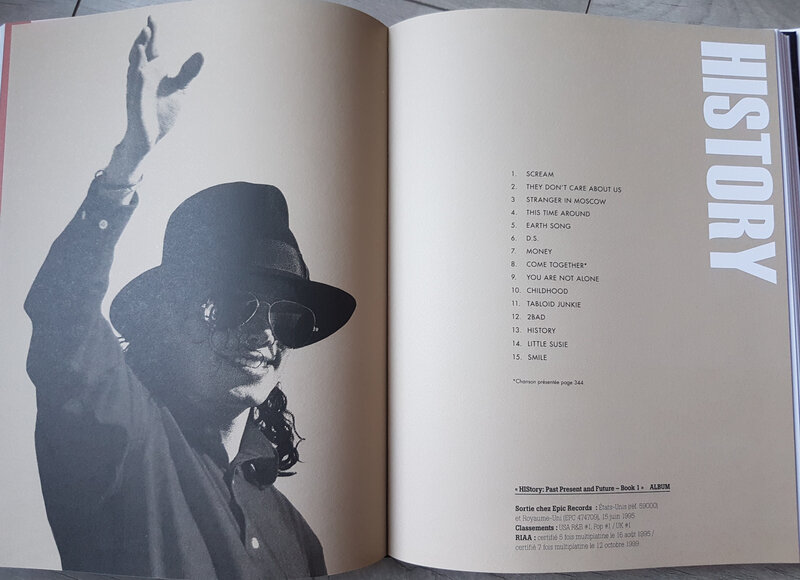 Avant de se lancer dans l'explication de chaque titre, les auteurs reviennent sur l'histoire autour de l'album, celle de Michael également (pages grises). Chaque morceau (pages blanches) est une fiche technique complète: auteur et durée du morceau, musiciens, équipe technique, date et lieu d'enregistrement, les classements et certifications si sortie en single, réalisateur des short films, figurants, chorégraphe, date et lieu de tournage, … et qui revient bien sûr sur la genèse et la réalisation du titre.
De nombreux portraits (pages beiges) sont dressés des collaborateurs et acteurs de la carrière de Michael Jackson, des hommes très discrets (Russ Terrana, Weldon McDougal, Christopher Currell) ou d'autres beaucoup plus célèbres (Berry Gordy, Quincy Jones ou Bruce Swedien, bien sûr, mais aussi Rod Temperton, Bill Bottrell, Buz Kohan, pour n'en citer que quelques uns).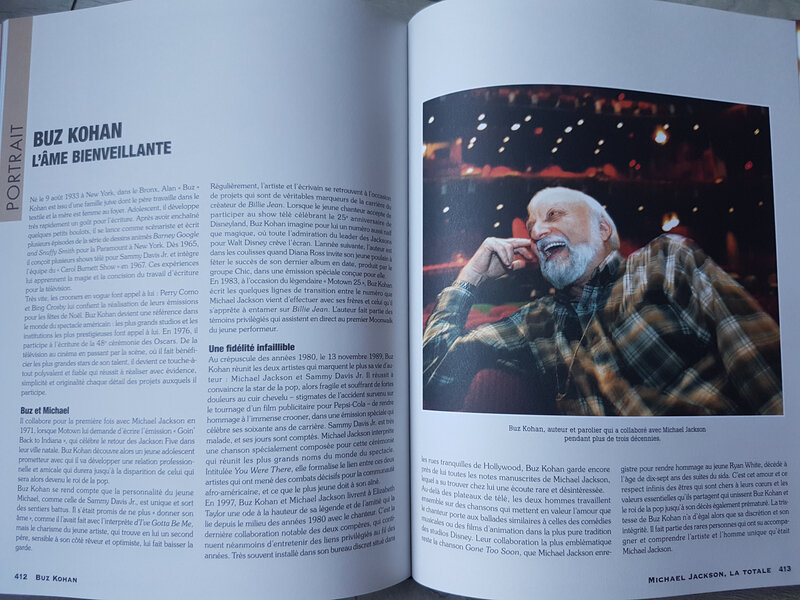 Les collaborations pour chaque période (pages saumon) et les outtakes (pages couleur crème) ne sont pas en reste, tout comme les encarts pour les "Jackson Addicts", sur les raretés musicales, et les petites anecdotes "A vos écouteurs" ou les simples faits.
Vous l'avez compris, ce livre n'est pas une énième biographie mais on y retrouve tous les ingrédients qui ont façonné l'artiste Michael Jackson. C'est une belle épopée musicale qui explique l'immense carrière que le chanteur s'est façonnée au gré de ses rencontres, des hommes (et des femmes) qui ont été les artisans du son Jackson, accompagnée de nombreuses photos.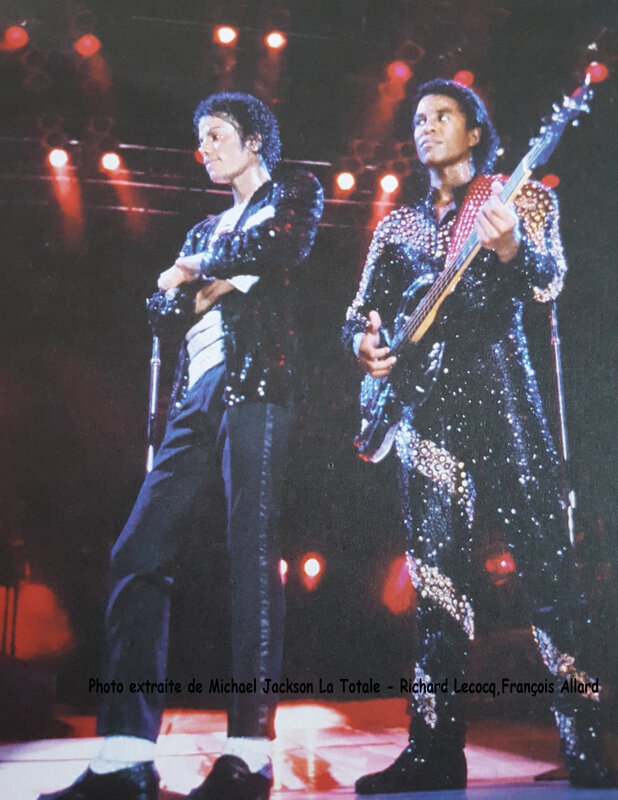 Ecrire un livre semble facile mais en faire un succès est déjà plus ardu. Avec Michael Jackson La Totale, Richard Lecocq et François Allard ont parié sur la qualité, avec un concept qui devrait plaire à beaucoup ! Un livre qui s'adresse bien sûr aux fans du chanteur, mais aussi à tous ceux qui ont envie d'en savoir plus. Tout le monde y trouvera son compte tant il est riche.
Ne cherchez pas à en faire votre livre de poche pour les transports en commun. Avec ses presque 2,5 kilos (oui je l'ai pesé !), difficile de l'emmener partout mais vous l'utiliserez plutôt en fonction de vos écoutes du moment, de vos interrogations, et si comme moi, vous êtes toujours à vous demander le pourquoi du comment d'une chanson, d'un short film, il deviendra vite votre livre de chevet. Et pour l'avoir déjà feuilleté à plusieurs reprises, j'ai déjà (et encore) appris quelques petites choses !
Il a eu l'Encyclopaedia Universalis, les fans de Michael Jackson ont désormais l'encyclopédie Lecocq-Allard !!!
Merci Richard et François pour ces 608 pages de bonheur. Je sais que cela vous a pris un temps fou et des heures de sommeil en moins, mais cela valait vraiment le coup ! Un projet magnifique dont vous pouvez être fiers !
Michael Jackson, La Totale est disponible partout et notamment sur Amazon où il déjà n°1 des ventes dans la rubrique Art de la Danse
Retrouvez également la la websérie consacrée au livre sur la page facebook JAM Mag
Et pour tenter de gagner un exemplaire du livre, participez au jeu concours organisé par les Editions du Chêne ici
MAJ du 14/10/2018
---
Le 10 octobre 2018, les fans du Roi de la Pop pourront se procurer un nouveau livre sur Michael Jackson.
Michael Jackson - La Totale, écrit par Richard Lecocq et Francçois Allard, retrace la carrière de l'artiste en 263 chansons et 41 clips étudiés et expliqués.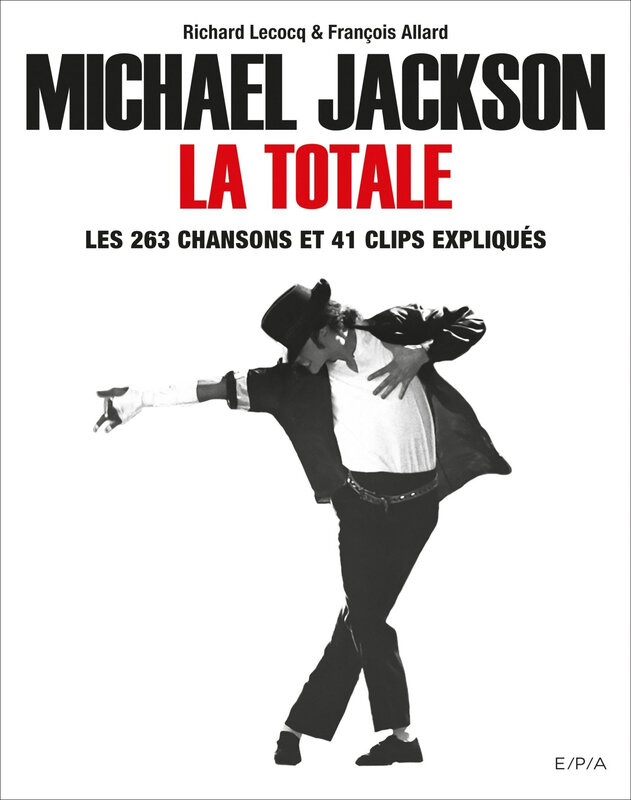 Dans la lignée des autres volumes sortis précédemment chez Hachette, The Beatles - La Totale, The Rolling Stone - La Totale, Pink Floyd - La Totale, Bob Dylan - La Totale, ce livre de 608 pages est appelé à devenir une bible pour les inconditionnels de Michael Jackson.
Présentation de l'éditeur
Des premiers tubes avec les Jackson 5 jusqu aux chansons posthumes, il ne fallait pas moins de 608 pages pour décrypter, analyser et expliquer l'intégralité des chansons de Michael Jackson et ses vidéos qui ont bouleversé l'industrie musicale de l'époque et inspiré les générations suivantes.
Après un début de carrière fulgurant au sein du boys band The Jackson 5, Michael Jackson a construit, étape par étape, sa carrière solo. Au début des années 1980 Thriller devient l'album le plus vendu de tous les temps. Le phénomène Michael Jackson ne s'arrêtera plus. Chanteur et danseur de génie, il est le symbole d un métissage musical assumé et réussi qui permet de faire tomber certaines barrières raciales. Très souvent oublié ou trop rarement valorisé, le processus créatif de Michael Jackson est aussi fascinant que ses ouvres. Les chansons, les short films, les duos avec d'autres artistes ou son implication dans des projets cinématographiques reflètent son goût pour les défis musicaux et scéniques, et sa capacité à se renouveler.
Étayé de très nombreux témoignages de collaborateurs de la star, Michael Jackson - La Totale lève le voile sur les secrets de fabrication, longuement gardés sous silence, des musiques et des images qui font partie du panthéon de la musique pop.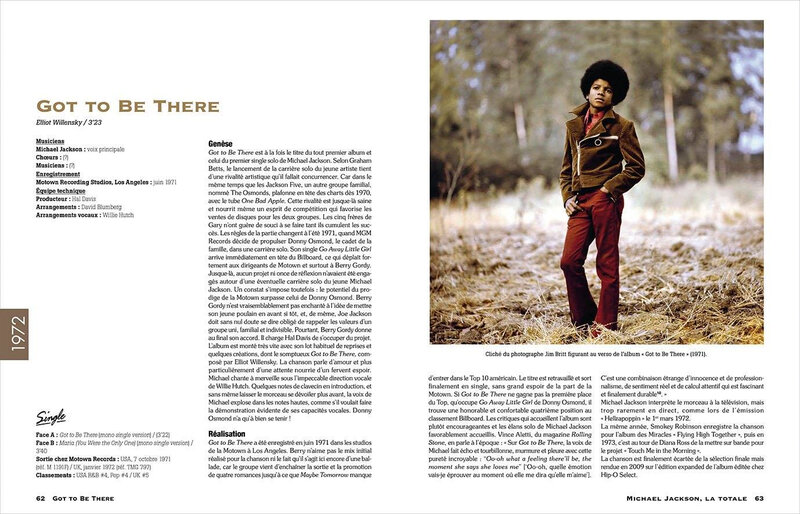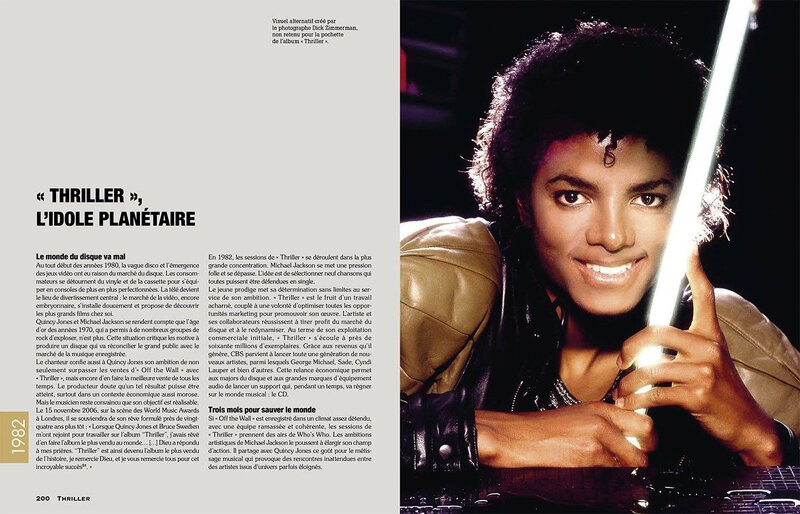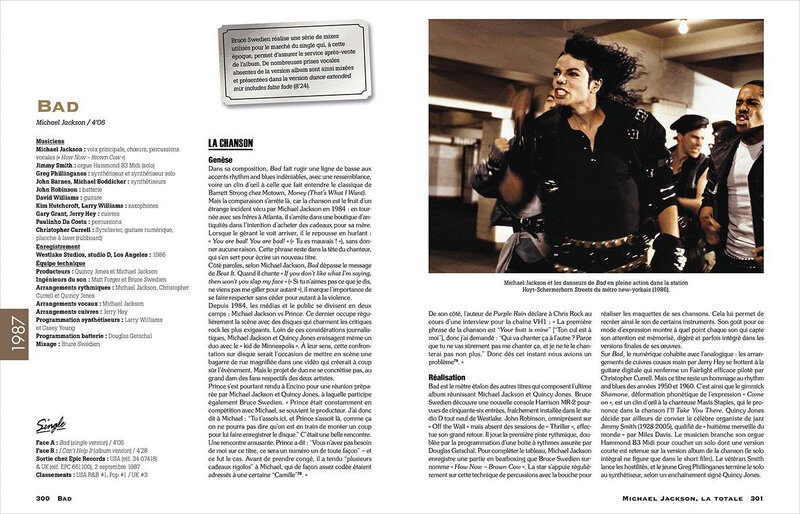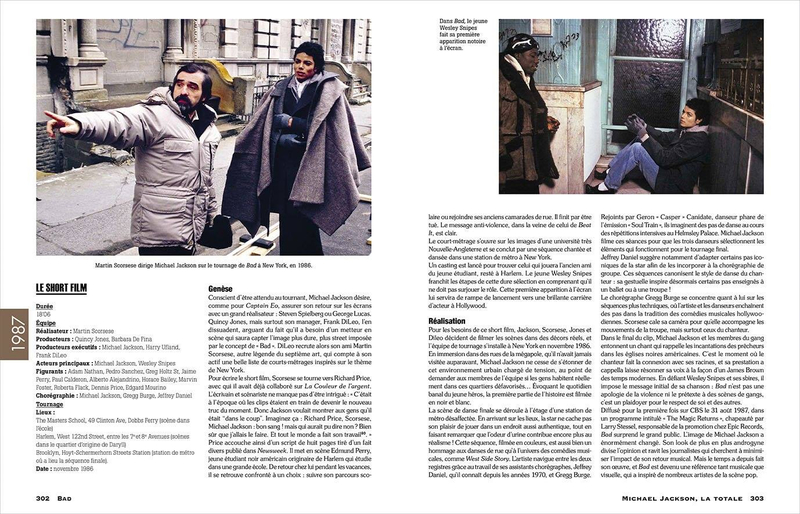 Biographie des auteurs
François Allard : Passionné depuis toujours par la musique noire américaine, la Motown et Michael Jackson, François Allard est webmaster de mjstrangersite.com, site consacré à la carrière musicale de Michael Jackson, secrétaire de rédaction de la revue JAM consacrée à Michael Jackson et secrétaire adjoint de l'association MJStreet. Il s'attache également à rechercher sans relâche les pressages méconnus qui contiennent des pépites musicales et alternatives.
Richard Lecocq : Grand spécialiste de Michael Jackson et de la musique noire américaine, Richard Lecocq a crée en 2001 le site mjdatabank.com, qui lui a valu la reconnaissance de l'entourage de Jackson, puis de l'artiste lui-même. Il a participé en 2008 à l'écriture du livre officiel Thriller 25, il est l auteur de King, un portrait complet de la star publié en 2011 et a été consultant sur le projet Bad 25 en 2012 pour le label Legacy. Il est rédacteur en chef de JAM, revue semestrielle consacrée à Michael Jackson et président de l'association MJStreet, qui valorise l'héritage artistique et humanitaire de Michael Jackson.
Richard et François sont des amis et j'ai eu la chance de voir plusieurs pages de leur livre. Ce que je peux simplement vous dire c'est que vous ne regretterez pas votre achat. Alors n'hésitez pas: l'ouvrage est en pré-commande sur amazon.fr, au prix de 49,90 €. Il sera disponible partout dès le 10 octobre.
Une version anglaise sera également disponible à partir du 23 octobre 2018. Michael Jackson: All the Songs: The Story Behind Every Song, Every Video, Every Dance Move peut être pré-commandé sur amazon.com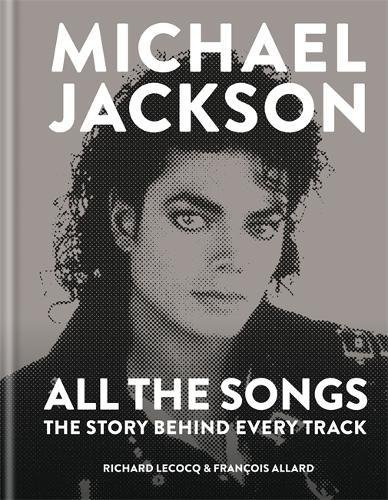 MAJ du 18/07/2018 avec les premières photos du livre