William Clement Stone était un riche homme d'affaires et un philanthrope américain qui s'est construit sa fortune en appliquant les principes de Napoleon Hill, l'auteur de Think and Grow Rich (Pensez et devenez riche), l'un des livres de développement personnel les plus populaires de tous les temps. Les deux hommes publieront ensemble, en 1960, Success Through a Positive Mental Attitude (Le succès par la pensée constructive), un ouvrage où ils démontrent que notre attitude dans la vie détermine notre destinée. Petite homme avec une fine moustache, William Clement Stone n'en est pas moins un homme généreux qui a fait don de plusieurs millions de dollars à des œuvres de charité tout au long de sa vie. "All I want to do is change the world" ("Tout ce que je veux faire c'est changer le monde"), disait-il. Cela ne vous rappelle rien ?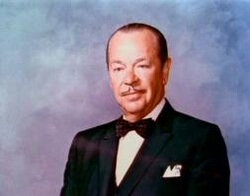 Pas étonnant donc que Michael Jackson ait voulu rencontrer cet homme. John Steven Vita, alors employé dans la fondation de William Clement Stone se souvient de ce moment :
"C'était au printemps 1987 et cela faisait environ deux ans que je travaillais dans les relations publiques, après avoir travaillé en tant que producteur de l'information d'investigation politique à Channel 2 News à Chicago (CBS-TV News). Je travaillais dur pour monter les échelons chez Janet Diederichs and Associates, une agence de relations publiques de taille moyenne à Chicago, et j'ai eu l'occasion de prendre en main le dossier de la Fondation W. Clement Stone.
J'ai élaboré un plan, monté le dossier et battu trois des plus grandes agences pour ce projet de 30 000 $. L'objectif était de sensibiliser le public et de proposer des nominations pour le prix "Endow a Dream Award" de W. Clement Stone. Le récipiendaire recevrait 100 000 $ pour faire un don à une œuvre de bienfaisance, même leur propre œuvre s'il le souhaitait.
Nous avons créé une ligne téléphonique 800 [une ligne téléphonique gratuite] pour accélérer les propositions pour le prix. Malgré la grande stature de W. Clement Stone à Chicago, je savais que son nom ne serait pas reconnu par les journalistes à New York et à Los Angeles. Nous avons donc fait des recherches et constaté que Stone, avec son don de 400 millions de dollars à des œuvres de charité à ce moment-là, était le plus grand philanthrope vivant. Seul Rockefeller avait donné plus d'argent aux œuvres caritatives au cours de sa vie. Nous avons donc utilisé le titre de meilleur philanthrope vivant, en organisant des apparitions au Larry King Show, Phil Donahue Show, Today Show et des interviewes avec Parade Magazine, USA Today, le Los Angeles Times, l'Associated Press et bien d'autres. Nous avons multiplié par dix les nominations par rapport à l'année précédente, trouvé notre récipiendaire du prix et remis la récompense avec le président Ronald Reagan dans le bureau ovale de la Maison Blanche.
Après la remise du prix, j'ai continué à travailler avec M. Stone, en l'aidant à promouvoir sa fondation.
Pour la mise en place d'une tournée médiatique à Los Angeles, j'ai appelé le bureau de Stone pour travailler sur le planning. Quand j'ai dit à son assistant que je voulais que Stone apparaisse dans l'émission de Michael Jackson sur la radio KABC, elle a demandé si c'était Michael Jackson, le chanteur. Au début, je pensais qu'elle plaisantait, Thriller était sorti quelques années plus tôt et Jackson était l'artiste le plus célèbre au monde. Quand je lui ai dit non, elle m'a dit : 'vous savez qu'il appelle ici pour parler avec M. Stone, c'est un grand fan de M. Stone.'
Je dois admettre, rétrospectivement, que je ne m'attendais pas à une réponse positive quand je lui ai demandé s'il était possible de faire une photo de Michael Jackson et de W. Clement Stone pendant que nous serions à Los Angeles. Elle m'a dit qu'elle allait se renseigner. Quelques jours plus tard, elle a rappelé et a dit que Michael Jackson était d'accord pour une réunion, mais au cours du dîner. Quand j'ai demandé dans quel restaurant, elle m'a répondu que ce serait chez lui, dans sa maison d'Encino.
Quand je travaillais dans la filiale de CBS-TV News à Chicago, je m'étais habitué à côtoyer des gens célèbres. Mon patron, Walter Jacobson, était un journaliste de télévision célèbre à Chicago, et il interviewait des stars qui passaient en ville, ce qui m'a permis de rencontrer Meryl Streep, Paul Newman et Jimmy Carter. Mais c'était différent.
Stone et moi sommes allés séparément à Los Angeles et je suis arrivé le premier à la maison de Michael Jackson, à 18 heures. Jackson n'était pas encore là, et son assistant m'a dit qu'il était au studio en train de travailler sur la suite de l'album Thriller, Bad.
À aucun moment avant le dîner ou lorsque nous étions chez lui, Stone ne savait qui était Michael Jackson. Son intention était simplement de parler à quelqu'un qui avait lu ses livres et voulait discuter de la pensée positive. La seule fois où Clement Stone à, je pense, eu une idée de l'importance du personnage Michael Jackson, c'est quand il a vu la photo dans le hall d'entrée de Michael Jackson avec le président Reagan.
Après environ 30 minutes, Michael Jackson est finalement arrivé. J'étais surpris de voir à quel point il était petit et fragile, et sa peau avait une qualité similaire à celle d'une victime de brûlure. C'était très agréable de discuter avec lui, et il était beaucoup plus intelligent que je ne le pensais. Avant le dîner, il nous a fait faire un tour de la maison avec la salle de jeux d'arcade et sa chambre, où il y avait des poupées en peluche sur son lit, y compris les sept nains.
Après avoir terminé la visite de la maison, qui n'était pas si extravagante si on se réfère aux normes de North Shore Chicago, nous nous sommes assis pour dîner. Michael Jackson avait un cuisinier privé qui nous a servi et nous avons passé les deux heures suivantes à parler de la philosophie de Clement Stone sur la pensée positive. Jackson était particulièrement intéressé par Napoleon Hill et Thomas Edison.
Après le dîner, Michael nous a fait visiter son jardin et nous a emmenés dans une pièce au-dessus du garage derrière la maison, son studio de danse. C'est là qu'il élaborait ses pas de danse, mais je ne suis pas sûr que ce soit là qu'il se soit entraîné pour le moonwalk!
Il avait un appareil photos polaroid et prenait des photos de lui et de ses invités et les postait sur un tableau d'affichage dans la salle de danse. Comme nous étions invités, il a demandé à son assistant de prendre une photo de nous trois et je suppose qu'elle a été affichée là pendant plusieurs années. Si vous regardez attentivement la photo, on peut voir des clichés de Barbra Streisand, John Travolta, Fred Astaire et d'autres célébrités.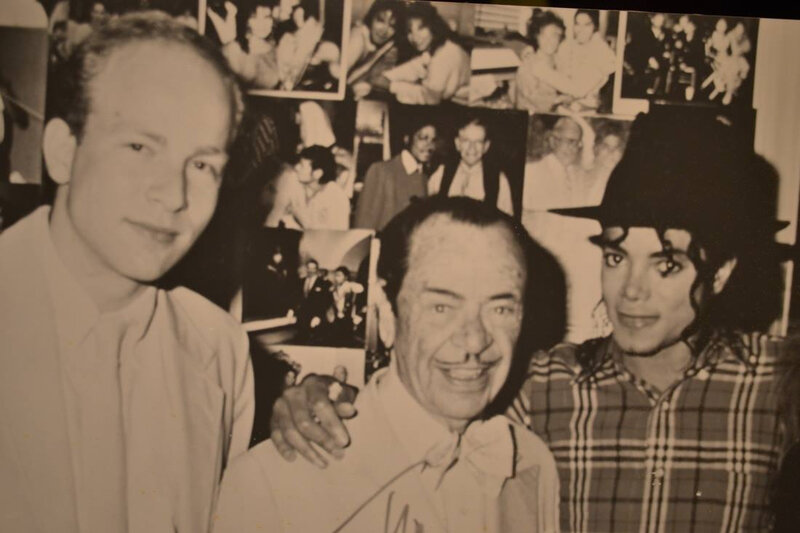 A 22 heures, l'heure était venue de nous dire au revoir et nous sommes rentrés à l'hôtel. Il a été difficile, évidemment, de dormir cette nuit-là, après un tel moment.
J'ai continué à travailler avec M. Stone. Avec sa vraie pensée positive, son style entrepreneurial, il m'a encouragé à monter ma propre société de relations publiques, avec lui comme premier client."
Source: johnstevenvita.com (traduction: onmjfootsteps.com)
---
To take a picture
Is to capture a moment
To stop time
To preserve the way you were"
Michael Jackson