Dans l'industrie musicale depuis plus de 40 ans, TC Thompkins était, à la fin des années 70 et au début des années 80, directeur national puis vice-président du département marketing et promotions du label CBS. Présent auprès des Jackson dès 1978, avec leur album Destiny, il assistera à l'envolée internationale de Michael Jackson en solo avec Off The Wall et surtout Thriller avant les (presque) derniers pas ensemble des Jackson avec Victory.
Pour le site michaeljacksonreel.weebly.com, TC Thompkins se souvient de quelques uns de ses moments auprès de Michael.
Quels souvenirs gardez-vous de vos premières rencontres avec Michael ?
La première fois je l'ai rencontré, il était très introverti. Très timide, dans tout ce qui concerne ses relations avec de nouvelles personnes. Une fois que nous avons appris à nous connaître, ça a beaucoup changé. Il nous a fallu un peu de temps pour nous rapprocher, car j'étais quelqu'un de très acharné en publicité. J'ai misais tout dans mes artistes, je faisais tout ce qui pouvait les avantager, et à l'époque, j'étais très agressif, beaucoup plus que maintenant.
Je peux comprendre sa première réaction à mon égard au départ, mais, une fois qu'il a compris quel genre de personne j'étais, nous sommes devenus très proches. J'étais toujours enthousiaste à l'idée de travailler avec lui. Il avait un talent monstre, et c'était réellement un être humain généreux. Il avait besoin de protection parce qu'il pouvait tout donner quand il était proche de quelqu'un. C'était une personne très généreuse. Très timide et très profond à bien des égards. Nous discutions beaucoup quand nous avons appris à nous connaître.
Il ne s'agit pas de ma première rencontre avec lui, mais je me souviens de Kansas City, en 1984. C'était la première date de la tournée Victory. J'ai pris l'avion pour Kansas City avec tous les autres vice-présidents. On devait rencontrer les Jackson lors du lancement de cette tournée. Epic Records avait fait venir beaucoup de gens de la radio et il y avait des bus entiers avec les personnes que le label avait transportées par avion à Kansas City.

Y a-t-il un souvenir en particulier que vous gardez à propos de Michael?
Michael m'appelait chaque jour férié. Il m'a appelé chaque Noël pour me souhaiter ainsi qu'à ma famille un joyeux Noël. Une année, il a appelé pendant que nous étions chez la sœur de ma femme. Il avait réussi à me retrouver et il a appelé chez elle. Il a dit: "Bonjour, c'est Michael Jackson. Je voudrais parler à TC Thompkins." Ma belle sœur a pensé qu'on se moquait d'elle! Elle a répondu: "Qui diable est-ce?" et lui a ensuite raccroché au nez. Ma femme et moi étions sortis et à notre retour, elle m'a dit: "TC, quelqu'un a appelé ici, prétendant être Michael Jackson, il voulait te souhaiter un Joyeux Noël". Je lui ai répondu: "C'était probablement Michael, il appelle à chaque vacance". Elle a failli en mourir! (Rires)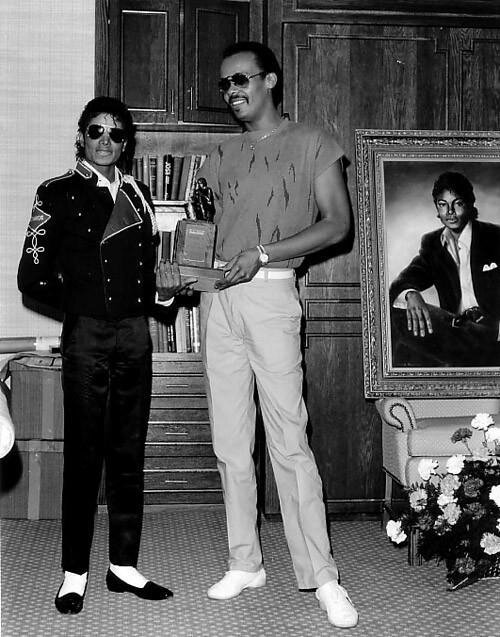 Quel genre de conversations aviez-vous ensemble ?

Nous parlions beaucoup du label. Quincy et lui étaient très mûrs et comprenaient très bien comment fonctionnait le label et, d'une manière plus générale, comment l'industrie fonctionnait.
À cette époque, Michael exigeait un certain respect, et il était en droit de l'avoir quand il s'agissait de sa carrière [à cause de la couleur de sa peau]. A l'époque de Thriller, il a dû se battre pour obtenir une diffusion à la télévision et il savait qu'il devait le faire parce qu'il était noir. Il était tout à fait conscient de ce qui se passait autour de lui et des barrières qui se dressaient devant lui à cause de sa couleur de peau. Michael est alors devenu le premier artiste noir à être diffusé sur différentes chaînes. Le label a du travailler très dur avec MTV pour y arriver.
Le racisme était bien réel, Michael le savait, et il comprenait la véritable division de ce à quoi il était confronté. Michael était invité à tous les différents événements noirs et s'il était invité, il était là! Il ne les refusait jamais ces événements. Si une invitation se présentait, il était là.
Vous avez pris une photo de Michael lors de la fête après les Grammy de 1984. Quelle est l'histoire de cette photo?
Nous étions là pour les Grammy et je lui ai juste parlé brièvement ce soir-là. Il était au dîner et je l'ai interpellé. J'ai pris cette photo à cause de son assiette car il ne mangeait que des raisins, des fraises, et d'autres trucs bizarres. Je ne sais pas comment il avait autant d'énergie avec un tel régime! (Rires) Je lui disais toujours: "Où trouves-tu cette énergie, mec, avec ce que tu manges ?"
L'héritage Thriller continue d'être célébré dans le milieu de l'entertainment. Contrairement à vous, les fans et les auditeurs n'étaient pas dans les coulisses pour voir comment se déroulaient les évènements. Comment décririez-vous cette période de l'histoire?
Thriller c'était énorme, les stations de radio le passaient. Cet album a vendu environ un million d'exemplaires par mois pendant quinze mois consécutifs. Je voyais ce que tout le monde voyait et son ampleur était réelle.
Quel est l'un de vos derniers souvenirs avec lui?
La dernière fois que j'ai vu Michael c'était dans les années 1990 lors d'une conférence à Los Angeles, il venait de partir et m'a appelé pour venir le rejoindre dans sa limousine et parler avec lui. Il m'a demandé comment j'allais, comment allait ma famille. Mes filles l'avaient rencontré plusieurs fois et elles étaient de grandes fans quand elles avaient 14 ou 15 ans (elles l'ont rencontré une fois lors d'un concert à Philadelphie et à d'autres reprises quand il était en tournée, parce qu'elles allaient à tous ses spectacles).
Que voudriez- vous que les lecteurs se souviennent sur le genre de personne qu'était Michael Jackson?
Je veux que les gens sachent qu'il n'était jamais négatif. En fait, je n'arrive même pas me souvenir d'une conversation négative avec Michael. Je ne me souviens pas de quoi que ce soit de négatif venant de sa part. Les gens doivent vraiment savoir cela.
Interview pour la station de radio Majic 102.1
A l'époque de Thriller, Thompkins craignait qu'Epic Records ne tente de séduire un "public blanc" avec un son pop. Thompkins s'est donc consacré à présenter Michael Jackson sur la radio noire Majic 102.1 située au Texas. [Connue aujourd'hui aussi sous le nom de KMJQ, la station de radio est l'une des principales stations de musique urbaine des Etats Unis. Elle se trouve à Houston.]
À la fin de 1982, une interview exclusive pour Majic 102.1 a donc eu lieu dans la maison familiale des Jackson à Hayvenhurst. Thompkins se souvient :
"Quand les Jacksons ont signé chez Epic, Michael a voulu produire lui-même son matériel. Il voulait la liberté de créer. Il voulait faire son propre truc et quand je l'ai rencontré, ça le motivait vraiment. Emilian White travaillait pour moi quand j'étais vice-président d'Epic Records, il était mon référent local à Houston.
Quand Michael a commencé à travailler de plus en plus en solo, j'étais plutôt inquiet concernant le fait que le label veuille en faire un artiste pop, à cause du premier single extrait de Thriller, The Girl Is Mine. Je détestais ce titre. Epic avait peur que Michael devienne un artiste de R & B et ils essayaient de le faire accepter par les radios pop. Le mignon petit garçon était devenu un homme, et il faut comprendre que les radios pop, en fait des radios pour les blancs, ne passaient pas de la musique d'hommes noirs. Les artistes hip-hop, encore aujourd'hui, sont traités différemment à la radio. C'est une culture. Mais on ne jouait pas la musique d'un noir sur une radio pop!
J'avais peur qu'ils essayent de voler mon artiste, alors j'ai insisté pour que Michael Jackson fasse une interview exclusive pour une radio noire. Et uniquement pour une radio noire.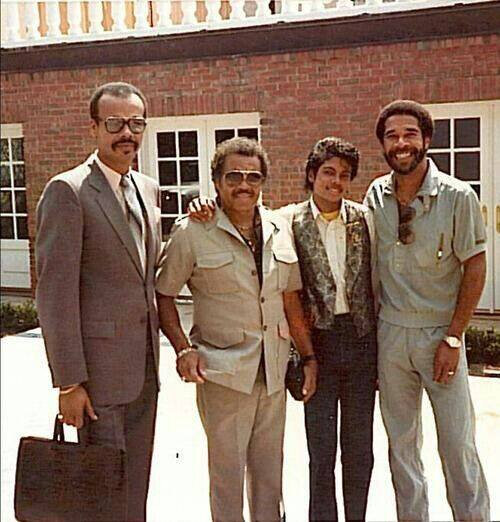 En fait, cette photo de moi, avec Michael, Joe et Maurice [Warfield, directeur national des opérations chez Epic/CBS] a été prise dans la propriété de sa famille où nous sommes allés pour interviewer Michael Jackson. Nous avons fait l'interview chez lui. Elle dure environ 30 minutes et nous l'avons faite dans son studio parce qu'il en avait un dans sa propriété. Il était en face du garage.
Michael et son lama Louie, le jour de l'interview à Hayvenhurst. Sur la photo de gauche, avec Maurice Warfield
Emilian White travaillait à Majic 102.1. C'était une grande station de radio au Texas, et leur journaliste est venu interviewer Michael. C'est Emilian qui a pris cette photo de moi, Michael, Maurice et Joe.
À l'époque, il y avait une vraie division avec les stations de radio noires et je pense toujours que c'est le cas, ce combat est bien vivant encore aujourd'hui. Je faisais simplement partie de ces personnes qui ne voulaient pas que mon département ou que les radios noires ne soit pas respectées parce qu'il était un artiste pop. Je n'aimais pas la chanson mais je devais l'accepter. On a tout de même fait un compromis. Je leur ai dit: "Je veux que Michael fasse cette interview exclusive avec la cette radio noire", et Michael a accepté!
L'interview a eu lieu avant la sortie de Thriller. Ils ont parlé de sa carrière, du fait d'être un enfant- star et de ses projets musicaux de l'époque. Et d'être sur scène, il avait passé sa vie sur scène! Il était beaucoup plus à l'aise sur scène et en studio qu'ailleurs."
Source: michaeljacksonreel.weebly.com/ michaeljacksonreel.weebly.com (traduction: onmjfootsteps.com), tcthompkins.com (photos)
Quelques photos de Michael Jackson et TC Tompkins