En juin et juillet 1976 puis au début de l'année 1977, la chaîne CBS diffuse des émissions dont les frères Jackson sont les vedettes, The Jacksons TV Series, appelées aussi The Jacksons Variety Show.
A partir de la saison 2, en janvier 1977, Warden Neil devient le costumier des Jacksons. Le designer néo-zélandais dessine à cette époque la première veste militaire du King Of Pop (pour l'épisode 9) qui, quelques années plus tard, deviendra son look mythique.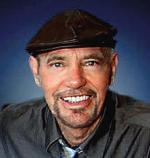 Warden Neil retrouvera quelques années plus tard, Michael Jackson sur le tournage de Ghosts, dont il dessine les costumes. Pour le site famousinterview.ca, le designer avait brièvement évoqué sa collaboration avec Michael Jackson
"J'ai travaillé en tant que designer pour Michael et ses frères les Jackson Five, et pour Janet et les deux autres sœurs. Il y avait ce grand show et Michael en était la star. Michael s'est impliqué dans la création des costumes. Il était fasciné. Il avait beaucoup de talent naturel dans différents domaines créatifs. L'un d'eux concernait les costumes. Il avait 19 ans, c'était un jeune homme mais il surpassait tout le monde quand il s'agissait de costumes, de production, de réalisation, de chorégraphies. C'était lui. J'ai eu à faire avec Michael et tout ce qu'il voulait, j'essayais de le satisfaire. C'était ainsi. Un jour, il est venu me voir et il m'a dit : 'j'ai eu cette coupure dans un magazine. J'adorerais avoir un costume comme celui-ci.' C'était un look militaire des années 1800. Cela ressemblait à un look de la marine militaire. J'ai commencé à faire quelques croquis et il a adoré. J'avais remarqué qu'il adorait le rouge et le noir. Je l'ai donc fait en rouge et noir, et j'ai rajouté des épaulettes, à double boutonnage. (….). Il a vraiment adoré. Je pense que c'était un de ses costumes préférés parmi tous ceux que j'ai fait. Sa première veste militaire est un peu comme mon principal titre de gloire avec Michael. J'ai fait une vidéo pour Michael appelé Ghosts. J'ai été vraiment béni. C'était un de points forts de ma carrière. Cela m'a permis d'être dans la liste "A" des stars."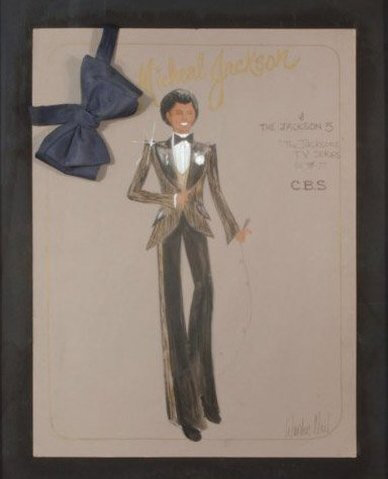 Pour le site michaeljacksonreel.weebly.com, Warden Neil revient sur son travail pour les émissions de 1977
Quand avez-vous rencontré The Jackson pour la première fois et comment cette rencontre a-t-elle eu lieu?
Eh bien, j'étais créateur de costumes. Je suis d'ailleurs toujours un designer indépendant. Les chorégraphies pour la série télévisée The Jacksons Variety Show ont été attribuée, en partie, à Michael, car il faisait beaucoup de chorégraphies. Mais l'émission avait aussi besoin d'un vrai chorégraphe, car ils avaient énormément de danseurs. Je travaillais avec la chorégraphe, et je la connaissais très bien parce que nous avions travaillé ensemble sur plusieurs autres projets. En plus de cela, une agence particulière, William Morris Agency, [une entreprise qui représente les artistes auprès des sociétés de production] était impliquée et je connaissais l'un de ses employés. Tout ça s'est combiné. Je n'avais jamais travaillé avec Michael auparavant, mais l'agence m'a signé, j'ai obtenu le contrat de création de costumes et je suis devenu le créateur de costumes pour la saison 1977. J'ai rencontré Michael juste après.
Je suis allé chez la famille Jackson et j'ai rencontré Michael et sa mère. Il n'avait que 18 ans à l'époque. Je me suis assis, j'ai pris un carnet de croquis et j'ai évoqué des idées et des looks. C'était principalement Michael qui approuvait les tenues avec la chorégraphe. Mais surtout Michael. Je dirais qu'il était réellement le seul à approuver les looks des costumes. Même à cet âge, il avait ce genre d'autorit). J'ai créé tout ce que portaient les danseurs, les Jackson et les invités des émissions de la saison 1977.
Y a-t-il des costumes en particuliers qui se distinguent au cours la saison 1977 de The Jacksons Variety Show ?
Oui. Il était facile de travailler avec Michael. Bien qu'il soit jeune, il était assez mature à bien des égards. Je veux parler cette façon qu'il avait de savoir si les costumes conviendraient, et à quoi ressembleraient le maquillage et les cheveux. Il savait aussi à quoi ressemblerait la chorégraphie des différents numéros et ce qui fonctionnerait et ne fonctionnerait pas. Il avait une intuition naturelle parce que beaucoup de ce qu'il savait n'avait pas pu lui être enseigné, il était trop jeune. Il avait juste un génie créatif naturel.
Une fois, il a apporté une coupure d'un magazine où il y avait un officier de marine des années 1800 à bord d'un navire, et il a dit: 'Pourquoi ne pas trouver quelque chose comme ce look militaire?' C'était pour l'émission de télévision et j'ai lui ai fait sa toute première veste. C'est un costume militaire rouge.
Costume pour l'épisode 9
Michael avait beaucoup à dire sur les costumes. Il regardait mes croquis et les approuvait, ou nous faisions des modifications ensemble. Je lui montrais des croquis et lui donnais parfois quelques options à choisir. Une fois que Michael avait donné son accord, je pouvais alors le concevoir.
J'ai lu que Michael et vous, vous vous donniez des surnoms. Quels étaient-ils comment est-ce arrivé ?
Oui, (Rires) ... Oui, je crois que c'est lui qui a commencé parce qu'il avait un grand sens de l'humour. Il aimait les strass et j'adore les perles de bugle [perles de rocaille en forme de tube], une perle très chère et qui était beaucoup utilisée à l'époque.
J'avais un budget de travail et Michael m'a dit qu'il voulait des manchettes en strass très larges pour ses poignets. Je lui ai dit: "Ouais Michael, mais tu sais la veste que tu portes, elle t'arrive aux poignets. Tu ne les verras jamais. Mais il m'a répondit: "Oui, mais je saurai qu'elles sont là." (rires)
C'est un peu difficile à expliquer, mais il savait ce qui fonctionnerait et ce qui ne fonctionnerait pas et, bien sûr, il a porté ces manchettes. Cela a coûté beaucoup d'argent pour les faire parce que les strass sont chers - les très bons. Mais quand il utilisait le micro, on pouvait voir les manchettes en strass. Il savait que le public les verrait. Il savait ce genre de chose.
Y a-t-il une des performances des shows que vous retenez particulièrement?
Nous étions sur une bonne longueur d'onde. Le décorateur - un très bon décorateur - a réalisé une fois un plateau que Michael n'a pas aimé. Michael n'avait pas vu la structure originale. Nous avons donc fermé le plateau et ils ont reconstruit l'ensemble. C'était une scène country western pour leurs interprétations de Cisco Kid et de I Shot the Sheriff. J'ai conçu sa garde robe complète pour cette scène.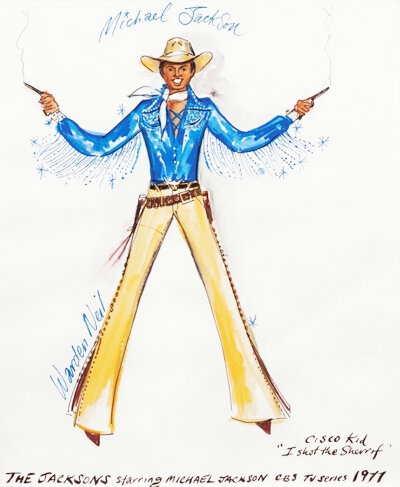 Nous sommes arrivés en studio le matin, tout le monde se maquillait, se coiffait et s'habillait, et quand nous sommes entrés sur le plateau, Michael s'est arrêté et a dit: "Non… Non, non, non, non. Il faut que ce soit subtil, pas grossier." Il savait ce qui fonctionnerait et à cet âge, il avait beaucoup de pouvoir.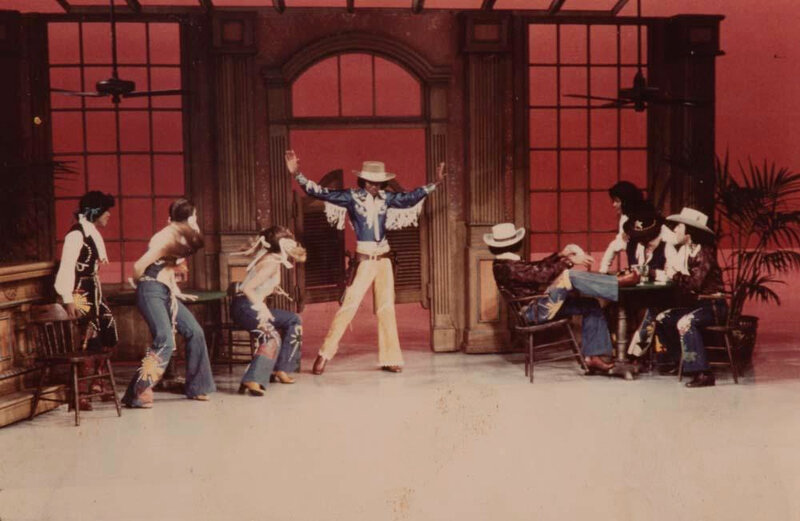 Comment le Variety Show a-t-il été filmé?
Nous filmions un segment, puis nous arrêtions, puis filmions un autre segment. Nous avions un public lors du tournage de l'ouverture et de la scène finale de l'émission, mais le reste du show a était filmé tout au long de la journée sans public. Mais, nous faisions les ouvertures et les fermetures en public. Nous avions aussi des danseurs renommés et des guest stars.
Quel était le processus global de votre travail avec Michael, sur des idées de costume, et est-ce qu'il y a d'autres conceptions particulières qui vous viennent à l'esprit?
Michael a eu des idées amusantes, par exemple un ensemble de costumes sérigraphiés. C'était vraiment inhabituel pour les années 1970. Il a eu cette idée pour des costumes qui ressembleraient à des combinaisons, mais étaient en fait de deux pièces. Les motifs représentaient le ciel et les nuages, et les strass, qui imitaient les étoiles dans le ciel, étaient sérigraphiés dessus.
Costume pour l'épisode 10
J'ai lu que l'un de vos collaborateurs préférés était Michael Jackson. Qu'est-ce qu'il y avait de spécial dans le fait de travailler avec toute la famille Jackson?
Travailler sur ces émissions a été très dur, nous étions tellement occupés, mais tout a fonctionné parce que la famille Jackson était si gentille. Leur gentillesse c'est ce qui a fait en sorte que tout se passe si bien. J'ai beaucoup traité avec leur mère Katherine et leur père Joe, mais les enfants étaient si faciles aussi. Ils n'étaient pas capricieux et n'agissaient pas comme s'ils étaient de grandes stars ou quoi que ce soit. C'était tout le contraire. C'était vraiment rafraîchissant et très cool. Michael était particulièrement gentil, et c'était un travail amusant pour moi.
Costume épisode 7
Costume épisode 8
Costume épisode 11
Costume épisode 12
Source : michaeljacksonreel.weebly.com (traduction: onmjfootsteps.com)/ page facebook Warden Neil
Retrouvez tous les épisodes The Jacksons Variety Show ici