Une nouvelle fois cette année, un grand nombre d'hommages a été rendu sur les réseaux sociaux pour célébrer ce qui aurait du être les 60 ans de Michael Jackson.
Les fans n'ont bien entendu pas manqué cette date incontournable (le hashtag #MichaelJacksonDay s'est retrouvé en deuxième position sur twitter à la mi-journée du 29 août, en France) et les médias n'avait pas non plus oublié le King of Pop, montrant ainsi que Michael Jackson est toujours présent dans la mémoire collective et dans le cœur de tous.
Ceux qui ont connu Michael Jackson, qui ont fait partie de sa vie ont aussi fait part de leur émotion, parfois avec des photos inédites et des anecdotes. Petit tour d'horizon, non exhaustif, de ces hommages
- Austin Brown, son neveu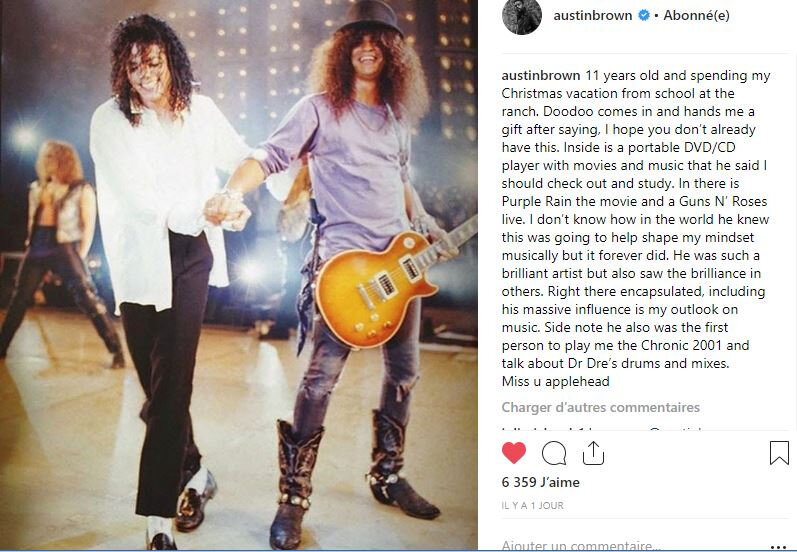 "J'avais 11 ans et je passais mes vacances de Noël à Neverland. Doodoo est arrivé et m'a tendu un cadeau après avoir dit 'J'espère que tu n'en pas pas déjà'. C'était un lecteur portable DVD/CD avec des films et de la musique qu'il m'a demandé d'écouter et d'étudier. Il y avait le film Purple Rain et un concert live de Guns N' Roses. Comment diable a-t-il pu savoir que cela allait façonner mon esprit musical mais cela a été le cas. C'était un artiste tellement brillant mais il distinguait aussi l'intelligence chez les autres. Ici même, et avec son énorme influence, se résume ma vision sur la musique. A noter, il a également été la première personne à me jouer Chronic 2001 et à me parler de la batterie et des mixes de Dr Dre. Tu me manques Applehead."
- Rushka Bergman, styliste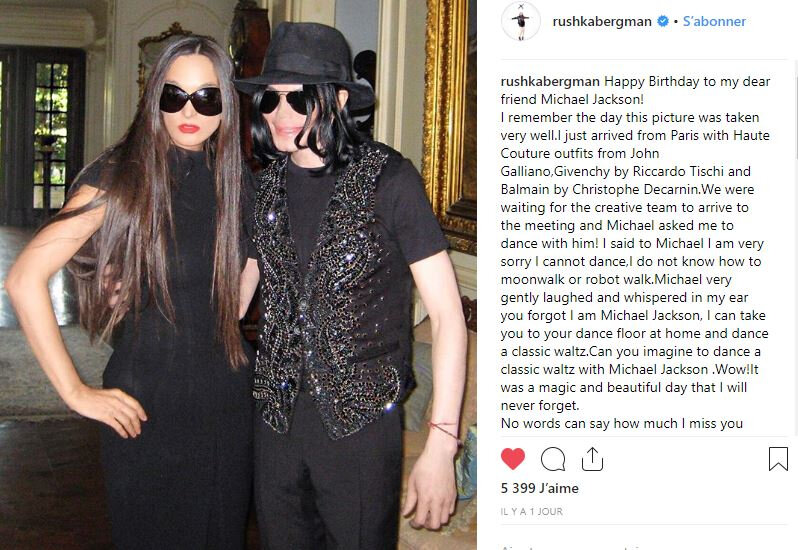 "Bon anniversaire à mon cher ami Michael Jackson. Je me souviens très bien du jour où cette photo a été prise. Je venais d'arriver de Paris avec des costumes Haute Couture de John Galliano, Givenchy par Riccardo Tischi et Balmain par Christophe Decarnin. Nous attendions que l'équipe de créateurs arrive pour la réunion et Michael m'a demandé de danser avec lui ! J'ai dit à Michael 'je suis désolée mais je ne sais pas danser, je ne sais pas faire le moonwalk ou la danse du robot'. Michael a gentiment rigolé et m'a murmuré à l'oreille 'tu oublies que je suis Michael Jackson, je peux t'emmener sur ta piste de danse personnelle et te faire danser un valse'. Vous imaginez, danser une valse classique avec Michael Jackson. Wow ! C'était un jour magique et magnifique que je n'oublierai jamais. Aucun mot ne peuvent exprimer à quel point tu me manques."
- Kerry Gordy, le fils de Berry Gordy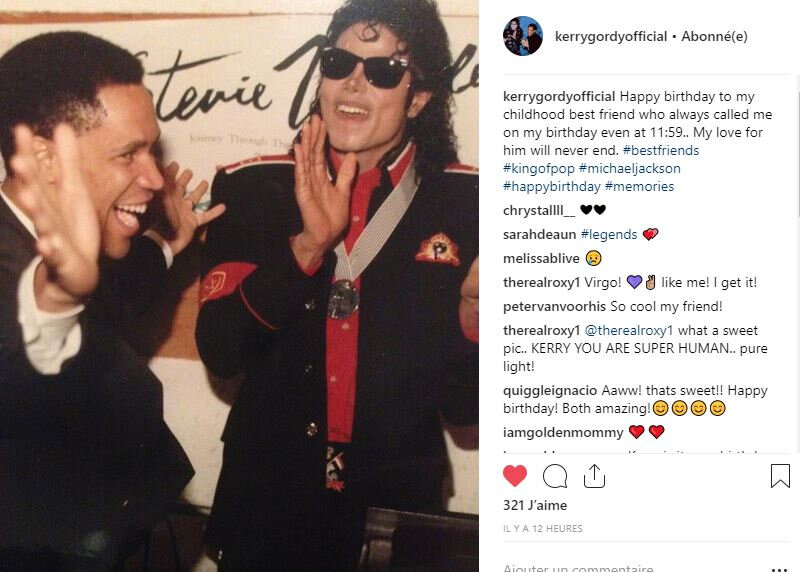 "Bon anniversaire à mon meilleur ami d'enfance, qui m'appelait toujours pour mon anniversaire, même à 23h59. Mon amour pour lui ne s'arrêtera jamais."
- Quincy Jones, producteur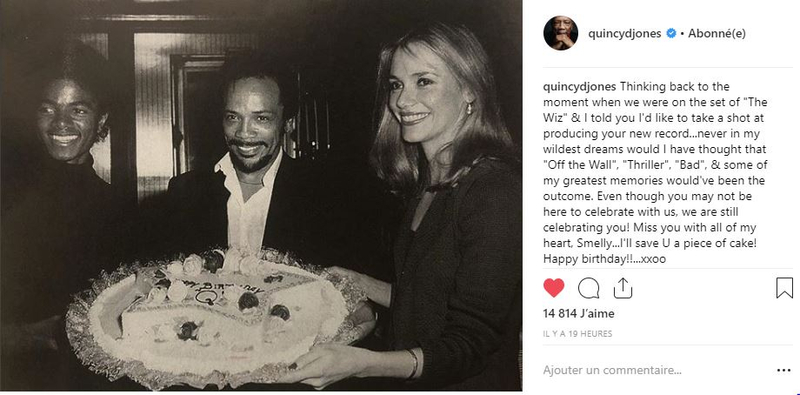 "Je repense au moment où nous étions sur le tournage de The Wiz et où je t'ai dit que j'aimerais tenter le coup et produire ton nouvel album. Jamais dans mes rêves les plus fous je n'aurais pensé que cela aboutirait à Off The Wall, Thriller et Bad et à quelques uns de mes meilleurs souvenirs. Même si tu n'es plus là pour fêter cela avec nous, nous continuons de te célébrer. Tu me manques de tout mon cœur, Smelly …. Je te garde une part de gâteau ! Bon anniversaire !"
- Brenda Richie, ex-femme de Lionel Richie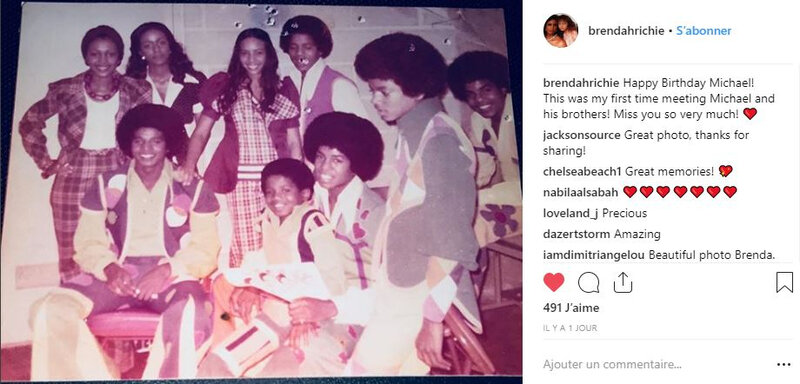 "Bon anniversaire Michael ! C'était la première fois que je rencontrais Michael et ses frères. Tu me manques tellement !"
- Kathy Hilton, la mère de Paris Hilton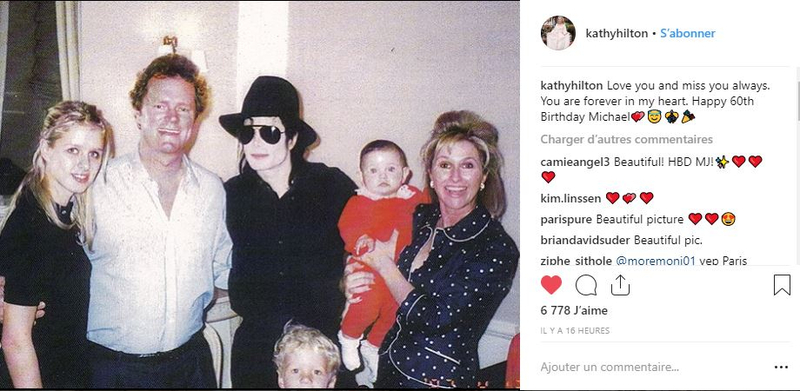 "Je t'aime et tu me manques pour toujours. Tu es à jamais dans mon cœur. Joyeux 60ème anniversaire Michael."
- Donny Osmond, des Osmond Brothers
"Michael aurait eu 60 ans aujourd'hui. Personne au monde ne peut comprendre la pression et les attentes de monde de l'entertainment qui sont devenues notre quotidien alors que nous étions très jeunes. Il me disait que j'étais la seule personne sur la planète qui comprenait exactement ce qu'il avait traversé durant son enfance et je peux dire la même chose de lui. Cette expérience partagée a créé un lien unique et irremplaçable. Beaucoup de gens connaissent Michael Jackson comme le King of Pop mais je me souviendrai toujours de lui comme un confident de confiance et un ami. Il me manque tellement aujourd'hui. Bon anniversaire, Michael Jackson."
- Jackie Jackson, son frère aîné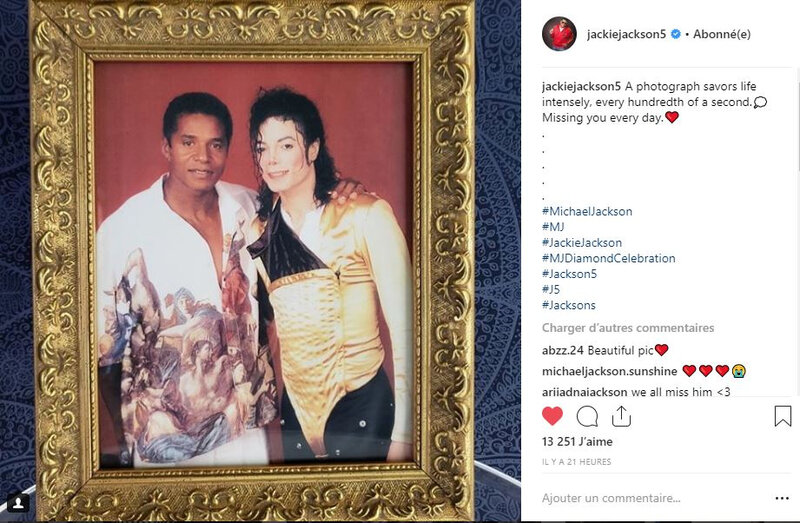 "Une photo donne de la saveur à la vie, intensément, chaque centième de seconde Tu me manques chaque jour"
- L'Apollo Theater de New York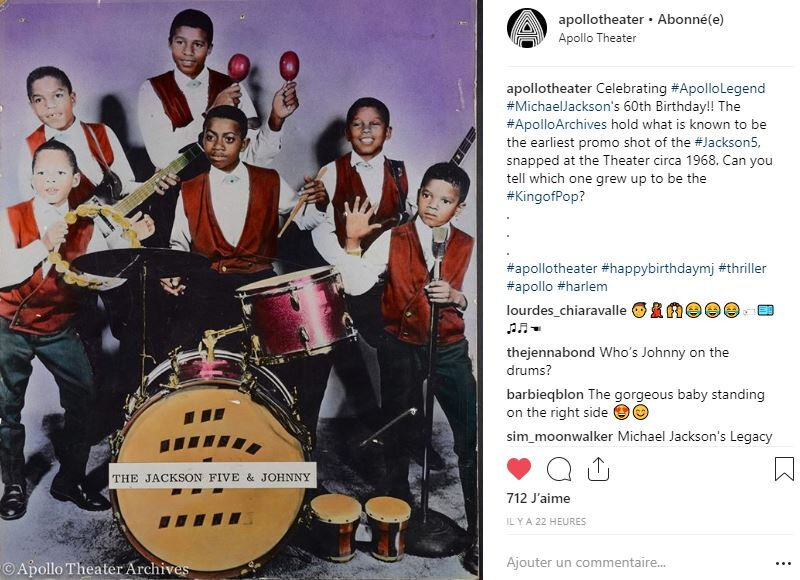 "Nous célébrons le 60ème anniversaire de la légende de l'Apollo, Michael Jackson. Les archives de l'Apollo détiennent ce qui est connu pour être la toute première photo promo des Jackson 5, prise au théatre, vers 1968. Pouvez-vous deviner qui est celui qui est devenu le King of Pop ?"
- Omer Bhatti, ami de Michael
"Bon anniversaire cher Sensei" (Sensei est un terme asiatique qui désigne un maître, celui qui donne un enseignement)
-Tito Jackson, son frère
"MJ pour toujours"
- The Jacksons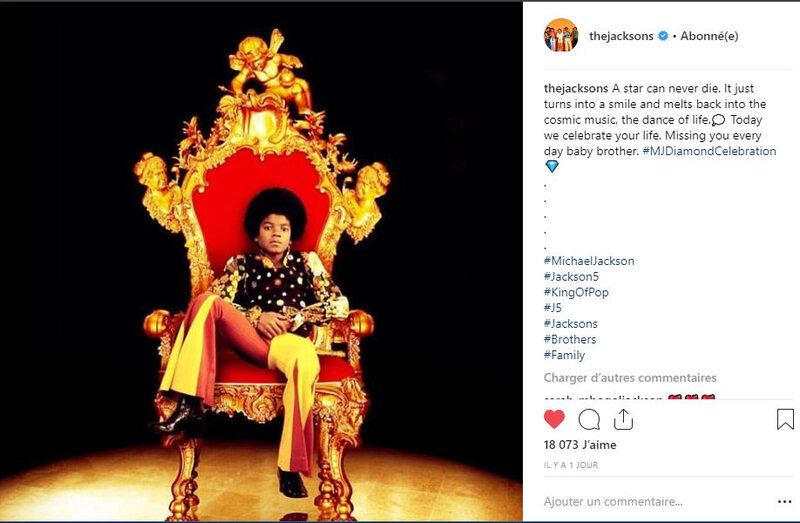 "Une étoile ne meurt jamais. Elle devient simplement un sourire et se fond dans la musique cosmique, la danse de la vie. Aujourd'hui, nous célébrons ta vie. Tu nous manques tous les jours, petit frère."
- TJ Jackson, son neveu
"Tu m'as inspiré. Tu m'as enseigné. Tu m'as changé. Tu m'as incité à aller de l'avant dans mes pires moments et je te serai toujours reconnaissant pour cela. Tu étais magique et pourtant si humble. Tu m'as appris le pouvoir de rêver. Tu m'as montré ce qu'est un vrai homme. Je t'aime tellement et tu me manques chaque jour - Meho"
- Felicia Mabuza Suttle, animatrice sud-africiaine ayant rencontré Michael lorsqu'il est allé en Afrique du Sud en 1996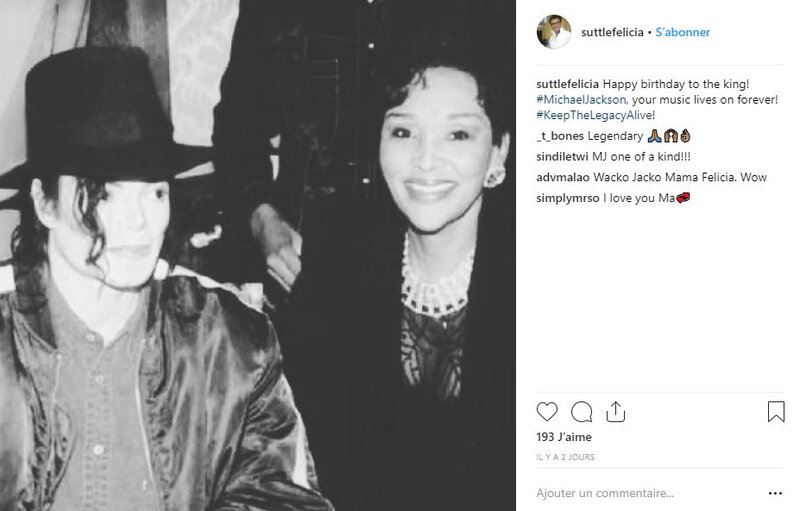 "Bon anniversaire au Roi ! Michael Jackson, ta musique vivra éternellement !"
Janet Jackson a aussi rendu hommage à son frère d'une façon originale. Elle a ainsi publié une vidéo, un mini-clip où elle s'est inspirée du short film de Michael, Remember The Time, et où elle reprend le rôle de la reine insatisfaite jouée par Iman en 1992.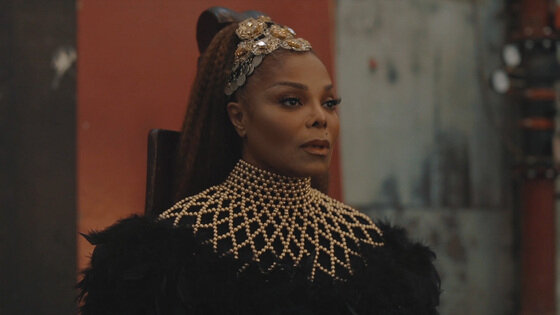 A Las Vegas, l'Estate de Michael Jackson a organisé au Mandalay Bay Resort and Casino à Las Vegas, The Diamond Celebration, une fête pour les fans, en présence de certains membres de la famille Jackson. Le King of Pop a été honoré à titre posthume du prix Elizabeth Taylor AIDS Foundation Legacy 2018, récompensant son engagement humanitaire, que ses deux enfants, Prince et Paris, ont reçu, en son nom.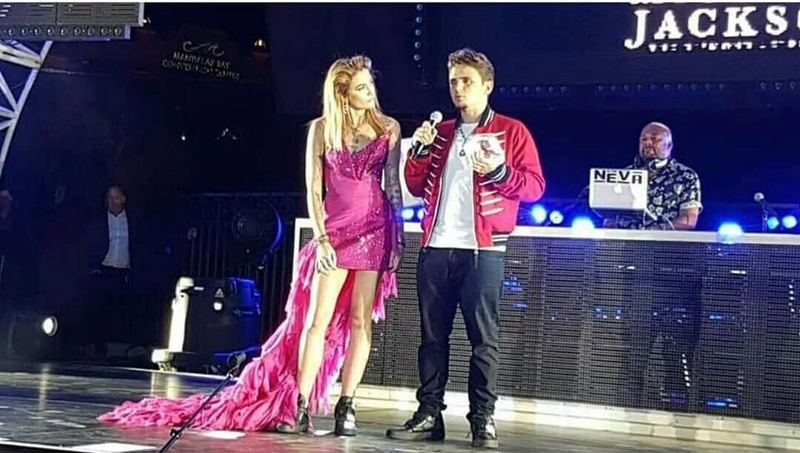 À Londres, une grosse couronne reprenant le logo de la Diamond Celebration a été érigée sur les bords de la Tamise.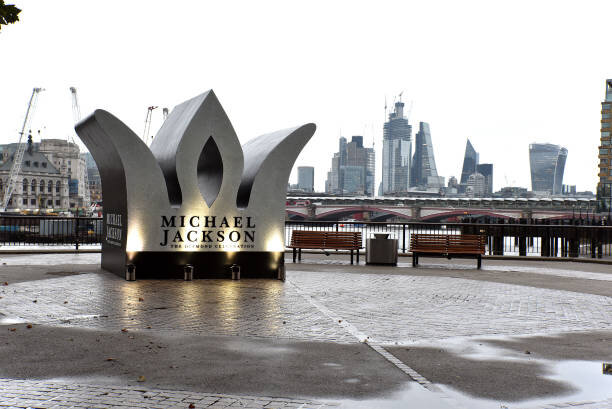 Source: instagram