Quand il a fallu déterminer la destination pour un long week-end estival, Berlin est arrivé dans le top 3 des villes qui m'attiraient. Et ça tombe bien, car ma famille était partante aussi !
Pas de plage au programme du coup, mais je comptais sur la période pour bénéficier d'un temps agréable pour visiter les lieux emblématiques d'une ville traumatisée par son histoire.
Et puis, la capitale allemande a souvent accueilli Michael Jackson, j'allais donc pouvoir aussi parcourir la ville #onmjfootsteps !
Très tôt le samedi matin, avec encore ma valise à la main, le bus me dépose tout près de la mythique porte de Brandebourg, symbole de la division de Berlin, entre l'est et l'ouest lors de la guerre froide et, depuis la chute du Mur en 1989, symbole de l'Allemagne réunifiée.
C'est derrière cette porte que les habitants de Berlin Est étaient venus en masse pour essayer d'entendre le concert que Michael Jackson avait donné en 1988 dans le parc du Reichstag.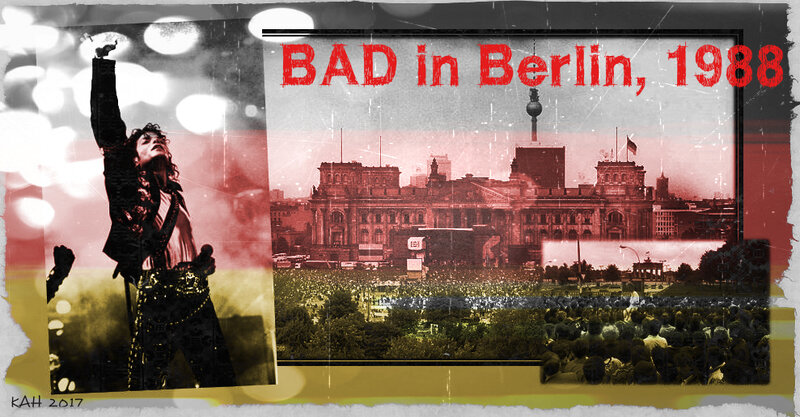 Presque qu'une décennie plus tard, ses colonnes inspireront le King of Pop pour sa scène du HIStory Tour.
A quelques dizaines de mètres du monument, je me retrouve devant l'hôtel de luxe Adlon Kempiski. Si le nom ne vous dit peut être rien, il est cependant resté tristement célèbre dans la vie de Michael Jackson, lorsqu'en novembre 2002, de la fenêtre de sa suite du troisième étage, il a brandi dans le vide, devant ses fans, son jeune fils, Blanket, âgé seulement de quelques mois. Un évènement qui a fait la une des médias – forcément!
Je me contente de prendre des photos de l'extérieur. Je n'ai pas envie d'entrer dans l'hôtel pour demander quoi que ce soit, inutile de remuer ce genre de souvenirs. Et puis, ça tombe bien, les employés sont occupés à accueillir un groupe de personnes âgées.
Le lendemain, la visite de la coupole du Reichstag offre une vue sur la Platz der Republik. En juin 1988, c'est sur cette place gazonnée qui fait partie du parc de la ville Tiegarten, que le Bad Tour s'était installé. Des milliers de personnes de Berlin Ouest avaient pu assister au concert de Michael Jackson devant le monument qui a une place primordiale dans l'histoire allemande.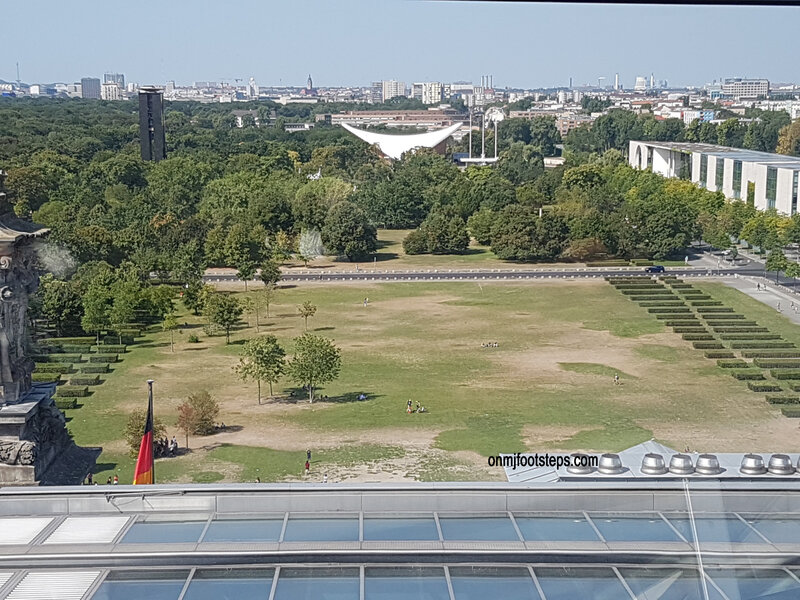 Lorsque je me retrouve dans le parc une heure plus tard, je me prends à imaginer les berlinois ce jour de 1988, durant la guerre froide, profitant de ce concert que le chanteur avait voulu à cet endroit en guise de message de paix.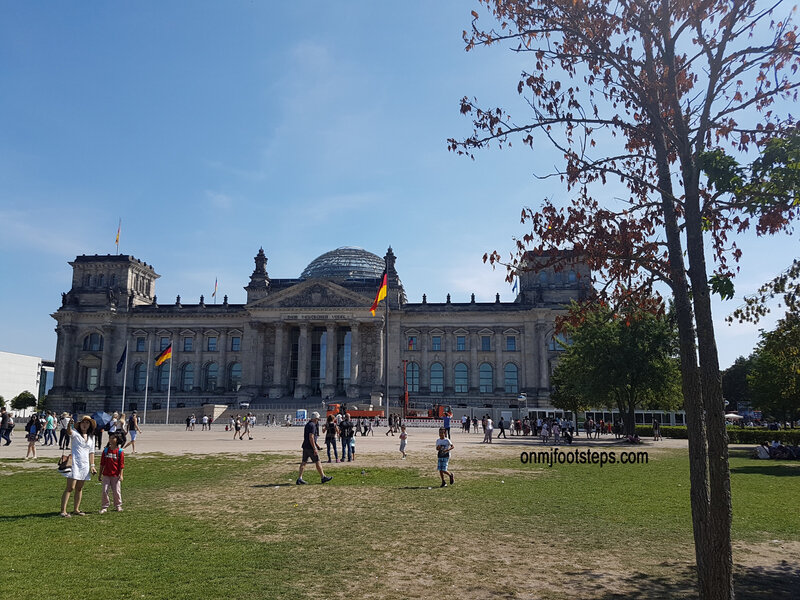 Dans l'après-midi, je me rends devant le zoo de Berlin. J'ai juste dans l'idée de photographier l'entrée devant laquelle Michael avait été surpris déguisé par un paparazzi (les animaux en cage, ce n'est pas mon truc, donc pas de visite de ce zoo pourtant très réputé et que Michael a visité à plusieurs reprises). Je découvre qu'il ne s'agit pas de l'entrée, mais de la sortie du zoo.
La Porte des éléphants (Elefantentor), très imposante, d'inspiration asiatique, se situe au niveau de l'Olof-Palme-Platz, sur la Budapester Strasse. Si elle semble avoir marquée l'entrée du zoo il y a quelques années, ce n'est apparemment plus le cas actuellement. Il n'est en tout cas impossible de manquer les énormes éléphants dont on voit une patte sur la photo de 1988 de Michael Jackson !
Je repars ensuite vers le Tiergarten, le poumon vert de la ville. Le parc est immense et le dimanche, de nombreux berlinois viennent s'y détendre, surtout quand la météo est très agréable, comme c'est le cas ce jour-là. Ce sera l'occasion d'une belle et longue balade, avec toutefois un petit objectif, celui de retrouver le mémorial pour Michael, créé par les fans au sein du parc.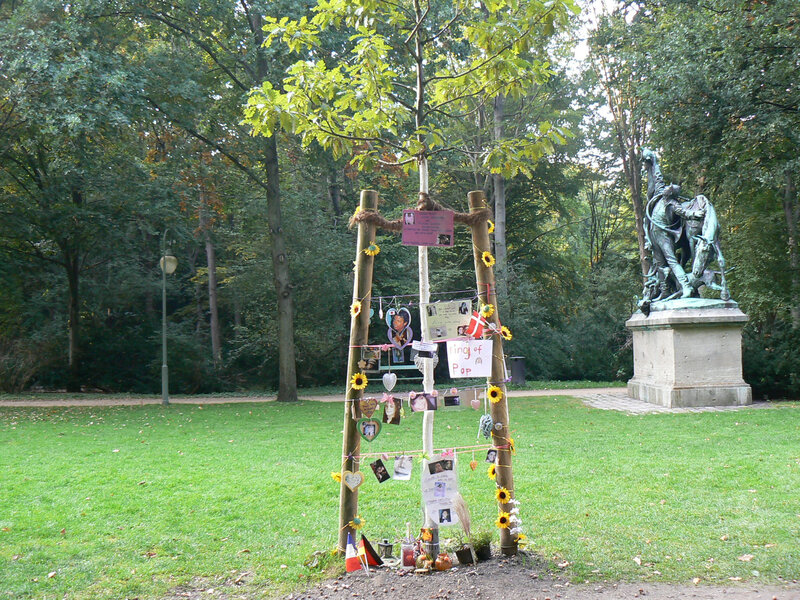 Après un certain temps, je finis par le trouver mais quelle déception ! Des deux jeunes arbres décorés de photos et de souvenirs à l'effigie de Michael, il ne reste quasiment rien. Tout a été retiré, seuls les troncs ont gardé les inscriptions gravées et je repère une photo, oubliée probablement dans les branches. Quel dommage !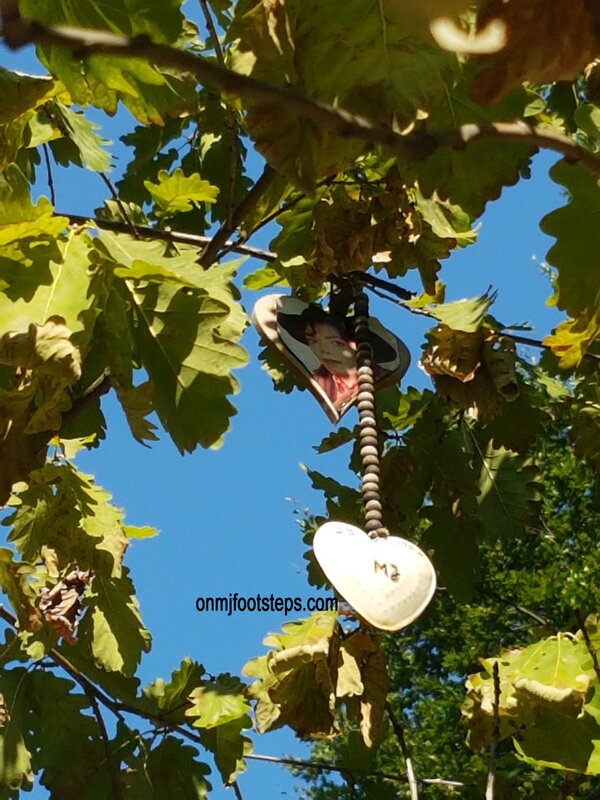 Le troisième jour, je me rends au stade olympique de la ville. L'Olympiastadion est un stade de légende dans l'histoire du sport.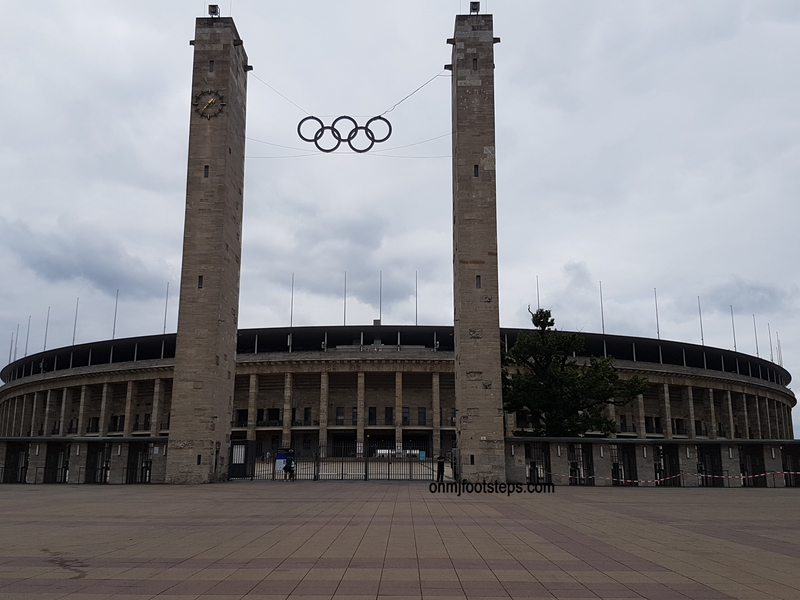 Il accueille les jeux olympiques de 1936 au cours desquels l'afro-américain, Jesse Owens remporte quatre médaille d'or. Un affront pour Hitler et sa propagande nazi qui, selon l'histoire, refusera de signer la main de l'athlète et quittera le stade. En 2006, la finale de la coupe du monde de football se joue aussi ici. Le français Zidane assène un coup de tête à l'italien Materazzi. Les images feront le tour de la planète ! Zidane expulsé, la France perd son match et la coupe du monde. Au-delà du sport, c'est aussi sur cette pelouse que, le 1er août 1997, Michael Jackson installe son HIStory tour, le temps d'un concert.
Au cours de la guerre froide, Checkpoint Charlie était l'un des postes frontières et de contrôle entre Berlin Ouest et Berlin Est. On a longtemps cru que Michael Jackson s'était rendu sur les lieux en juin 1988, quand il est arrivé avec son Bad Tour dans la ville. Il s'agissait en fait d'un sosie. Il semble d'ailleurs que ce sosie ait assuré beaucoup de sorties "promotionnelles" à la place du chanteur.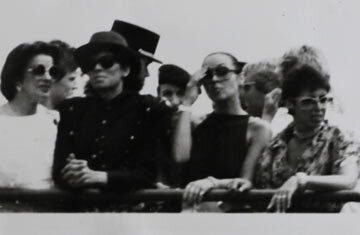 Checkpoint Charlie reste cependant un lieu historique (et désormais très touristique !) à ne pas manquer à Berlin.
Le dernier jour de ce séjour est consacré, entre autre, à la visite de la Gemäldegalerie. La pinacothèque est l'un des musées nationaux de Berlin, ouverte en 1998. Elle renferme de nombreux chefs d'œuvres de peintures européennes du 13ème au 18ème siècle. Un magnifique musée que Michael Jackson visite aussi en novembre 2002, alors qu'il est en ville pour recevoir un Bambi Awards.
Une photo prise ce jour-là le montre devant la Madone Bardi de Botticelli. L'œuvre se trouve dans la salle XVIII du musée. Au fond, on aperçoit le San Sebastiano du même artiste. Les peintures sont toujours présentes aujourd'hui et il est très facile de reproduire une photo quasiment identique, ce que je fais!
La ville de Berlin ne se résume pas, bien sûr, à ces visites #onmjfootsteps. La capitale allemande, chargée d'histoire, est une ville dynamique, moderne, dans sa partie Ouest, et très agréable à vivre, que je conseille vivement, encore plus à cette époque de l'année.
Toutes les adresses des lieux visités (et d'autres encore) sont à retrouver ici
A lire aussi - pour se souvenir de l'inoubliable - Berlin 1989, un texte écrit par Michael Jackson sur le Mur de Berlin, et paru dans son ouvrage Dancing The Dream en 1992.