On connait tous cette photo de Michael Jackson avec John Landis à Disneyworld en 1984. Après la disparition de Michael, le réalisateur de Thriller a raconté lors d'une interview, ce qui s'était réellement passé ce jour-là.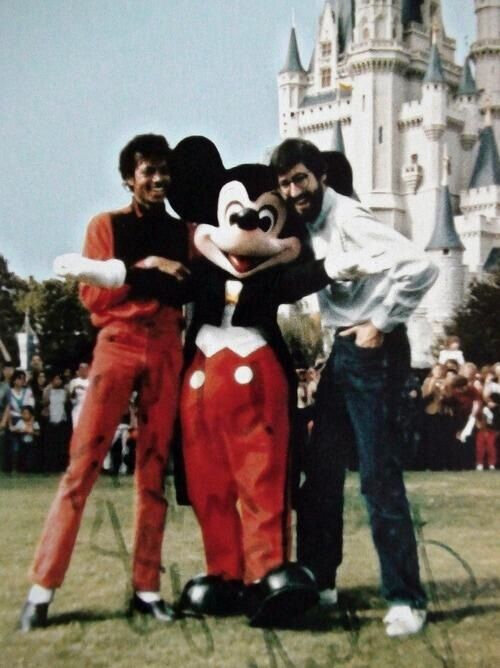 "Après Thriller, nous sommes allés à Disney World et j'ai dans ma bibliothèque cette photo que je j'aime beaucoup, une photo vraiment ridicule de Michael Jackson, Mickey et moi.
Le photographe avait pris à peine deux photos que j'ai entendu un bruit assourdissant. J'ai vu le type de la sécurité arriver et parler dans son micro. Je me suis retourné et je ne sais pas comment l'expliquer, mais ça a été la seule fois de ma vie où j'ai vraiment été terrifié. Je me suis dit: 'Nous sommes morts'. Il y avait une mer de gens qui avait complètement encerclé l'îlot d'herbe où nous étions, seulement retenus par une petite chaîne. Où que je regarde, dans toutes les directions, il y avait cette mer de gens. Il y avait des milliers de personnes, toutes hystériques. Le genre d'hystériques qu'on a pu voir pour les Beatles, Elvis, Sinatra. Ils étaient hystériques parce que Michael Jackson était là. Je me suis dit 'Oh mon Dieu'. Les hurlements devenaient de plus en plus forts, on devait crier pour se faire entendre de la personne d'à côté.
A Disneyland et Disneyworld, les personnages en costumes ne sont pas autorisés à parler, mais là Mickey m'a regardé et m'a dit: 'Oh M…… !' Je ne sais pas combien de temps cela a duré, mais soudain, sortant de nulle part, une limousine Cadillac est arrivée. Je ne l'oublierai jamais, je ne sais pas comment elle est arrivée, mais 'ffuitt', c'était la magie Disney. Les agents de la sécurité se sont emparés de Michael, de Mickey et de moi et nous ont jetés dans la voiture, avec la tête géante de Mickey, ont claqué les portières, brisé les chaînes et on s'est retrouvé au milieu de cet océan, c'était comme faire du surf ! Un mur de gens entourait la voiture, vous savez, comme dans l'Apprenti Sorcier. Pendant que Mickey et moi étions en train de nous assommer, le chauffeur disait: 'Je ne sais pas quoi faire'. Je lui disais: 'N'avancez pas, vous pourriez tuer quelqu'un!' Et pendant ce temps, Michael leur faisait signe en disant: 'Bonjour ... Bonjour', complètement déconnecté! "


---
"To take a picture
Is to capture a moment
To stop time
To preserve the way you were"
Michael Jackson