Hal Roach est un grand nom de l'industrie cinématographique Hollywoodienne. De son vrai nom Harry Eugene Roach (1892 – 1992), ce producteur, réalisateur, et scénariste américain a été un pionnier du cinéma outre-Atlantique. En 1919, il fonde les Hal Roach Studios à Culver City où il produira plus de 2000 films dont de nombreuses comédies populaires, notamment Laurel et Hardy, et après la guerre la très célèbre série télévisée Our Gang, connue aussi sous le nom The Little Rascals (Les petites Canailles).
En 1955, Roach se retire de la production et lègue ses studios à son fils qui les mène à la faillite. Ils seront détruits au début des années 60.
Toujours actif dans les années 80, il se voit remettre lors de la 56ème cérémonie des Oscars, le 9 avril 1984, un oscar d'honneur, en reconnaissance de son record sans égal de contributions réussies à l'art du cinéma. Cet Academy Awards lui est remis par George 'Spanky' McFarland, l'un des héros de The Little Rascals.
Michael Jackson est présent au dîner qui suit la cérémonie des Academy Awards. Fan de la série The Little Rascals, il y fait la rencontre de George McFarland, avec qui il développera une amitié (un article à propos de leur relation est disponible ici ).
Michael fait aussi la rencontre de Hal Roach, un rencontre assez originale, selon la petite histoire, évoquée dans un documentaire diffusé sur Arte en 2014, qui voudrait que le producteur ait pris, ce soir-là, le chanteur de Thriller pour un serveur.
A sa table, avec ses filles, Al Roach, 92 ans, hèle le serveur et lui demande un whisky et un cigare. Mais le jeune homme n'est pas un serveur mais Michael Jackson, que Roach ne connait pas. Michael lui répond tout de même "Oui, Monsieur Roach, je vous apporte cela tout de suite." Michael lui apport ce qu'il a demandé et salue tout le monde poliment. Les filles du producteur ont, quant à elles, reconnu le chanteur et posent pour une photo souvenir. Avant que Michael ne parte, Hal Roach, pour remercier son jeune serveur, lui dit "si tu as besoin d'un job, appelle-moi !"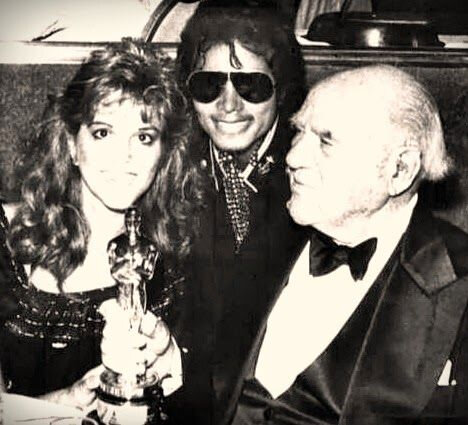 Il existe une autre photo de Michael Jackson et Hal Roach où les deux hommes sont assis ensemble dans un endroit plus privé. S'il est difficile de savoir quand a été pris ce cliché, ce qui est certain c'est que Michael Jackson vouait un grand respect à cet immense nom des comédies burlesques que la star aimait tant.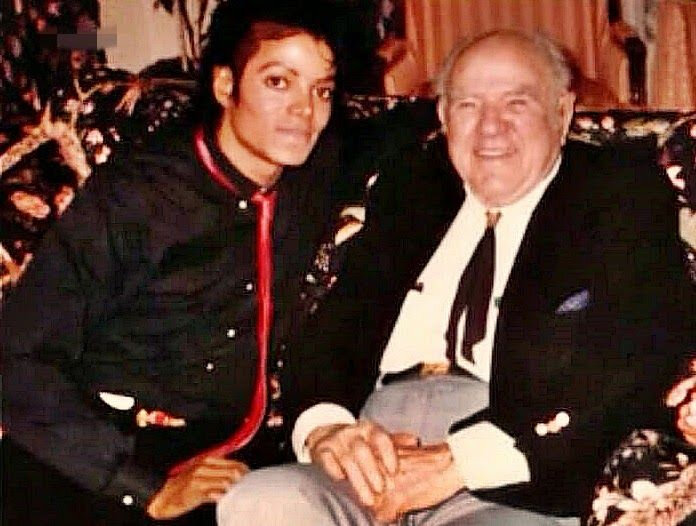 Source : cartasparamichael.blogspot.com/michaels-universe.com
---
"To take a picture
Is to capture a moment
To stop time
To preserve the way you were"
Michael Jackson