Rick Tulka est un illustrateur et caricaturiste new yorkais né en 1955. Sa carrière débute en 1976 lorsque ses premiers travaux paraissent dans Cue Magazine puis dans MAD Magazine pour lequel il travaille toujours. Expatrié à Paris depuis 1995, ses dessins ont été publiés dans des journaux et magazines français tels que Le Monde, Le Soir, Télérama ou Marianne. Après l'attentat contre Charlie Hebdo en 2015, il a participé aux marches pacifiques en soutien aux journalistes.
Dans les années 80 et jusqu'au début des années 90, Rick Tulka se lance dans un projet "Autographes". Son objectif ? Rencontrer les célébrités qu'il a caricaturées pour leur faire dédicacer leur portrait. Il réussira ainsi avec Spike Lee, Elizabeth Taylor, Mikhail Baryshnikov ou Liza Minnelli.
Michael Jackson fera également partie des stars visées. Mais c'est aussi pour un autre projet que Rick Tulka est amené à rencontrer le King of Pop en octobre 1988. Le chanteur avait demandé à l'illustrateur de créer des dessins pour la publication d'un livre de coloriages sur le thème du film Monnwalker, sorti en décembre 1988.
Le projet prendra presque un an à se concrétiser. Michael Jackson est en tournée à travers le monde avec son Bad Tour et n'a pas le temps de voir les dessins pour donner son avis.
La rencontre entre les deux hommes a lieu le 3 octobre 1988, dans la loge de Michael Jackson, lors du concert donné par le King of Pop au Meadowlands Arena d'East Rutherford, dans le New Jersey, une ville de la banlieue ouest de New York.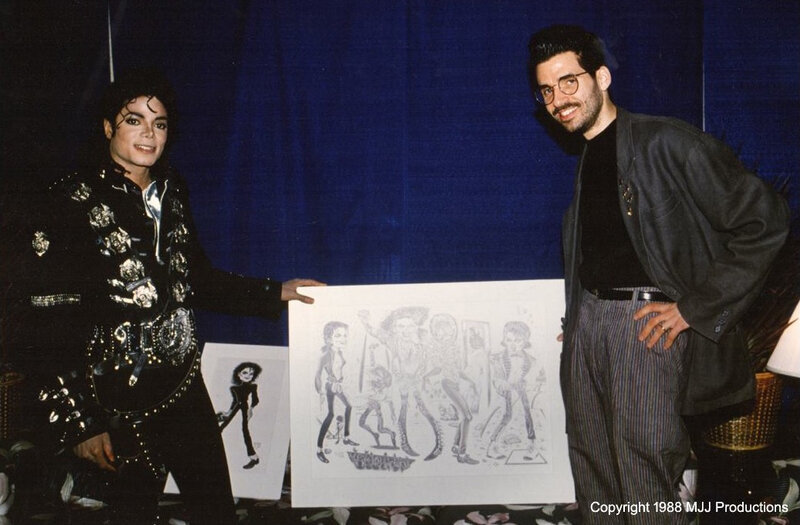 Rick Tulka se souvient : "A son retour de la partie européenne du Bad Tour, Michael s'est rendu dans le New Jersey. Ma femme et moi avons obtenu des billets VIP pour le concert. Lorsque je suis arrivé à l'Arena, on m'a emmené dans sa grande loge, avec une pièce privée plus intime qui lui était réservée. Il y avait beaucoup de monde. Soudain, Michael est sorti de sa loge privée, vêtu de sa tenue BAD, avec des boucles et des ceintures. Il a fermé la porte et est resté là immobile.
Quand Michael Jackson disait qu'il était très timide, il ne plaisantait pas. Le regard sur son visage ressemblait, à mon avis, à une vraie une peur. Il regardait tout autour de lui dans la pièce pour repérer quelqu'un de sa connaissance. Au bout de quelques secondes, il a traversé la foule. Ce serait la seule fois où je le rencontrerais et je me suis dit que je devais en profiter. Alors, je me suis approché de lui et lui ai tapé l'épaule. Je me suis dit: 'Je suis en train de taper sur l'épaule de Michael Jackson !' Il s'est tourné vers moi et, comme c'était assez bruyant, je me suis penché pour lui parler à l'oreille, en me disant 'je murmure à l'oreille de Michael Jackson !!' Je me suis présenté et lui ai dit que j'étais le gars qui était en train de réaliser son livre de coloriages. À la seconde où il a su qui j'étais, on aurait dit que nous nous connaissions depuis des années. Il était aimable et extrêmement sympathique. Il m'a dit qu'il aimait vraiment les dessins du livre de coloriage que je faisais pour lui.
Je lui ai apporté mes autres dessins. Celui que nous tenons sur la photo est l'un de ceux que Michael m'avait commissionné. Il souhaitait que je le dessine tel qu'il apparait des ses six vidéos [il s'agit en fait de cinq short films] de l'époque (de gauche à droite : The Way You Make Me Feel, Beat it ( ?), Bad, Thriller ( ?) et Billie Jean). Malheureusement, le flash de l'appareil photo se réfléchit dessus. L'autre dessin, celui qui est derrière Michael, est une caricature que j'ai faite de lui, qu'il ma signée [probablement le dessin prévu pour le projet "Autographe"]
Il a éclaté de rire en voyant ces dessins. Nous avons discuté pendant un petit moment et il n'aurait pas pu être plus gentil. Inutile de dire que ce fut l'une des rencontres de célébrités les plus excitantes que j'ai jamais eues!"
Les dessins de Rick Tulka, parus dans Moonwalker, The Coloring Book en 1989, sont à consulter ici
Source: Facebook de Rick Tulka (traduction: onmjfootsteps.com)