Après l'enregistrement de The Girl Is Mine, du 14 au 16 avril 1982 aux studios Westlake de Los Angeles, Michael Jackson, Paul McCartney et sa famille, Quincy Jones et sa femme passent une journée aux Studios Universal.
Les Universal Studios, studios de Universal Pictures est aussi un parc d'attractions renommé de Universal City, banlieue proche de Los Angeles. Créés en 1915, les visites commencent en 1964 et le parc, dont les attractions reprennent les films de la compagnie, est aujourd'hui l'un des plus touristiques de la ville.
Quelques photos de cette journée de détente des deux stars sont bien connues. Sur deux d'entre elles, on les aperçoit entourées de vampires.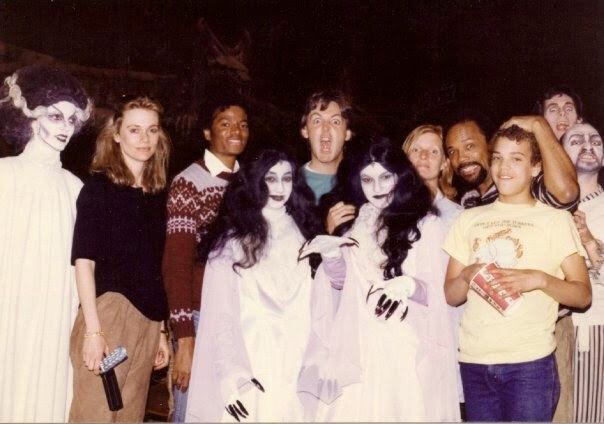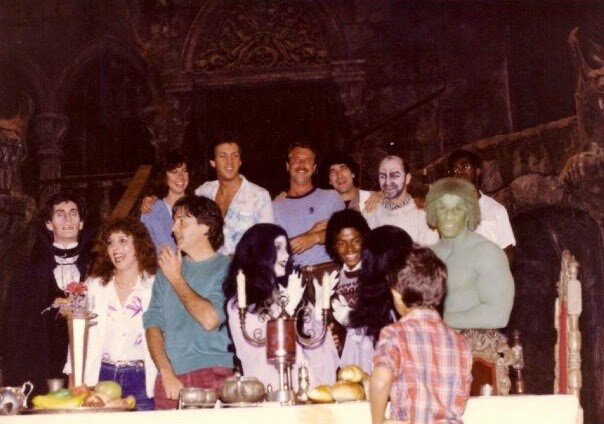 Ces clichés ont été pris au Castle Theater qui accueille alors le Castle Dracula, un show d'horreur en live de 20 minutes, qui permet aux spectateurs d'en connaître davantage sur les techniques et effets spéciaux utilisés dans un film d'horreur. "Visit Castle Dracula if you dare. You haven't lived until we've scared you to death" (Venez voir le Château Dracula si vous l'osez. Vous ne savez ce que c'est que vivre tant que vous n'avez pas eu peur à en mourir"), précisait un journal américain en évoquant l'ouverture du show, le 13 juin 1980.
L'attraction, qui débutait avec une animatronique du Fantôme de l'Opéra, mettait en scène Dracula, son assistant Igor et l'incroyable Hulk, et des spectateurs choisis au hasard, maquillés par l'équipe des studios Universal, pour interpréter Frankenstein et son épouse, des vampires assistant au mariage, The Wolfman et une momie.
Autant dire que tout ce petit monde a probablement été très étonné de voir les deux stars. On ne sait toutefois pas s'il s'agit d'une représentation privée ou non.
Le show a fermé ses portes le 31 janvier 1983. Le Castle Theater est le lieu où se tient aujourd'hui (et depuis 2010) l'attraction The Special Effects Stage.
Sources: meetthebeatlesforreal.com/thestudiotour.com
---
"To take a picture
Is to capture a moment
To stop time
To preserve the way you were"
Michael Jackson