Difficile de résumer la carrière de Michel Legrand qui nous quitte ce 26 janvier 2019, à l'âge de 86 ans, tant cet artiste français a marqué la musique. Musicien, compositeur, chanteur et arrangeur, Michael Legrand fait ses armes auprès de Nadia Boulanger et côtoie dès 19 ans Henri Salvador et Maurice Chevalier.
Sa carrière internationale débute aux Etas-Unis peu de temps après. Son amitié avec Quincy Jones lui ouvre les portes d'Hollywood et les récompenses les plus prestigieuses.
Parmi ses plus grandes musiques de films, on trouve des non moins célèbres long-métrages ou films musicaux : Les Parapluies de Cherbourg en 1964, Les Demoiselles de Rochefort en 1967, Peau d'âne en 1970, L'Affaire Thomas Crown, en 1968, Lady Sings the Blues, en 1971, Les Uns et les Autres, en 1981, Jamais plus jamais, en 1983, … La liste est longue et celle de ses collaborations avec les plus grands noms de la chanson l'est tout autant : Charles Aznavour, Frank Sinatra, Sarah Vaughan, Ella Fitzgerald, Lena Horne, James Ingram, Johnny Mathis, Barbra Streisand, Nana Mouskouri, Stéphane Grappelli, Mireille Mathieu, Claude Nougaro, …
Plus de 60 ans de carrière pour cet homme qui "aimait la musique à la folie". Et qui, bien entendu, connaissait Michael Jackson. Ses anecdotes avec le King of Pop, il les évoquait dans autobiographie, sortie en septembre 2018, J'ai le regret de vous dire oui (éditions Fayard). Quand deux grands de la musique se rencontrent...
"Un matin de soleil, coup de fil improbable, irréel : 'Hello Michel, is it you on the phone ?' J'entends un timbre reconnaissable entre mille, à la fois perché et enfantin. C'est celui de Michael Jackson. Notre lien remonte aux débuts de sa carrière solo. Sur son troisième album, Michael a repris l'une de mes chansons, Happy, avec une voix encore imbibée d'adolescence."
Happy est une chanson extraite du troisième album solo de Michael chez Motown, Music and Me, en 1973. Il fait partie de la bande originale de Lady Sings the Blues, un film réalisé par Sidney J. Furie, en 1972, qui raconte la vie de la chanteuse de jazz Billie Holiday.
"Plus tard, nous ferons mieux connaissance, par l'entremise de l'ami Quincy. Ma mémoire n'a pas effacé un mémorable dîner, vers 1984. Michael réinvente les codes de la pop music, il est devenu une star planétaire. Nous sommes attablés dans le salon d'un restaurant de Los Angeles, j'en profite pour lui demander une faveur : 'Tu sais, Michael, ma fille Eugénie écoute tes disques en boucle. Elle a quatorze ans, tu es son héros ultime. Accepterais-tu de lui signer un autographe ? C'est la plus belle surprise que je puisse lui rapporter des Etats-Unis.' Michael sourit et s'exécute avec un zèle qui dépasse mes espérances : il saisit la carte du menu et, dans la marge, écrit minutieusement une histoire originale qu'il illustre de petits dessins naïfs, comme des enluminures. Je lui demandais une dédicace, il m'écrit un roman, qu'il paraphe d'une signature très graphique. Deux semaines plus tard, de retour en France, je brandis la précieuse offrande à Eugénie. Elle l'examine d'un œil détaché, sinon indifférent : 'C'est gentil mais ça ne m'intéresse plus : maintenant je suis fan de Madonna !' Dès le lendemain, le cadeau est égaré, perdu, jeté à la poubelle. Cette histoire deviendra historique dans la famille. Ma chère Eugénie en rit encore aujourd'hui. Devenue cavalière émérite, elle aurait pu s'acheter trois pur-sang avec ce long récit manuscrit, le seul, l'unique que le roi de la pop ait improvisé sur un menu de restaurant."
Quelques années plus tard, au cours des années HIStory, Michael Jackson est souvent vu en France. Le 15 janvier 1997, la nouvelle comédie musicale de Michel Legrand, Le Passe Muraille, est présentée au Théâtre des Bouffes Parisiens à Paris. Adaptée de la nouvelle fantastique du même nom de Marcel Aymé, parue en 1941, elle met en scène un homme au don singulier de passer à travers les murs sans en être incommodé. Michael Jackson assistera à l'une des représentations aux côtés de Michel Legrand, au printemps 1997.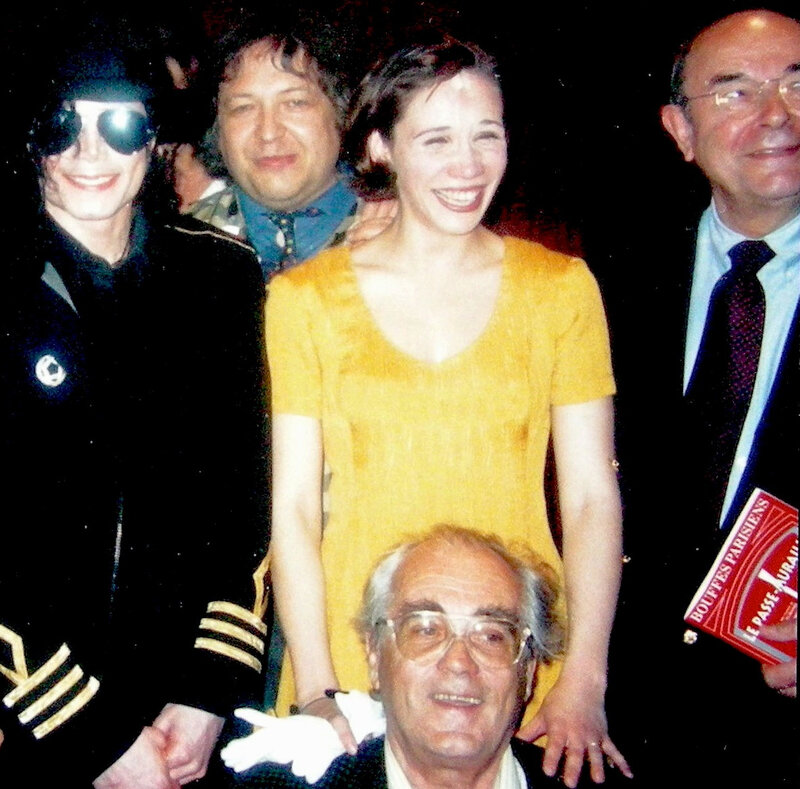 Michael Jackson, Michel Legrand (au premier plan), Isabelle Georges (comédienne dans la comédie musicale) et Stanley Donen (à gauche), tenant le livre Le Passe Muraille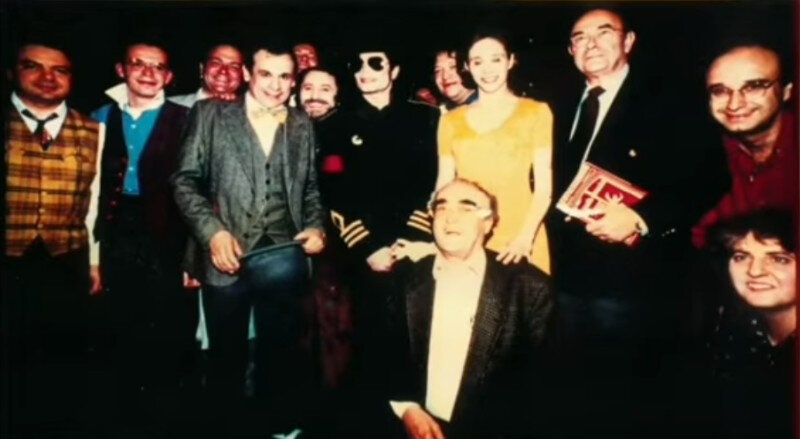 "Retour en 1997. Entendre la voix de Michael Jackson dans le combiné me prend par surprise. Désormais, ses proches l'appellent Bambi. Il travaille à Paris sur un projet avec le mythique cinéaste américain Stanley Donen [un projet avec le réalisateur de The Royal Wedding, avec Fred Astaire en 1951 et du film musical Le Petit Prince, en 1974, qui n'aboutira pas] . Pour éviter les hordes de fans et de paparazzis qui l'attendent devant le Plaza Athénée, Michael est descendu incognito au Disneyland Hotel de Marne-la-Vallée. Contre toute attente, il souhaite ardemment voir le Passe-Muraille, dont il a entendu parler par Quincy. Sa demande me touche et m'embarrasse à la fois : 'Michael, ce serait avec plaisir. Mais je redoute ta présence. Avec toi, le spectacle ne sera plus sur scène mais dans la salle.' Il a déjà réflechi à la question : 'Fais-moi confiance, je m'habillerai sobrement, j'arriverai in-extremis, juste avant le lever de rideau, dans l'obscurité. Personne ne me reconnaîtra !' Comment refuser une telle demande ? D'autant que son service de sécurité vient de repérer les lieux pour mettre au point un minutage précis : arrivée à 20h29, trente secondes pour prendre l'escalier, trente autres pour accéder aux places, en milieu de rangée, début du spectacle à 20h30 tapantes. Néanmoins, une question essentielle me tarabuste : doit-on prévenir les comédiens ? Je tente d'en parler à Brialy mais il demeure injoignable, bloqué par un tournage en province. La sagesse me conseille de garder le silence. L'annonce de la présence "jacksonienne" risquerait de nuire à la représentation. Jusqu'à la dernière seconde, la nouvelle restera classée secret-défense. Le jour J, je fais le pied de grue dans l'entrée des Bouffes parisiens. A 20h29, avec une ponctualité diabolique, une limousine aux vitres teintées s'arrête devant le théâtre. Nos deux invités s'en extirpent. En découvrant Michael, j'ai un choc thermique. Pour lui et moi, le mot "sobriété" ne doit pas avoir le même sens : il est littéralement déguisé en Zorro, avec une cape noire, veste à galons et chapeau façon pelle à pizza. Serait-ce une panoplie achetée chez Mickey ? De l'extérieur, Michael ressemble à une publicité vivante pour Walt Disney : Zorro et Bambi ont fusionné dans le même corps. Pour un peu, je m'étonne que Stanley Donen ne soit pas costumé en Peter Pan. Malgré la pénombre, leur arrivée dans la salle ne passe pas inaperçue, d'autant que Michael n'enlève pas son sombrero. Je m'assieds à leurs côtés, au cinquième rang, afin de servir ponctuellement d'interprète. Sans comprendre littéralement les subtilités du texte, Michael s'exclaffe avec un rire sonore, identique à celui d'un enfant devant un dessin animé. Parmi les acteurs, on sent s'installer un certain trouble. De la scène, ils ont aperçu la star. Mais ils tracent, en contenant leur émoi. Lors du ballet final, Francis Perrin explose. En un clin d'œil, il esquisse quelques pas malhabiles de moonwalk, puis accroche sa main à l'entrejambe, ce qui déclenche l'hilarité générale. Aux saluts, Bambi se lève pour applaudir à tout rompre, entraînant la salle avec lui."
Pas rancunier, le Roi de la Pop posera quand même avec le comédien français, Francis Perrin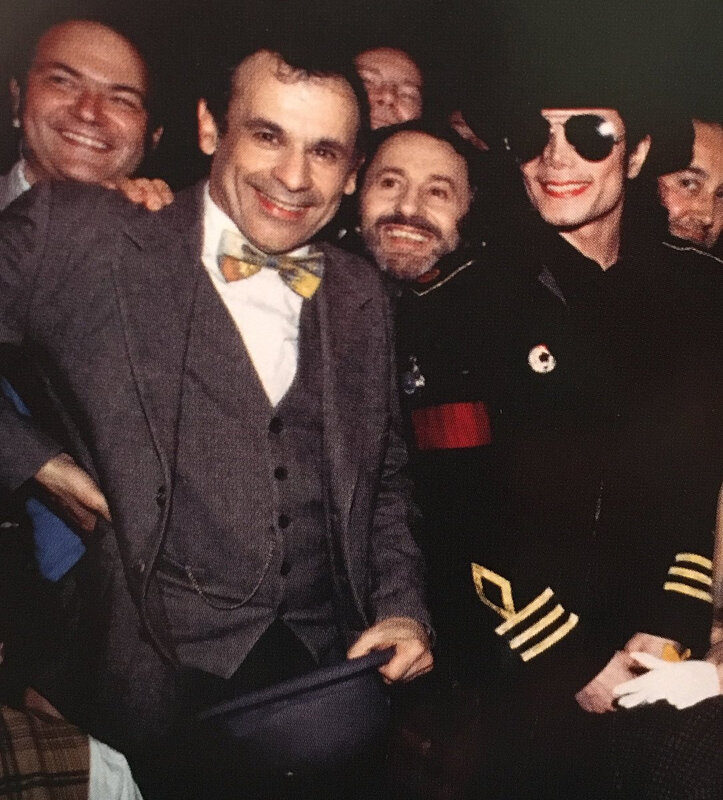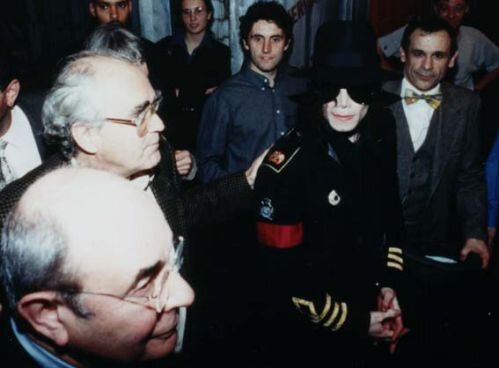 A écouter également le témoignage du metteur en scène de la comédie musicale, Alain Sachs, sur le plateau de l'émssion de Laurent Ruquier, On n'est pas couché, le 9 novembre 2019, qui propose une photo inédite de la star ce soir-là.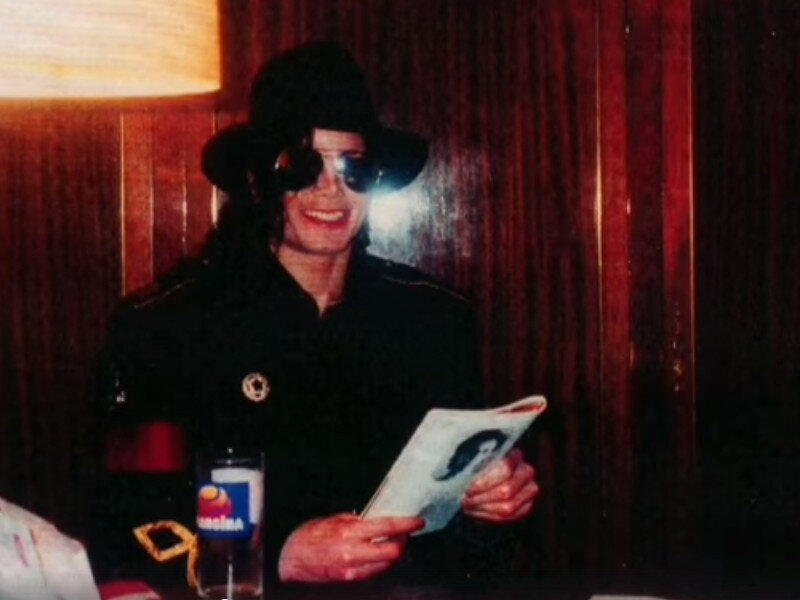 Source: J'ai le regret de vous dire oui, Michel Legrand