Après le long procès qui innocente Michael Jackson le 13 juin 2005, ce dernier quitte les Etats-Unis et va séjourner un temps dans le Golfe Persique. Il est accueilli sur l'île de Barheïn par le fils du roi, le Sheick Abdullah bin Hamad bin Isa Al Khalifa qui l'héberge avec sa famille.
Durant ces mois de réclusion et de repos, le chanteur en profite pour visiter les Etats voisins. Il se rend ainsi à au moins trois reprises dans les Emirats Arabes Unis. Si sa présence à Abou Dabi, la capitale du pays, est apparemment restée inaperçue (il aurait logé dans un palace appartenant au roi du Barheïn), c'est surtout à Dubai que le chanteur pose ses valises pour découvrir une ville alors en pleine expansion.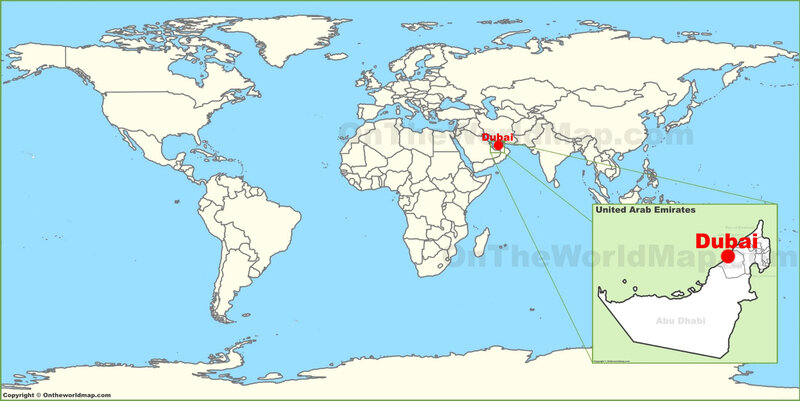 Dubaï est la première ville des Emirats Arabes Unis et capitale de l'émirat de Dubaï. Ville de la démesure, du luxe et de la modernité, elle est devenue l'une des plus touristiques au cours des dernières années. Ses projets gigantesques tels que la Burj Khalifa, l'immeuble le plus haut du monde, attirent chaque année un peu plus une clientèle d'affaire et familiale.
Michael Jackson arrive la première fois à Dubaï, en provenance du Barheïn, le 20 août 2005 et y reste jusqu'à la mi-septembre. Il y reviendra à la mi-novembre 2005. Lors de chacune de ses visites, il est accompagné par le Cheick Abdullah bin Hamad bin Isa Al Khalifa ainsi que le pilote automobile, champion de rallye des Emirats Arabes Unis, Mohammed Bin Sulayem.
En décembre 2005, quelques jours avant Noël, il est également à Dubaï pour un rendez-vous d'affaires avec des dirigeants de Sony.
Michael Jackson est souvent aperçu dans des lieux aujourd'hui très fréquentés par les touristes, des "must see" lorsque l'on se rend à Dubaï.
- Hôtel Burj al-Arab: cet hôtel de luxe 5 étoiles (proclamé 7 étoiles par certains médias) en forme de voilier est à Dubaï ce que la Tour Eiffel est à Paris. Achevé de construire sur une île artificielle en 1999, haut de 321 mètres, avec ses 38 étages, ce gratte-ciel est l'un des plus reconnaissables dans le monde, l'un des plus chers également.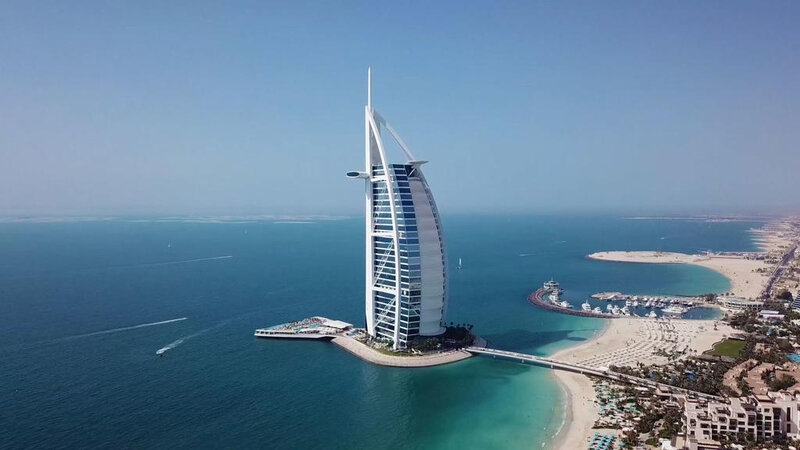 Le samedi 20 août 2005, à son arrivée dans la ville, Michael Jackson loue la Royal Suite, au 25ème étage. Il est repéré par des fans dans le lobby de l'hôtel, devant l'entrée du Al Iwan Restaurant.
En décembre 2005, c'est dans la Presidential Suite du 24ème étage qu'il rencontre des dirigeants de Sony préoccupés par ses problèmes d'argent et le fait que Michael puisse envisager de vendre les parts de son catalogue. Des suites très luxueuses qu'il est malheureusement impossible de visiter (sauf si vous avez le budget pour les louer), le Burj al-Arab lui-même étant réservé aux seuls clients (un cocktail dans l'un des restaurants coûtera une centaine d'euros !) A défaut, une photo sur la plage Sunset Beach avec le Burj al Arab en arrière plan, le meilleur endroit pour le voir, fera son effet !
Jumeirah Beach Road, Dubai – Émirat Arabes Unis. Station de métro la plus proche : Sharaf DG (ligne rouge) + bus n°81 ou taxi
- The Palm Jumeirah : archipel artificiel en forme de palmier, constitué d'un tronc et de seize palmes, entouré d'un croissant, c'est le plus petit et le plus ancien des trois palmiers du projet Palm Islands (les deux autres, Palm Jebel Ali et Palm Deira, sont en construction, plus ou moins avancés). Achevé en 2009, Michael Jackson est donc témoin, à bord d'un bateau privé, en août 2005, de la construction de l'île, désormais emblème du paysage de Dubaï, qui abrite des zones d'habitations et de loisirs, dont le célèbre et majestueux palace Atlantis The Palm.
Monorail à emprunter pour se rendre Palm Jumeirah : 11 King Salman Bin Abdulaziz Al Saud St, Dubaï - Émirats Arabes Unis.
- Wild Wadi water park : Situé en plein Dubaï, face au Burj Al Arab et tout près de l'établissement de luxe 5 étoiles Jumeirah Beach Hotel , ce parc de plein air propose une trentaine d'attractions aquatiques, des toboggans à sensation, des piscines à vagues, … autour du thème de Juha, personnage d'un conte arabe. Ouvert toute l'année grâce au climat doux de Dubaï, c'est le parc familial par excellence.
Et de nombreuses familles, justement, présentes le 13 septembre 2005 ont eu l'agréable surprise de se voir inviter par Michael Jackson, qui avait loué le parc pour la journée. Le chanteur y fera une apparition.
Jumeirah Street, à côté du Burj Al Arab, Jumeirah 2, Dubai - Émirats Arabes Unis. Station de métro la plus proche : Sharaf DG (ligne rouge) + bus n°81 ou taxi
- The World : cet archipel de 250 à 300 îles artificielles reproduisant, comme son nom l'indique, le monde, est en construction depuis 2003 dans les eaux du Golfe, face à Dubaï. Lorsque Michael Jackson s'y rend en août 2005, les médias spéculent rapidement sur l'intérêt que porte la star à ce projet et la possibilité d'y acheter une résidence privée. Il n'en sera rien.
Au large de Dubaï, Emirats Arabes Unis. Accès par voir maritime.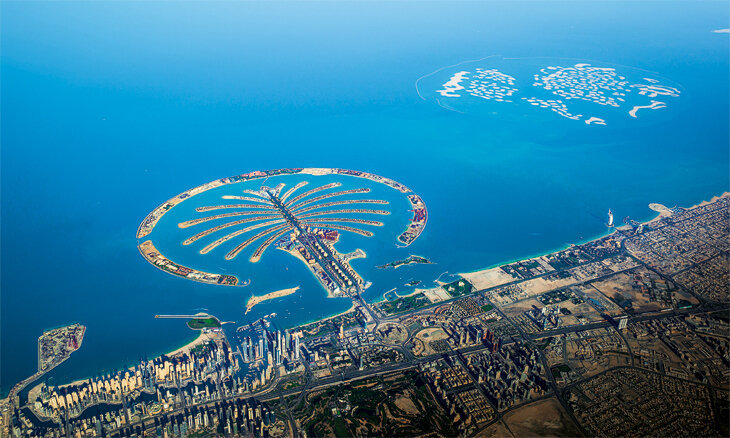 The Palm Jumeirah et The World
-Hard Rock Cafe : comme beaucoup de restaurants de cette chaîne mondiale, le Hard Rock Cafe de Dubaï expose des objets liés à Michael Jackson. On peut y voir ainsi le blouson en cuir noir et blanc que portait le chanteur dans la publicité Pepsi The Street, des mocassins blancs et un fedora.
Mais fait assez rare, en août 2005, Michael Jackson s'est lui-même rendu dans l'établissement, alors situé sur Sheikh Zayed Road. Désireux de goûter les Spicy Buffalo chicken wings (ailerons de poulet sauce piquante), il est venu s'installer à une table du restaurant et en a profité pour demander à voir les chaussures en exposition. "Ce sont bien mes chaussures", a-t-il dit, "pouvez-vous m'apporter un marqueur ?" "Il les a signées et nous les a redonnées pour les remettre à leur place", explique l'un des managers du restaurant.
En 2009 le HRC a fermé ses portes pour réouvrir en 2011 sur un nouveau site. Mais la veste, les chaussures et le chapeau sont toujours là.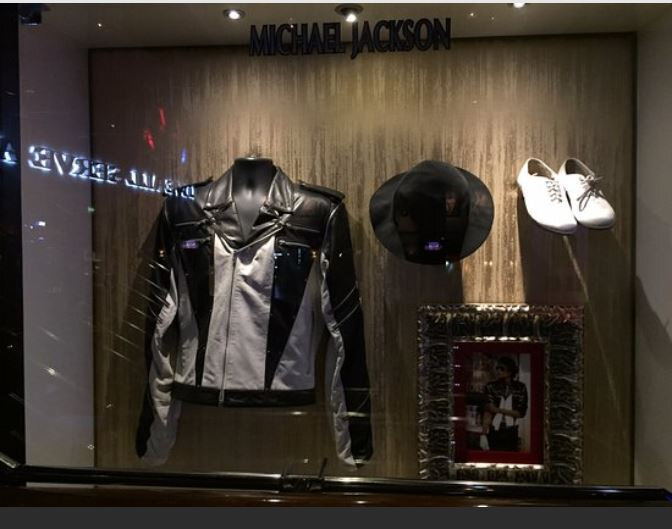 (photo: tripadvisor)
Zone 8A, Dubai Festival City Mall à côté de Marks & Spencer, Dubai - Émirats Arabes Unis. Station de métro la plus proche : Rashidiya (ligne rouge) + bus ou taxi
- Ibn Battûta Mall : Peut être moins prestigieux et étendu que le Mall of Emirates ou le Dubaï Mall, ce centre commercial du centre ville, baptisé en l'honneur du Marco Polo du monde arabe, Ibn Battûta, parcourt, à travers son architecture les différents voyages du géographe. Plus de 50 restaurants, 20 salles de cinéma et 275 boutiques (quand même !) sont répartis à travers plusieurs zones thématiques comme l'Inde, la Chine, la Tunisie, l'Egypte ou le Maroc natal d'Ibn Battûta.
Dans la soirée du 12 novembre 2005, Michael Jackson provoque un scandale dans les toilettes des femmes de Egyptian Court, la partie égyptienne du Mall. N'ayant apparemment pas compris l'écriture arabe sur la porte des toilettes, le chanteur entre et retire le foulard qui ne laissait entrevoir que ses yeux pour réajuster son maquillage. Reconnu par une jeune femme scandalisée, mais qui tente tout de même de le prendre en photo, c'est dans la libraire McGrudy (qui n'existe plus aujourd'hui) et avec la sécurité du centre commercial que réussira à se régler le problème. Un incident qui fera cependant les gros titres le lendemain.
Sheikh Zayed Road - Dubai - Émirats Arabes Unis. Station de métro Ibn Battuta (ligne rouge)
- Nakheel Office Services : Nakheel Properties est un groupe immobilier, filiale de Dubai World, société d'investissement contrôlée par le gouvernement de l'émirat de Dubaï. Principal développeur du Dubaï actuel, elle est à l'origine de nombreux projets de la ville parmi lesquels l'aménagement du front de mer avec Palm Islands et The Palm Jumeirah et The World.
En août 2005, Michael Jackson se rend dans les bureaux de la compagnie avec le Sheikh Abdullah bin Hamad bin Isa Al Khalifa et le champion Mohammed Bin Sulayem. Une photo les montre devant une maquette de The World et de The Palm Jumeirah. Le bâtiment en forme d'œuf, The Palm Trump International Hotel & Tower, premier projet de la Trump Organization au Moyen-Orient ne verra finalement jamais le jour.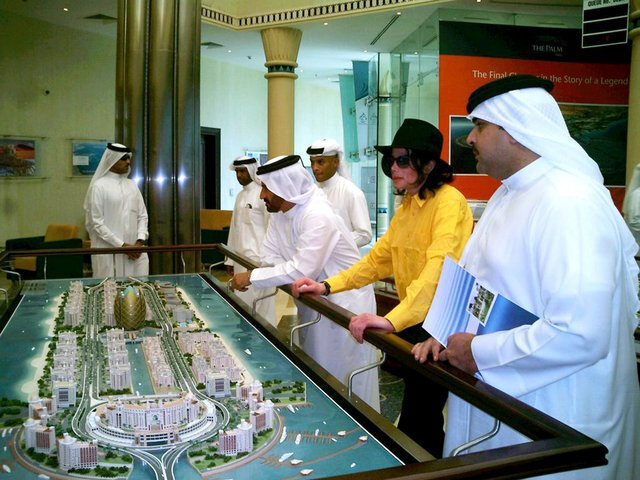 Building # 1, Jebel Ali Village, the Gardens, derrière le Ibn Battuta Mall, Dubai - Émirats Arabes Unis Station de métro Ibn Battuta (ligne rouge)+ environ 1 km de marche.
- Le Méridien Mina Seyahi Beach Resort & Marina: Situé sur la célèbre plage de Jumeirah Beach, près de la marina de Dubaï, ce resort cinq étoiles avec vue sur la côte Jumeirah et sur l'île Palm Jumeirah propose de nombreuses installations pour le sport et la détente, idéales pour un séjour en famille.
Le 14 novembre 2005, c'est dans une salle de réception (probablement la ballroom) de ce beau complexe que Michael Jackson assiste au diner de gala célébrant la fin du UAE Desert Challenge (appelé aussi Rallye de Dubaï), aujourd'hui renommé le Abou Dabi Desert Challenge, une course-rallye automobile qui précède en général de quelques semaines celle du Paris-Dakar. Avec le pilote automobile, désormais vice président de la FIA, Mohammed Ben Sulayem, il remet leur récompense aux gagnants, les français Stéphane Peterhansel (auto) et Cyril Despres (moto).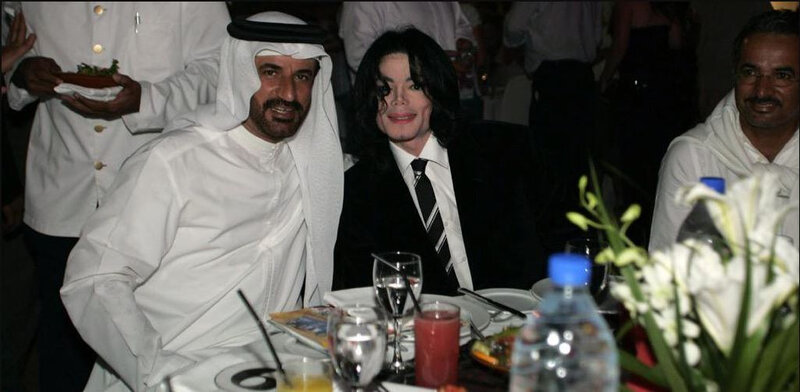 Al Sufouh Road, Al Sufouh, Dubai - Émirats Arabes Unis. Station de métro Nakheel (ligne rouge) + environ 15 minutes de marche ou station de Tram Mina Al Seyahi (station n°7)