Il fait partie de ceux qui ont influencé les chorégraphies de Michael Jackson. Avant James Brown, Fred Astaire ou Bill Bailey (et après Bill "Bojangles" Robinson), il y a eu Cab Calloway.
Avant le Moonwalk, il y a eu The Buzz.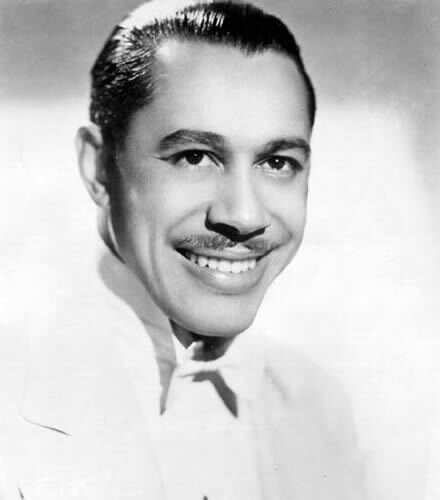 Repéré par Duke Ellington, Cab Calloway, chef d'orchestre et chanteur de jazz, connait le succès à 22 ans, en 1931 avec le titre Minnie The Moocher, cette chanson où il lance le célèbre Hi de Hi de Ho au cours d'un dialogue avec l'orchestre et qui fera sa gloire pendant plus de cinquante ans. Ce titre lui ouvre les portes du plus célèbre club de jazz de l'époque : le Cotton club, à Harlem, New York.
En 1939, il engage un jeune trompettiste inconnu qui va révolutionner le jazz, Dizzy Gillespie. Après la guerre, il se tourne vers le cinéma et, au cours des années 60, vers les comédies musicales. John Landis lui offrira son dernier rôle en 1980 dans le film culte The Blues Brothers.
Bien avant que Michael Jackson ne rende célèbre le Moonwalk un soir de mars 1983, Cab Calloway a initié The Buzz (à partir de 2 :40 dans la vidéo ci-dessous), sa technique de scène qui apparait comme l'ancêtre de ce pas qui fera la marque du King of Pop.
Cab Calloway décède en novembre 1994, à l'âge de 86 ans. Quelques mois plus tôt, le 12 juin, le jazzman est victime d'un accident vasculaire cérébral et est transporté dans un hôpital de White Plains (Etat de New York).
Le 22 juin 1994, Michael se rend à l'hôpital pour voir Cab Calloway dont l'état est déclaré stable. La plus jeune fille de l'artiste, Cabella Langsam, est présente, et explique que Michael a tenu la main de son idole, en lui demandant de tenir bon. "Nous vous aimons, je vous aime, le monde vous aime, vous ne pouvez pas nous faire ça, vous devez vous battre, vous devez aller mieux", lui a dit Michael.
Ce n'est toutefois pas la première fois que le King of Pop rencontrait le Hi de Ho Man. Dans sa maison de White Plains, banlieue chic de New York où il la terminé ses jours, Cab Calloway avait l'habitude de recevoir ses amis artistes : Lionel Hampton, Duke Ellington, Dizzy Gillespie, Lena Horne, Sammy Davis Jr., Nat King Cole et Michael Jackson, parmi beaucoup d'autres, ont fait partie des privilégiés à pouvoir passer du temps avec la famille Calloway et à se remémorer le bon vieux temps.
C'est ainsi que Michael Jackson aura l'occasion de se retrouver avec Cecelia Lael Calloway dans le bureau de son père.
On regrettera toutefois de ne pas avoir de photo des deux artistes ensemble.
Sources : deseretnews.com/ thehidehoblog.com /cabcallowayfoundation.org
---
"To take a picture
Is to capture a moment
To stop time
To preserve the way you were"
Michael Jackson