Les concerts avaient été annoncés comme un hommage aux trois albums que Quincy Jones a enregistrés avec Michael Jackson, Off The Wall, Thriller et Bad. Puis sans aucune explication, l'affiche s'est transformée en un concert dédié aux titres des années 80 du célèbre musicien-producteur, The Soundtrack of the 80's, sans plus aucune mention du nom de Michael Jackson, provoquant ainsi la colère des fans qui souhaitaient un bel hommage pour les dix ans de la disparition du King of Pop.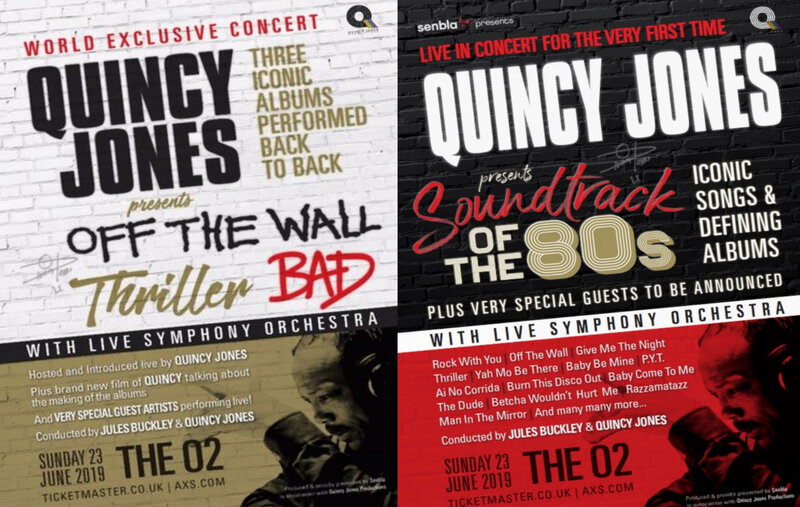 Les spéculations sur l'origine de ce changement sont bien entendu allées vers un conflit entre l'Estate de Michael Jackson et le producteur américain laissant penser que le spectacle se ferait sans les titres majeurs de la carrière du chanteur.
Le concert a eu lieu ce 23 juin 2019 à l'O2 Arena, là même où Michael Jackson avait annoncé, en mars 2009, ses concerts This Is It, qui devaient être donnés au même endroit à partir de juillet 2009.
Autant dire qu'il y avait une certaine émotion en pénétrant dans l'enceinte du complexe. Impossible de ne pas se faire la réflexion : "C'était il y a dix ans, déjà".
L'émotion, mais aussi les interrogations. Ce concert allait-il vraiment ressembler à ce qu'annonçait désormais l'affiche : une rétrospective de la carrière de Quincy Jones ? L'homme est certes un producteur de génie, avec une carrière époustouflante et qui a côtoyé les plus grands artistes. Un nom forcément connu dans le milieu artistique, dont la renommée n'est pas arrivée avec sa collaboration avec Michael Jackson, mais la plupart du public était constitué des fans de Michael Jackson et voulait entendre la musique de Michael Jackson.
Ce dimanche 23 juin, j'ai fait le voyage jusqu'à Londres aussi. Et je peux vous dire que je ne l'ai pas regretté. Nous étions une troupe d'une quinzaine de français à avoir fait le voyage ensemble (et nous en avons aussi profité pour visiter Londres) et nos craintes se sont envolées dès les premières notes de musique.
Un orchestre symphonique, accompagnant des invités - Beverley Knight, Daley, James Morrison, Jonah Nilsson, Shaun Escoffery et Sheléa - a repris pendant près d'une heure trente plus d'une quinzaine de titres de Michael Jackson. Et quoi qu'ait pu bloquer l'Estate (si réellement il y a eu blocage), Quincy Jones a fait jouer les titres qu'il souhaitait, sans se soucier de quoi que ce soit. De Don't Stop 'Til You Get Enough à Liberian Girl, en passant par l'iconique Billie Jean ou le superbe Humane Nature, c'est avec un son d'une qualité exceptionnelle et un travail superbe d'arrangement et d'orchestration que le maître Quincy a rendu, avec tout le respect que l'on attendait, un magnifique hommage à Michael Jackson. D'autant plus magnifique, que c'est le seul, musicalement parlant, qui lui sera rendu en cette date commémorative du 25 juin.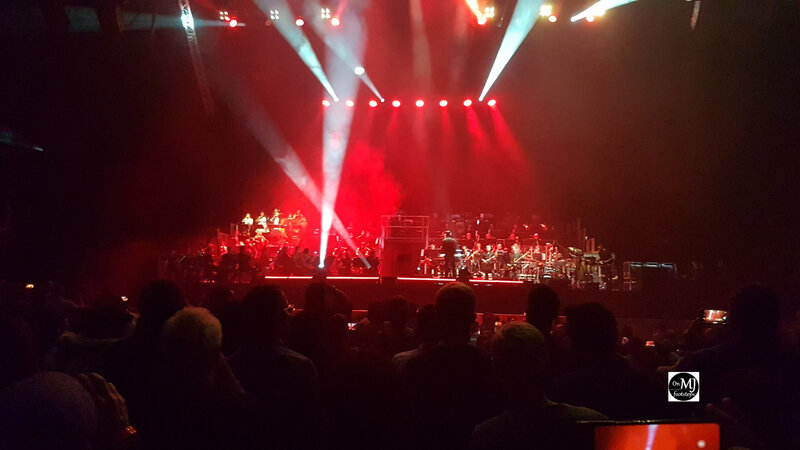 Michael Jackson était une légende et seul un artiste de légende qui, par ailleurs connaissait son génie musical, pouvait être à la hauteur d'un tel hommage. Quincy Jones a fait les choses en grand, avec tout le talent qu'on lui connait.
Mention spéciale pour Sheléa et ses interprétations de The Lady in My Life et Liberian Girl. Des petits bijoux à vous donner la chaire de poule. La salle ne s'y est pas trompée !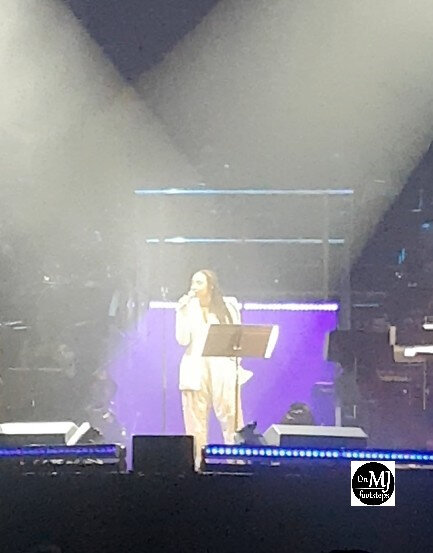 James Morrison, qui interprétait Man In The Mirror, a, quant à lui, été assez décevant. Il ne quittait pas des yeux les paroles et n'a fait que chanter le titre sans y mettre une quelconque originalité ou interprétation personnelle. On attendait mieux pour un titre aussi fort !
Les derniers morceaux du show faisaient référence plus largement à la carrière de Quincy. Des succès qui ne sont cependant pas inconnus du grand public, Give Me The Night de George Benson ou le célèbre Stomp des Brothers Johnson, le final de ce concert, avec la présence, évidemment, de Mister Q.
Entouré, entre autre, de Bob Geldof (Le Live Aid 1985, c'est lui !), de Naomi Campbell (Miss In The Closet !) et des invités du show, Quincy semblait radieux. "You cannot play records like those three records without respect, love and trust" ("vous ne pouvez pas jouer des disques comme ces trois albums sans respect, amour et confiance"), a-t-il déclaré à une salle, qui, même si elle n'était pas comble, était acquise à sa cause.
Oui, on n'oublie pas que Quincy Jones n'a pas toujours eu des paroles agréables avec Michael Jackson. Mais on ne peut renier son incroyable talent qui ont fait d'Off The Wall, Thriller et Bad des albums références. Quincy Jones est un artiste -producteur hors-pair et s'il fallait le voir au moins une fois dans sa vie sur scène, c'était pour ce fameux concert du 23 juin. Et j'y étais !
Reste que comme pour tout hommage dédié à Michael Jackson, aussi bon soit-il, on a forcément, à un moment du spectacle, une petite boule au ventre, en se disant que l'on ne l'entendra plus jamais interpréter lui-même ses chefs d'œuvres!
Le concert sera également à Paris, à l'AccorHotels Arena, le 27 juin 2019. Si la liste des invités s'annonce quelque peu différente, le show sera, à n'en pas douter, de la même qualité. (billets à partir de 56,50€). Si vous ne savez pas quoi faire……