Le Golden Apple Comics Store est un magasin de comics (bandes dessinées) ouvert sur Melrose Avenue, à Los Angeles, en 1979, par Bill Liebowitz et Thom Smitham. Au milieu des années 80, Liebowitz rachète les parts de Smitham et devient l'unique propriétaire, jusqu'à sa disparition en 2004. Sa femme Sharon et son fils Ryan ont depuis repris l'affaire, où de nombreuses personnalités viennent y faire un tour.
Michael Jackson, ce n'est plus un secret, était un grand fan des comics books. Il en possédait énormément chez lui et venait régulièrement faire ses achats au magasin Golden Apple, d'où il repartait non seulement avec des bandes dessinées, mais aussi avec des statues, des jouets ou des livres.
Au début du mois d'octobre 2008, Michael Jackson amène ses enfants au comics store. Les paparazzi sont évidemment présents et veulent photographier ses enfants, dont on ne connait pas le visage à cette époque. Sharon Liebowitz tente de remédier à cela en offrant à Paris, un masque de Madman, le super-héros de bande dessinée créé par l'Américain Mike Allred. Michael Jackson lui-même portait un masque chirurgical, comme cela lui arrivait souvent, et des lunettes noires.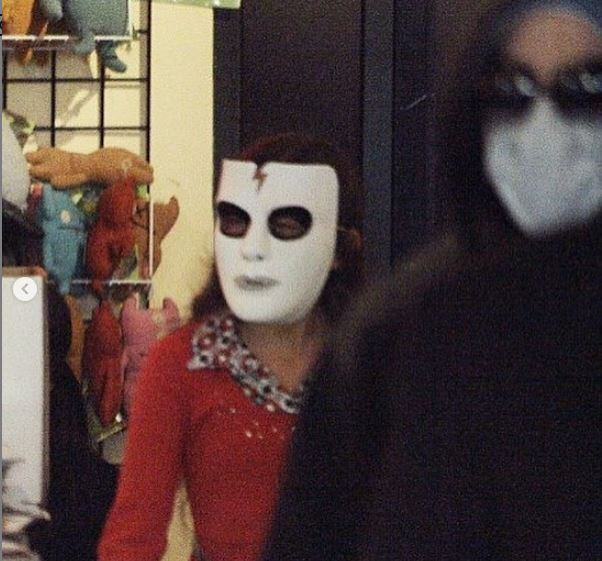 Le magasin possède une pomme en or, probablement son "talisman". Michael Jackson a toujours souhaité l'acheter mais Bill, le propriétaire, refusait systématiquement, indiquant qu'elle n'était pas à vendre. Et le chanteur insistait à chacune de ses venues. En 2002, il a à nouveau fait sa requête. Ce jour là, Bill la lui a donné à une condition : qu'il retire tout ce qui cachait son visage afin de prendre une photo avec la pomme dorée. Michael a accepté et la photo a été stockée dans les archives du magasin …. jusqu'à hier. Le 25 juin 2019, elle a été postée en hommage à Michael Jackson, sur la page instagram du Golden Apple Comics Store.
Une adresse de plus onmjfootsteps!
Golden Apple Comics Store : 7018 Melrose Avenue, Hollywood, Los Angeles
---
"To take a picture
Is to capture a moment
To stop time
To preserve the way you were"
Michael Jackson