Nous sommes en décembre 2002, Michael Jackson est à la recherche d'une propriété en Floride où il passe beaucoup de temps. Un soir, son agent immobilier l'invite à dîner et le Roi de la Pop accepte.
Le site dailymail.co.uk a publié cette histoire insolite mais apparemment bien réelle. And so MJ !
A gauche sur la photo, en haut, l'ami de Michael en proxénète, en bas, l'agent immobilier en chevalier. A droite sur la photo, Darron Goldman en Obi-Wan. Au centre, le Roi Michael!
Ce n'est pas tous les soirs que le roi de la pop vient dîner, demande à manger KFC et Domino's et enfile une couronne en or dans votre salon. Mais c'est exactement ce qui s'est passé chez Sue et Darron Goldman qui n'ont pas réussi pas à en croire leurs yeux. Au cours d'une soirée de décembre 2002, la légende de la musique Michael Jackson s'est retrouvée sur le pas de la porte de la maison du couple.
Le Roi de la Pop était en Floride à la recherche d'une nouvelle propriété et, après un après-midi à visiter des manoirs près de Palm Beach, son agent immobilier lui a proposé de l'emmener dîner. Michael a accepté, mais a insisté pour qu'il évite les restaurants ou les lieux publics. L'agent immobilier lui a donc suggéré quelque chose d'un peu plus intime.
"Notre ami a appelé et a dit: 'Je suis avec Michael Jackson, pouvons-nous venir dîner?'", explique Sue, 55 ans, qui vit à Jupiter en Floride avec son mari Darron, 58 ans. "J'ai fait : 'Quoi!'", Il appelait sans prévenir et je me suis dit qu'il plaisantait, mais une heure plus tard, le roi de la pop était à ma porte. C'était vraiment la soirée la plus surréaliste que j'ai jamais vécue, nous en rions encore aujourd'hui."
Sue a demandé à son ami ce qu'elle devait cuisiner pour Michael Jackson, qui voyageait avec ses deux enfants, Prince, alors âgé de cinq ans, et Paris, quatre ans. « Il m'a dit que Michael voulait manger KFC et Domino's Pizza. J'ai couru jusqu'au drive de KFC et j'ai pris une grosse commande de poulet ordinaire et extra-croustillant, puis je suis allée acheter des pizzas. Michael avait également demandé du soda à l'orange, apparemment, il adorait cela."
Michael Jackson est arrivé à 17h avec l'agent immobilier, les enfants de la star et un ami du chanteur. "J'ai suis sortie en courant de la maison pour les accueillir", se souvient Sue. "Michael était vraiment gentil et il a dit qu'il aimait notre maison. Une fois à l'intérieur, il a demandé à visiter et je l'ai emmené à l'étage. Nous nous sommes ensuite assis dans le salon et je suis allée dans la cuisine pour préparer le repas. Michael était très amusant, c'était un type normal. Il a dit qu'il connaissait les Bee Gees qui vivaient en Floride. Nous avions une conversation légère. Il avait l'air d'être un père très présent, il s'est assuré que ses deux enfants mangent quelque chose."
Une amie de Sue et Darron étaient aussi présentes ce soir là. "Il y avait six adultes et cinq enfants, dont les deux nôtres, âgés de quatre et deux ans, c'était très intime."
Après le dîner, tout le monde est allé sur quai situé derrière la maison familiale pour regarder le coucher de soleil.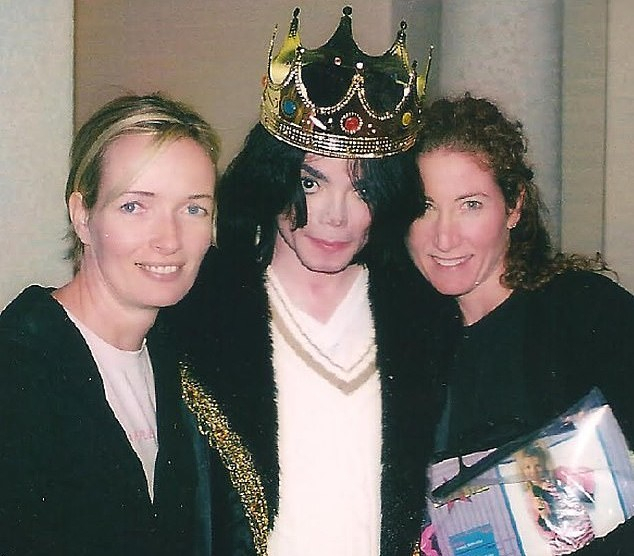 Sue Goldman (à gauche sur la photo) avec Michael et l'amie présente ce soir-là
Mais pour rendre la soirée inoubliable, le couple, qui dirige une entreprise de déguisements, a demandé à Michael Jackson si lui et ses enfants souhaitaient essayer des costumes après le dîner. "Ils ont accepté avec enthousiasme, Prince voulait être un super-héros et Paris, Spiderman, ce que je trouvais étrange pour une fille", se souvient Sue. "Puis Michael a dit: 'Je veux être un roi'."
"Mon mari et moi avons bien ri. Nous ne pouvions pas croire ce qui se passait, le Roi de la Pop voulait se déguiser en roi, c'était trop surréaliste. Darron est allé au magasin et a ramené toutes les tenues."
Après le dîner, Michael Jackson ayant manifesté son intérêt pour l'achat de costumes, Darron a emmené les hommes dans son bureau pour discuter d'affaires. Ensuite, le groupe a décidé qu'il était temps de se déguiser.
"L'agent immobilier s'est déguisé un proxénète, mon mari était Obi-Wan Kenobi de Star Wars, l'ami de Michael s'est transformé en un chevalier et Michael est devenu un roi. Michael a aidé les enfants à mettre leurs costumes et je l'ai aidé à enfiler sa robe royale. Ils étaient tous ravis, surtout Paris en Spiderman."
"J'ai eu l'impression que Michael aimait vraiment faire ce genre de choses, il adorait se déguiser et jouait vraiment le rôle."
Sue a pris quelques clichés de la soirée, y compris une photo de groupe dans le bureau de son mari. Michael Jackson ne lui a toutefois pas permis de prendre les enfants en photo - à ce moment-là, leur visage était un secret gardé.
Sur les photos, en arrière-plan, on aperçoit un énorme dragon bleu : il s'agissait d'un accessoire de la société de costumes du couple. Michael s'est assis dans une vieille chaise ornée en bois - le trône idéal pour un roi de la pop - et il tient une carte de Noël que lui avait donnée Sue. "Il y avait une photo de ma famille sur le devant, il l'a aimée et l'a gardée toute la soirée."
"Michael nous a remerciés pour cette merveilleuse soirée et nous a même invités à Neverland."
Un peu avant minuit, tout le monde est parti. Michael Jackson est sorti de la maison en gardant sur lui la couronne et la robe de roi. "Les enfants et lui ont tellement aimé leur tenue que nous leur avons dit qu'ils pouvaient les garder. "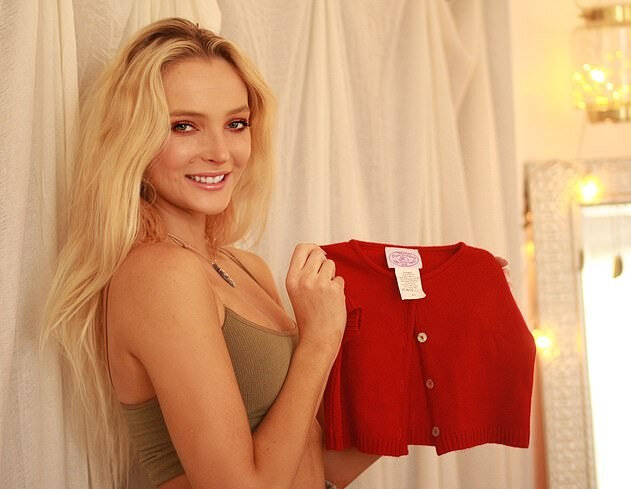 Sue affirme que Paris a oublié un petit pull rouge, qu'a gardé Alexandra, la fille du couple aujourd'hui âgée de 18 ans, étudiante en médecine et actrice en herbe.
"Ca a été une excellente soirée que nos ne sommes pas près d'oublier."
Sources: dailymail.co.uk /mjvibe.com (traduction onmjfootsteps.com)
Note: L'agent immobilier ressemble fortement à Alex Farschian, un médecin de Floride, aux méthodes un peu spéciales, avec qui Michael s'était lié à partir de 2001. A confirmer.
---
"To take a picture
Is to capture a moment
To stop time
To preserve the way you were"
Michael Jackson