Larry Banares est un chef cuisinier originaire de San Diego, très réputé dans le milieu culinaire américain et international. Il a cuisiné pour les plus grands hôtels (The Queen Mary, l'hôtel Disneyland d'Anaheim, des hôtels de la chaîne Hilton, …) et pour les plus grands noms (le Sultan de Brunei, Gloria Macapagal-Arroyo, la présidente des Philippines entre 2001 et 2010, ….). En 2009, après la disparition de Michael Jackson, il a évoqué son expérience auprès du chanteur qu'il avait rencontré lors de ses séjours à l'hôtel Disneyland, en Californie.
"J'étais le chef cuisinier du Disneyland Hotel à Anaheim et c'est là que j'ai commencé à cuisiner pour Michael Jackson dans les années quatre-vingt, d'abord avec son chef personnel, Mani Khalsa, qui cuisinait chez lui, puis tout seul.
Je venais d'être sélectionné comme membre de l'équipe culinaire américaine, un parcours prestigieux, et j'allais remporté par la suite trois médailles d'or Olympiques au cours de cette compétition mondiale, en tant que premier Américain sino-philippin dans ce groupe de chefs d'élite. Alors, qui de mieux pour cuisiner pour Michael Jackson dans sa "deuxième maison" qu'un chef cuisinier international primé?
Mani Khalsa et moi-même nous coordonnions sur les menus et la liste des produits par fax (il n'y avait pas de courrier électronique à l'époque), et les visites fréquentes de Michael sont devenues ma préoccupation principale.
Michael Jackson a visité Disneyland à plusieurs reprises au plus fort de sa carrière et j'ai eu la chance de pouvoir cuisiner pour le King of Pop chaque fois qu'il séjournait chez nous.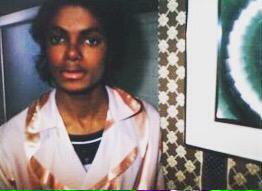 Michael Jackson dans sa suite de Disneyland au cours des années 80
Inutile de le préciser, son statut exigeait la plus grande sécurité et le plus grand soin. De nombreuses célébrités louent un étage entier lors de leur séjour dans un hôtel, mais pour Michael Jackson, c'était tout l'étage supérieur et l'étage inférieur qui étaient loués avec le sien. La logistique de planification de chacun des ses déplacements était ahurissante. De la mise en place de parcours alternatifs à destination et en provenance de sa suite, aux déguisements élaborés dont j'ai été témoin dans son salon, à la coordination de l'ensemble de son service de repas. C'était un effort incroyable pour que Michael se rende ou sorte du "Happiest Place on Earth" ("Lieu le plus heureux sur Terre").
Créer des menus pour Michael à l'époque était un petit challenge, car il était végétarien et nous suivions des directives strictes pour préparer ses repas. Bien que j'aurais bien aimé lui préparer quelques plats inspirés des Philippines, tels que mon Okoy, je devais respecter les idées de repas de Michael. Il prenait beaucoup de smoothies et des purées de fruits, des poêlées et des sandwichs végétariens, et son plat préféré, les enchiladas au tofu et au fromage avec une sauce tomate verte.
Lorsque Michael était à l'hôtel, j'arrêtais mes opérations quotidiennes pour être complètement disponible pour lui, son entourage et ses invités. Je mettais en place des zones de stockage spéciales pour les produits alimentaires de Michael, en mettant même de côté du matériel, comme des mixeurs, des ustensiles, des marmites et des casseroles réservés pour "la préparation des aliments de Michael uniquement". Je préparais la nourriture de Michael dans notre cuisine principale mais aussi dans sa suite, ce qui me permettait d'avoir un aperçu de sa vie personnelle, aussi personnelle que cela pouvait être, avec les nombreux personnels et assistants qui l'entouraient.
J'étais dans la suite de Michael pour préparer ses dîners et, parfois, il recevait de grands groupes de personnes. Michael venait dans la cuisine pendant que je cuisinais et faisait des commentaires sur "comment la nourriture sentait bon". Il lui arrivait même de goûter à ce que je préparais et de commenter favorablement. C'est au travers de ces échanges que je me suis rendu compte que Michael était une personne douce, calme et respectueuse. Il n'a jamais été exigeant ou prétentieux. Et ces sentiments allaient se confirmer quelques jours plus tard. Un soir, Michael est venu dans la cuisine, m'a doucement pris par le bras et m'a dit: 'Chef, vous allez vous asseoir et dîner avec nous.' Totalement pris au dépourvu par la sollicitude et la générosité de Michael, j'ai d'abord décliné mais Michael a insisté et je me suis rapidement retrouvé assis au bout de la table. Timidement, je remuais ce qu'il y avait dans mon assiette en regardant le King of Pop dîné.
Après avoir cuisiné pour Michael à plusieurs reprises, ma famille et mes amis m'ont demandé de prendre une photo avec lui en souvenir. Je n'étais pas un chasseur d'autographes, et je ne voulais pas lui imposer une photo ou lui demander un autographe. Mais j'ai finalement succombé, réalisant que je devais documenter d'une manière ou d'une autre mes expériences avec Michael. Ainsi, lors d'une visite, j'ai eu suffisamment de courage pour apporter un appareil photo dans sa suite. Je n'arrêtais pas de sortir l'appareil photo de ma poche chaque fois que je pensais que l'occasion était bonne, mais pour le remettre aussitôt, à cause de ma timidité. Et j'ai réalisé que Michael allait bientôt quitter l'hôtel : je devais saisir ma chance ou je devrais peut-être attendre jusqu'à sa prochaine visite. Alors que Michael se dirigeait vers moi dans le couloir, il m'a vu tâtonner pour sortir l'appareil photo. Témoignant à nouveau de sa gentillesse, il a fait retomber toute la pression en disant: 'Prenons une photo! ' et il a pris l'appareil, l'a donné à l'un de ses assistants qui a pris la photo.
L'image de la méga-star de Michael a été créée par le personnage. Il lui était nécessaire d'avoir de nombreux assistants, car les exigences qui lui étaient imposées étaient immenses, mais je pense que si son personnage exigeait un traitement ultra-VIP, ce n'était pas le cas de Michael, la personne.
Un exemple à ce sujet est très parlant : un jour nous avions égaré la glace de Michael. Après de nombreuses recherches, à retourner toute la suite, nous l'avons finalement retrouvée, totalement fondue. À contrecœur, je l'ai signalé à l'aide de Michael Jackson, terriblement inquiet parce que c'était le dessert de Michael ce soir-là. L'aide est revenue me voir en disant calmement: 'La crème glacée ne pose pas de problème. Mais pouvons-nous utiliser votre héliport, car nous allons recevoir une pinte [environ 500ml] de la crème glacée préférée de Michael livrée par hélicoptère pour son dîner de ce soir.' C'est le traitement qu'une méga star demande, mais je suis sûr que Michael se serait facilement contenté d'une coupe de fruits ou d'un autre dessert s'il avait su les efforts que cela demandait pour avoir de la crème glacée. [...]
Michael Jackson "Le meilleur du monde" était malheureusement prisonnier de sa gloire. Et pour cette raison, il menait une vie controversée et tumultueuse, amenant beaucoup à spéculer. Ces impressions sont souvent basées sur ce que l'on voit ou entend, mais rarement sur ce que l'on sait vraiment. J'ai été personnellement témoin de la gentillesse, de la quiétude et de l'humilité de Michael. Et c'est ainsi que je me souviendrai toujours de Michael Jackson."
Source: bakitwhy.com (traduction: onmjfootsteps.com)