Nombreuses semblent être les sources d'inspirations de Ghosts, le mini film de et avec Michael Jackson, dont le scénario, remanié en 1996, est à l'origine de Stephen King, le maître de l'horreur. On a évoqué le film Edward aux mains d'argent, dont Michael Jackson était un grand admirateur, pour le personnage atypique, isolé de tous. Mais il comporte surtout de nombreuses références à ce qu'endure le chanteur dans sa carrière et dans sa vie personnelle à cette époque-là : un homme incompris (Maestro), l'opinion publique contre lui (les villageois adultes) et le maire, représentant de l'autorité, qui n'a qu'un seul but : se débarrasser du Maestro, tout comme le procureur du comté de Santa Barbara, Tom Sneddon, mènera sa propre croisade pour faire tomber la star dès 1993.
Les fans ont toujours pensé que le Mayor dans Ghosts (d'ailleurs interprété par Michael Jackson lui-même, méconnaissable) était donc une métaphore de Tom Sneddon. Le Mayor mène les villageois à la sombre demeure de Maestro comme Sneddon a mené la police à Neverland.
Cela n'aurait d'ailleurs pas été la première fois que le chanteur aurait attaqué le procureur. On se souvient notamment de la chanson D.S. sur l'album HIStory, en 1995 dans laquelle Michael s'en prend à un "cold man" Dom Sheldon (D.S.), qui est en fait Tom Sneddon, comme le prouve les notes de Michael ci-dessous. La chanson s'appelait initialement T.S.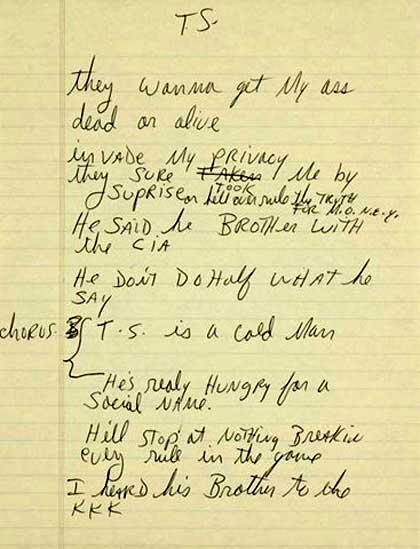 Il faut pourtant se souvenir que le projet Ghosts naît en 1993. Dans la version initiale, appelée Is This Scary, que l'on a découverte en 2015 (à lire ici), le maire est déjà présent, joué alors par Ken Jenkins. Pourtant Michael Jackson n'était pas encore au courant des accusations qui pesaient contre lui, au moment de ce premier tournage. Pourquoi donc aurait-il voulu insérer dans son short film un personnage qu'il ne connaissait pas encore ?
En 1996, lorsque le projet est retravaillé, Michael Jackson endosse le rôle du maire et en dehors du costume, le Mayor de 1993 et celui de 1996 ne se ressemble pas ou peu. Physiquement le Mayor de Ghosts n'a pas grand chose à voir non plus avec Tom Sneddon, seul leur volonté vindicative les rapproche.
The Mayor/Ken Jenkins dans Ghosts en 1993 The Mayor/Michael Jackson dans Ghosts en 1997
Tom Sneddon
Quelle est alors l'image du Mayor voulue par Michael Jackson?
On sait bien que la star aimait transmettre des messages au travers de ses vidéos et un fait historique, peu connu en dehors des Etats Unis, pourrait être finalement la référence sur laquelle Michael s'est basée pour créer The Mayor. Un fait qui met en avant le problème des droits civiques aux Etats-Unis, et qui va permettre au chanteur d'aborder ce que les Noirs subissent encore aux Etats-Unis dans les années 90 et qui n'a jamais vraiment disparu : le racisme.
L'affaire Emmett Till
Nous connaissons tous l'affaire Rosa Parks, cette Afro-Américaine, qui le 1er décembre 1955, en refusant de céder sa place, réservée aux blancs, dans un bus de la ville de Montgomery, en Alabama, allait déclencher le mouvement des droits civiques, menés par Marthin Luther King et qui aboutira à modifier en profondeur, non sans victime, la société américaine.
Ce que nous connaissons un peu moins, c'est l'affaire Emmett Till, qui a eu lieu quelques mois plus tôt, en août 1955, à Money, dans l'état du Mississippi.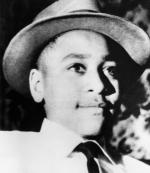 Emmett Till est un adolescent de 14 ans, originaire de Chicago. Le 21 août 1955, sa mère l'envoie en vacances chez son grand-oncle, à Money, dans le comté de Tallahatchie. Quatre-vingts dix ans après la fin de la guerre civile américaine et l'abolition de l'esclavage, le Sud est toujours profondément ancrée dans ses idées racistes et les lynchages et les meurtres à motivations raciales n'y sont pas rares. Emmett Till est d'ailleurs mis en garde par sa mère avant son départ. Mais le jeune homme veut faire le malin, et le 24 août, il se rend dans une épicerie locale, tenue par un couple de blancs, et va aller à l'encontre des règles du Sud : oser aborder une femme blanche et tenter de la séduire. Carolyn Bryant est la propriétaire de l'épicerie. Son mari, Roy Bryant, est absent et il apprendra le comportement osé de l'adolescent envers sa femme à son retour quelques jours plus tard. La nuit du 28 août 1955, Roy Bryant et son demi-frère J.W. Milam enlèvent Emmett Till dans la maison de son oncle et le transportent dans une plantation du comté voisin où il est torturé et battu au point d'en devenir méconnaissable. Son corps sera retrouvé trois jours plus tard dans la rivière Tallahatchie dans un état horrible que même un séjour dans l'eau ne pouvait expliquer. Le grand-oncle d'Emmett Till identifiera pourtant la chevalière de l'adolescent, héritée de son père disparu en 1945.
Commence alors un long combat pour la famille du jeune garçon. Pour son grand-oncle, Mose Wright, sommé de laisser le corps dans le Mississippi et qui, en refusant, puis en témoignant contre Roy Bryant au tribunal, devra fuir pour éviter des représailles. Pour sa mère, Mamie Till, qui veut que le monde découvre à quel point sont fils a été martyrisé et laisse ouvert le cercueil durant les funérailles alors que les pompes funèbres l'avaient scellé. Les photos du cadavre défiguré sont devenues historiques et reflètent toute la haine du Sud raciste.
Martin Luther King et la NAACP (National Association for the Advancement of Colored People), organisation américaine de défense des droits civiques, apportent leur aide à la mère du jeune Emmett.
En septembre 1955, au terme d'un procès de cinq jours et après seulement soixante-sept minutes de délibération, les deux suspects, Roy Bryant et J.W. Milam sont acquittés par un jury composé de douze hommes blancs.
Bien avant l'affaire Rosa Parks, des manifestations et parfois des émeutes éclatent un peu partout aux Etats-Unis pour dénoncer ce jugement et amorcent le long combat pour les droits civiques qui deviendra historique. Rosa Parks dira elle-même avoir pensé au jeune Emmett Till en refusant de laisser sa place dans le bus.
Quel lien entre Ghosts et cette affaire ?
J'imagine que c'est la question que vous vous posez ;)
C'est un personnage, assez diabolique semble-t-il, et extrêmement raciste qui ressort de cette affaire, un personnage clé que l'histoire – et même l'Histoire – a fait émerger et dont Michael Jackson s'est probablement emparé pour son personnage du Mayor. Il suffit de voir sa photo pour comprendre, la ressemblance est frappante !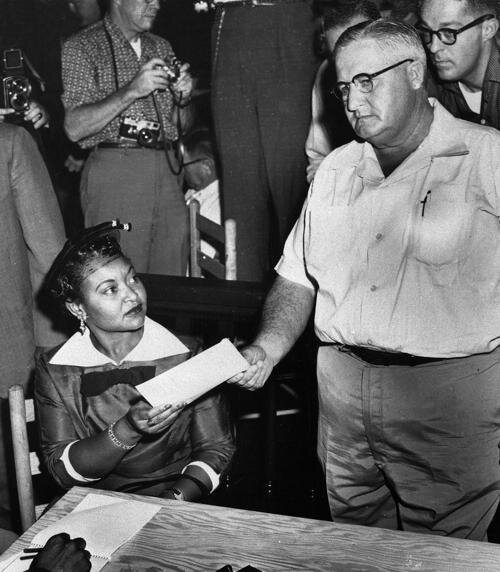 Mamie Till Bradley, la mère d'Emmett Till, et le shérif H.C.Strider en 1955
Henry Clarence Strider était un homme imposant, de cent vingt kilos. Propriétaire d'une plantation de coton, il était aussi et surtout le shérif du comté de Tallahatchie au moment des faits et s'est donc retrouvé en charge de l'affaire.
Il est arrivé le premier sur les lieux après que le corps d'Emmett Till ait été découvert par un pêcheur. Il espérait pouvoir obliger son grand-oncle à enterrer le corps (et l'histoire avec) mais au lieu de cela, la mère du jeune homme l'a fait rapatrier à Chicago, obligeant ainsi les médias à s'intéresser au cas.
Strider annonce à la presse locale qu'il va examiner l'affaire et faire identifier le corps, ce qu'il ne fera jamais. Tout est fait, au contraire pour éviter de trouver le coupable.
Au cours du procès de Roy Bryant et J.W. Milam, Strider interdit aux journalistes Afro-Américains de pénétrer dans la salle d'audience. Lorsque le juge annule sa décision, le shérif les sépare des autres journalistes blancs. Un député noir du Congrès n'aura même pas cette chance, Strider le refusera tout simplement.
Strider prend aussi la décision inhabituelle de témoigner en faveur de la défense. Il affirme que le corps retrouvé dans le Mississippi n'était pas celui d'un adolescent de 14 ans et que son état après plusieurs jours dans l'eau avait empêché son identification. En sa qualité de shérif, il avait également fait secrètement coffrer un témoin important, un homme noir, chargé par Bryant et Milam le soir du crime de ficeler le jeune Emmett.
Après l'annonce du verdict, Strider félicitera les accusés.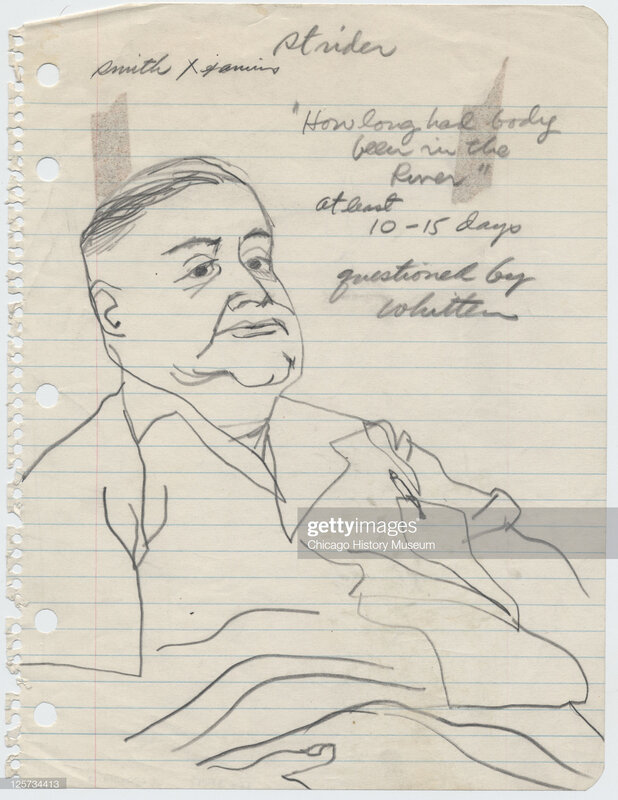 Croquis de Strider au moment du procès en 1955
Le message de Ghosts
En s'emparant de l'image de H. Clarence Strider, Michael Jackson s'empare également d'un thème qui fait encore et toujours débat aux Etats-Unis: la suprématie blanche.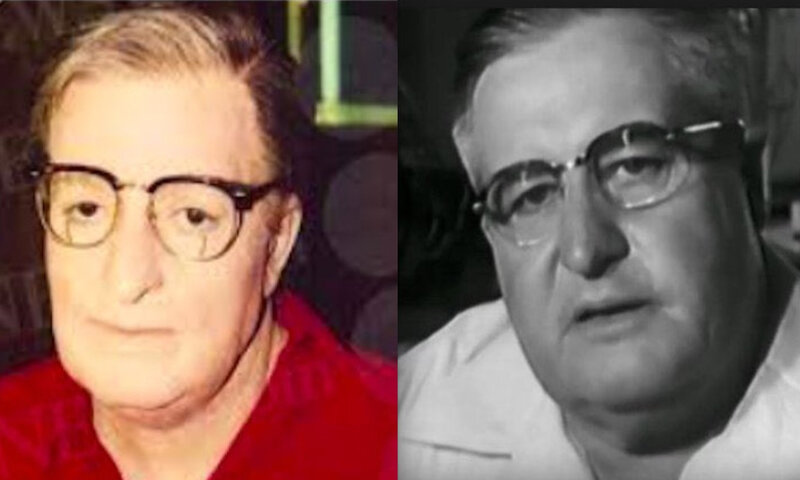 Au début de sa carrière en solo, Michael Jackson a souvent eu à se battre pour imposer son art dans un milieu où les artistes blancs régnaient en maître. Ce qui vient tout de suite à l'esprit c'est le refus de MTV, en 1983, de diffuser le short film Billie Jean. L'ascension prodigieuse du petit garçon noir de Gary, banlieue très pauvre de Chicago, a gêné de nombreuses personnes aux Etats-Unis. Modèle de réussite du rêve américain, il a aussi fait sortir la musique noire des ghettos où elle était enfermée. Mais lorsqu'il rachète les droits du catalogue ATV, en 1985, il devient l'un des hommes les plus riches dans une Amérique toujours aussi raciste et ce n'est pas du goût de tout le monde.
Dans Black or White, en 1991, puis avec They Don't Care About Us, en 1995, Michael Jackson délivre en chanson son message contre le racisme. Avec Ghosts, il passe à un niveau supérieur, en utilisant un personnage raciste comme meneur de troupes. The Mayor, comme H.C. Strider, dans les années 50 et bien d'autres après lui – Sneddon en fera partie – porteurs du pouvoir blanc, pensent pouvoir se débarrasser d'un homme sous prétexte qu'il n'est pas comme les autres. The Mayor n'hésite pas à appeler The Maestro/Michael "The Freak" (le Monstre), comme les hommes blancs surnommaient à l'époque "Nigger" (Nègre), les hommes noirs.
Le propos final est cependant clair, le racisme ne gagnera pas. La mort du Mayor symboliserait ainsi la mort de la suprématie blanche. Une utopie certes, mais un message fort. Emmett Till a été un martyr des droits civiques, Michael Jackson, lui, ne se posera pas en martyr de la société américaine.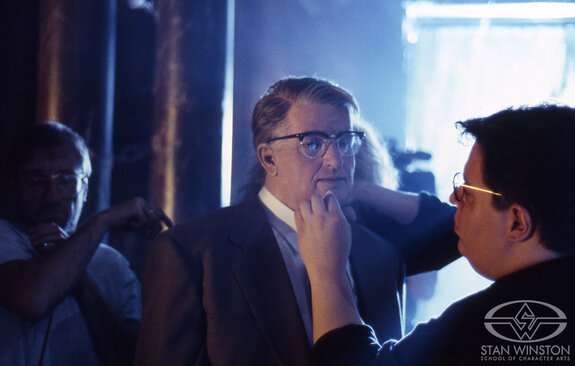 Alors Ghosts était-il un short film autobiographique, où The Mayor incarnait un de ceux qui ont voulu la perte de Michael Jackson, le procureur Tom Sneddon (qui avait aussi évoqué, en 2003, le chanteur comme "un homme que tout le monde appelle Jacko Wacko") ou a-t-il été le moyen pour le King of Pop de se lâcher contre une société raciste et ségrégationniste ?
Mais en y réfléchissant bien, y a-t-il vraiment une différence ?