Tony Villanueava a été l'assistant du designer Bill Whitten pour la première fois sur la tournée Victory des Jackson en 1984.
Il a ensuite travaillé avec Michael Bush et Dennis Tompkins sur toutes les tournées de Michael Jackson, ainsi que sur le tournage de Ghost.
Chargé de s'occuper des costumes de scène de Michael, il partage sur sa page instagram des photos et des souvenirs de cette longue période auprès de Michael.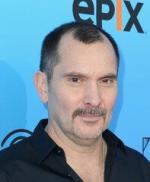 [L'article sera mis à jour en fonction des publications de Tony Villanueva]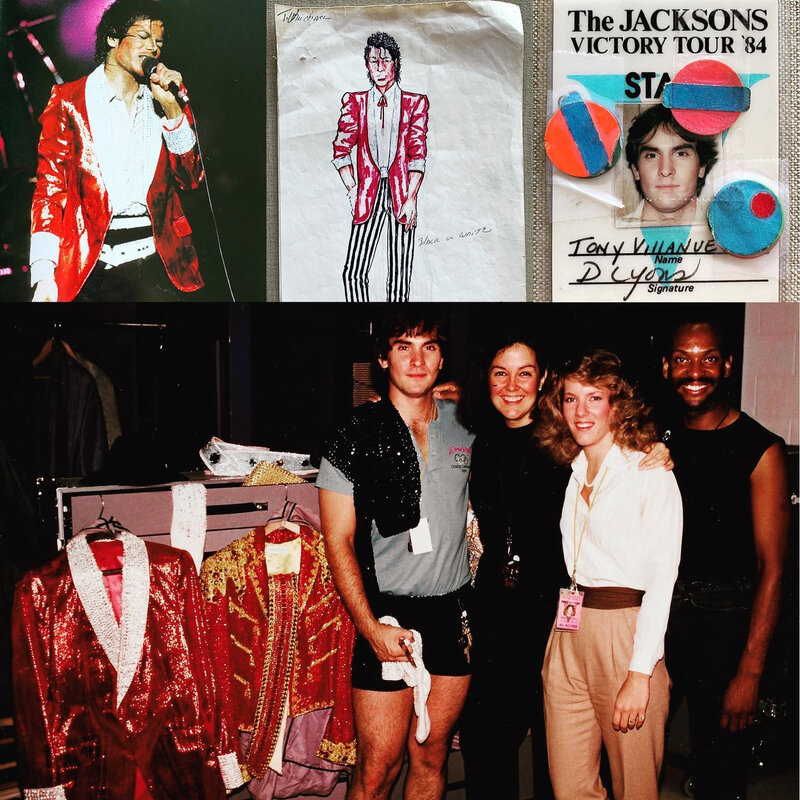 "Michael dans la veste qu'il n'a portée qu'une fois
Le croquis de la veste. Nous n'avions que des photocopies à l'époque.
Mon Pass : les points me donnaient accès au dressing des frères
L'équipe chargée des costumes. Moi, Mary Jane, Janet et Greg" (de gauche à droite)
"Le Victory Tour a été mon premier travail en tant que costumier sur une tournée. Bill Whitten m'avait embauché comme assistant et m'a finalement proposé le poste d'habilleur de Michael. Je n'ai pas vu le truc venir.
Je me souviens de la première fois que j'ai rencontré Michael. Nous étions en répétitions dans un studio et je lui ai dit: 'C'est un plaisir de te rencontrer, j'ai beaucoup entendu parler de toi.' Dieu merci, il a rigolé ! Il avait du en entendre !
Michael n'a pas fait de Thriller Tour. Mais le Victory Tour en était un. Et c'était la dernière tournée avec tous les frères. Elle n'est passée qu'aux Etats-Unis et a duré que six mois seulement, mais tous les stades étaient complets. Excitant n'est même pas le mot qui convient pour décrire cette tournée.
Bill avait dessiné trois caisses de costumes pour Michael. Michael a choisi ses favoris et en a rarement changé. Il n'a porté cette veste rouge Elvis qu'une seule fois. Et il l'a ensuite jetée dans le public !!
Bill a demandé à Michael de porter ce pantalon à rayures noires et blanches pour le premier concert. Michael le détestait. Il lui a dit "prend-le et brûle-le, on dirait que je ressemble à Yankee Doodle Dandy".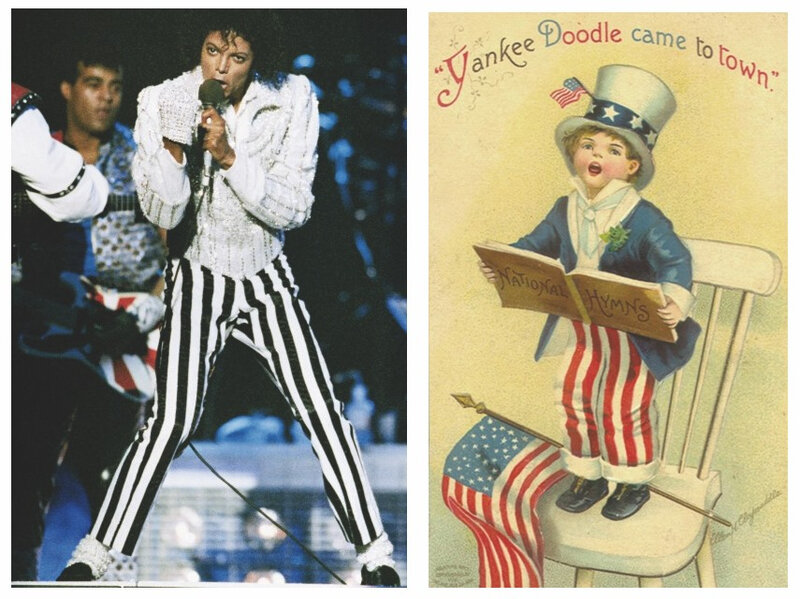 [Yankee Doodle Dandy est un film musical américain de 1942 qui raconte la vie du compositeur George M. Cohan, né un 4 Juillet et sans doute prédestiné puisqu'il sera amené à chanter la gloire de l'Amérique dans tout le pays, et invité à la Maison Blanche pour être félicité.
Yankee Doodle est aussi un chant patriotique utilisé par les américains, actuellement l'hymne de l'État du Connecticut.]
Michael Jackson porte la veste rouge juste à coté de Tony Villanueva sur la photo
"Je ne savais même pas que cette photo existait (crédit à Sam Emerson, le photographe de tournée) [2ème photo]
Après la disparition de Michael, mon ami Michael Bush, qui, formait l'équipe de designers de Michael pendant de nombreuses années avec Dennis Thompkins, a du retrouver cette photo dans les archives et me l'a envoyée par e-mail. C'était un merveilleux cadeau. Sinon, elle aurait été perdue à jamais. J'adore la couleur et la composition de cette photo. Si vous faites attention au regard de Michael, vous pouvez voir qu'il admire le graphisme sur mon T-shirt. Il s'étonnait de tout, comme un enfant. C'est comme ça qu'il était !"
Un spectacle différent à Los Angeles. Victory Tour, novembre 1984.
L'équipe en charge des costumes : Mary Jane Wenzel, Janet Henry, Greg Upshaw, moi et Michael. C'était l'un des derniers concerts de Los Angeles. Il y avait une fête à l'hôtel après le spectacle. Nous prenions la photo littéralement debout dans la baignoire. Je ne me souviens pas pourquoi. Michael était vraiment super pour prendre des photos. Je pense qu'il savait que c'était important pour les gens.
Diana Ross devait venir au concert et Michael savait que j'étais un ÉNORME fan de Diana. Je portais mon T-shirt Diana Ross. Michael était comme un gamin il aimait le kitch, comme moi. Je portais donc des vêtements que je savais qu'il apprécierait.
Il était rare que Michael retire ses lunettes. Je ne sais pas pourquoi il l'a fait à ce moment-là.
Voici des publicités du LA Times pour le concert. Les choses ont beaucoup changé depuis. 30,00 $, cela représentait beaucoup d'argent pour des billets. Les gens étaient fous.
Lors d'un des derniers concerts au Dodger Stadium, Michael a eu besoin d'une serviette. Les frères sont allés dans leur 'Quick Change' [endroit où un artiste change rapidement de costumes en coulisses] sur le côté droit de la scène et en ont partagé une. J'ai supposé que Michael viendrait vers moi en coulisses pour prendre une serviette. Mais au lieu de cela, il m'a fait signe de lui apporter sur scène. J'ai senti mon sang se glacer dans mes veines. Il était sérieux? Aller sur scène? Wayne Nagen, qui faisait partie de sa sécurité, m'a dit: 'on aurait dit que tu allais t'évanouir'. Je suis presque sûr que Michael a fait ça en guise de remerciements. Un moment de reconnaissance. Michael était quelqu'un de sympa et réfléchi."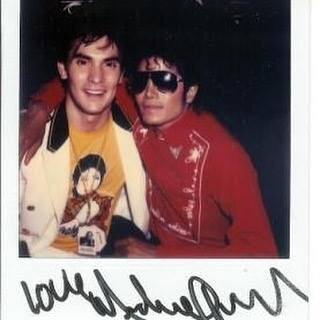 "Le Victory Tour de 1984 a été mon premier travail de costumier et j'ai dû m'occuper de Michael (merci à Bill Whitten, le designer). Cette photo a été prise lors de la fête, à la fin de la tournée. Michael partait mais il a absolument voulu s'arrêter pour prendre cette photo. De par sa position corporelle, on voit qu il a insisté pour prendre la photo. Lui savait que c'était important, mais je ne le réalisais pas à l'époque. Il était ainsi. C'est lui qui m'a donné le T-shirt que je porte sur la photo. Je l'ai toujours. Il n'y aura jamais quelqu'un d'autre comme lui."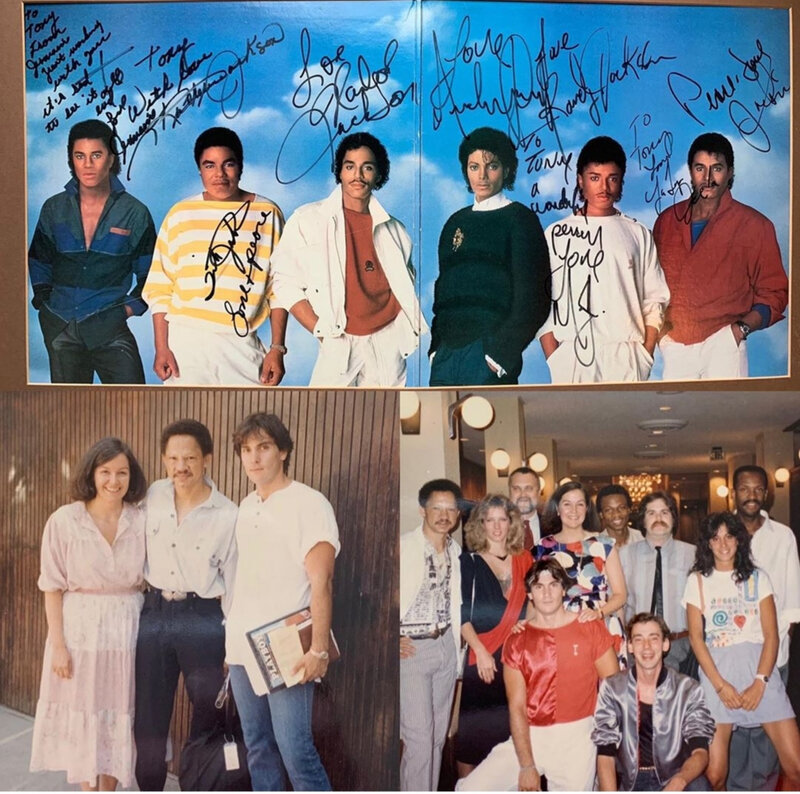 "Dans les coulisses du Victory Tour, mon album personnel.
Chaque frère avait fait une chanson pour l'album Victory.
On quitte la maison de Bill Whitten pour partir en tournée
Sortie nocturne à Birmingham, il n'y a pas plus 80's."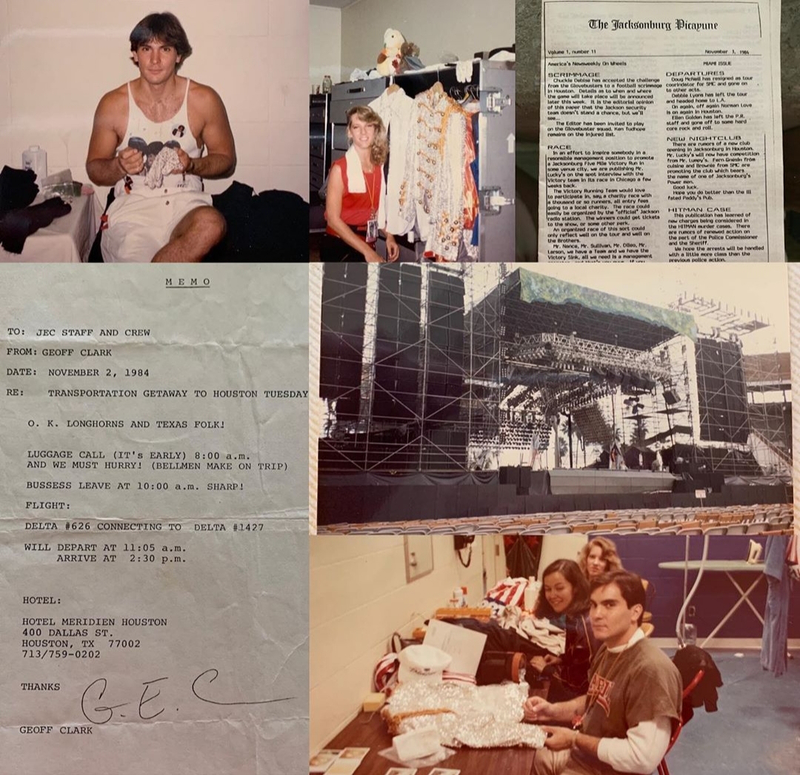 "Je répare le gant. Tout doit être parfait pour les fans de Michael.
La costumière de Jermaine, Janet, avec une des vestes préférées de Michael.
Une newsletter de la tournée était régulièrement publiée. Je les possède encore toutes.A l'époque, pas d'ordinateur, quelqu'un venait les glisser sous les portes de chaque membre.
Construction de la scène du Victory Tour. Le 'Quick Change' des frères était juste derrière ces échaffaudages. Tout le monde se partageait le même espace.
Réparation des vêtements."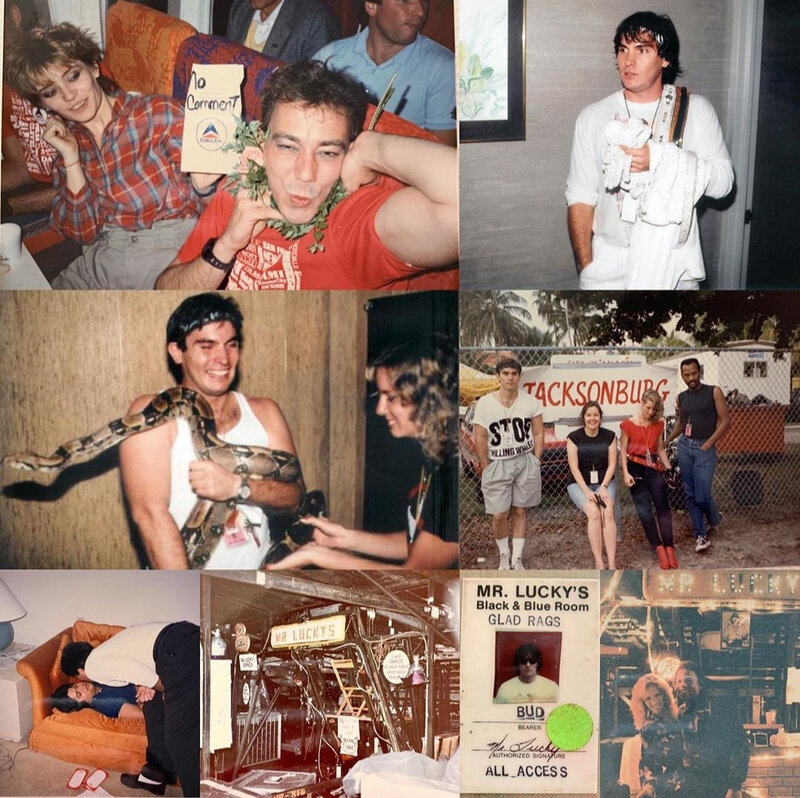 "Dans l'avion.
Lavage du linge.
Muscle, le serpent de Michael. Il avait aussi un furet nommé Ferret Fawcett, un cadeau de Barbara Walters. [Ferret signifie furet en français]
A JacksonBurg
Miko Brando. Ne jamais, jamais faire une sieste en tournée !
Le club Mr Lucky's, l'équipe de montage sous la scène.
Sur l'album Victory qu'il m'a signé Michael avait écrit 'Pour Tony, une merveilleuse personne.'
C'était ce qu'il était."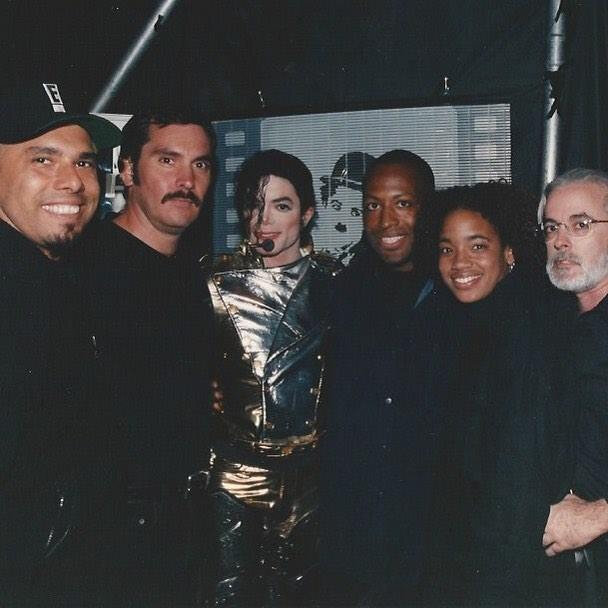 "Michael Jackson le Roi – L'équipe de costumiers de la tournée HIStory en 1996.
La photo a été prise dans le Quick Change de Michael à gauche de la scène.
Sean Garcia, moi, Michael, Gerard Basel, Barbara Chennault qui supervisait et Michael Bush, le designer de Michael qui a fait un livre étonnant sur les costumes de M.J., The King of Style.
On y était."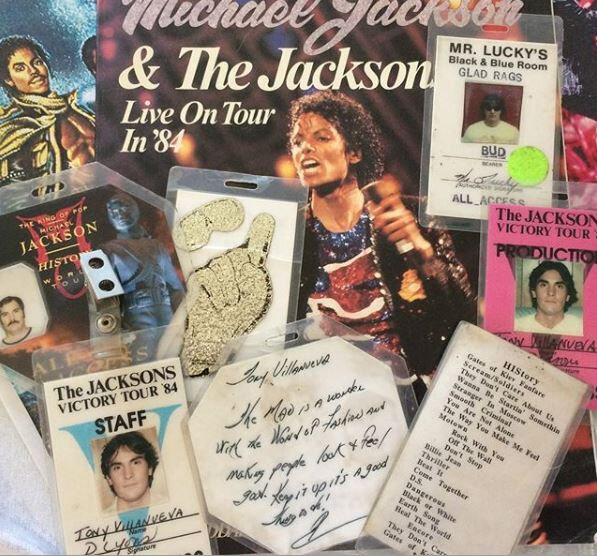 Sources : Compte Instagram de Tony Villanueva/ mjhideout.com (traduction: onmjfootsteps.com)