La région de Los Angeles regorge de parcs d'attractions à thèmes : si l'on pense bien sûr à Disneyland ou Universal Studios, qui font l'unanimité chez les touristes, ou au Six Flags Magic Mountain, populaire les adolescents et jeunes adultes, il existe d'autres parcs, plus petits mais tout aussi attrayants et ludiques. C'est le cas de Knott's Berry Farm.
Plus ancien parc de la Californie, Knott's Berry Farm est situé à Buena Park, à environ 40 minutes au sud de Los Angeles.
Au milieu des années 30, Walter et Cornelia Knott commencent à rencontrer le succès en cultivant une baie hybride baptisée mûre de Boysen. Leur comptoir de vente de produits de la ferme se transforme rapidement en restaurant auquel Walter Knotts va petit à petit rajouter des attractions - une ville fantôme notamment - pour divertir ses clients : Knott's Berry Farm naît en 1940 et s'aggrandira au fur et à mesure des années.
Actuellement, le parc est divisé en quatre zones principales : Ghost Town est la plus ancienne zone, avec des bâtiments pour la plupart d'origine et montés par Walter Knott. Fiesta Village, ouverte en 1969, la deuxième zone la plus ancienne, a été construite sur le thème de la pop culture mexicaine. Camp Snoopy est la zone avec les attractions dédiées à la famille et aux enfants. Elle est basée sur le personnage de Charles Monroe Schulz, le célèbre chien Snoopy, devenu depuis la mascotte du parc. The Boardwalk est probablement la partie la plus changeante du parc. La plus actuelle aussi. Dans les années 1970 et 1980, cette section s'appelait Roaring 20's et les attractions étaient très "vintages", comme sont nom l'indique. Depuis 1996, le thème de cette zone est inspiré par la "beach culture" californienne.
Fan de parc d'attractions, Michael Jackson n'a pas manqué de venir passer un moment à Knott's Berry Farm le 30 mars 1984.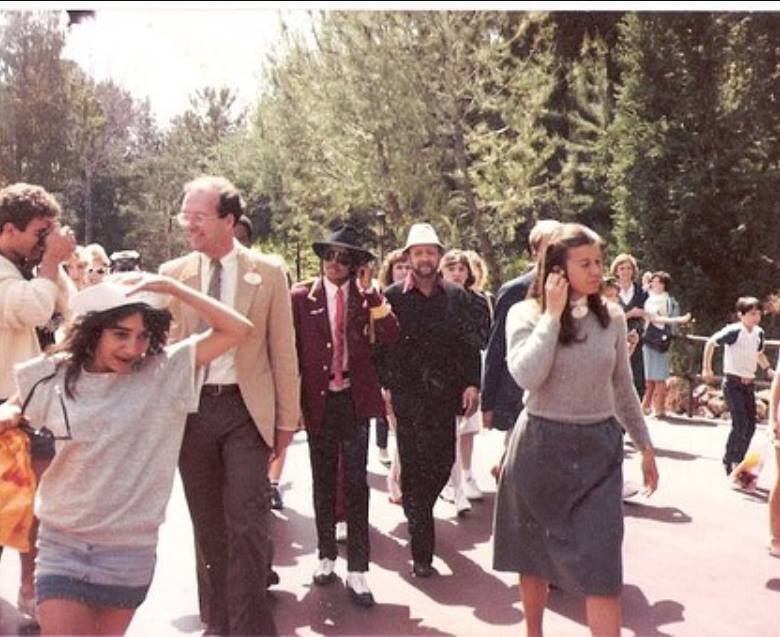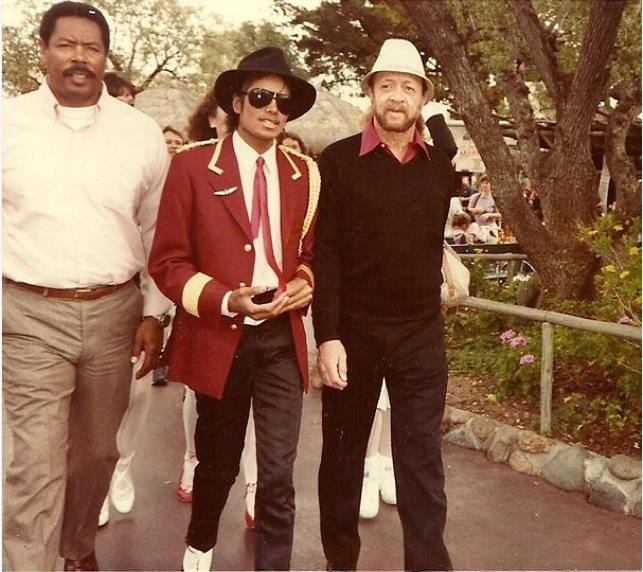 Accompagné de Bill Bray, Michael parcours donc le parc. Il se fait bien vite remarquer par les visiteurs, souvent surpris de le voir. Jamie, son mari Chuck et leurs deux jeunes enfants, Corie et Stacie, une famille américaine, étaient dans le parc ce jour-là. Lorsqu'elle a appris la disparition du chanteur en 2009, Jamie a posté des photos et s'est souvenue de ce moment: "J'étais assise sur rebord du trottoir avec Corie et Stacie était dans sa poussette. Chuck était aux toilettes. J'ai entendu une forte agitation et j'ai levé les yeux pour voir Michael Jackson arriver vers moi suivi de quelques gardes du corps et une petite foule derrière lui. Lorsqu'il est passé devant moi, je lui ai dit 'Salut Michael'. Il m'a saluée et m'a dit 'Bonjour'. Quand Chuck est revenu et je lui ai raconté ce qu'il venait de se passer et je lui ai dit 'Tu gardes les enfants, je vais essayer de prendre des photos de lui'. J'adore sa musique depuis que je suis une jeune fille, les Jackson 5 et les Osmonds c'est toute ma jeunesse." (1)
Michael est alors dans la zone Roaring 20's à ce moment là, venant d'être repéré par un groupe d'élèves en sortie scolaire qui l'a suivi dans certaines attractions.
Le chanteur profite aussi de The Timber Mountain Log Ride, dans la zone Ghost Town. Il s'agit d'une attraction de type bûches, l'une des premières de ce type, sorte de montagnes russes avec des véhicules de flottaison, à l'instar de Splash Mountains à Disneyland.
Michael Jackson est pris en photo auprès de Peanut (Snoopy), la mascotte du parc, devant le Good Time Theater. Walter Knott étant très ami avec l'acteur John Wayne, ce théâtre qui accueillait des shows sur glace s'est d'abord appelé the John Wayne Theater. Après la disparition du créateur de Snoopy, en 1999, il est devenu le Charles M. Schulz Theatre.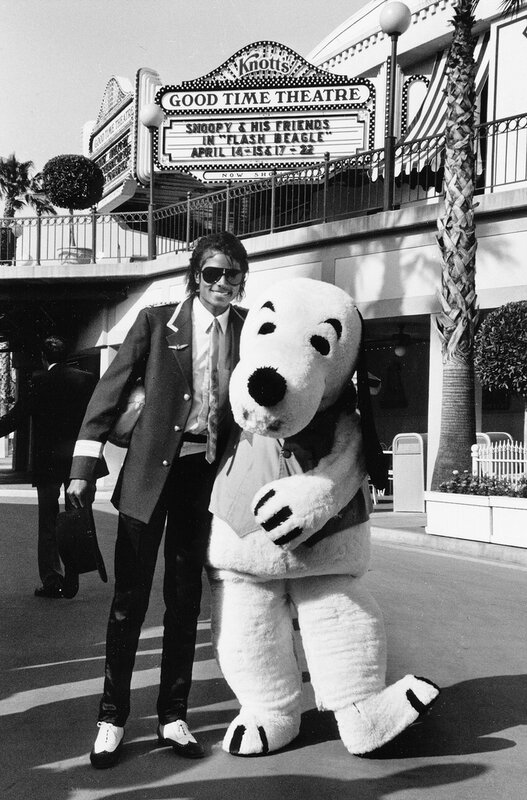 Cette photo de Michael Jackson auprès du personnage de Snoopy sera d'ailleurs publiée dans le magazine mensuel du parc, The Berry Vine.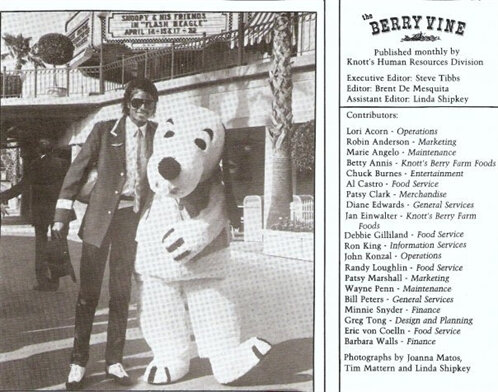 Knott's Berry Farm est un parc d'attractions qui se fait en une journée. Moins grand et moins fréquenté que son voisin Disneyland, il est aussi moins cher (billet à acheter en ligne, sur le site pour payer encore moins cher) et vous en profiterez pour allez #onmjfootsteps, même si certaines attractions ont été renouvelées depuis.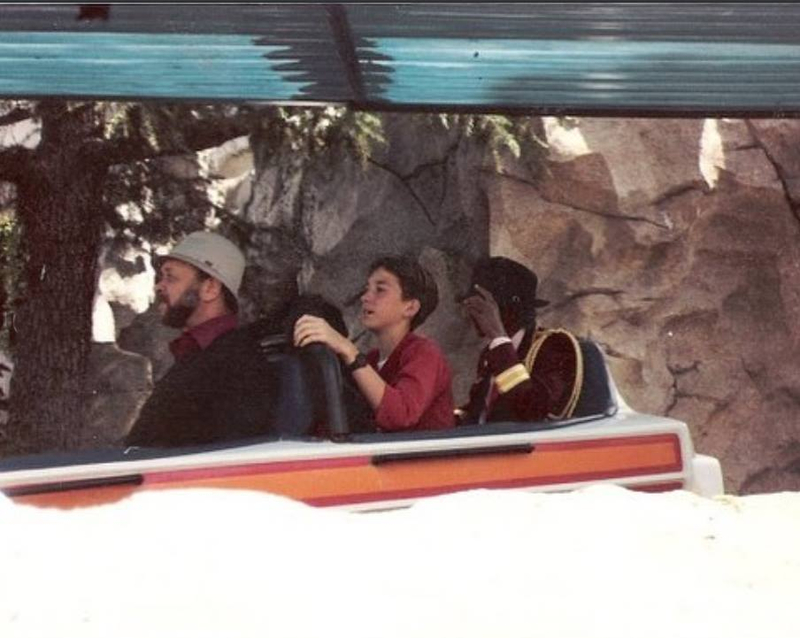 Sources: (1) queenmimicorner.blogspot.com / knotts.com