Le 2 juillet 1977, les français découvrent sur leur poste de télévision un groupe qui a déjà une longue carrière outre-Atlantique. The Jacksons sont en effet les invités de Joe Dassin, le plus français des chanteurs américains de l'époque, dans la célèbre émission de variétés Numéro Un.
Numéro Un, que seuls les anciens fans qui liront cet article se souviendront, était une émission créé par le couple Maritie et Gilbert Carpentier, diffusée entre 1975 et 1982, le samedi soir sur la chaîne TF1. Chaque édition mettait en valeur un artiste différent, certaines dans de véritables comédies musicales écrites spécialement pour l'occasion. L'émission était présentée par l'artiste en vedette lui-même.
De nombreux artistes de la scène française ont eu leur Numéro Un : Eddy Mitchell, Julien, Enrico Macias, Johnny Hallyday, Sacha Distel, Julien Clerc, Guy Béart, Guy Bedos, …
Les émissions n'étaient pas en direct, mais enregistrées parfois plusieurs semaines à l'avance. C'est ainsi le cas du Numero Un Joe Dassin, au cours duquel Dave, Jeane Manson, Petula Clark, Carlos (avec son Big Bisou!), France Gall et bien sûr Joe Dassin font plusieurs apparitions.
Diffusée le 2 juillet 1977, les Jackson enregistrent leur séquence le 30 mai 1977, lors d'un passage dans la capitale française au cours d'une tournée européenne qui les fait aussi passer par Glasgow (Ecosse), Londres (Angleterre), Amsterdam (Pays-Bas) et Breme (Allemagne).
L'enregistrement a lieu aux studios des Buttes Chaumont, situés entre la rue Carducci et la rue des Alouettes dans le 19e arrondissement de Paris, juste au sud du parc du même nom. Bon nombre d'émissions des années 70 et 80 sont enregistrées dans ce lieu mythique de la télévision française qui a pourtant été détruit au milieu des années 1990.
Les Jackson ont donc rendez-vous dans le studio 17 où se tourneront plus tard les émissions de Patrick Sabatier, Avis de Recherche et Porte Bonheur.
Les photos des répétitions
Lorsque l'émission est diffusée en juillet 1977, Joe Dassin, fan du groupe et qui avait insisté pour les avoir dans son émission les présente ainsi :"Imaginez que Mireille Mathieu soit noire et que tous ses petits frères chantent. Ca vous donne une idée de ce que c'est la famille Jackson. Voici en exclusivité et pour la première fois en Europe les Jackson !!!"
Le groupe, tout de rouge vêtu, interprète Keep on Dancing, titre paru sur leur premier album chez Epic, The Jacksons, en novembre 1976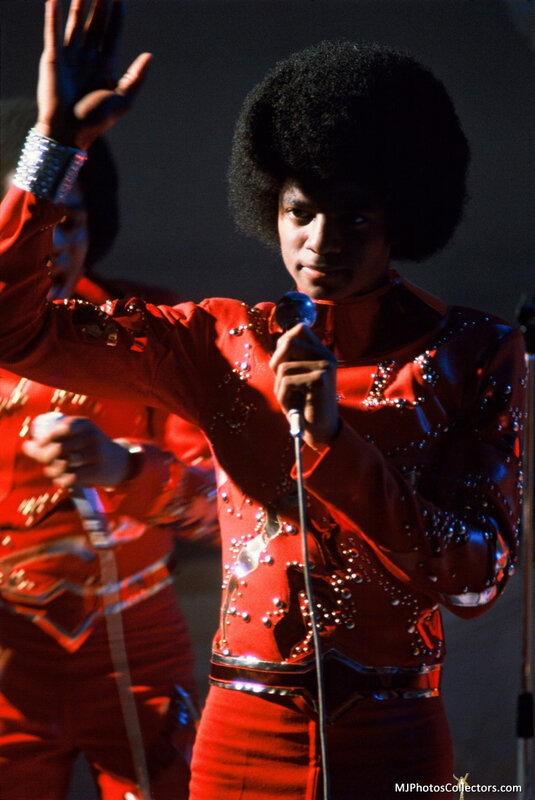 A la sortie de leur enregistrement, le photographe Jacques Benaroch, qui a couvert de nombreux concerts de stars étrangères et qui collabore alors avec les magazines Salut les copains et Podium, où il photographie les chanteurs français des années yéyé, réussi à prendre les frères Jackson dans la rue près des studios.
"Au printemps 1977, depuis quelques années déjà, je suis les légendes de la pop, je couvre entre autres les concerts mythiques des Rolling Stones, de David Bowie ou de Bob Marley. Cette fois, je sais que les Jackson Five sont à Paris. Lancés par leur père, ils ont signé dès 1969 à la Motown, label qu'ils viennent de quitter pour CBS. C'est un groupe-star et Michael, 18 ans, se distingue déjà de ses frères.
Ce jour-là, les Jackson Five enregistrent une émission dans un studio de la SFP aux Buttes-Chaumont. Lorsqu'ils en sortent accompagnés de leur père, je lui demande si je peux prendre une photo. Là, sur le vif, dans la rue. Aucun problème. Il dit oui tout de suite. Et je fais mon image, complètement improvisée. Père et fils sont charmants. Inimaginable ! Aujourd'hui, il faudrait au minimum six mois, juste pour obtenir l'autorisation de prendre une telle photo. À l'époque, on ne nous renvoyait pas sur les maisons de disques, les attachés de presse, les managers, les producteurs... " (1)
La photo a été prise au niveau du 27/29 rue des Alouettes, les studios étaient au 34/36de cette même rue.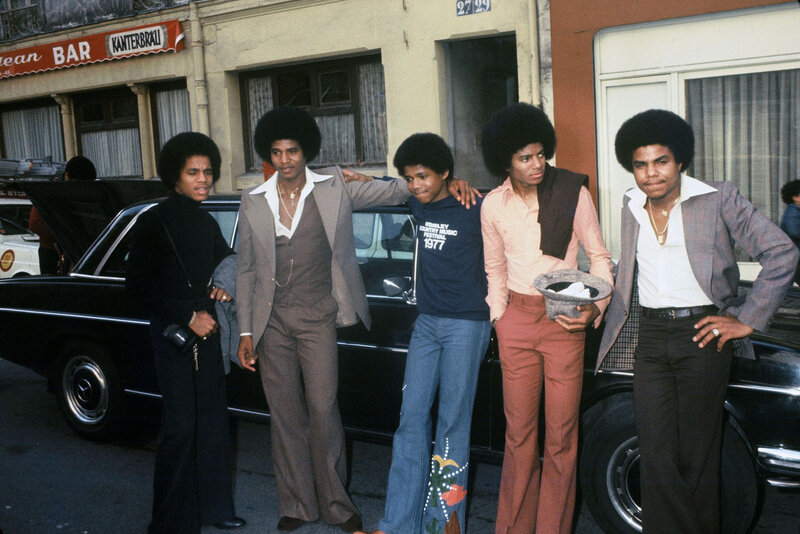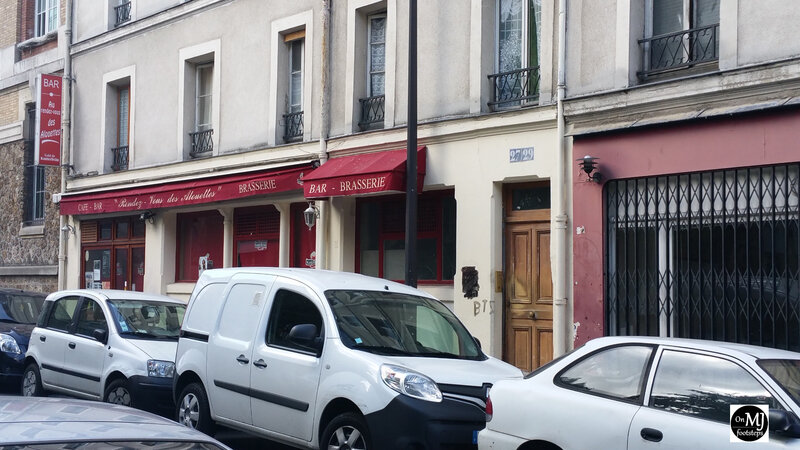 Avec des petits parisiens qui ne savaient peut être pas la chance qu'ils avaient! (merci MJSabe pour cette photo que je ne connaissais pas!)
Ce sont probablement les seules photos du groupe en France à l'époque, à la sortie de l'enregistrement de l'unique prestation de Michael Jackson à la télévision française.
Source : (1) loeildelaphotographie.com