Une vidéo inédite a été publiée par Shana Mangatal sur sa chaîne youtube où l'on voit Michael Jackson interviewé dans sa limousine alors qu'il se rend dans un night-club où il doit se produire. Des images d'une qualité médiocre mais rares.
(MAJ du 14/07/2020: La première vidéo ayant été supprimée pour cause de droits d'auteurs, Shana Mangatal l'a republiée ce jour, sans la musique de Michael)
Nous sommes en août 1979. L'album Off The Wall de Michael Jackson est sur le point de sortir, le premier single Don't Stop 'Til You Get Enough est déjà dans les bacs depuis quelques jours.
Michael Jackson se rend dans un night club où il va interpréter le titre. Dans la limousine, il est accompagné de Bill Bray, son garde du corps à l'époque, du DJ radio Alvin John Waples qui connaissait bien la famille Jackson pour avoir travaillé avec elle pour The Jacksons TV series, en 1976 et 1977. C'est d'ailleurs probablement la fille de ce dernier, Rachael, qui est dans la voiture, près de Michael.
Au cours de ces quelques minutes d'interview pour Soul Beat Network, la première chaîne de télévision consacrée aux vidéos clips, créée à Oakland (Californie) en 1978, Michael évoque sa collaboration avec Quincy Jones, le fait de travailler et de se produire sans ses frères ("I would never travel as a solo artist" !!!), ce qu'il envisage pour son avenir et sur l'influence du disco.
La performance est prévue au New Age, un club de downtown Oakland, cette ville située dans la baie de San Francisco.
Son arrivé au night club étant annoncée comme un évènement, la foule de fans est bien entendu présente, provoquant une cohue. Mais c'est tout simplement que Michael monte sur scène et interprète, timidement tout de même, le premier single tiré de Off The Wall.
Ces images inédites nous montrent peut être là la première apparition en solo du chanteur depuis la signature du groupe chez Epic !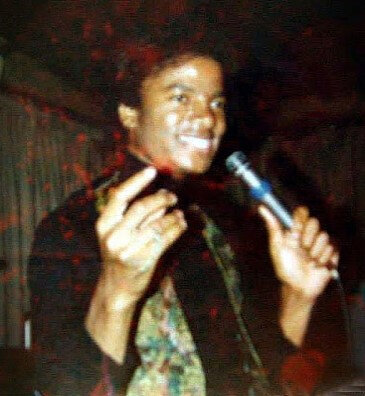 Après sa prestation, il se soumet à la séance d'autographes. Des images qui étaient déjà connues pour être parues dans la courte vidéo où Michael est interviewé dans les studios de Soul Beat, le même jour (?).