Le 27 novembre 1976, le premier album, éponyme, des frères Jackson, renommé The Jacksons après leur départ de la Motown quelques mois plus tôt, sort chez Epic, leur nouveau label. Dans le cadre de la promotion, les Jackson se rendent à San Francisco pour trois jours au cours du mois de décembre 1976.
Le samedi 18 décembre 1976, en début d'après-midi, une séance de dédicaces de l'album est prévu au magasin de musique Jax Record, dans le quartier Haight-Ashbury, au nord de la ville, célèbre pour son histoire hippie et psychédélique au cours des années 60 et aussi pour ses maisons victoriennes de couleurs.
Les Jackson arrivent en limousine devant le magasin ou de nombreux adolescents les attendent déjà. Un moment banal pour les frères habitués à la folie des fans mais qui, cette fois, va mal tourner.
Le photographe Pat Johnson suit le groupe pendant ce séjour. Originaire de Cleveland, c'est dans la région de San Francisco que sa carrière prend son essor. Patrick Johnson a photographié de nombreux artistes de la musique, du sport et du divertissement durant plus de vingt-cinq ans. Les stars, il connait, et ce jour là, il assiste à un évènement qui aurait pu mettre ses photos en une des journaux. Il est cependant resté discret sur ce moment.
"Ces trois jours auprès des frères Jackson m'ont montré à quel point la vie de Michael était difficile. Ils ont participé à une séance d'autographes chez Jax Records sur Haight Street. Il y avait des milliers de jeunes qui attendaient de voir Michael et ses frères.
À un moment donné, la foule était si intense, tout le monde se bousculait pour les voir, que des personnes sont passées à travers les immenses baies vitrées du magasin. Je me tenais près de la fenêtre pour faire des photos et je me suis rendu compte que les vitres commençaient à s'incliner et à se casser! Tous ces jeunes sont passés à travers les vitres. C'était horrible, il y avait des gamins partout dans des mares de sang.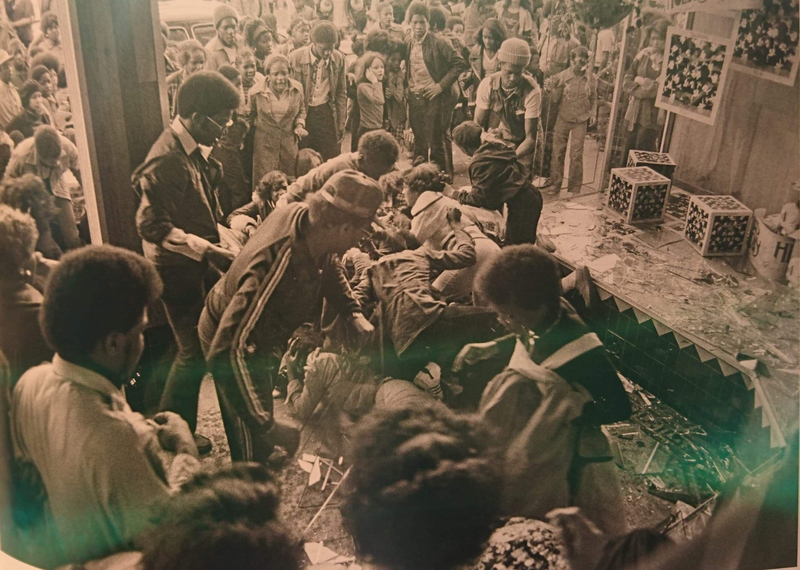 Je venais de prendre des photos qui auraient pu faire la une des journaux de la Bay Area [région de San Francisco], qui auraient pu être publiées partout, mais je n'ai pas pu faire ça à Michael et à Epic. J'ai mis le film dans ma poche et je ne l'ai jamais montré. J'ai perdu de l'argent et je n'ai pas été célèbre, mais j'ai conservé mon intégrité. Je voulais protéger les Jackson et Epic.
La tristesse sur le visage de Michael après cela m'a montré qu'il avait une existence terrible. Loin d'être normale, celle d'une superstar depuis l'âge de cinq ans. J'étais désolé pour lui."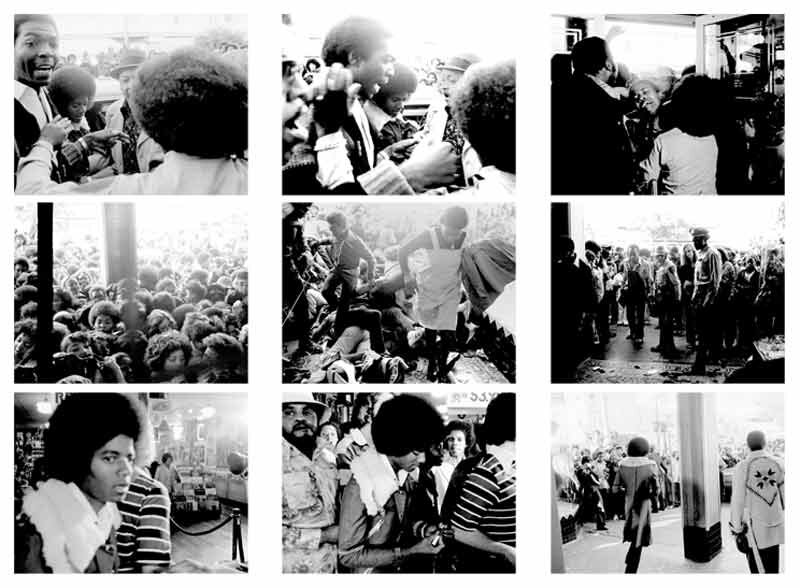 Bruce Talamon, un autre photographe, de Los Angeles, réputé pour ses photos des artistes R&B et Soul des années 70 est également présent sur place. En 2018, parmi les nombreuses photos qu'il a prises, plus de trois cents paraissent dans un livre anthologie intitulé Bruce W. Talamon. Soul. R&B. Funk. Photographs 1972-1982. On en retrouve quelques unes de ce moment de folie vécu par les Jackson en décembre 1976.
"Le chaos! Les gamins dans la rue ont bloqué les voitures et ont grimpé dans nos deux limousines. Il flottait un étrange mélange d'excitation et de peur lorsqu'on a réalisé qu'il n'y avait pas de présence policière. Des adolescentes, des nez pressés contre les baies vitrées, qui attendaient patiemment. Puis c'est devenu un enfer quand elles sont passées à travers les vitres pendant que la foule se précipitait et essayait d'entrer dans le magasin."
Le magasin n'existe plus aujourd'hui mais, remplacé par une boutique de vêtements, mais les lieux n'ont pratiquement pas changé, comme le montrent les photos ci-dessus (prises sur google)
Adresse utile
Jax Record/Music, 1485 Haight St, corner of Haight & Ashbury, San Francisco
Sources: patjohnson.com (traduction onmjfootsteps). Thank you Justin for the pictures inside Bruce Talamon's book <3

---
"To take a picture
Is to capture a moment
To stop time
To preserve the way you were"
Michael Jackson