James Branscum (1945 – 2015) est un dessinateur et sculpteur américain, souvent reconnu comme le premier artiste non amérindien à exposer sur le marché des pièces majeures d'inspiration amérindienne.
Né dans l'Oklahoma, il déménage à Phoenix, en Arizona en 1964 et consacre pleinement sa vie à l'art à partir de 1977. Branscum trouve le succès en commercialisant son propre travail, qui sera reconnu, exposé à travers les Etats-Unis et publié dans les magazines. En 1980 et 1981, il est élu Artiste de l'année par la Firebird Artists Association.
Pendant plus de cinq ans, à la fin des années 80 et au début des années 90, l'artiste travaille dans son Arts Studio au Scottsdale Centre for the Arts, à Scottsdale, près de Phoenix, où il a aussi sa propre galerie. Il fermera pourtant ce studio au milieu des années 90 pour parcourir les Etats-Unis et réaliser son projet Aging in America: Our Heritage of Wisdom, un projet qui lui fera réaliser une série de dessins historiques sur les personnes âgées américaines, aux origines raciales et ethniques différentes, exposés lors de la White House Conference on Aging (WHCoA), à Washington, en 1995.
Il a aussi été commissionné pour réaliser le mémorial de la guerre de Corée de Phoenix.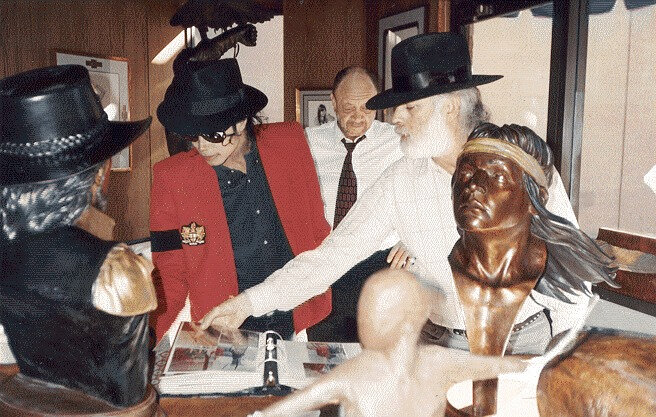 En 1991, Michael Jackson, accompagné de Bill Bray, se rend dans le studio de James Branscum à Scottsdale et rencontre l'artiste. C'est lui-même qui raconte : "La photo ci-dessus montre Michael Jackson lors de sa visite dans mon studio de Scottsdale, pendant qu'il regarde l'album photos des étapes de la sculpture en bronze Eagle Keeper que l'on aperçoit à droite de la photo."
Eagle Keeper est une sculpture en bronze grandeur nature qui représente un indien, tenant un aigle sur son avant-bras, qui semble avoir beaucoup plu à Michael.
"Je n'étais pas un admirateur de Michael avant de le rencontrer. J'avais déjà écouté quelques unes de ses chansons mais je n'avais pas ses albums. Mais je dois dire que j'ai été impressionné par sa connaissance de l'art et ses questions détaillées sur la fonte du bronze."
"Michael a demandé le prix de la statue d'Eagle Keeper. Je lui ai dit '65 000$'". Bill Bray m'a alors demandé quel serait le prix pour Michael. J'ai réagi comme un artiste plutôt que comme un homme d'affaires et j'ai répété '65 000 $', en ajoutant : 'Je ne brade pas mon Art'."
"Michael est finalement reparti avec un exemplaire de mon livre Drawing for Life (sorti en 1985), mais il n'a jamais acheté le bronze Eagle Keeper. Cela a été l'une des occasions manquées dans ma vie d'artiste, avoir mon travail dans la collection de l'artiste le plus reconnu sur Terre."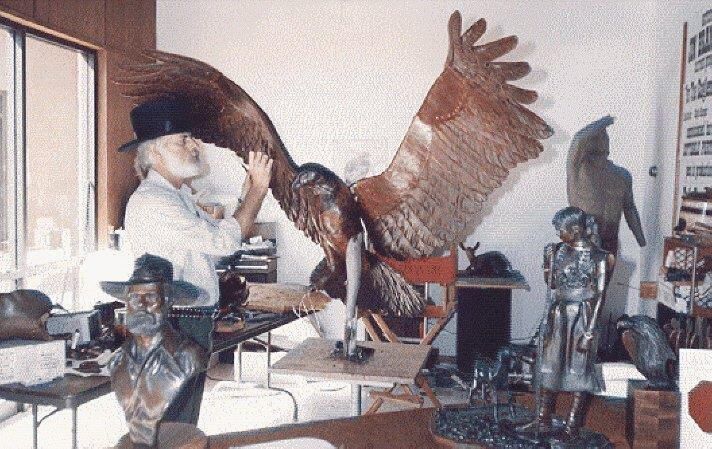 Jim Branscum dans son studio travaillant sur l'aigle de la statue Eagle Keeper
L'autre sculpture à gauche de la photo du haut, dans le studio de Branscum, est un buste du chanteur de musique country Waylon Jennings, intitulé Storms Never Last, du titre d'une chanson de 1980 de l'artiste.
Sur la photo ci-dessous, on peut voir Michael regardant l'un des dessins de Branscum, intitulé I Think He's Free, représentant Roy Cooper, le Champion du monde de rodéo 1983, une oeuvre commissionnée par le Phoenix Jaycee (un événement caritatif de rodéo) en 1982.