"The Boy In The Crescent Moon" ("Le petit garçon sur la lune") restera à jamais l'emblème du ranch de Neverland de Michael Jackson. Imaginé par Michael lui-même et créé par Robert Florczak, artiste américain aux multiples facettes, ce logo qui ne devait être au départ destiné qu'à l'utilisation personnelle de la star est devenu un symbole reconnaissable de tous.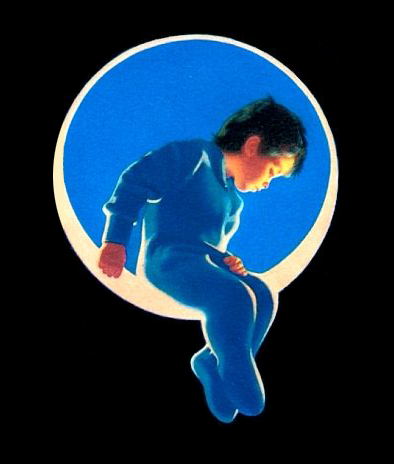 Il y a quelques années, Robert Florczak avait accepté de répondre à mes questions et évoquait sa courte collaboration avec le King Of Pop.
Pouvez-vous nous parler de vous, de vos influences, de vos débuts en tant qu'artiste ?
J'ai toujours été un artiste. J'ai été très influencé par les Vieux Maîtres (Rembrandt, Vermeer, Ingres, …) ainsi que par des illustrateurs de ce qu'on appelle l'Âge d'Or (Wyeth, Parrish, Rockwell, …). J'ai travaillé dans différents domaines : la peinture, la publicité, l'édition, le divertissement. C'est important pour moi de pouvoir m'exprimer de différentes manières. J'ai du mal à rester concentré sur une seule discipline bien que je reconnais que ce n'est pas le meilleur moyen pour obtenir un succès rapide.

Y a-t-il cependant un domaine que vous préférez ?
Mon grand amour c'est la peinture et le fait de pouvoir dessiner mes propres idées dans le domaine des Beaux Arts. J'aurai toujours cependant une tendresse spéciale pour l'illustration des livres et je continuerai à en faire.

Vous êtes également un musicien et vous avez enregistré quelques albums ?
Oui je faisais de la musique tout en étant peintre et cela a duré plusieurs années, jusqu'à ce que mes succès dans le domaine des Arts surpassent ceux en musique. J'ai donc été forcé d'abandonner la musique, mais cela me manque et j'espère pouvoir un jour m'y consacrer à nouveau.

Vous avez travaillé avec des artistes célèbres (Mel Gibson, Whoopi Goldberg, …) et en 1984, on vous a demandé de réaliser une peinture pour Michael Jackson qui le représente habillé comme dans le short film Billie Jean, adossé à un arbre, sous la pleine lune. Qui vous a commissionné et pourquoi ?
La compagnie qui s'occupait du merchandising de Michael Jackson, The Entertainment Merchandising Management Corporation, souhaitait le féliciter pour son succès grandissant et a décidé de commander un portrait le représentant afin de le lui offrir. Ils m'ont contacté et j'ai fait la peinture selon leurs précisions. On m'a remis la totalité du projet que la compagnie avait en tête, avec des photos de Michael à partir desquelles je devais travailler. Je me souviens que le paysage était mon idée. Le texte m'a été dicté précisément et j'ai transféré les caractères pré-imprimés à la main sur la composition puis je les ai vernis pour les protéger.
J'ai appris que Michael avait été ravi de la peinture et sa secrétaire m'a informé qu'il l'avait accrochée dans sa chambre, dans la maison où il vivait avant d'emménager à Neverland.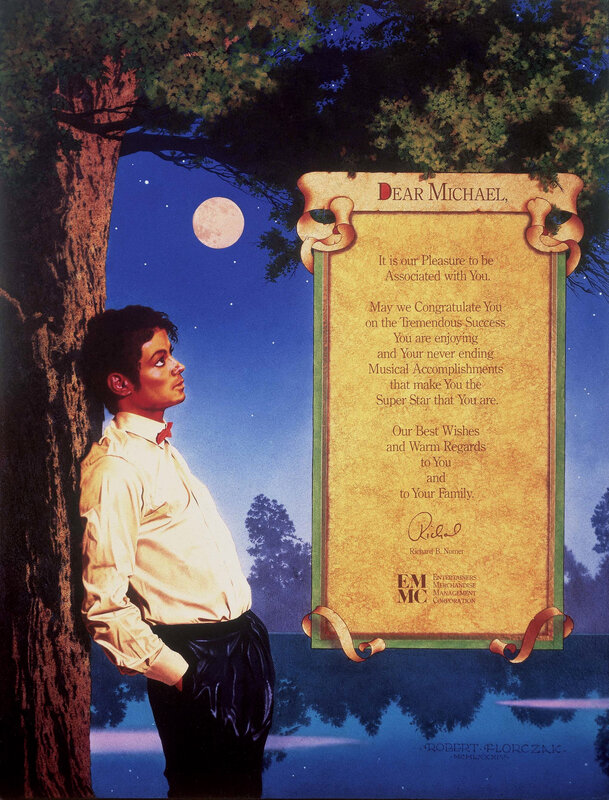 En 1988, Michael Jackson achète son ranch de Neverland et il vous demande de réaliser la peinture "The Neverland Valley". Pouvez-vous nous expliquer comment est né ce projet ? Pourquoi Michael vous a-t-il choisi ?
J'ai reçu un appel d'un directeur artistique me demandant de peindre un petit garçon en pyjama assis sur un croissant de lune, qui regardait vers un paysage idyllique.
On m'a remis une copie de l'illustration qui était en couverture d'un numéro de Ladies Home Journal de 1909 en me disant que "le client" souhaitait que le petit garçon ressemble à celui sur le journal.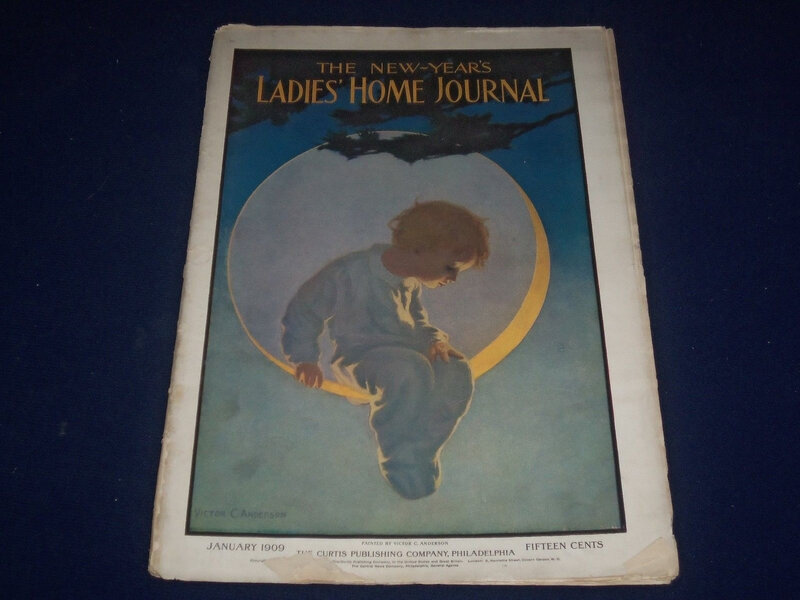 On m'a indiqué que la peinture servirait pour les papiers personnels du client. J'ai peint un paysage, qui a été approuvé, puis j'ai engagé un jeune modèle qui a posé pour représenter le petit garçon (en dépit des rumeurs lancées par la famille Jackson, le garçon que j'ai peint n'est pas Michael enfant). Lors de mes contacts avec le directeur artistique, les quelques détails que j'ai pu obtenir sur ce client anonyme m'ont orienté sur Michael Jackson. Au cours d'une conversation, je lui ai finalement demandé si le client avait un chimpanzé comme animal de compagnie. Il a rigolé et a admis que j'avais percé le mystère. Il m'a expliqué qu'il était le directeur artistique personnel de Michael et que ce dernier était un de mes fans et avait souhaité que je sois l'artiste qui réalise la peinture. Il préférait cependant rester anonyme.
J'ai terminé l'œuvre et elle lui a été remise. J'ai appris par la suite qu'il était tellement ravi du résultat qu'il a décidé d'utiliser le petit garçon sur la lune comme logo pour Neverland. L'image s'est alors retrouvée partout, du sol, près de sa gare, aux poubelles, en passant par des ballons, des crayons et même des savons. Je n'ai découvert que quelques années plus tard que ce "petit garçon bleu sur la lune" était devenu célèbre, avec internet et lorsqu'on a commencé à me contacter en me montrant des photos de Neverland avec la reproduction de ma peinture partout dans le ranch.
Que représente le paysage ? Avez-vous réalisé des esquisses que vous proposiez à Michael ou étiez-vous libre dans votre travail ?
Si le logo est un concept de Michael, j'ai moi-même créé le paysage. Il représente le souhait de Michael d'avoir un lieu idéal. Je montrais tous mes croquis de travail au directeur artistique qui lui-même les adressait à Michael pour avoir son approbation. J'ai découvert que mon client était Michael Jackson lorsque j'ai eu presque terminé la peinture.
L'œuvre originale, une peinture à l'huile, mesure environ 40 x 30 centimètres. J'ai mis presque trois semaines à la réaliser. Je n'ai jamais su ce que Michael avait fait de l'original, qu'il m'a acheté. Je suppose qu'il était accroché quelque part dans sa maison de Neverland.
Le portrait peint en 1984, une huile sur un panneau en masonite, mesurait 76 x 61 centimètres. Il m'a fallu un mois pour le faire. Les deux peintures doivent toujours être en possession de la famille Jackson. Je ne les ai jamais vues lors de ventes aux enchères.

Dans les deux œuvres pour Michael Jackson ainsi que dans d'autres que vous avez faites, le bleu est une couleur importante. Pourquoi ?
Michael était un grand fan de Maxfield Parrish et, ayant été personnellement initié à la technique de Parrish, j'ai souvent été amené à produire des œuvres de ce genre. Et c'était le style que l'on m'a demandé d'utiliser. Le ciel d'un bleu profond est une des caractéristiques des paysages de Parrish.

Avez-vous eu l'occasion de vous rendre à Neverland, pour voir le logo et de rencontrer Michael Jackson ?
Non, je n'ai jamais visité Neverland. Je dois admettre que cela ne m'a jamais intéressé. Et, au risque de décevoir, je n'ai jamais rencontré Michael.

Le logo de la compagnie Dreamworks illustre aussi un garçon qui pêche assis sur un croissant de lune. Certains ont avancé qu'il avait été influencé par le petit garçon que vous aviez peint. Qu'en pensez-vous ?
Par pure coïncidence, je faisais partie des artistes commissionnés pour travailler sur le logo Dreamworks en 1995. A l'époque, la compagnie nous a fait illustrer un homme pêchant sur la lune. Ce n'est que plus tard que c'est devenu le petit garçon que l'on connait. Il y a eu plusieurs concepts présentant un personnage ou un autre sur la lune de je doute fortement que ma peinture pour Jackson ait eu une influence sur le logo Dreamworks. Il faut d'ailleurs se rappeler que cette peinture était alors une œuvre privée, appartenant à Michael, et je ne pense pas que quelqu'un de Dreamworks ait pu la voir. De plus l'illustration de Ladies' Home Journal a pu également influencer les gens de Dreamworks.

Etait-ce différent de travailler pour Michael Jackson par rapport aux autres personnes avec qui vous avez collaboré ?
Mon travail pour lui n'était pas tellement différent d'avec les autres clients pour lesquels j'ai réalisé des productions. C'était même une procédure normale. Le fait qu'il soit une grande star n'a nullement influencé ma façon de travailler.
Quelques temps après avoir terminé la peinture de Neverland, son directeur artistique m'a contacté à nouveau pour me dire que Michael voulait me commander une autre peinture. Cela aurait du être une très grande peinture à l'huile et le projet était de mettre en scène plusieurs bébés de toutes races, accrochés à des branches d'arbres par leurs couches. J'ai réalisé un croquis, qui a été approuvé et j'ai fait quelques premières esquisses à partir de bébés que j'avais embauchés comme modèles. Mais, à cette époque, beaucoup de commandes m'étaient proposées et j'ai finalement décidé d'abandonner le projet de Michael pour d'autres travaux.

Propos recueillis par Onmjfootsteps.com. Cette interview a été publiée en 2016